"To play 18 years in Yankee Stadium is the best thing that could ever happen to a ballplayer."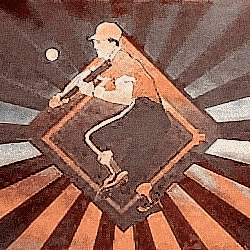 There are no league restrictions or regulations on normal player usage in the ATL. Every player is a full-time player. That is the prime rule.
There are no league constraints on how you, as Owner and General Manager, develop your roster. You can have on your roster any group of 35 players that you can draft, sign or trade for. However, having a well-rounded roster is part of winning a pennant. It will be best to have a roster strategy that includes at least 3 players rated to play catcher, shortstop, second base and centerfield. These are the most important positions on the field, and players who can play these positions well are at a premium. It is also a good strategy to have some balance on the pitching staff between right-handers and left-handers. But the bottom line is that the league does not force any requirement on you. You are free to experiment.
There are no league constraints on how you, as Field Manager, use your players. The players can be played at any position, but they will perform best in the role they are set up for. The game will handle players used out of position by penalizing them appropriately. It is all within the game mechanics, and only hinted at by the DMB Help files, so experience is the best teacher in this regard. The best strategy is to be prepared, and only use players in the role they are meant to be used in. For the specifics of what the DMB Help file says about this topic, read here:
You can use a player at a defensive position for which he is not rated, but his performance

will

suffer. How much? It depends.
Players can make a

relatively

painless transition to an easier position that is similar to one they're already rated for. The penalties are

much greater

for moving to a very different position that is also more difficult to play.
For example, a CF can play LF or RF without suffering much at all. Both positions are similar and easier than the one he's rated for. A LF or RF moving to CF has a more difficult time because there's more ground to cover. Similarly, a move from SS to 2B won't cost you too much, while a move from 2B to SS will hurt more. And

the moves that will hurt the most are

(a) from any position to catcher, (b) a catcher moving to any position except 1B, and (c) a 1B moving to CF or another infield position.
How will these penalties show up? In lots of ways. More balls in their zones

will go for hits

. They'll

make more errors

. Guys without outfielder throwing or catcher throwing ratings

will be easier to run on

. Unrated catchers will have

more passed balls

. Unrated middle infielders

won't start as many double plays

on balls hit to them, and they

won't turn two

as often when they're the pivot man on the play. Pitchers without hold ratings will be

easier to run on

.
You might ask why we apply penalties even when a player is moving to a less difficult position. Couldn't a top-rated SS play 2B as well or better than the average 2B? In the many years that we've been assigning fielding ratings, we've seen a lot of players get higher ratings when they make the transition from a harder position to an easier one (especially SS -> 2B, 3B -> 1B, and CF -> LF), but we've also seen plenty of cases where the player needed some time to learn how to play the new position.
Every position

requires

mastery of a different set of skills. A CF moving to RF needs to learn how to play the caroms on balls hit down in the corner. A 3B needs great reflexes to handle the hot smashes that come his way, and that might not be the strong suit of a middle infielder moving to 3B. A SS moving to 2B must learn how to make the pivot with his back to the runner.
If our out-of-position adjustments assumed that every player could instantly adapt to a new position, even an easier one, we think it would create too many opportunities for managers to abuse the game by moving players around in ways that real-life managers would never get away with. So the game imposes penalties of varying degrees on

all

out-of-position players.
real-life managers sometimes ask position players to throw an inning on the mound to save the bullpen in a blowout, and sometimes these players manage to retire a few hitters. Overall, they don't do very well, and you'll find that the same is true if you try this in DMB.
So we see that although we can put any player anywhere on the diamond we want, we will get better results if we do not force players into situations they did not usually find themselves.

What is true for the real baseball teams is even more so here where every player is a star. Even the lesser players in the ATL were at least franchise stars when they played the game. Every ATL game is an All-Star game. It will take a good roster strategy and a good managing strategy to have a good season. Having good players in the lineup is not enough -- every team in this league has good players in the lineup.

Injuries are the bane of every team's season, and injuries are the great unknowable future catastrophe awaiting every team in every next game. Nobody can predict when an injury will strike, or how long a player will go without an injury. Seasons and careers have been unmade because of injury. Injuries have shaped many a player's career. That is real life. Here in the ATL we use the Random Injury setting to simulate just that black void of undetermined injury potential. None of us knows which player will get struck down by a season-crushing injury. One thing we do have the luxury of, is that no injury will affect a player's career in any way except to shorten the amount of games the player would otherwise have played.

Managing injuries is your task. You must decide whether to put a player on the Disabled List or carry that player on a roster spot even though the player cannot play. Disabling a player may lengthen the time a player is out of action because league regulations state that Roster Changes can only be made between series. That means you may not be able to Activate a player immediately after the injury is over -- you have to wait until the current series of games is over and put in the Activate order for between-series. Since we play 4-day series, the time a player is out could be lengthened by up to 4 days, or a multiple of 4 days if you forget to Activate the player on time. You can consider the extra time on the Disabled List as special injury rehabilitation time. You cannot have a standing order for the Commissioner to activate a player as soon as possible, it is your responsibility as Owner, General Manager and Field Manager to watch over every aspect of your team and its players.

Players traditionally have certain roles, and the players in this set are depicted in the roles they played for the time periods depicted by the player set. However, you have complete control over this aspect of your team as well. You can choose to change the role of any player on your roster. Most commonly we will see starting pitchers used as relief pitchers simply because there are not enough good relief pitchers in this player set. Or put another way, there are an abundance of good starting pitchers in this player set, more so than relief pitchers. Many teams have more than enough starters and are short on relievers, and so the roles shall be changed. For pitchers who do have a relief rating there will be no penalties for playing out of position -- because they are rated at the position of relief pitcher. For those pitchers without a relief rating, or for the opposite -- those relievers without a rating as starting pitcher, the normal penalties for playing out of position will apply.

How do you change their roles? Simply use the Manager Profile to define the role you want a pitcher to play. There are slots for Setup Men, Closers, Mopup guys, Long Relievers, Spot Starters and your normal rotation. Here is a good place to quote the DMB Help file about some very important settings on the pitcher pages that you have complete control over -- and will decide how the computer uses your pitchers during Autoplay games (during Netplay games you have complete and utter control over your players except for Roster Changes and Roster Mods -- which are not allowed during Netplay).

The following is very important, please read it all the way through. At the bottom of the rotation box in the roster/manager profile section, there are 3 additional boxes. These three boxes control very powerful functions:

So we see here how important it is to be sure to set the correct modes for the computer manager to govern the use of the team's pitchers the way we want it to.