Tokyo Totals



Tokyo Giants

by "Sayonara" Shuto
Union League correspondent
Tokyo Yakyu



Report Card


It can be said easily and openly that this Tokyo team is an experiment, a test. The question is simple: how do the best of the Japanese baseball history stack up against the best of American baseball history? The jury is still out but the season is far enough along for an interim report card of sorts. The straight up and down is basic: wins and losses. At the time of this writing the tally is 23 W's and 23 L's, a .500 mark and 2 games behind the division leader. Perhaps more important is the fact that Tokyo is #1 in the Wild Card race, as no other second place club in the Union League has a .500 record! So if things progress as they have, Tokyo has a good shot at squeaking into the playoffs -- and that would be a successful season no matter what else transpired. But let's look at the rest of the picture.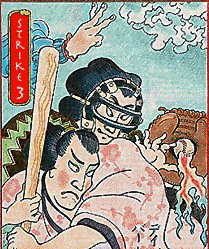 Pitching. The experts expected that pitching would be this team's strong suit. While a couple of the greatest all-time Japanese pitchers are missing from this roster, there is no doubt that the staff reads like a roll call of the Japanese Hall of Fame. All Time Wins Leader, lefthander Masaichi Kaneda (4-2, 4.23, 3CG, 2 SHU) had a rough start but settled in very quickly and has shown he still has the knack at accumulating victories.



Iron Man

Jiro Noguchi (4-3, 2.52, 4CG, 1 SHU) has not been as dominating as some thought he would be, but Noguchi has not disapointed either. He won't get the opportunity to overwhelm these batters as he did his countrymen in his day, but he has pitched well enough to stand proud.

Hawaiian-American Bozo Wakabayashi (4-3, 2.38, 2 CG, 1 SHU) never got the chance to play in the American Majors because he, like Cool Papa Bell, was born too early. At a later date Lenn Sakata would play for Milwaukee, Baltimore, Oakland & the Yankees without anyone even commenting that he was a Hawaiian-born Japanese-American like Wakabayashi. In this All Time League Wakabayashi is making up for lost time, and not only pitching good games but at this juncture has a .500 batting average (8-16) with a home run, a double and 8 RBI. He is clearly not intimidated by his opponents.

Bonus Baby Suguru Egawa (1-3, 4.12, 1 CG) is having a bit of trouble with opposing batters, and is not finding the way out of the big inning. The word is that he will find himself doing setup work until, and if, he can master this league's hitters. As well, forkballer Shigeru Sugishita (0-3, 5.56, 1CG) has been completely off the mark, almost as bad as

The White Russian

, Victor Starffin ( 2-2, 6.40). Starffin has found himself down in the Minors in favour of power pitcher Tadashi Sugiura (3-1, 1.98).

The relief corps is a bit unsettled, with a new decision forthcoming between

Mr. Zero

, Shingo Takatsu (2-1, 1.17, 1 Sv) and Strikeout Artist Yutaka Enatsu (2-3, 5.40, 6 Sv, 3 Hld). Enatsu was given the chance to the team's closer, and intially did very well. But lately he has had control problems and has seen his ERA balloon up. Therefore,

Mr. Zero

will now be given a shot at closer. The rest of the staff has performed relatively well, and of special note is Yoshitaki Katori (0-0, 1.57, 1 Hld) who will also be given a larger role in the next phase.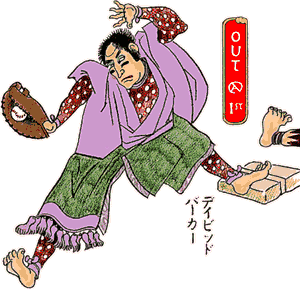 Fielding is another area this team was expected to do well in, and like their pitching, has been good enough to win some accolades. Overall they are fourth in the Union League with a team .979 fielding percentage. They are also fifth in double plays turned, and third in Opponent SB% with a .585 mark. Individually,

Mr. Shortstop

, Yoshio Yoshido (.988) leads all fielders in the most essential of positions, though his hitting (.124), or rather his lack of hitting, has lost him a lineup spot at the moment. In all the other positions Tokyo is well represented, and where the players have enough chances they appear in the Top Ten Lists for fielding. Their opponents have been taking advantage of the average arm strength in the outfield to take the occasional extra base that sometimes proves disrupting, but on the batted ball the defense has performed admirably. At catcher, as alluded to above in Opponent SB%, Tokyo has done exceedingly well so far. Katsuya Nomura has a 1.000 Fielding Pct. in 31 games, Atsuya Furuta is perfect in 19 games, and Tsutomo Ito is perfect in 4 games. Perfect is relative here though, as combined they have no errors but they do own a league-most (tied) 7 passed balls.


Now we get to the hitting. This is what puts fannies in the seats, or so they would have us believe. I, for one, think that baseball is great because it is an all-around game that encompasses many strategies of offense and defense. But enough of that, here we talk of Tokyo's hitting prowess, or lack of it. We must mention that the greatest batter in Japanese baseball history got away from this team during the draft -- Sadaharu Oh plays for Toronto, along with

Iron Man

Sachio Kinugasa and others. Even still, the Tokyo team boasts the legendary

God of Batting

playing first base in Tetsuharu Kawakami. The fiercely nationalistic Kawakami started off the season to raucous booing from the stands as he battled with the Mendoza Line. However, he has shown the tenacity necessary to stick with it, and has slowly crept up almost into the realm of respectibility (.255). The team is counting on him to keep raising that batting average, and doing so in clutch situations. Currently he leads the team in RBI with 25, but that total is rather low compared to other teams as we see the overall ATL leader is Willie Mays of the Newark Eagles with 52 ribbies. Standing just a notch below Kawakami on the team RBI lists is Wally Yonamine with 22. Wally is batting a respectable .286, and has been flirting with .300 at times. He is actually the team leader in batting average at this juncture, as the three players ahead of him (Kawai, Ito & Wakabayashi) have very few plate appearances. Right with Wally is Shigeru Chiba,

The Formidable Buffalo

, at .284. Chiba started the season on the Disabled List, but has taken over the second base job now that he's back. His current partner in the middle of the field is Chusuke Kizuka, and at .282 Kizuka will keep the job at short if he continues to hit like that. Home run power has been provided by Kaoro Betto (.241), the rightfielder. Betto leads the team with 7 home runs -- the overall ATL Leader is at this point in time is Joe DiMaggio of the Pacific Division rival San Francisco Seals with 18 dingers. Katsuya Nomura (.271) and Shigeo Nagashima (.194) are second on Tokyo with 5 homers apiece. Nagashima,

Mr. Baseball

, has been a very big disappointment so far. Fans hope he can turn it around like Kawakami did.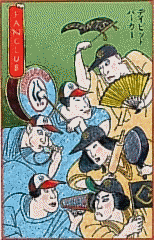 And so we come to the part where we evaluate this team of Japanese Hall of Famers. Yes, it is too early for a definitive statement, but enough games have been played where we can take a good guess at their impact on this All Time League. No doubt they have added some exotic character, and for those of us who like the history of the game, they provide new stories and legends to get acquainted with. The question of conversion, of how they are playing against their Major League and Negro League counterparts is a tough one to answer. As in every baseball issue there are partisans of all sides of the question. But we can say without a doubt that they seem to be competing at a level that most can live with -- the stats they are putting up are not extraordinary in either direction. There are certainly some surprises, but in both directions. They are solid in their fundamentals, which surprises nobody, and they have displayed some expertise in the pitching department, which again surprises none but is a bit more controversial. Their lack of power hitting, and indeed, their lack of hitting for average is again not a surprise, expecially when the two premier hitters, Sadaharu Oh & Ichiro Suzuki, are not on the team. Whether all of this means anything yet is a valid question. And whether anyone cares except their fans . . . well, that can be said of any team. Even the Saint Louis Browns had their loyal fans, no matter how bad things got for them. So here, the fans of the Tokyo Giants will live and die with every win and every loss. And through it all they will have lots of fun, and that's what it is all about.


                               DMB team batting -- 2005 Tokyo Giants*                               
                                 Regular season -- as of 5/22/2004                                  

S Name               P    AVG   OBP   SPC    G   AB    H  2B  3B  HR    R  RBI   BB    K HBP  IW  SB  CS 
  Kawai              ut  .455  .455  .455    6   11    5   0   0   0    4    0    0    0   0   0   0   0 
  Ito                c   .375  .500  .375    5    8    3   0   0   0    1    2    2    0   0   0   0   0 
  Yonamine*          of  .286  .348  .423   46  182   52   9   2   4   24   22   14   31   4   0   5   1 
  Chiba              2b  .284  .352  .420   25   81   23   3   1   2   14   13    8   14   1   1   3   1 
  Kizuka             ss  .282  .300  .359   16   39   11   3   0   0    2    1    1    6   0   0   5   0 
  Nomura, Ka         c   .271  .333  .439   38  107   29   3   0   5   16   16    8   14   2   0   1   0 
  Kawakami*          1b  .255  .296  .372   46  188   48   7   3   3   17   25    9   28   2   2   4   3 
  Yamamoto, K        cf  .244  .340  .433   42   90   22   5   0   4    8   13   12   12   1   0   2   3 
  Betto              of  .241  .306  .434   45  166   40   7   2   7   26   16   15   19   1   0   2   3 
  Furuta             c   .237  .308  .254   24   59   14   1   0   0    2    7    4    4   2   0   0   1 
  Karita             2b  .229  .302  .396   30   48   11   3   1   1    6    5    5    5   0   0   1   1 
  Fukumoto*          cf  .225  .299  .275   35  120   27   2   2   0   17    6   12   13   1   0   8   7 
f Toyoda             ss  .200  .429  .200    7    5    1   0   0   0    0    0    2    2   0   0   1   0 
  Nagashima, S       3b  .194  .264  .360   46  175   34   6   4   5   23   18   17   26   0   0   1   1 
f Ochiai             3b  .160  .313  .280   15   25    4   0   0   1    2    2    5    4   1   0   0   0 
  Noguchi            sp  .150  .261  .450   11   20    3   0   0   2    3    3    3    4   0   0   0   0 
f Yoshida            ss  .124  .174  .152   33  105   13   1   1   0    8    6    7    2   0   0   0   2 
  Nakanishi          3b  .077  .143  .077   14   13    1   0   0   0    0    2    1    4   0   0   0   0 
  Pitchers               .184  .191  .276   46   87   16   3   1   1    5   14    1   24   0   0   0   0 
  Total                  .233  .296  .359   46 1529  357  53  17  35  178  171  126  212  15   3  33  23 



S Name               P   GS   PA  SH  SF GDP  GW CI   OPS      RC RC27   ISO  TAVG   SEC EBH   TB CH LH 
  Kawai              ut   2   11   0   0   0   0  0  .909     2.3 10.2  .000  .833  .000   0    5  1  1 
  Ito                c    2   10   0   0   0   0  0  .875     1.8  9.5  .000 1.000  .250   0    3  1  1 
  Yonamine*          of  46  208   7   1   2   4  0  .771    28.5  5.5  .137  .752  .236  15   77  2  6 
  Chiba              2b  25   95   4   1   1   2  0  .771    12.7  5.3  .136  .767  .259   6   34  3 12 
  Kizuka             ss  12   43   3   0   1   0  0  .659     4.7  4.0  .077  .690  .231   3   14  0  4 
  Nomura, Ka         c   26  118   1   0   4   4  0  .773    15.0  4.9  .168  .707  .252   8   47  0  9 
  Kawakami*          1b  46  200   1   0   1   3  0  .669    20.6  3.8  .117  .590  .170  13   70 11 11 
  Yamamoto, K        cf  19  103   0   0   1   2  0  .773    13.1  4.9  .189  .750  .311   9   39  1  4 
  Betto              of  45  184   1   1   6   1  0  .740    20.0  3.9  .193  .667  .277  16   72  2  5 
  Furuta             c   18   65   0   0   0   0  0  .562     4.8  2.8  .017  .457  .068   1   15  1  2 
  Karita             2b  15   58   5   0   1   0  0  .698     5.7  3.5  .167  .641  .271   5   19  0  2 
  Fukumoto*          cf  28  135   1   1   0   2  0  .574    10.2  2.7  .050  .540  .158   4   33  0  3 
f Toyoda             ss   0    7   0   0   0   0  0  .629     0.9  5.9  .000 1.000  .600   0    1  0  1 
  Nagashima, S       3b  46  194   1   1   1   2  0  .624    17.4  3.2  .166  .566  .263  15   63  0  2 
f Ochiai             3b   6   32   0   1   0   0  0  .592     2.8  3.5  .120  .619  .320   1    7  0  1 
  Noguchi            sp   9   24   1   0   0   0  0  .711     2.6  3.9  .300  .706  .450   2    9  0  1 
f Yoshida            ss  32  123   8   3   3   0  0  .326     2.9  0.7  .029  .237  .076   2   16  0  2 
  Nakanishi          3b   0   14   0   0   0   1  0  .220     0.2  0.4  .000  .167  .077   0    1  0  1 
  Pitchers               37  106  17   1   1   1  0  .467     5.1  1.5  .092  .347  .103   5   24       
  Total                  46 1730  50  10  22  22  0  .655   165.8  3.5  .126  .594  .215 105  549       



S Name               P  PA/G AB/G  BIP IPAVG  TBW TBW/PA TBWH TBWH/PA K/BB 
  Kawai              ut 1.83 1.83   11  .455    5   .455    5    .455  0.0 
  Ito                c  2.00 1.60    8  .375    5   .500    5    .500  0.0 
  Yonamine*          of 4.52 3.96  155  .310   91   .438   95    .457  2.2 
  Chiba              2b 3.80 3.24   70  .300   42   .442   43    .453  1.8 
  Kizuka             ss 2.69 2.44   36  .306   15   .349   15    .349  6.0 
  Nomura, Ka         c  3.11 2.82   89  .270   55   .466   57    .483  1.8 
  Kawakami*          1b 4.35 4.09  158  .285   79   .395   81    .405  3.1 
  Yamamoto, K        cf 2.45 2.14   74  .243   51   .495   52    .505  1.0 
  Betto              of 4.09 3.69  142  .232   87   .473   88    .478  1.3 
  Furuta             c  2.71 2.46   55  .255   19   .292   21    .323  1.0 
  Karita             2b 1.93 1.60   47  .213   24   .414   24    .414  1.0 
  Fukumoto*          cf 3.86 3.43  109  .248   45   .333   46    .341  1.1 
f Toyoda             ss 1.00 0.71    3  .333    3   .429    3    .429  1.0 
  Nagashima, S       3b 4.22 3.80  146  .199   80   .412   80    .412  1.5 
f Ochiai             3b 2.13 1.67   21  .143   12   .375   13    .406  0.8 
  Noguchi            sp 2.18 1.82   15  .067   12   .500   12    .500  1.3 
f Yoshida            ss 3.73 3.18  114  .114   23   .187   23    .187  0.3 
  Nakanishi          3b 1.00 0.93    9  .111    2   .143    2    .143  4.0 
  Pitchers              2.30 1.89   80  .188   25   .236   25    .236 24.0 
  Total                 37.6 33.2 1342  .240  675   .390  690    .399  1.7 

                               DMB team batting -- 2005 Tokyo Giants*                               
                                 Regular season -- as of 5/22/2004                                  

                        --------------------Versus Left-handed Pitchers-------------------- 
S Name               P    AVG   OBP   SPC   OPS    AB     H   2B   3B   HR   RBI   BB     K 
  Kawai              ut 1.000 1.000 1.000 2.000     1     1    0    0    0     0    0     0 
  Ito                c   .500  .571  .500 1.071     6     3    0    0    0     2    1     0 
  Yonamine*          of  .368  .438  .491  .929    57    21    2    1    1     7    6    10 
  Chiba              2b  .348  .444  .739 1.184    23     8    1    1    2     8    4     3 
  Kizuka             ss  .125  .125  .125  .250     8     1    0    0    0     1    0     1 
  Nomura, Ka         c   .357  .379  .500  .879    28    10    1    0    1     5    1     6 
  Kawakami*          1b  .161  .217  .250  .467    56     9    2    0    1     4    4    10 
  Yamamoto, K        cf  .306  .432  .444  .876    36    11    2    0    1     4    8     2 
  Betto              of  .310  .370  .667 1.036    42    13    1    1    4     6    4     3 
  Furuta             c   .143  .250  .143  .393    14     2    0    0    0     1    2     1 
  Karita             2b  .200  .250  .267  .517    15     3    1    0    0     0    1     3 
  Fukumoto*          cf  .222  .300  .222  .522     9     2    0    0    0     0    1     1 
f Toyoda             ss  .000  .000  .000  .000     0     0    0    0    0     0    0     0 
  Nagashima, S       3b  .224  .296  .490  .786    49    11    2    4    1     3    5     3 
f Ochiai             3b  .000  .600  .000  .600     2     0    0    0    0     0    2     1 
  Noguchi            sp  .167  .167  .667  .833     6     1    0    0    1     1    0     0 
f Yoshida            ss  .158  .179  .158  .337    38     6    0    0    0     1    1     0 
  Nakanishi          3b  .000  .000  .000  .000     2     0    0    0    0     0    0     1 
  Pitchers               .333  .346  .417  .763    24     8    2    0    0     7    1     2 
  Total                  .264  .333  .418  .751   416   110   14    7   12    50   41    47 



                        --------------------Versus Right-handed Pitchers------------------- 
S Name               P    AVG   OBP   SPC   OPS    AB     H   2B   3B   HR   RBI   BB     K 
  Kawai              ut  .400  .400  .400  .800    10     4    0    0    0     0    0     0 
  Ito                c   .000  .333  .000  .333     2     0    0    0    0     0    1     0 
  Yonamine*          of  .248  .307  .392  .699   125    31    7    1    3    15    8    21 
  Chiba              2b  .259  .313  .293  .606    58    15    2    0    0     5    4    11 
  Kizuka             ss  .323  .344  .419  .763    31    10    3    0    0     0    1     5 
  Nomura, Ka         c   .241  .318  .418  .736    79    19    2    0    4    11    7     8 
  Kawakami*          1b  .295  .331  .424  .755   132    39    5    3    2    21    5    18 
  Yamamoto, K        cf  .204  .271  .426  .697    54    11    3    0    3     9    4    10 
  Betto              of  .218  .285  .355  .640   124    27    6    1    3    10   11    16 
  Furuta             c   .267  .327  .289  .615    45    12    1    0    0     6    2     3 
  Karita             2b  .242  .324  .455  .779    33     8    2    1    1     5    4     2 
  Fukumoto*          cf  .225  .298  .279  .578   111    25    2    2    0     6   11    12 
f Toyoda             ss  .200  .429  .200  .629     5     1    0    0    0     0    2     2 
  Nagashima, S       3b  .183  .252  .310  .561   126    23    4    0    4    15   12    23 
f Ochiai             3b  .174  .259  .304  .564    23     4    0    0    1     2    3     3 
  Noguchi            sp  .143  .294  .357  .651    14     2    0    0    1     2    3     4 
f Yoshida            ss  .104  .171  .149  .320    67     7    1    1    0     5    6     2 
  Nakanishi          3b  .091  .167  .091  .258    11     1    0    0    0     2    1     3 
  Pitchers               .127  .127  .222  .349    63     8    1    1    1     7    0    22 
  Total                  .222  .283  .337  .620  1113   247   39   10   23   121   85   165 



                              DMB team pitching -- 2005 Tokyo Giants*                               
                                 Regular season -- as of 5/22/2004                                  

S Name               P     ERA   W   L   S   G  GS  CG SHO     INN    H    R   ER   BB    K  HR GDP    BF 
  Takatsu            cl   1.17   2   1   1  10   0   0   0    15.1    8    3    2    8    5   1   2    59 
  Katori             rp   1.57   0   0   0  15   0   0   0    23.0   14    4    4    6   13   1   5    88 
  Sugiura            sp   1.98   3   1   0   8   4   0   0    27.1   18    7    6   10   16   1   0   111 
d Wakabayashi        sp   2.38   4   3   0   8   8   2   1    53.0   37   15   14   17   18   8   5   209 
  Noguchi            sp   2.52   4   3   0   9   9   4   1    64.1   47   23   18   15   34   8   4   254 
  Koyama             sp   2.54   1   0   1  13   3   1   0    39.0   34   11   11    6   33   5   2   154 
  Egawa              sp   4.12   1   3   0   7   7   1   0    43.2   38   21   20   20   32   8   2   185 
  Kaneda*            sp   4.23   4   2   0   6   6   3   2    38.1   24   18   18   17   33   3   0   158 
  Kudo*              sp   5.06   0   0   0   2   0   0   0     5.1    6    3    3    2    2   0   0    24 
  Enatsu*            cl   5.40   2   3   6  18   0   0   0    23.1   17   14   14   18   23   4   2   105 
f Sugishita          sp   5.56   0   3   0   4   3   1   0    22.2   21   18   14   12   15   7   3   101 
f Suzuki,K*          sp   6.11   0   1   0  13   0   0   0    17.2   20   12   12    8   10   3   1    78 
f Starffin           sp   6.40   2   2   0   5   5   0   0    32.1   31   23   23   12   18   5   2   138 
  Gondo*             sp   7.00   0   1   0   3   1   0   0     9.0    9    7    7    5    6   2   0    41 
  Total                   3.61  23  23   8  46  46  12   4   414.1  324  179  166  156  258  56  28  1705 



S Name               P   SB  CS  IW HBP  WP  BK  SH  SF CI   H/9  BB/9   R/9   K/9  HR/9 K/BB  PCH/G  STR% 
  Takatsu            cl   1   1   0   0   0   0   0   1  0   4.7   4.7   9.4   2.9   0.6  0.6   18.9  .582 
  Katori             rp   0   0   0   3   0   0   1   2  0   5.5   2.3   9.0   5.1   0.4  2.2   21.5  .615 
  Sugiura            sp   2   1   0   0   0   0   0   0  0   5.9   3.3   9.2   5.3   0.3  1.6   52.1  .612 
d Wakabayashi        sp   0   1   0   0   1   0   1   0  0   6.3   2.9   9.2   3.1   1.4  1.1   87.3  .620 
  Noguchi            sp   8   2   0   1   0   0   1   0  0   6.6   2.1   8.8   4.8   1.1  2.3  102.9  .618 
  Koyama             sp   0   2   0   0   1   0   1   2  0   7.8   1.4   9.2   7.6   1.2  5.5   43.3  .629 
  Egawa              sp   2   4   0   1   1   0   3   3  0   7.8   4.1  12.2   6.6   1.6  1.6  101.3  .605 
  Kaneda*            sp   2   2   1   0   0   0   1   0  0   5.6   4.0   9.6   7.7   0.7  1.9  100.3  .595 
  Kudo*              sp   3   0   0   0   0   0   1   0  0  10.1   3.4  13.5   3.4   0.0  1.0   42.5  .529 
  Enatsu*            cl   1   0   0   1   1   0   0   1  0   6.6   6.9  13.9   8.9   1.5  1.3   24.3  .546 
f Sugishita          sp   4   2   1   0   0   2   1   0  0   8.3   4.8  13.1   6.0   2.8  1.3   99.8  .596 
f Suzuki,K*          sp   0   2   0   0   0   0   1   0  0  10.2   4.1  14.3   5.1   1.5  1.3   21.7  .610 
f Starffin           sp   0   0   0   0   2   0   0   1  0   8.6   3.3  12.0   5.0   1.4  1.5  100.8  .617 
  Gondo*             sp   1   0   0   0   1   0   0   0  0   9.0   5.0  14.0   6.0   2.0  1.2   57.7  .578 
  Total                  24  17   2   6   7   2  11  10  0   7.0   3.4  10.6   5.6   1.2  1.7         .605 



S Name               P    OPS  WHIP  BIP IPAVG  TBW TBW/BF TBWH TBWH/BF    RC RC27  RCERA   CERA 
  Takatsu            cl  .511  1.04   45  .156   20   .339   20    .339   3.3  2.0   1.76   1.96 
  Katori             rp  .541  0.87   65  .200   27   .307   30    .341   5.1  2.0   1.79   1.80 
  Sugiura            sp  .470  1.02   84  .202   32   .288   32    .288   6.2  2.0   1.85   1.78 
d Wakabayashi        sp  .595  1.02  166  .175   81   .388   81    .388  15.8  2.7   2.42   2.53 
  Noguchi            sp  .578  0.96  196  .199   93   .366   94    .370  19.5  2.7   2.45   2.25 
  Koyama             sp  .627  1.03  110  .264   59   .383   59    .383  13.1  3.0   2.72   2.65 
  Egawa              sp  .755  1.33  124  .242   88   .476   89    .481  22.2  4.5   4.12   4.29 
  Kaneda*            sp  .518  1.07  105  .200   53   .335   53    .335  10.3  2.3   2.18   2.07 
  Kudo*              sp  .729  1.50   20  .300   10   .417   10    .417   3.5  6.0   5.37   3.84 
  Enatsu*            cl  .719  1.50   59  .220   50   .476   51    .486  12.3  4.7   4.27   4.65 
f Sugishita          sp  .841  1.46   67  .209   57   .564   57    .564  14.0  5.2   5.00   5.50 
f Suzuki,K*          sp  .856  1.58   57  .298   42   .538   42    .538  11.7  6.0   5.38   5.68 
f Starffin           sp  .776  1.33  103  .252   70   .507   70    .507  18.3  5.1   4.59   4.09 
  Gondo*             sp  .758  1.56   28  .250   20   .488   20    .488   5.7  5.7   5.17   5.50 
  Total                  .646  1.16 1229  .218  702   .412  708    .415 158.0  3.4   3.09   3.08 

                              DMB team pitching -- 2005 Tokyo Giants*                               
                                 Regular season -- as of 5/22/2004                                  

S Name               P   GS  CG   CG% SHO  QS   QS%    RS  RS/G   RL  RLS   RL% 
  Takatsu            cl   0   0  .000   0   0  .000     0   0.0    4    1  .250 
  Katori             rp   0   0  .000   0   0  .000     0   0.0    1    0  .000 
  Sugiura            sp   4   0  .000   0   3  .750    12   3.0    2    1  .500 
d Wakabayashi        sp   8   2  .250   1   5  .625    39   4.9    2    0  .000 
  Noguchi            sp   9   4  .444   1   7  .778    35   3.9    1    0  .000 
  Koyama             sp   3   1  .333   0   2  .667     9   3.0    2    0  .000 
  Egawa              sp   7   1  .143   0   3  .429    30   4.3    2    1  .500 
  Kaneda*            sp   6   3  .500   2   3  .500    23   3.8    5    1  .200 
  Kudo*              sp   0   0  .000   0   0  .000     0   0.0    0    0  .000 
  Enatsu*            cl   0   0  .000   0   0  .000     0   0.0    5    1  .200 
f Sugishita          sp   3   1  .333   0   1  .333     5   1.7    2    1  .500 
f Suzuki,K*          sp   0   0  .000   0   0  .000     0   0.0    8    3  .375 
f Starffin           sp   5   0  .000   0   1  .200    22   4.4    2    2 1.000 
  Gondo*             sp   1   0  .000   0   0  .000     3   3.0    0    0  .000 
  Total                  46  12  .261   4  25  .543   178   3.9   36   11  .306 



S Name               P  SVO   S   SV%  BS   BS% HLD  IR IRS   IR%   G  GR  GF 
  Takatsu            cl   2   1  .500   1  .500   0   5   2  .400  10  10   3 
  Katori             rp   0   0  .000   0  .000   1  10   3  .300  15  15   8 
  Sugiura            sp   0   0  .000   0  .000   0   3   1  .333   8   4   2 
d Wakabayashi        sp   0   0  .000   0  .000   0   0   0  .000   8   0   0 
  Noguchi            sp   0   0  .000   0  .000   0   0   0  .000   9   0   0 
  Koyama             sp   1   1 1.000   0  .000   0   4   2  .500  13  10   4 
  Egawa              sp   0   0  .000   0  .000   0   0   0  .000   7   0   0 
  Kaneda*            sp   0   0  .000   0  .000   0   0   0  .000   6   0   0 
  Kudo*              sp   0   0  .000   0  .000   0   1   0  .000   2   2   0 
  Enatsu*            cl  10   6  .600   4  .400   3   7   3  .429  18  18  10 
f Sugishita          sp   0   0  .000   0  .000   0   0   0  .000   4   1   1 
f Suzuki,K*          sp   1   0  .000   0  .000   1   6   0  .000  13  13   5 
f Starffin           sp   0   0  .000   0  .000   0   0   0  .000   5   0   0 
  Gondo*             sp   0   0  .000   0  .000   0   0   0  .000   3   2   1 
  Total                  14   8  .571   5  .357   5  36  11  .306  46  75  34 




                              DMB team fielding -- 2005 Tokyo Giants*                               
                                 Regular season -- as of 5/22/2004                                  

Pos  S Name                     G  GS    INN   PO    A   E  DP   TC    PCT  PB  SB  CS   SB%  PK 
p      Jiro Noguchi             9   9   64.3    6    6   1   0   13   .923       8   2  .800   1 
     d Bozo Wakabayashi         8   8   53.0    7    6   0   0   13  1.000       0   1  .000   1 
       Suguru Egawa             7   7   43.7    4    6   1   1   11   .909       2   4  .333   0 
       Masaichi Kaneda          6   6   38.3    3    5   2   0   10   .800       2   2  .500   1 
       Masaaki Koyama          13   3   39.0    3    6   0   0    9  1.000       0   2  .000   1 
     f Victor Starffin          5   5   32.3    0    5   1   0    6   .833       0   0  .000   0 
     f Shigeru Sugishita        4   3   22.7    3    1   1   0    5   .800       4   2  .667   1 
       Yutaka Enatsu           18   0   23.3    2    2   0   0    4  1.000       1   0 1.000   0 
       Yoshitaka Katori        15   0   23.0    1    3   0   0    4  1.000       0   0  .000   0 
       Tadashi Sugiura          8   4   27.3    0    4   0   0    4  1.000       2   1  .667   0 
       Shingo Takatsu          10   0   15.3    1    3   0   1    4  1.000       1   1  .500   0 
     f Keishi Suzuki           13   0   17.7    1    2   0   0    3  1.000       0   2  .000   0 
       Kimiyasu Kudo            2   0    5.3    0    1   0   0    1  1.000       3   0 1.000   0 
       Masatoshi Gondo          3   1    9.0    0    0   0   0    0   .000       1   0 1.000   0 
       Total                  121  46  414.3   31   50   6   2   87   .931      24  17  .585   5 
                                                                                                 
c      Katsuya Nomura          31  26  246.0  156   13   0   0  169  1.000   5  13   9  .591   0 
       Atsuya Furuta           19  18  147.0   93    6   0   1   99  1.000   2  11   6  .647   0 
       Tsutomu Ito              4   2   21.3   21    1   0   0   22  1.000   0   0   2  .000   0 
       Total                   54  46  414.3  270   20   0   1  290  1.000   7  24  17  .585   0 
                                                                                                 
1b     Tetsuharu Kawakami      46  46  413.3  469   36   2  30  507   .996                       
       Atsuya Furuta            1   0    1.0    0    0   0   0    0   .000                       
       Total                   47  46  414.3  469   36   2  30  507   .996                       
                                                                                                 
2b     Shigeru Chiba           25  25  218.0   40   89   7  11  136   .949                       
       Hisanori Karita         17  15  127.3   29   50   2   9   81   .975                       
     f Hiromitsu Ochiai         9   6   62.7    9   22   3   6   34   .912                       
       Masahiro Kawai           2   0    3.3    1    2   0   1    3  1.000                       
     f Yoshio Yoshida           1   0    3.0    0    1   0   0    1  1.000                       
       Total                   54  46  414.3   79  164  12  27  255   .953                       
                                                                                                 
3b     Shigeo Nagashima        46  46  411.7   32  104   7   8  143   .951                       
       Futoshi Nakanishi        1   0    2.7    0    2   0   0    2  1.000                       
       Total                   47  46  414.3   32  106   7   8  145   .952                       
                                                                                                 
ss   f Yoshio Yoshida          33  32  280.3   52  112   2  16  166   .988                       
       Chusuke Kizuka          14  12   97.7   13   38   2   2   53   .962                       
       Masahiro Kawai           3   2   18.3    3    9   0   0   12  1.000                       
       Hisanori Karita         11   0   17.0    2    4   1   1    7   .857                       
     f Yasumitsu Toyoda         1   0    1.0    0    0   0   0    0   .000                       
       Total                   62  46  414.3   70  163   5  19  238   .979                       
                                                                                                 
lf     Wally Yonamine          46  46  413.3   84    0   1   0   85   .988                       
       Jiro Noguchi             1   0    1.0    0    0   0   0    0   .000                       
       Total                   47  46  414.3   84    0   1   0   85   .988                       
                                                                                                 
cf     Yutaka Fukumoto         28  27  234.7   60    1   2   0   63   .968                       
       Koji Yamamoto           25  19  176.7   53    1   0   0   54  1.000                       
     f Yasumitsu Toyoda         1   0    3.0    1    0   0   0    1  1.000                       
       Total                   54  46  414.3  114    2   2   0  118   .983                       
                                                                                                 
rf     Kaoru Betto             45  45  397.0   93    2   3   0   98   .969                       
       Yutaka Fukumoto          2   1   13.0    1    0   0   0    1  1.000                       
       Koji Yamamoto            1   0    4.3    0    0   0   0    0   .000                       
       Total                   48  46  414.3   94    2   3   0   99   .970                       
                                                                                                 
       Total                   46  46  414.3 1243  543  38  32 1824   .979   7