Giants Stumble Into The Season



Tokyo Giants

by "Sayonara" Shuto
Union League correspondent

Tokyo Yakyu


No Joy in Mudville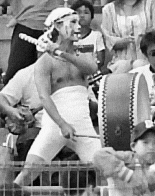 After very nearly one-tenth of the season put away into statistics, only one-tenth of the season, the hometown fans are starting to grumble. Initially the fans were let down because Sahadahur Oh got away in the Draft, and management did not seriously put any offers out to bring him to Tokyo. Instead they presented the hometown faithful with the

God of Batting

, Tetsuharu Kawakami. That mollified the raucus fans for a while, but after 15 games Kawakami is batting .197 with 4 extra-base hits and 7 RBI. The chant has already changing from "

Ganbare Kawakami!

" ("

Good Luck, Kawakami!

") to "

Jigoku ni ochiro

, Kawakami!

" ("

Go to hell, Kawakami!

"). It is getting very ugly in the stands as the long-suffering fans expect a lot more from their

Hall of Fame

team.

Besides Oh, there were a few other players that got away as well. Ichiro Suzuki & Hideki Matsui are two prime names often muttered over china cups of sake, but fans also wonder why Hideo Nomo is still a free agent.

A quick look at the stats shows some heartening figures: Furuta at .381, Karita .348, Nomura & Yonamine .313. But Furuta and Nomura are both catchers and can't play at the same time. Karita is the

good-glove-no-hit

second baseman, and nobody expects that average to hold up for long. Ok, so Yonamine's play is heartening, but only if one doesn't notice that starting at .250 and going down to .104,

batting averages

we're talking here, we can find six (6) regulars from the lineup. Seven if we go down to .000, but Chiba got injured after only 4 at-bats so we won't count him.

The Giants are 1-4 at home, and also 1-4 in one-run games -- two areas in which improvement must manifest itself. As well, the team batting average is an anemic .230 with an equally distressing .299 On Base Average, while the team ERA has ballooned to 4.20 with only 7 Quality Starts in 15 games. It doesn't help that rival Orix is on top of the division standings. Look for some serious after-game practice sessions for the forseeable future.


                            2005 Tokyo Giants*                                              
                             as of 4/20/2004                                                
                                                                                            
Name          AVG   OBP   SPC    G   AB    H  2B  3B  HR    R  RBI   BB    K HBP  IW  SB  CS
Furuta       .381  .435  .381    9   21    8   0   0   0    1    4    2    1   0   0   0   0
Karita       .348  .400  .609   12   23    8   1   1   1    3    5    2    2   0   0   0   1
Nomura, Ka   .313  .389  .500   13   32   10   0   0   2    6    2    4    3   0   0   1   0
Yonamine*    .313  .362  .469   15   64   20   2   1   2    8    8    5    7   0   0   1   0
Yamamoto, K  .294  .400  .706   12   17    5   1   0   2    2    2    2    3   1   0   0   0
Ito          .250  .500  .250    3    4    1   0   0   0    1    0    2    0   0   0   0   0
Nagashima, S .250  .318  .500   15   60   15   4   1   3   10    9    6    6   0   0   0   0
Betto        .214  .274  .393   15   56   12   2   1   2    7    7    5    7   0   0   1   0
Toyoda       .200  .333  .200    6    5    1   0   0   0    0    0    1    2   0   0   0   0
Noguchi      .200  .333  .800    3    5    1   0   0   1    1    1    1    1   0   0   0   0
Fukumoto*    .200  .246  .217   15   60   12   1   0   0    5    4    4    4   0   0   2   2
Kawakami*    .197  .269  .311   15   61   12   2   1   1    6    7    4    8   2   0   0   2
Ochiai       .174  .310  .304   12   23    4   0   0   1    2    2    5    3   0   0   0   0
Yoshida      .104  .196  .167   15   48    5   1   1   0    7    4    6    2   0   0   0   1
Chiba        .000  .000  .000    2    4    0   0   0   0    0    0    0    1   0   0   0   0
Kawai        .000  .000  .000    2    1    0   0   0   0    0    0    0    0   0   0   0   0
Pitchers     .143  .143  .250   15   28    4   0   0   1    2    4    0   11   0   0   0   0
Total        .230  .299  .375   15  512  118  14   6  16   61   59   49   61   3   0   5   6


                               2005 Tokyo Giants*                                           
                                as of 4/20/2004                                             
                                                                                            
Name          ERA   W   L   S   G  GS  CG SHO     INN    H    R   ER   BB    K  HR GDP    BF
Enatsu*      1.08   1   0   3   7   0   0   0     8.1    4    1    1    5    9   0   1    32
Takatsu      1.35   0   1   0   5   0   0   0     6.2    5    2    1    5    2   0   2    27
Katori       1.74   0   0   0   6   0   0   0    10.1    8    2    2    3    6   0   2    41
Wakabayashi  2.33   1   1   0   3   3   0   0    19.1   18    5    5    6    6   1   3    79
Egawa        3.18   1   0   0   3   3   1   0    17.0   16    7    6   10   11   1   1    74
Noguchi      3.65   1   1   0   2   2   1   1    12.1    7    5    5    2    3   2   0    45
Sugiura      4.00   1   1   0   4   1   0   0     9.0    8    5    4    3    5   0   0    39
Koyama       4.50   0   0   0   6   1   0   0    18.0   18    9    9    4   19   4   1    77
Sugishita    6.23   0   2   0   2   2   1   0    13.0   12   11    9   10    6   4   3    61
Starffin     7.50   1   1   0   2   2   0   0    12.0   12   10   10    3    9   5   0    51
Suzuki,K*    7.56   0   1   0   6   0   0   0     8.1   14    7    7    2    6   1   1    39
Kaneda*     16.88   0   1   0   1   1   0   0     2.2    6    5    5    4    3   0   0    19
Total        4.20   6   9   3  15  15   3   1   137.0  128   69   64   57   85  18  14   584