Game 17 vs. Newark

- Despite pitching in Municipal Stadium, with the wind blowing in 17 MPH from right, the Monarchs continued to give up homeruns at an alarming rate. Superstar Mordecai Brown allowed three homeruns. The Monarchs had 12 hits and 4 walks, but could only manage to score 2 runs, and the Eagles won 4-2.



Game 18 vs. Newark

- Chet Brewer would take the injured Hiramatsu's place. The results were disgusting. Brewer could not record a single out, bringing his ERA up to 17.55, which prompted the manager to say to him in the locker room after the game 'I cleared out your locker for you, now get in your car, drive down to Oklahoma [the AAA affiliate] and I'll let you know when I want you to come back.' McGinnity was masterful, getting the complete game 4-hitter, with the only run allowed being unearned. McGinnity is now 4-0 with an ERA of 1.01, making him a favorite for pitcher of the month. Newark won 15-1.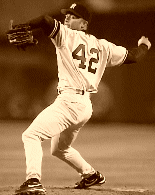 Game 19 vs. Newark

- In a great pitching duel, both Webster McDonald and Pedro Martinez went 8 innings giving up only a run a piece. Newark scored their run on an RBI groundout in the 2nd, while Kansas City answered with an RBI groundout from Yastrzemski in the 6th. Rivera pitched three strong innings in relief, as the game went into extras. In the 11th, Pettus had the game winning hit, a solo homerun that bounced high off the foul pole. This was the third win in a row for Newark (11-8) over Kansas City (11-8).



Game 20 @ NYY

- Kansas City would get back on track against a game Yankee team. The man who broke the color barrier also broke the scoreless tie in the third by ripping a homerun down the left field line. The Yankees answered with runs in the 5th and 7th inning against Gibson. However, the Monarchs would respond in the 8th. Jackie Robinson hit a one out triple and would score on an Ott sac fly, tying the game 2-2. The game would enter the 9th tied 2-2. Kansas City would load the bases with no outs, and bring in a run on a sac fly and another on a groundout. Gibson stayed on the mound in the bottom of the 9th, given the bullpen issues Kansas City has faced. He closed the game out to give Kansas City the 4-2 win.



4/21/2005, NEU06-KCU06, Municipal Stadium (1966-72)
 
                       1  2  3  4  5  6  7  8  9     R  H  E   LOB DP
2006 Eagles            1  0  0  0  1  2  0  0  0     4  8  0     6  2
2006 Monarchs          0  0  0  0  0  0  2  0  0     2 12  1    12  1
 
Eagles               AB  R  H BI   AVG    Monarchs             AB  R  H BI   AVG
Hill,P            lf  4  2  1  1  .277    Jethroe           cf  5  0  0  0  .267       
Johnson,HR        2b  4  0  1  1  .321    Yastrzemski       lf  5  1  4  1  .324       
Mays,W            cf  4  0  0  0  .236    Ott               rf  4  0  1  0  .344       
Leonard,B         1b  4  1  1  1  .203    Terry,B           1b  4  0  2  1  .333       
Doby              rf  2  1  1  1  .313    Robinson,J        2b  4  0  0  0  .239       
Jones,Chi         3b  4  0  2  0  .254    White,Dea         c   4  0  1  0  .333       
 Ventura          3b  0  0  0  0  .000    Chacon            ss  4  0  1  0  .294       
Trouppe           c   4  0  1  0  .375    Hack              3b  4  0  2  0  .333       
Cronin            ss  4  0  0  0  .269    Brown,M           p   2  0  0  0  .273       
Hensley           p   3  0  0  0  .000     Jones,Re         ph  1  1  1  0  .375       
 McDuffie         p   0  0  0  0  .000     Kobayashi        p   0  0  0  0  .000       
 Rivera           p   1  0  1  0  .500     Gore             ph  0  0  0  0  .200       
                     34  4  8  4           Smith,D          p   0  0  0  0  .000       
                                                               37  2 12  2             
 
Eagles                           INN  H  R ER BB  K PCH STR   ERA
Hensley          W 1-0           6.1 10  2  2  2  5 116  77  2.84
McDuffie         H 2             1.1  1  0  0  0  0  15  11 21.00
Rivera           S 3             1.1  1  0  0  2  0  22  10  4.26
                                 9.0 12  2  2  4  5 153  98 
 
Monarchs                         INN  H  R ER BB  K PCH STR   ERA
Brown,M          L 2-1           7.0  7  4  4  2  3  94  59  3.86
Kobayashi                        1.0  0  0  0  1  1  16   8  0.00
Smith,D                          1.0  1  0  0  0  0  16  11  5.68
                                 9.0  8  4  4  3  4 126  78 
 
NEU: Ventura inserted at 3b in the 8th
KCU: Jones,Re batted for Brown,M in the 7th
     Gore batted for Kobayashi in the 8th
 
E-Hack. 2B-Yastrzemski, Ott. 3B-Jones,Re. HR-Hill,P(2), Leonard,B(3), 
Doby(2). SB-Hill,P(3), Jones,Chi(1). CS-Johnson,HR. K-Mays,W, Hensley 3, 
Jethroe 3, Terry,B, Robinson,J. BB-Hill,P, Doby 2, Ott, Terry,B, Robinson,J, 
Gore. 
GWRBI: Johnson,HR
Temperature: 64, Sky: clear, Wind: in from right at 17 MPH.

....................................................................................................
4/21/2005, NEU06-KCU06, Municipal Stadium (1966-72)
 
                       1  2  3  4  5  6  7  8  9     R  H  E   LOB DP
2006 Eagles            1  0  0  0  1  2  0  0  0     4  8  0     6  2
2006 Monarchs          0  0  0  0  0  0  2  0  0     2 12  1    12  1
 
Score O Rnr BS  Event
----- - --- --  -----
 
**************  Top of the 1st inning, Eagles batting
 0-0  0 --- 31  Hill,P walked (FBBBB)
 0-0  0 1-- 00  Hill,P stole second (>C)
 0-0  0 -2- 01  Johnson,HR grounded a single between third and short, 
                  Hill,P scored (>C.X)
 1-0  0 1-- 01  Johnson,HR was caught stealing second (C>C)
 1-0  1 --- 02  Mays,W lined out to center (C>C.X)
 1-0  2 --- 00  Leonard,B flied out to left (X)
 
**************  Bottom of the 1st inning, Monarchs batting
 1-0  0 --- 02  Jethroe lined out to second (SFFX)
 1-0  1 --- 10  Yastrzemski flied out to right (BX)
 1-0  2 --- 32  Ott grounded out to the mound (BSCBBX)
 
**************  Top of the 2nd inning, Eagles batting
 1-0  0 --- 21  Doby grounded out to second (FBBX)
 1-0  1 --- 22  Jones,Chi lined a single to right center (BCFBX)
 1-0  1 1-- 02  Trouppe flied out to left (>FCX)
 1-0  2 1-- 00  Jones,Chi stole second (>B)
 1-0  2 -2- 21  Cronin lined out to center (>B.CBX)
 
**************  Bottom of the 2nd inning, Monarchs batting
 1-0  0 --- 12  Terry,B lined a single to left (SCFBFX)
 1-0  0 1-- 02  Robinson,J struck out (S1CS)
 1-0  1 1-- 11  White,Dea grounded a single between first and second, 
                  Terry,B to second (BFX)
 1-0  1 12- 11  Chacon flied out to left (BCX)
 1-0  2 12- 00  Hack grounded a single between third and short, Terry,B 
                  to third, White,Dea to second (X)
 1-0  2 123 22  Brown,M popped out to third (BCCBX)
 
**************  Top of the 3rd inning, Eagles batting
 1-0  0 --- 02  Hensley struck out (CSS)
 1-0  1 --- 01  Hill,P bunted into an out to third (FXb)
 1-0  2 --- 00  Johnson,HR grounded out to second (X)
 
**************  Bottom of the 3rd inning, Monarchs batting
 1-0  0 --- 02  Jethroe struck out (CFS)
 1-0  1 --- 32  Yastrzemski lined a single to shallow right (CBBSFBX)
 1-0  1 1-- 11  Ott lined a double to left center, Yastrzemski to third 
                  (CBX)
 1-0  1 -23 12  Terry,B struck out (BCCS)
 1-0  2 -23 22  Robinson,J flied out to right (BCCBX)
 
**************  Top of the 4th inning, Eagles batting
 1-0  0 --- 00  Mays,W grounded out to second (X)
 1-0  1 --- 21  Leonard,B grounded out to third (BCBX)
 1-0  2 --- 30  Doby walked (BBBB)
 1-0  2 1-- 00  Jones,Chi lined a single to left center, Doby to third (X)
 1-0  2 1-3 20  Trouppe grounded out to second (B11BX)
 
**************  Bottom of the 4th inning, Monarchs batting
 1-0  0 --- 00  White,Dea popped out to left (X)
 1-0  1 --- 11  Chacon grounded out to short (CBX)
 1-0  2 --- 22  Hack flied out to left (CBBCX)
 
**************  Top of the 5th inning, Eagles batting
 1-0  0 --- 12  Cronin grounded out to third (BFFX)
 1-0  1 --- 12  Hensley struck out (CCBC)
 1-0  2 --- 10  Hill,P homered deep down the left-field line (BX)
 2-0  2 --- 32  Johnson,HR to second on an error by the third baseman 
                  Hack (SBBSBX)
 2-0  2 -2- 01  Mays,W grounded out to first (CX)
 
**************  Bottom of the 5th inning, Monarchs batting
 2-0  0 --- 00  Brown,M grounded out to first (X)
 2-0  1 --- 12  Jethroe struck out (SBCS)
 2-0  2 --- 11  Yastrzemski lined a double to right center (FBX)
 2-0  2 -2- 21  Ott grounded out to first (BFBX)
 
**************  Top of the 6th inning, Eagles batting
 2-0  0 --- 10  Leonard,B homered deep to right (BX)
 3-0  0 --- 21  Doby homered deep to right (CBBX)
 4-0  0 --- 12  Jones,Chi grounded out to short (CFBX)
 4-0  1 --- 01  Trouppe reached on an infield single to second (CX)
 4-0  1 1-- 02  Cronin grounded into a double play, Chacon to Robinson,J 
                  to Terry,B (CFFX)
 
**************  Bottom of the 6th inning, Monarchs batting
 4-0  0 --- 12  Terry,B flied out to center (CFBFX)
 4-0  1 --- 31  Robinson,J walked (BBBCB)
 4-0  1 1-- 22  White,Dea flied out to center (CB1BFFX)
 4-0  2 1-- 11  Chacon grounded a single between third and short, 
                  Robinson,J to second (CBX)
 4-0  2 12- 01  Hack grounded out to second (CX)
 
**************  Top of the 7th inning, Eagles batting
 4-0  0 --- 22  Hensley struck out (BBFSS)
 4-0  1 --- 21  Hill,P grounded out to first (FBBX)
 4-0  2 --- 31  Johnson,HR grounded out to first (BBSBX)
 
**************  Bottom of the 7th inning, Monarchs batting
                Jones,Re pinch hitting for Brown,M
 4-0  0 --- 02  Jones,Re tripled deep to right center (CCX)
 4-0  0 --3 22  Jethroe struck out (BFBFS)
 4-0  1 --3 11  Yastrzemski lined a single to shallow right, Jones,Re 
                  scored (BFX)
 4-1  1 1-- 32  Ott walked, Yastrzemski to second (BBFCBB)
 4-1  1 12- 10  Terry,B lined a single to right center, Yastrzemski 
                  scored, Ott to third (BX)
                McDuffie now pitching
 4-2  1 1-3 22  Robinson,J grounded into a double play, Johnson,HR to 
                  Cronin to Leonard,B (BBCSFX)
 
**************  Top of the 8th inning, Eagles batting
                Kobayashi now pitching
 4-2  0 --- 22  Mays,W struck out (BBSFS)
 4-2  1 --- 01  Leonard,B grounded out to third (SX)
 4-2  2 --- 32  Doby walked (BFBFBB)
 4-2  2 1-- 20  Jones,Chi flied out to center (BBX)
 
**************  Bottom of the 8th inning, Monarchs batting
                Ventura now playing third base
 4-2  0 --- 11  White,Dea flied out to center (SBX)
 4-2  1 --- 11  Chacon grounded out to short (BSX)
 4-2  2 --- 02  Hack lined a single to left (SFX)
                Gore pinch hitting for Kobayashi
                Rivera now pitching
 4-2  2 1-- 32  Gore walked, Hack to second (BCBFB>B)
 4-2  2 12- 01  Jethroe popped out to short (CX)
 
**************  Top of the 9th inning, Eagles batting
                Smith,D now pitching
 4-2  0 --- 12  Trouppe grounded out to second (FSBX)
 4-2  1 --- 01  Cronin flied out to right (CX)
 4-2  2 --- 10  Rivera grounded a single between first and second (BX)
 4-2  2 1-- 32  Hill,P flied out to left (BCCBB>F>F>X)
 
**************  Bottom of the 9th inning, Monarchs batting
 4-2  0 --- 11  Yastrzemski lined a single up the middle (CBX)
 4-2  0 1-- 10  Ott grounded out to short, Yastrzemski to second (BX)
 4-2  1 -2- 31  Terry,B walked (BCBBB)
 4-2  1 12- 21  Robinson,J lined into a double play, Johnson,HR 
                  unassisted, Yastrzemski out at second (BBSX)
--------------------------------------------------------------------
--------------------------------------------------------------------

4/22/2005, NEU06-KCU06, Municipal Stadium (1966-72)
 
                       1  2  3  4  5  6  7  8  9     R  H  E   LOB DP
2006 Eagles            7  2  0  3  0  0  1  0  2    15 16  1     4  1
2006 Monarchs          1  0  0  0  0  0  0  0  0     1  4  1     4  2
 
Eagles               AB  R  H BI   AVG    Monarchs             AB  R  H BI   AVG
Hill,P            lf  3  1  1  0  .279    Jethroe           cf  4  1  0  0  .253       
 White,R          ph  2  0  0  0  .250    Yastrzemski       lf  4  0  2  0  .333       
Johnson,HR        2b  3  2  1  1  .322    Ott               rf  2  0  0  1  .333       
 Williams,Ch      ph  1  0  0  0  .200     Ewing,Bu         ph  1  0  0  0  .348       
Mays,W            cf  2  3  2  2  .257    Terry,B           1b  4  0  0  0  .316       
 McNair           ph  2  0  0  0  .000    Robinson,J        2b  4  0  0  0  .225       
Leonard,B         1b  2  1  1  1  .211    White,Dea         c   2  0  1  0  .340       
 Henrich          ph  2  0  0  0  .000     Wiltse           p   0  0  0  0  .000       
Doby              rf  3  1  2  1  .333     Gore             ph  1  0  0  0  .167       
 Trouppe          ph  1  1  1  0  .388     McDonald,B       p   0  0  0  0  .000       
Jones,Chi         3b  3  2  2  2  .274    Chacon            ss  3  0  1  0  .296       
 Ventura          ph  2  1  1  0  .333    Hack              3b  3  0  0  0  .313       
Pettus            c   5  1  2  3  .304    Brewer,C          p   0  0  0  0  .000       
Cronin            ss  5  1  2  4  .281     Lee,T            p   1  0  0  0  .000       
McGinnity         p   5  1  1  1  .188     Biggio           c   1  0  0  0  .000       
                     41 15 16 15                               30  1  4  1             
 
Eagles                           INN  H  R ER BB  K PCH STR   ERA
McGinnity        W 4-0           9.0  4  1  0  1  4 113  68  1.01
                                 9.0  4  1  0  1  4 113  68 
 
Monarchs                         INN  H  R ER BB  K PCH STR   ERA
Brewer,C         L 1-1           0.0  5  6  6  0  0  21  12 17.55
Lee,T                            4.1  7  6  6  3  1  77  43  6.92
Wiltse                           2.2  1  1  1  1  0  28  16  5.40
McDonald,B                       2.0  3  2  2  0  0  29  20  7.71
                                 9.0 16 15 15  4  1 155  91 
 
NEU: McNair batted for Mays,W in the 6th
     Henrich batted for Leonard,B in the 6th
     Trouppe batted for Doby in the 6th
     Ventura batted for Jones,Chi in the 6th
     McNair moved to cf in the 6th
     Ventura moved to 3b in the 6th
     Henrich moved to rf in the 6th
     Pettus moved to 1b in the 6th
     Trouppe moved to c in the 6th
     White,R batted for Hill,P in the 7th
     White,R moved to lf in the 7th
     Williams,Ch batted for Johnson,HR in the 8th
     Williams,Ch moved to 2b in the 8th
KCU: Biggio inserted at c in the 5th
     Gore batted for Wiltse in the 7th
     Ewing,Bu batted for Ott in the 9th
 
E-Hill,P, Brewer,C. 2B-Doby, Pettus, Ventura, Yastrzemski. 3B-Pettus. 
HR-Mays,W(3), Cronin(1), McGinnity(2). K-Leonard,B, Jethroe, Robinson,J, 
Chacon, Biggio. BB-Hill,P, Johnson,HR, Leonard,B, Trouppe, Biggio. SF-Ott. 
HBP-Mays,W. HB-Brewer,C. 
GWRBI: Johnson,HR
Temperature: 68, Sky: clear, Wind: in from right at 7 MPH.

....................................................................................................
4/22/2005, NEU06-KCU06, Municipal Stadium (1966-72)
 
                       1  2  3  4  5  6  7  8  9     R  H  E   LOB DP
2006 Eagles            7  2  0  3  0  0  1  0  2    15 16  1     4  1
2006 Monarchs          1  0  0  0  0  0  0  0  0     1  4  1     4  2
 
Score O Rnr BS  Event
----- - --- --  -----
 
**************  Top of the 1st inning, Eagles batting
 0-0  0 --- 21  Hill,P grounded a single up the middle (BFBX)
 0-0  0 1-- 10  On pickoff throw to first, Hill,P to second on an error 
                  by the pitcher Brewer,C (B1)
 0-0  0 -2- 21  Johnson,HR grounded a single between first and second, 
                  Hill,P scored (B1.FB2X)
 1-0  0 1-- 01  Mays,W was hit by a pitch, Johnson,HR to second (SH)
 1-0  0 12- 21  Leonard,B lined a single to shallow center, Johnson,HR 
                  scored, Mays,W to second (BBCX)
 2-0  0 12- 02  Doby reached on an infield single to second, Mays,W to 
                  third, Leonard,B to second (CSX)
 2-0  0 123 21  Jones,Chi lined a single between first and second, Mays,W 
                  scored, Leonard,B to third, Doby to second (CBBX)
                Lee,T now pitching
 3-0  0 123 00  Pettus grounded to third, forcing Leonard,B at home, Doby 
                  to third, Jones,Chi to second, Pettus to first (X)
 3-0  1 123 21  Cronin homered deep to right center, Doby scored, 
                  Jones,Chi scored, Pettus scored (BFBX)
 7-0  1 --- 01  McGinnity grounded out to second (CX)
 7-0  2 --- 22  Hill,P flied out to center (BSFBX)
 
**************  Bottom of the 1st inning, Monarchs batting
 7-0  0 --- 00  Jethroe to second on an error by the left fielder Hill,P 
                  (X)
 7-0  0 -2- 22  Yastrzemski flied out to center, Jethroe to third (BFSBX)
 7-0  1 --3 11  Ott hit a sacrifice fly to center, Jethroe scored (BCX)
 7-1  2 --- 21  Terry,B flied out to right (FBBX)
 
**************  Top of the 2nd inning, Eagles batting
 7-1  0 --- 00  Johnson,HR grounded out to short (X)
 7-1  1 --- 32  Mays,W grounded a single between third and short (CBFBBX)
 7-1  1 1-- 32  Leonard,B walked, Mays,W to second (CBCBBB)
 7-1  1 12- 22  Doby doubled deep to right, Mays,W scored, Leonard,B to 
                  third (FBF2BX)
 8-1  1 -23 21  Jones,Chi grounded out to second, Leonard,B scored, Doby 
                  to third (FBBX)
 9-1  2 --3 10  Pettus grounded out to short (BX)
 
**************  Bottom of the 2nd inning, Monarchs batting
 9-1  0 --- 32  Robinson,J grounded out to first (CBBFBFX)
 9-1  1 --- 10  White,Dea grounded a single up the middle (BX)
 9-1  1 1-- 11  Chacon grounded a single up the middle, White,Dea to 
                  second (BCX)
 9-1  1 12- 20  Hack grounded into a double play, Leonard,B to Cronin to 
                  Leonard,B (BBX)
 
**************  Top of the 3rd inning, Eagles batting
 9-1  0 --- 12  Cronin lined a single to shallow center (BSSX)
 9-1  0 1-- 10  McGinnity grounded into a double play, Robinson,J to 
                  Chacon to Terry,B (BbX)
 9-1  2 --- 01  Hill,P grounded out to short (FX)
 
**************  Bottom of the 3rd inning, Monarchs batting
 9-1  0 --- 02  Lee,T popped out to the catcher (CSX)
 9-1  1 --- 00  Jethroe grounded out to third (X)
 9-1  2 --- 11  Yastrzemski lined a single to right center (BCX)
 9-1  2 1-- 31  Ott grounded out to second (BBCBX)
 
**************  Top of the 4th inning, Eagles batting
 9-1  0 --- 32  Johnson,HR walked (FBFBBFFB)
 9-1  0 1-- 10  Mays,W homered deep to left, Johnson,HR scored (BX)
11-1  0 --- 22  Leonard,B struck out (BFSBS)
11-1  1 --- 00  Doby popped out to third (X)
11-1  2 --- 10  Jones,Chi lined a single down the left field line (BX)
11-1  2 1-- 00  Pettus tripled deep to center, Jones,Chi scored (X)
12-1  2 --3 31  Cronin flied out to left (BBCBX)
 
**************  Bottom of the 4th inning, Monarchs batting
12-1  0 --- 12  Terry,B grounded out to first (BFFFFX)
12-1  1 --- 01  Robinson,J grounded out to short (CX)
12-1  2 --- 31  White,Dea lined out to center (BBBCX)
 
**************  Top of the 5th inning, Eagles batting
12-1  0 --- 11  McGinnity flied out to right (CBX)
12-1  1 --- 32  Hill,P walked (BCBBCB)
                Biggio now playing catcher
                Wiltse now pitching
12-1  1 1-- 11  Johnson,HR grounded into a double play, Chacon to 
                  Robinson,J to Terry,B (CBX)
 
**************  Bottom of the 5th inning, Monarchs batting
12-1  0 --- 10  Chacon grounded out to short (BX)
12-1  1 --- 31  Hack grounded out to second (BCBBX)
12-1  2 --- 30  Biggio walked (BBBB)
12-1  2 1-- 32  Jethroe struck out (BBCCB>S)
 
**************  Top of the 6th inning, Eagles batting
                McNair pinch hitting for Mays,W
12-1  0 --- 00  McNair flied out to right (X)
                Henrich pinch hitting for Leonard,B
12-1  1 --- 00  Leonard,B grounded out to short (X)
                Trouppe pinch hitting for Doby
12-1  2 --- 31  Trouppe walked (FBBBB)
                Ventura pinch hitting for Jones,Chi
12-1  2 1-- 32  Ventura grounded out to short (BBSBS>X)
 
**************  Bottom of the 6th inning, Monarchs batting
                McNair moved to center field
                Ventura moved to third base
                Henrich moved to right field
                Pettus moved to first base
                Trouppe moved to catcher
12-1  0 --- 01  Yastrzemski grounded out to short (SX)
12-1  1 --- 01  Ott grounded out to second (CX)
12-1  2 --- 00  Terry,B grounded out to short (X)
 
**************  Top of the 7th inning, Eagles batting
12-1  0 --- 00  Pettus grounded out to third (X)
12-1  1 --- 21  Cronin lined out to third (CBBX)
12-1  2 --- 01  McGinnity homered deep to left (CX)
                White,R pinch hitting for Hill,P
13-1  2 --- 22  White,R grounded out to first (BBFFX)
 
**************  Bottom of the 7th inning, Monarchs batting
                White,R moved to left field
13-1  0 --- 10  Robinson,J flied out to right (BX)
                Gore pinch hitting for Wiltse
13-1  1 --- 12  Gore grounded out to second (CSBFX)
13-1  2 --- 12  Chacon struck out (CFBC)
 
**************  Top of the 8th inning, Eagles batting
                McDonald,B now pitching
                Williams,Ch pinch hitting for Johnson,HR
13-1  0 --- 01  Williams,Ch grounded out to short (CX)
13-1  1 --- 00  McNair flied out to left (X)
13-1  2 --- 21  Henrich flied out to center (BBCX)
 
**************  Bottom of the 8th inning, Monarchs batting
                Williams,Ch moved to second base
13-1  0 --- 21  Hack grounded out to second (BCBX)
13-1  1 --- 02  Biggio struck out (SFS)
13-1  2 --- 10  Jethroe lined out to second (BX)
 
**************  Top of the 9th inning, Eagles batting
13-1  0 --- 22  Trouppe grounded a single up the middle (SSBBFX)
13-1  0 1-- 01  Ventura doubled deep to left center, Trouppe to third (CX)
13-1  0 -23 20  Pettus doubled deep down the left-field line, Trouppe 
                  scored, Ventura scored (BBX)
15-1  0 -2- 11  Cronin popped out to short (CBX)
15-1  1 -2- 02  McGinnity lined out to left (CCFX)
15-1  2 -2- 21  White,R grounded out to the mound (BBCX)
 
**************  Bottom of the 9th inning, Monarchs batting
15-1  0 --- 22  Yastrzemski lined a double to left center (BFSBX)
                Ewing,Bu pinch hitting for Ott
15-1  0 -2- 20  Ewing,Bu grounded out to short (BBX)
15-1  1 -2- 11  Terry,B grounded out to first, Yastrzemski to third (BSX)
15-1  2 --3 32  Robinson,J struck out (BCBFFBS)
---------------------------------------------------------------------------
---------------------------------------------------------------------------

4/23/2005, NEU06-KCU06, Municipal Stadium (1966-72)
 
                       1  2  3  4  5  6  7  8  9 10 11     R  H  E   LOB DP
2006 Eagles            0  1  0  0  0  0  0  0  0  0  1     2  7  0    11  0
2006 Monarchs          0  0  0  0  0  1  0  0  0  0  0     1  5  0     4  1
 
Eagles               AB  R  H BI   AVG    Monarchs             AB  R  H BI   AVG
Hill,P            lf  6  0  1  0  .270    Jethroe           cf  5  1  1  0  .250       
Johnson,HR        2b  3  0  0  0  .306    Yastrzemski       lf  5  0  0  1  .312       
Mays,W            cf  4  0  1  0  .256    Ott               rf  4  0  0  0  .314       
Leonard,B         1b  5  0  1  0  .211    Terry,B           1b  4  0  2  0  .325       
Doby              rf  3  0  1  0  .333    Robinson,J        2b  4  0  1  0  .227       
Jones,Chi         3b  5  1  1  0  .269    White,Dea         c   3  0  1  0  .339       
 Ventura          3b  0  0  0  0  .333    Chacon            ss  3  0  0  0  .284       
Trouppe           c   4  0  1  0  .377     Jones,Re         ph  1  0  0  0  .333       
Williams,Ch       ss  2  0  0  1  .182     Garcia,S         ss  0  0  0  0  .190       
 Pettus           ph  3  1  1  1  .308    Hack              3b  4  0  0  0  .288       
McDonald,W        p   3  0  0  0  .000    Martinez,P        p   3  0  0  0  .083       
 Cronin           ph  1  0  0  0  .276     Wiltse           p   0  0  0  0  .000       
 Rivera           p   1  0  0  0  .333     Kobayashi        p   0  0  0  0  .000       
                     40  2  7  2           Gore             ph  1  0  0  0  .143       
                                                               37  1  5  1             
 
Eagles                           INN  H  R ER BB  K PCH STR   ERA
McDonald,W                       8.0  4  1  1  1  5 109  69  3.60
Rivera           W 2-0           3.0  1  0  0  0  2  33  21  2.89
                                11.0  5  1  1  1  7 142  90 
 
Monarchs                         INN  H  R ER BB  K PCH STR   ERA
Martinez,P                       8.0  5  1  1  5  9 126  76  3.19
Wiltse                           1.0  0  0  0  0  1  13   8  4.50
Kobayashi        L 0-1           2.0  2  1  1  1  0  27  16  2.25
                                11.0  7  2  2  6 10 166 100 
 
NEU: Pettus batted for Williams,Ch in the 7th
     Pettus moved to ss in the 7th
     Cronin batted for McDonald,W in the 9th
     Ventura inserted at 3b in the 11th
KCU: Jones,Re batted for Chacon in the 10th
     Garcia,S inserted at ss in the 11th
     Gore batted for Kobayashi in the 11th
 
2B-Trouppe. 3B-Jethroe. HR-Pettus(2). SB-Mays,W(3), Williams,Ch(2). 
CS-Robinson,J. K-Johnson,HR, Mays,W, Leonard,B 2, Doby, Jones,Chi, Trouppe, 
Williams,Ch, McDonald,W, Pettus, Ott, Terry,B, Robinson,J 2, White,Dea, 
Martinez,P 2. BB-Johnson,HR 2, Mays,W, Doby 2, Trouppe, White,Dea. 
BALK-Martinez,P. 
GWRBI: Pettus
Temperature: 71, Sky: clear, Wind: in from left at 23 MPH.

....................................................................................................
4/23/2005, NEU06-KCU06, Municipal Stadium (1966-72)
 
                       1  2  3  4  5  6  7  8  9 10 11     R  H  E   LOB DP
2006 Eagles            0  1  0  0  0  0  0  0  0  0  1     2  7  0    11  0
2006 Monarchs          0  0  0  0  0  1  0  0  0  0  0     1  5  0     4  1
 
Score O Rnr BS  Event
----- - --- --  -----
 
**************  Top of the 1st inning, Eagles batting
 0-0  0 --- 02  Hill,P lined out to left (CSX)
 0-0  1 --- 31  Johnson,HR walked (CBBBB)
 0-0  1 1-- 12  Mays,W struck out (FB111FS)
 0-0  2 1-- 00  Leonard,B flied out to center (X)
 
**************  Bottom of the 1st inning, Monarchs batting
 0-0  0 --- 22  Jethroe grounded out to first (SFBFFBX)
 0-0  1 --- 12  Yastrzemski popped out to first (CCBFFX)
 0-0  2 --- 32  Ott flied out to right (BCBFBX)
 
**************  Top of the 2nd inning, Eagles batting
 0-0  0 --- 12  Doby struck out (CSBS)
 0-0  1 --- 01  Jones,Chi reached on an infield single to third (SX)
 0-0  1 1-- 12  Trouppe grounded a double down the third base line, 
                  Jones,Chi to third (SBS1X)
 0-0  1 -23 01  Williams,Ch reached on a fielder's choice to first, 
                  Jones,Chi scored, Trouppe to third, Williams,Ch to 
                  first (CX)
 1-0  1 1-3 02  McDonald,W lined out to center (C111CX)
 1-0  2 1-3 21  Williams,Ch stole second (BpF1B1>C)
 1-0  2 -23 22  Hill,P flied out to left (BpF1B1>C.X)
 
**************  Bottom of the 2nd inning, Monarchs batting
 1-0  0 --- 11  Terry,B grounded out to third (CBX)
 1-0  1 --- 22  Robinson,J struck out (BFBCC)
 1-0  2 --- 12  White,Dea lined out to left (CSBFX)
 
**************  Top of the 3rd inning, Eagles batting
 1-0  0 --- 32  Johnson,HR walked (CCBBBB)
 1-0  0 1-- 00  Mays,W grounded out to third, Johnson,HR to second (>X)
 1-0  1 -2- 11  Leonard,B popped out to first (BFX)
 1-0  2 -2- 10  Martinez,P balked, Johnson,HR to third (BC)
 1-0  2 --3 31  Doby grounded out to short (BC.BBX)
 
**************  Bottom of the 3rd inning, Monarchs batting
 1-0  0 --- 21  Chacon grounded out to second (BBCX)
 1-0  1 --- 10  Hack grounded out to first (BX)
 1-0  2 --- 02  Martinez,P struck out (CSC)
 
**************  Top of the 4th inning, Eagles batting
 1-0  0 --- 32  Jones,Chi struck out (CBBBSS)
 1-0  1 --- 12  Trouppe struck out (CBSS)
 1-0  2 --- 22  Williams,Ch struck out (CBBCS)
 
**************  Bottom of the 4th inning, Monarchs batting
 1-0  0 --- 11  Jethroe grounded out to short (CBX)
 1-0  1 --- 12  Yastrzemski grounded out to second (FCBX)
 1-0  2 --- 11  Ott grounded out to short (CBX)
 
**************  Top of the 5th inning, Eagles batting
 1-0  0 --- 12  McDonald,W struck out (CSBS)
 1-0  1 --- 11  Hill,P grounded out to first (CBX)
 1-0  2 --- 22  Johnson,HR struck out (SSFBBS)
 
**************  Bottom of the 5th inning, Monarchs batting
 1-0  0 --- 02  Terry,B struck out (FFS)
 1-0  1 --- 10  Robinson,J grounded a single up the middle (BX)
 1-0  1 1-- 32  White,Dea walked, Robinson,J to second (1BBC1BC1B)
 1-0  1 12- 01  Chacon popped out to the catcher (FX)
 1-0  2 12- 12  Hack popped out to short (CBFX)
 
**************  Top of the 6th inning, Eagles batting
 1-0  0 --- 00  Mays,W lined a single to left (X)
 1-0  0 1-- 10  Mays,W stole second (B>C)
 1-0  0 -2- 22  Leonard,B struck out (B>C.FBFS)
 1-0  1 -2- 32  Doby reached on an infield single to second, Mays,W to 
                  third (C2BBBSX)
 1-0  1 1-3 01  Jones,Chi grounded into a double play, Hack to Robinson,J 
                  to Terry,B (CX)
 
**************  Bottom of the 6th inning, Monarchs batting
 1-0  0 --- 32  Martinez,P struck out (BBFCBS)
 1-0  1 --- 22  Jethroe tripled deep to right center (BCFBX)
 1-0  1 --3 00  Yastrzemski grounded out to third, Jethroe scored (X)
 1-1  2 --- 32  Ott struck out (BBBCCC)
 
**************  Top of the 7th inning, Eagles batting
 1-1  0 --- 00  Trouppe flied out to left (X)
                Pettus pinch hitting for Williams,Ch
 1-1  1 --- 01  Pettus flied out to center (CX)
 1-1  2 --- 11  McDonald,W grounded out to short (BSX)
 
**************  Bottom of the 7th inning, Monarchs batting
                Pettus moved to shortstop
 1-1  0 --- 01  Terry,B grounded a single between first and second (SX)
 1-1  0 1-- 10  Robinson,J bunted into an out to the catcher, forcing 
                  Terry,B at second, Robinson,J to first (BbXb)
 1-1  1 1-- 01  Robinson,J was caught stealing second after being picked 
                  off first by McDonald,W (C1)
 1-1  2 --- 32  White,Dea reached on an infield single to third (C1.BBFBX)
 1-1  2 1-- 20  Chacon popped out to second (B1BX)
 
**************  Top of the 8th inning, Eagles batting
 1-1  0 --- 10  Hill,P lined a single between first and second (BX)
 1-1  0 1-- 01  Johnson,HR flied out to left (S1>X)
 1-1  1 1-- 30  Mays,W walked, Hill,P to second (111BB11BpB)
 1-1  1 12- 32  Leonard,B struck out (CBBBFFS)
 1-1  2 12- 30  Doby walked, Hill,P to third, Mays,W to second (BBBB)
 1-1  2 123 12  Jones,Chi flied out to center (FSFBX)
 
**************  Bottom of the 8th inning, Monarchs batting
 1-1  0 --- 32  Hack flied out to center (CBFBBX)
 1-1  1 --- 11  Martinez,P grounded out to second (CBX)
 1-1  2 --- 00  Jethroe flied out to right (X)
 
**************  Top of the 9th inning, Eagles batting
 1-1  0 --- 31  Trouppe walked (FBBBB)
                Wiltse now pitching
 1-1  0 1-- 12  Pettus struck out (BbSFFS)
                Cronin pinch hitting for McDonald,W
 1-1  1 1-- 10  Cronin grounded out to third, Trouppe to second (BX)
 1-1  2 -2- 32  Hill,P grounded out to short (CBFBBX)
 
**************  Bottom of the 9th inning, Monarchs batting
                Rivera now pitching
 1-1  0 --- 21  Yastrzemski flied out to left (BBSX)
 1-1  1 --- 22  Ott flied out to center (CBFBFX)
 1-1  2 --- 00  Terry,B lined a single to right (X)
 1-1  2 1-- 32  Robinson,J struck out (BBCBpC1>S)
 
**************  Top of the 10th inning, Eagles batting
                Kobayashi now pitching
 1-1  0 --- 22  Johnson,HR flied out to center (FbBSBX)
 1-1  1 --- 11  Mays,W flied out to left (BCX)
 1-1  2 --- 01  Leonard,B grounded a single between third and short (SX)
 1-1  2 1-- 31  Doby walked, Leonard,B to second (B1BBCB)
 1-1  2 12- 22  Jones,Chi flied out to left (CBBSX)
 
**************  Bottom of the 10th inning, Monarchs batting
 1-1  0 --- 32  White,Dea struck out (CBBFBS)
                Jones,Re pinch hitting for Chacon
 1-1  1 --- 02  Jones,Re lined out to left (CSX)
 1-1  2 --- 00  Hack flied out to right (X)
 
**************  Top of the 11th inning, Eagles batting
                Garcia,S now playing shortstop
 1-1  0 --- 00  Trouppe flied out to center (X)
 1-1  1 --- 00  Pettus homered deep down the right field line (X)
 2-1  1 --- 00  Rivera grounded out to the mound (X)
 2-1  2 --- 21  Hill,P grounded out to first (BBCX)
 
**************  Bottom of the 11th inning, Monarchs batting
                Ventura now playing third base
                Gore pinch hitting for Kobayashi
 2-1  0 --- 10  Gore grounded out to short (BX)
 2-1  1 --- 01  Jethroe flied out to right (CX)
 2-1  2 --- 10  Yastrzemski grounded out to third (BX)
----------------------------------------------------------------
----------------------------------------------------------------

4/24/2005, KCU06-NYU06, Yankee Stadium (1937-66)
 
                       1  2  3  4  5  6  7  8  9     R  H  E   LOB DP
2006 Monarchs          0  0  1  0  0  0  0  1  2     4  5  2     6  0
2006 Yankees           0  0  0  0  1  0  1  0  0     2  4  0     5  0
 
Monarchs             AB  R  H BI   AVG    Yankees              AB  R  H BI   AVG
Jethroe           cf  5  0  0  0  .236    Rice,S            rf  4  0  1  1  .242       
Robinson,J        3b  4  2  2  1  .241    Rizzuto           ss  2  0  1  0  .267       
Ott               rf  2  0  0  1  .306     Palmeiro         ph  1  0  0  0  .000       
Terry,B           1b  3  0  0  0  .313     Stephens,CJ      ss  0  0  0  0  .324       
Yastrzemski       lf  3  1  1  0  .313    Gonzalez,L        lf  4  0  0  0  .275       
Chacon            ss  3  1  1  0  .286    Robinson,B        3b  4  0  0  0  .170       
Garcia,S          2b  2  0  1  0  .217    Mattingly         1b  4  0  0  0  .273       
Ewing,Bu          c   3  0  0  1  .308    Combs             cf  3  1  1  0  .344       
Gibson,B          p   4  0  0  1  .250    Berra             c   4  1  0  0  .143       
                     29  4  5  4          Randolph          2b  3  0  1  0  .242       
                                          Plank             p   3  0  0  0  .000       
                                           Righetti         p   0  0  0  0  .000       
                                                               32  2  4  1             
 
Monarchs                         INN  H  R ER BB  K PCH STR   ERA
Gibson,B         W 2-1           9.0  4  2  1  2  4 117  71  4.20
                                 9.0  4  2  1  2  4 117  71 
 
Yankees                          INN  H  R ER BB  K PCH STR   ERA
Plank            L 1-2           8.0  5  4  4  5  4 124  68  3.13
Righetti                         1.0  0  0  0  0  0  11   7  5.79
                                 9.0  5  4  4  5  4 135  75 
 
NYU: Palmeiro batted for Rizzuto in the 8th
     Stephens,CJ inserted at ss in the 9th
 
E-Robinson,J, Yastrzemski. 3B-Robinson,J. HR-Robinson,J(3). SB-Chacon(2). 
K-Jethroe, Ott, Terry,B, Gibson,B, Rice,S, Rizzuto, Combs, Plank. BB-Ott, 
Yastrzemski, Chacon, Garcia,S 2, Rizzuto, Combs. SH-Terry,B. SF-Ott, 
Ewing,Bu. PB-Ewing,Bu. WP-Gibson,B. 
GWRBI: Ewing,Bu
Temperature: 57, Sky: partly cloudy, Wind: right to left at 10 MPH.

....................................................................................................
4/24/2005, KCU06-NYU06, Yankee Stadium (1937-66)
 
                       1  2  3  4  5  6  7  8  9     R  H  E   LOB DP
2006 Monarchs          0  0  1  0  0  0  0  1  2     4  5  2     6  0
2006 Yankees           0  0  0  0  1  0  1  0  0     2  4  0     5  0
 
Score O Rnr BS  Event
----- - --- --  -----
 
**************  Top of the 1st inning, Monarchs batting
 0-0  0 --- 22  Jethroe struck out (FBFBC)
 0-0  1 --- 00  Robinson,J flied out to center (X)
 0-0  2 --- 22  Ott flied out to center (BBFCX)
 
**************  Bottom of the 1st inning, Yankees batting
 0-0  0 --- 22  Rice,S struck out (BBFCS)
 0-0  1 --- 02  Rizzuto struck out (CSS)
 0-0  2 --- 21  Gonzalez,L popped out to third (FBBX)
 
**************  Top of the 2nd inning, Monarchs batting
 0-0  0 --- 20  Terry,B flied out to center (BBX)
 0-0  1 --- 22  Yastrzemski flied out to right (FBSBFX)
 0-0  2 --- 32  Chacon walked (BSSFBBFB)
 0-0  2 1-- 10  Chacon stole second (B>B)
 0-0  2 -2- 32  Garcia,S walked (B>B.BCCB)
 0-0  2 12- 01  Ewing,Bu popped out to first (SX)
 
**************  Bottom of the 2nd inning, Yankees batting
 0-0  0 --- 00  Robinson,B grounded out to short (X)
 0-0  1 --- 00  Mattingly to first on an error by the third baseman 
                  Robinson,J (X)
 0-0  1 1-- 32  Combs struck out (BSBBCS)
 0-0  2 1-- 01  Berra flied out to left (CX)
 
**************  Top of the 3rd inning, Monarchs batting
 0-0  0 --- 22  Gibson,B flied out to center (BBFFX)
 0-0  1 --- 10  Jethroe grounded out to second (BX)
 0-0  2 --- 10  Robinson,J homered deep down the left-field line (BX)
 1-0  2 --- 12  Ott struck out (BSCS)
 
**************  Bottom of the 3rd inning, Yankees batting
 1-0  0 --- 21  Randolph flied out to center (CBBX)
 1-0  1 --- 31  Plank grounded out to second (BBBCX)
 1-0  2 --- 00  Rice,S flied out to left (X)
 
**************  Top of the 4th inning, Monarchs batting
 1-0  0 --- 00  Terry,B flied out to left (X)
 1-0  1 --- 30  Yastrzemski walked (BBBB)
 1-0  1 1-- 01  Chacon lined out to center (FX)
 1-0  2 1-- 20  Garcia,S grounded a single between first and second, 
                  Yastrzemski to second (BBX)
 1-0  2 12- 12  Ewing,Bu grounded to third, forcing Yastrzemski at third 
                  (BCCX)
 
**************  Bottom of the 4th inning, Yankees batting
 1-0  0 --- 32  Rizzuto walked (BFBSBFB)
 1-0  0 1-- 00  Gibson,B threw a wild pitch, Rizzuto to second (1B)
 1-0  0 -2- 10  Gonzalez,L popped out to third (1B.X)
 1-0  1 -2- 31  Robinson,B grounded out to second, Rizzuto to third 
                  (BBCBX)
 1-0  2 --3 22  Mattingly grounded out to short (CBFBX)
 
**************  Top of the 5th inning, Monarchs batting
 1-0  0 --- 22  Gibson,B struck out (FFBBS)
 1-0  1 --- 00  Jethroe flied out to center (X)
 1-0  2 --- 11  Robinson,J grounded out to second (CBX)
 
**************  Bottom of the 5th inning, Yankees batting
 1-0  0 --- 10  Combs reached on an infield single to second (BX)
 1-0  0 1-- 11  Berra grounded to first, forcing Combs at second, Berra 
                  to first (BFX)
 1-0  1 1-- 00  Randolph grounded a single between first and second, 
                  Berra to second (X)
 1-0  1 12- 02  Plank struck out (SFbS)
 1-0  2 12- 02  Rice,S lined a single to shallow center, Berra scored, 
                  Randolph to second (CCX)
 1-1  2 12- 00  Rizzuto lined a single to shallow left, Randolph out at 
                  home, Rice,S to second (X)
 
**************  Top of the 6th inning, Monarchs batting
 1-1  0 --- 31  Ott walked (BBSBB)
 1-1  0 1-- 10  Terry,B sacrifice bunted to third, Ott to second (BbXb)
 1-1  1 -2- 32  Yastrzemski flied out to left, Ott to third (BCBBSX)
 1-1  2 --3 22  Chacon grounded out to third (BBFFX)
 
**************  Bottom of the 6th inning, Yankees batting
 1-1  0 --- 12  Gonzalez,L flied out to right (BFFFX)
 1-1  1 --- 10  Robinson,B grounded out to the catcher (BX)
 1-1  2 --- 32  Mattingly flied out to right (CFBBBFFX)
 
**************  Top of the 7th inning, Monarchs batting
 1-1  0 --- 10  Garcia,S grounded out to second (BX)
 1-1  1 --- 20  Ewing,Bu flied out to right (BBX)
 1-1  2 --- 22  Gibson,B grounded out to short (FBFFBX)
 
**************  Bottom of the 7th inning, Yankees batting
 1-1  0 --- 31  Combs walked (BFBBB)
 1-1  0 1-- 00  Berra grounded out to first, Combs to second (X)
 1-1  1 -2- 32  Randolph flied out to right, Combs to third (BBSBSX)
 1-1  2 --3 12  Ewing,Bu allowed a passed ball, Combs scored (CBSB)
 1-2  2 --- 22  Plank flied out to center (CBSB.X)
 
**************  Top of the 8th inning, Monarchs batting
 1-2  0 --- 00  Jethroe grounded out to short (X)
 1-2  1 --- 00  Robinson,J tripled deep to left center (X)
 1-2  1 --3 22  Ott hit a sacrifice fly to center, Robinson,J scored 
                  (BBCSX)
 2-2  2 --- 22  Terry,B struck out (BSSBC)
 
**************  Bottom of the 8th inning, Yankees batting
 2-2  0 --- 01  Rice,S flied out to left (FX)
                Palmeiro pinch hitting for Rizzuto
 2-2  1 --- 11  Palmeiro lined out to center (CBX)
 2-2  2 --- 10  Gonzalez,L flied out to center (BX)
 
**************  Top of the 9th inning, Monarchs batting
                Stephens,CJ now playing shortstop
 2-2  0 --- 22  Yastrzemski lined a single up the middle (FBBFX)
 2-2  0 1-- 00  Chacon bunted for a single, Yastrzemski to second (1Xb)
 2-2  0 12- 31  Garcia,S walked, Yastrzemski to third, Chacon to second 
                  (BbBbBCB)
                Righetti now pitching
 2-2  0 123 12  Ewing,Bu hit a sacrifice fly to center, Yastrzemski 
                  scored, Chacon to third (CFBX)
 3-2  1 1-3 11  Gibson,B grounded out to second, Chacon scored, Garcia,S 
                  to second (BCX)
 4-2  2 -2- 21  Jethroe flied out to left (BBCX)
 
**************  Bottom of the 9th inning, Yankees batting
 4-2  0 --- 22  Robinson,B flied out to right (BCBSX)
 4-2  1 --- 20  Mattingly flied out to left (BBX)
 4-2  2 --- 21  Combs to first on an error by the left fielder 
                  Yastrzemski (BSBX)
 4-2  2 1-- 01  Berra grounded out to second (CX)