"

Imagine that son of a horselover's face when he walks into the clubhouse and we're all wearing the nose-glasses. All I saw was Jay Johnstone stick his head out of the office, say, 'oh, faddlefarper!', and 5 seconds later, Dewdney sticks his head out, says, 'Finklepiller on you all," then disappears, and JJ comes back out to tell us there's no clubhouse meeting tonight.

"

That was the quote from an unnamed Blue Jay player after the last game against the Pittsburgh Pirates. Indeed, the "

silent rebellion

" reached a quiet crescendo late last night when, apparently, after the 3rd loss in a row against the Pirates, owner, GM and coach Dewdney threw a wildly destructive temper tantrum in the locker room, destroying the post-game spread and refusing to let his players change into their street clothes for the ride home.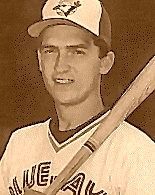 "

We didn't have a feeling of, 'let's play for this guy.' That's about all I can say,

" said first baseman John Olerud. "

It just gets silly and you start ignoring all the screaming after awhile.

"

Those who read this column will recall the prophecy from the off-season - if Mark Dewdney keeps trying to be the players' friend, they will refuse to listen to him when he finally has to lay down the law - and that's what happened. The Jays hit the skids, some players were not pulling their weight, the screws had to be tightened, and the players decided they didn't like being yelled at by a guy who was previously their "

best buddy

".

The final straw came when someone distributed a pair of Groucho Marx nose-glasses to every player on the team as they sat silently waiting for Dewdney to emerge from his office. The entire team sat there with the glasses on - and the point?

"

Keith Hernandez has a pretty good sized nose and moustache, and these look a lot like him,

" starting pitcher Jack Morris said. "

I won't tell you whose idea it was, but I was wearing my pair just like the rest of the team. Dewdney's got to go - I don't care if he does sign the paycheques.

"

And go he did. He packed up the office (what remained after

The Tantrum

) and took it all upstairs to the front office floor of Exhibition Stadium, booted an intern out and took his desk.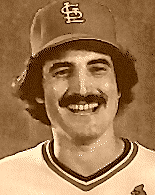 A half an hour later, a press conference was called for this morning, and an awkward silence ensued until Keith Hernandez took to the podium to announce, by himself, that he was being asked to take over the reins of the Blue Jay clubhouse as a player/manager.

Wait a minute - the

same

Hernandez who Dewdney tried to trade earlier this year? Talk about your basic irony...!

Hernandez would have none of it.

"

Not important,

" he said, tapping the podium for emphasis. "

I can respect the guy - he got 3 trade offers for me, none of which he thought were high enough. He had McGriff & Olerud at first, and someone had to go. I'm just glad it's working out this way.

"

Hernandez will keep some of the same coaches from Dewdney's reign; bench coach Jay Johnstone, bullpen coach Roger McDowell, third base coach Mookie Wilson and first-base coach Garth Iorg will be sticking around. Hernandez will be hunting for pitching-coach candidates, but will not fill the hitting-coach vacancy; "

Why? There's enough great hitters here - there's always someone else's brain to pick around this clubhouse.

"

As for the players?

"

Keith's made it plain that we can run our own clubhouse so long as we're playing at 100%,

" Ernie Whitt said. "

As a matter of fact, we, the players, have made the only clubhouse rule now - everyone must grow a moustache if they haven't already. Me, Morris, Parrish, Santiago, McGriff, Kent, Lansford, Bell, Rickey, Gwynn, Stieb, Wells, & Ward already have good 'staches - The Moustache Brigade lives, in honor of Keith's return to the clubhouse.

"

"

We'll see how many of those moustaches stay when I start them running wind sprints after a loss,

" Hernandez deadpanned. "

No more beeplelipper.

"

And, with that, a new era in Blue Jays baseball begins - or so we all hope.