Dave Stieb Hurls Second ATL No-Hitter



Pittsburgh Pirates

by "Shakey" McGuiness
Legends League correspondent

Pittsburgh Pirates Baseball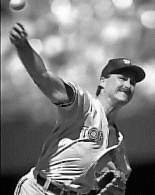 Chicago - It was a perfect day for baseball, 82 degrees, sunny, a bit of a breeze. The hometown Cubbies had just come off a big win over that first place club from the East Division, so the fans were feeling good. Never mind those who might have indulged in some cold adult beverages on a day which seemed made for that sort of thing. Even a sober fan could feel the euphoria. The Cubbies had used The Big Unit as the The Big Stat-Inflater the day before, and the fans were hoping to see more of the same on this day. What they got was close, very close, to perfection, but from another source: the Pirates hurler du jour, a man named David Andrew Steib. The astute reader realizes that when the middle name is utilized in this manner, something "big" has happened. Well continue on, dear reader, and you will certainly discover that secret.

It was just 5 days prior when Mr. Steib last climbed that hill found in the middle of all baseball diamonds. He was playing the Leones of Havana that day, and the temperature was only 98 degrees at that point. I say "only", because one game in that series the mercury actually hit 114, and another, 107. Yes, you read that right. One hundred fourteen sweaty, sticky, stinky degrees. But more notable was the fact that before Mr.Steib had registered even three outs, five Havana runners had crossed the dish safely. He ended up taking the loss that day, unsurprisingly, 11-6. One might therefore think that Dave's confidence was not at an all-time high going into today's contest.

The Pirates' hurler had plenty of support this day as well, but, dealing here in understatement, as we sometimes do, he made better use of it. Mention should be made of John Mize locating the seats twice and of the four runs those blasts produced. We should note that Jesse "Crab" Burkett continued his incredible assault on ATL pitching with three more hits,including a 4-bagger of his own. His BA now stands at .380, a damn fine place to be at come time to negotiate your contract, one supposes. But this was Dave steib's day. This was Dave Steib's day because he came two outs away from a perfect game. A Japanese import by the name of Takuro Ishii, a fine shortstop, had pinch hit for Double-Duty Radcliffe, and after taking a called strike, took four more deliveries which were deemed wide of the strike zone. Mr. Ishii had then gotten himself himself a walk, and Mr.Steib had lost himself a perfect game. The Bucs were aware of Ishii's skill with the bunt, and played in to take away that weapon, or at least, blunt it's effect. But they could do nothing about four balls and a free pass. Of such vagaries is baseball made.

There remained the matter of the no-hitter, however. This league has already experienced one, thank you Bert Blyleven, a man who will always be an answer to a trivia question, as well as a fine pitcher. But this was a Netplay game. Now, what that is, exactly, this reporter has no idea. But those who know more than me have said it is significant in some way. So this would be the first Netplay no-no, if indeed, Mr. Steib could gather two more outs from the Chicago lineup and make this perfect baseball day even more special. Of course he had help along the way: they always do. Rajah Hornsby, not known for his defensive artistry, showed a bit of range on a couple of ground balls, and Pop Lloyd made a fine play in the third, going in the hole to rob a hit from Roger Bresnahan. Of course, everyone appreciated the play, but the significance was lost until the innings rolled by, as they tend to do in baseball games, and the zero remained stagnant in the hits column for the Chicago nine.

But back to our ending, Ishii is on first by way of the free pass, and Mr.Steib is a bit perturbed about that turn of events. Or one might reasonably think that was the case. But point in fact, he then immediately and calmly set aside red hot pinch hitter Cesar Cedeno (.358) on strikes. That would make nine punch outs for the Pittsburgh hurler. He had once fanned 10 Houston batters in a game, but aside from that contest, this was his best effort in that department. which is to say, the man was firing on all cylinders. He then closed the game out rather undramatically by inducing Jackie Robinson to hit into force play handled by the aforementioned Mr.Lloyd.

And thus history was made. There have now been two no-hitters in this short run of the ATL, and the Steib gems is the first that was "Netplayed", which my editor continues to insist has some further merit. Once the last out was gloved by John Henry Lloyd (there goes a middle name reference again) the Cubs fans rose as one and gave the enemy hurler a loud and long two handed salute. He responded by tipping his cap in appreciation. No one can say that the Chicago sports fans do not appreciate good baseball when they see it. This was immediately prior to his getting gang tackled by has mates and generally thrown about and abused in that manner that athletes tend to do when one has done something noteworthy. In all, a beautiful day for a game.


7/1/2004, PIT05-CHI05, Wrigley Field (1928-37)
 
                       1  2  3  4  5  6  7  8  9     R  H  E   LOB DP
2005 Pirates           0  2  1  0  1  0  0  1  4     9 14  0     6  0
2005 Cubs              0  0  0  0  0  0  0  0  0     0  0  1     1  0
 
Pirates              AB  R  H BI  D  T HR BB  K SB CS IW HP SH SF   AVG   PO  A  E PB
Kimbro            cf  5  0  2  1  0  0  0  0  0  0  0  0  0  0  0  .321    1  0  0  0
Lloyd             ss  5  1  2  0  0  0  0  0  1  0  0  0  0  0  0  .316    2  2  0  0
Burkett,Je        lf  4  3  3  1  0  0  1  1  1  0  0  0  0  0  0  .380    1  0  0  0
Hornsby           2b  5  1  1  1  0  0  0  0  0  0  0  0  0  0  0  .269    0  6  0  0
 McDougald        2b  0  0  0  0  0  0  0  0  0  0  0  0  0  0  0  .333    1  0  0  0
Mize              1b  5  2  2  4  0  0  2  0  1  0  0  0  0  0  0  .268   11  0  0  0
Smith,C           rf  5  1  2  1  0  0  0  0  0  0  0  0  0  0  0  .340    2  0  0  0
Hartnett          c   4  0  0  0  0  0  0  0  0  0  0  0  0  0  0  .257    9  0  0  0
Francis           3b  4  1  2  1  0  0  0  0  1  1  0  0  0  0  0  .269    0  1  0  0
Stieb             p   2  0  0  0  0  0  0  0  0  0  0  0  1  1  0  .000    0  2  0  0
                     39  9 14  9  0  0  3  1  4  1  0  0  1  1  0         27 11  0  0
 
Cubs                 AB  R  H BI  D  T HR BB  K SB CS IW HP SH SF   AVG   PO  A  E PB
Robinson,J        3b  4  0  0  0  0  0  0  0  1  0  0  0  0  0  0  .242    2  3  1  0
Sandberg          2b  3  0  0  0  0  0  0  0  2  0  0  0  0  0  0  .264    1  3  0  0
Williams,T        lf  3  0  0  0  0  0  0  0  1  0  0  0  0  0  0  .274    3  1  0  0
Aaron             rf  3  0  0  0  0  0  0  0  0  0  0  0  0  0  0  .297    3  0  0  0
Roush             cf  3  0  0  0  0  0  0  0  1  0  0  0  0  0  0  .292    1  1  0  0
Kluszewski        1b  3  0  0  0  0  0  0  0  0  0  0  0  0  0  0  .254   12  0  0  0
Banks             ss  2  0  0  0  0  0  0  0  1  0  0  0  0  0  0  .194    1  3  0  0
 Chance           ph  1  0  0  0  0  0  0  0  1  0  0  0  0  0  0  .188    0  0  0  0
Bresnahan         c   1  0  0  0  0  0  0  0  0  0  0  0  0  0  0  .196    2  0  0  0
 Sheckard         ph  1  0  0  0  0  0  0  0  0  0  0  0  0  0  0  .050    0  0  0  0
 Radcliffe        c   0  0  0  0  0  0  0  0  0  0  0  0  0  0  0  .254    1  1  0  0
 Ishii            ph  0  0  0  0  0  0  0  1  0  0  0  0  0  0  0  .438    0  0  0  0
Perry,G           p   1  0  0  0  0  0  0  0  1  0  0  0  0  0  0  .129    0  0  0  0
 Grace            ph  1  0  0  0  0  0  0  0  0  0  0  0  0  0  0  .150    0  0  0  0
 O'Toole          p   0  0  0  0  0  0  0  0  0  0  0  0  0  0  0  .071    1  0  0  0
 Reardon          p   0  0  0  0  0  0  0  0  0  0  0  0  0  0  0  .083    0  0  0  0
 Cedeno           ph  1  0  0  0  0  0  0  0  1  0  0  0  0  0  0  .358    0  0  0  0
                     27  0  0  0  0  0  0  1  9  0  0  0  0  0  0         27 12  1  0
 
Pirates                          INN  H  R ER BB  K PCH STR   BF HR IW HP WP DP   ERA
Stieb            W 8-7           9.0  0  0  0  1  9 120  77   28  0  0  0  0  0  3.83
                                 9.0  0  0  0  1  9 120  77   28  0  0  0  0  0 
 
Cubs                             INN  H  R ER BB  K PCH STR   BF HR IW HP WP DP   ERA
Perry,G          L 5-10          6.0  9  4  4  1  2  84  55   28  1  0  1  2  0  4.25
O'Toole                          2.2  5  5  5  0  2  44  25   13  2  0  0  0  0  6.62
Reardon                          0.1  0  0  0  0  0   3   2    1  0  0  0  0  0  3.93
                                 9.0 14  9  9  1  4 131  82   42  3  0  1  2  0 
 
PIT: McDougald inserted at 2b in the 9th
CHI: Sheckard batted for Bresnahan in the 6th
     Grace batted for Perry,G in the 6th
     Radcliffe inserted at c in the 7th
     Chance batted for Banks in the 9th
     Ishii batted for Radcliffe in the 9th
     Cedeno batted for Reardon in the 9th
 
GWRBI: Francis
Temperature: 82, Sky: clear, Wind: in from right at 13 MPH.


....................................................................................................


7/1/2004, PIT05-CHI05, Wrigley Field (1928-37)
 
                       1  2  3  4  5  6  7  8  9     R  H  E   LOB DP
2005 Pirates           0  2  1  0  1  0  0  1  4     9 14  0     6  0
2005 Cubs              0  0  0  0  0  0  0  0  0     0  0  1     1  0
 
Score O Rnr BS  Event
----- - --- --  -----
 
**************  Top of the 1st inning, Pirates batting
 0-0  0 --- 10  Kimbro flied out to right (BX)
 0-0  1 --- 00  Lloyd flied out to center (X)
 0-0  2 --- 00  Burkett,Je lined a single between third and short (X)
 0-0  2 1-- 02  Burkett,Je to second, Hornsby to first on an error by the 
                  third baseman Robinson,J (CCX)
 0-0  2 12- 31  Mize grounded to third, forcing Hornsby at second (BBBCX)
 
**************  Bottom of the 1st inning, Cubs batting
 0-0  0 --- 00  Robinson,J grounded out to second (X)
 0-0  1 --- 02  Sandberg struck out (FFFS)
 0-0  2 --- 01  Williams,T grounded out to second (CX)
 
**************  Top of the 2nd inning, Pirates batting
 0-0  0 --- 10  Smith,C grounded a single up the middle (BX)
 0-0  0 1-- 10  Hartnett grounded out to first, Smith,C to second (1Bp1X)
 0-0  1 -2- 10  Francis lined a single to shallow center, Smith,C scored 
                  (BX)
 1-0  1 1-- 01  Francis stole second (Fb>C)
 1-0  1 -2- 02  Stieb sacrifice bunted to first, Francis to third 
                  (Fb>C.Xb)
 1-0  2 --3 11  Kimbro reached on an infield single to first, Francis 
                  scored (BFX)
 2-0  2 1-- 02  Lloyd lined a single to shallow left, Kimbro out at third 
                  (FCFX)
 
**************  Bottom of the 2nd inning, Cubs batting
 2-0  0 --- 20  Aaron flied out to center (BBX)
 2-0  1 --- 32  Roush flied out to right (FBBSBX)
 2-0  2 --- 10  Kluszewski grounded out to second (BX)
 
**************  Top of the 3rd inning, Pirates batting
 2-0  0 --- 30  Burkett,Je walked (BBBB)
 2-0  0 1-- 21  Hornsby flied out to left (BCBX)
 2-0  1 1-- 00  Perry,G threw a wild pitch, Burkett,Je to second (B)
 2-0  1 -2- 10  Mize grounded out to second, Burkett,Je to third (B.X)
 2-0  2 --3 00  Smith,C lined a single to right, Burkett,Je scored (X)
 3-0  2 1-- 01  Hartnett lined out to right (CX)
 
**************  Bottom of the 3rd inning, Cubs batting
 3-0  0 --- 02  Banks struck out (CFFC)
 3-0  1 --- 00  Bresnahan grounded out to short (X)
 3-0  2 --- 02  Perry,G struck out (CSC)
 
**************  Top of the 4th inning, Pirates batting
 3-0  0 --- 02  Francis grounded a single between third and short (CCFX)
 3-0  0 1-- 01  Stieb popped out on a bunt to first (1FbXb)
 3-0  1 1-- 00  Kimbro grounded a single up the middle, Francis out at 
                  third (X)
 3-0  2 1-- 00  Perry,G threw a wild pitch, Kimbro to second (B)
 3-0  2 -2- 32  Lloyd struck out (B.BCBSFC)
 
**************  Bottom of the 4th inning, Cubs batting
 3-0  0 --- 22  Robinson,J struck out (CBBFFS)
 3-0  1 --- 22  Sandberg struck out (CFBFBS)
 3-0  2 --- 20  Williams,T flied out to left (BBX)
 
**************  Top of the 5th inning, Pirates batting
 3-0  0 --- 31  Burkett,Je homered deep to left center (BBBCX)
 4-0  0 --- 12  Hornsby grounded out to short (CBSX)
 4-0  1 --- 22  Mize struck out (FBBFS)
 4-0  2 --- 11  Smith,C popped out to short (BCX)
 
**************  Bottom of the 5th inning, Cubs batting
 4-0  0 --- 32  Aaron lined out to right (BBCFBX)
 4-0  1 --- 12  Roush popped out to first (CFBFX)
 4-0  2 --- 32  Kluszewski popped out to short (BBBCFFFFX)
 
**************  Top of the 6th inning, Pirates batting
 4-0  0 --- 11  Hartnett flied out to left (BFX)
 4-0  1 --- 10  Francis grounded out to short (BX)
 4-0  2 --- 12  Stieb was hit by a pitch (CFFBFH)
 4-0  2 1-- 00  Kimbro grounded out to second (X)
 
**************  Bottom of the 6th inning, Cubs batting
 4-0  0 --- 10  Banks grounded out to second (BX)
                Sheckard pinch hitting for Bresnahan
 4-0  1 --- 20  Sheckard grounded out to the mound (BBX)
                Grace pinch hitting for Perry,G
 4-0  2 --- 32  Grace grounded out to second (CBFFBBX)
 
**************  Top of the 7th inning, Pirates batting
                Radcliffe now playing catcher
                O'Toole now pitching
 4-0  0 --- 31  Lloyd popped out to the mound (BBCBX)
 4-0  1 --- 22  Burkett,Je struck out, Radcliffe to Kluszewski (BCCBS)
 4-0  2 --- 11  Hornsby flied out to left (BCX)
 
**************  Bottom of the 7th inning, Cubs batting
 4-0  0 --- 00  Robinson,J grounded out to the mound (X)
 4-0  1 --- 12  Sandberg grounded out to second (SFFBX)
 4-0  2 --- 22  Williams,T struck out (FBBFFS)
 
**************  Top of the 8th inning, Pirates batting
 4-0  0 --- 21  Mize homered deep to right (SBBX)
 5-0  0 --- 00  Smith,C grounded out to third (X)
 5-0  1 --- 22  Hartnett grounded out to third (CBCBX)
 5-0  2 --- 02  Francis struck out (CSS)
 
**************  Bottom of the 8th inning, Cubs batting
 5-0  0 --- 11  Aaron popped out to short (BSX)
 5-0  1 --- 32  Roush struck out (CFBBFBS)
 5-0  2 --- 10  Kluszewski grounded out to third (BX)
 
**************  Top of the 9th inning, Pirates batting
 5-0  0 --- 01  Stieb flied out to right (FX)
 5-0  1 --- 21  Kimbro grounded out to second (BBFX)
 5-0  2 --- 20  Lloyd lined a single to right (BBX)
 5-0  2 1-- 31  Burkett,Je grounded a single between first and second, 
                  Lloyd to second (BBBCX)
 5-0  2 12- 10  Hornsby lined a single to left, Lloyd scored, Burkett,Je 
                  to second (BX)
 6-0  2 12- 10  Mize homered deep down the right field line, Burkett,Je 
                  scored, Hornsby scored (BX)
                Reardon now pitching
 9-0  2 --- 11  Smith,C grounded out to short (CBX)
 
**************  Bottom of the 9th inning, Cubs batting
                McDougald now playing second base
                Chance pinch hitting for Banks
 9-0  0 --- 32  Chance struck out (CBBBSS)
                Ishii pinch hitting for Radcliffe
 9-0  1 --- 31  Ishii walked (CBBBB)
                Cedeno pinch hitting for Reardon
 9-0  1 1-- 12  Cedeno struck out (CCBFS)
 9-0  2 1-- 22  Robinson,J grounded to short, forcing Ishii at second 
                  (BFSFFBX)