Pirates - Reds Showdown



Pittsburgh Pirates

by "Shakey" McGuiness
Legends League correspondent

Pittsburgh Pirates Baseball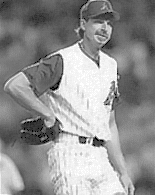 Pittsburgh. The streaking Pirates, fresh off taking a series from the faltering Leones, welcomed the South Division leading Cincinnati Reds at Forbes Field last night. Mounting the hill for the Bucs was The Big Enigma, AKA Randy Johnson. As has been chronicled by this reporter numerous times, this fellow has not been living up to his billing since arriving in the Steel City. Just three days prior, RJ was saved from yet another loss when the Battlin' Bucs came back from a big old four run hole he had dug for them to steal a victory from the Maximum Leader's boys. But after consulting with Kwan Jang Nim Ferrarro, the team trainer, management was assured that Johnson could handle the quick turnaround. He specifically said that Johnson was an "Ex" starter and could handle around 230 pitches in a five day span. What the heck an "Ex" starter is, I have no idea, but apparently it is trainer-speak for "let 'er rip". So he did.

At first, Johnson was the goods. Five of the first six Reds batters who strode to the plate went down on strikes. Now, lets put that into perspective. We're not talking Mario Mendoza or Joe Lahoud here. Tris Speaker, Nomah! Garciaparra, Shoeless Joe, Double X, "Boojum" Wilson, and "Bucketfoot" Al Simmons. Hall of Fame type players, all of 'em. Johnson was finally pitching as advertised. The crowd murmured, 'cuz that's what crowds do when something big is happening. Meanwhile, the Lumber Company was going about its business as usual. They posted a crooked number on the board in the first when Rajah boomed a four bagger deep to center, scoring spark plug Henry Kimbro. Now, if you know Forbes like I know Forbes, you'll realize that is quite a statement. The centerfield wall is planted a more than respectable 435 feet away from home plate. So that ball had some wings on it, is what I'm saying. In the second, the Pirates tacked on a run to make it 3-0, and the way Johnson was pitching, that seemed a safe lead. Except these are the Reds, a tough team not prone to rolling over. Which is why they sit atop the South Division.

The boys from Cincy came all the way back in the sixth. That stacked lineup finally caught up to Johnson's stuff and cuffed him around for three hits while waiting out a pair of walks. It all started with the dreaded lead off walk, courtesy of pinch hitter Fred Lynn. Freddie was batting for Cincy starter Robin Roberts, who, it should be noted, was masterful once he settled down. So Lynn walked his way on, Speaker banged out a base knock, Nomar took his base just as Freddie did, and the bags were full with none out. Trouble for the Unit. How would he react? Well, the Reds soon pushed across the three runs needed to knot the game via singles by Foxx and Simmons. But Johnson found some fortitude when he most needed it and struck out Gehringer, his tenth victim of the day, to end the threat. But it was a new game.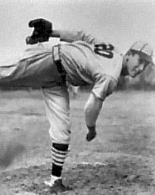 But the Bucs, being red hot and all that, roared back immediately against Japanese import Atushi Arakami.The hurler was wild, he had no support from his fielders, which is sometimes said to be connected, and before you know it, the Bucs had plated seven runs and broken the game wide open. Mort Cooper came in to finish things up for the hometowners, and that was the end of that. Cooper, who started the year toiling down on the farm, has proved his worth as a long man, and is assured of a continuing role on this team as a result. So Johnson picked up a win with another uneven effort, and the Pirates faithful still wait for the real Big Unit to stand up. But while they do that, owning first place is making the waiting much more palatable.


The series continues tomorrow with Dave Stieb (7-4, 3.28) slated to go against John Smoltz (6-4, 3.35).



6/15/2004, CIN05-PIT05, Forbes Field (1932-46)
 
                       1  2  3  4  5  6  7  8  9     R  H  E   LOB DP
2005 Reds              0  0  0  0  0  3  0  0  0     3  7  3     7  2
2005 Pirates           2  1  0  0  0  7  0  0  x    10 12  1     7  2
 
Reds                 AB  R  H BI  D  T HR BB  K SB CS IW HP SH SF   AVG   PO  A  E PB
Speaker           cf  5  1  1  0  0  0  0  0  2  0  0  0  0  0  0  .341    1  0  0  0
Garciaparra       ss  3  1  1  0  0  0  0  1  1  0  1  0  0  0  0  .275    4  3  1  0
Jackson,Jo        rf  4  0  0  0  0  0  0  0  1  0  0  0  0  0  0  .299    1  0  0  0
Foxx              1b  4  0  2  2  0  0  0  0  1  0  0  0  0  0  0  .264    5  0  1  0
Wilson,Ju         3b  3  0  0  0  0  0  0  0  3  0  0  0  0  0  0  .245    3  0  0  0
 Brecheen         p   0  0  0  0  0  0  0  0  0  0  0  0  0  0  0  .000    0  0  0  0
 Holloway, C      ph  0  0  0  0  0  0  0  1  0  0  0  0  0  0  0  .000    0  0  0  0
 Fingers          p   0  0  0  0  0  0  0  0  0  0  0  0  0  0  0  .000    0  0  0  0
Simmons           lf  3  0  1  1  0  0  0  0  2  0  0  0  1  0  0  .300    3  0  0  0
Gehringer         2b  4  0  1  0  1  0  0  0  1  0  0  0  0  0  0  .251    1  3  0  0
Gibson,J          c   4  0  1  0  0  0  0  0  0  0  0  0  0  0  0  .282    6  0  0  0
Roberts           p   1  0  0  0  0  0  0  0  0  0  0  0  0  0  0  .182    0  2  0  0
 Lynn             ph  0  1  0  0  0  0  0  1  0  0  0  0  0  0  0  .314    0  0  0  0
 Aramaki          p   0  0  0  0  0  0  0  0  0  0  0  0  0  0  0  .000    0  0  1  0
 Smoltz           p   0  0  0  0  0  0  0  0  0  0  0  0  0  0  0  .172    0  0  0  0
 Leach            ph  1  0  0  0  0  0  0  1  0  0  0  0  0  0  0  .037    0  0  0  0
                     32  3  7  3  1  0  0  4 11  0  1  0  1  0  0         24  8  3  0
 
Pirates              AB  R  H BI  D  T HR BB  K SB CS IW HP SH SF   AVG   PO  A  E PB
Kimbro            cf  4  2  3  1  0  0  0  0  0  0  0  0  0  0  0  .328    1  0  0  0
 Carey            ph  1  0  0  0  0  0  0  0  0  0  0  0  0  0  0  .267    3  1  0  0
Francis           3b  2  1  1  2  0  0  0  1  0  0  0  0  0  1  0  .269    2  2  0  0
 Johnson,Ju       ph  1  0  0  0  0  0  0  0  0  0  0  0  0  0  0  .207    0  0  0  0
Lloyd             ss  3  0  0  1  0  0  0  2  2  0  0  0  0  0  0  .290    0  3  0  0
Hornsby           2b  3  1  1  3  0  0  1  1  1  0  0  0  0  0  0  .279    1  1  1  0
 McDougald        ph  1  0  1  0  0  0  0  0  0  0  0  0  0  0  0  .313    0  0  0  0
Mize              1b  4  1  2  1  0  0  0  0  0  0  0  0  0  0  0  .265    8  0  0  0
 Taylor,B         ph  1  0  0  0  0  0  0  0  0  0  0  0  0  0  0  .246    1  0  0  0
Burkett,Je        lf  4  1  1  0  0  0  0  0  1  0  0  0  0  0  0  .367    0  0  0  0
Smith,C           rf  4  1  2  0  0  0  0  0  0  0  0  0  0  0  0  .341    1  0  0  0
 Cooper,M         p   0  0  0  0  0  0  0  0  0  0  0  0  0  0  0  .000    0  0  0  0
Hartnett          c   4  1  1  1  0  0  0  0  1  0  0  0  0  0  0  .273   10  2  0  0
Johnson,R         p   1  1  0  0  0  0  0  0  0  0  0  0  0  1  0  .071    0  1  0  0
 Brown,W          ph  2  1  0  0  0  0  0  0  0  0  0  0  0  0  0  .181    0  0  0  0
                     35 10 12  9  0  0  1  4  5  0  0  0  0  2  0         27 10  1  0
 
Reds                             INN  H  R ER BB  K PCH STR   BF HR IW HP WP DP   ERA
Roberts                          5.0  6  3  2  1  3  74  46   22  1  0  0  0  1  2.78
Aramaki          L 3-6           0.0  4  7  5  2  0  29  16    8  0  0  0  0  0  7.15
Smoltz                           1.0  1  0  0  1  0  15   7    4  0  0  0  0  1  3.35
Brecheen                         1.0  0  0  0  0  1   7   6    3  0  0  0  0  0  3.47
Fingers                          1.0  1  0  0  0  1  15   9    4  0  0  0  0  0  3.48
                                 8.0 12 10  7  4  5 140  84   41  1  0  0  0  2 
 
Pirates                          INN  H  R ER BB  K PCH STR   BF HR IW HP WP DP   ERA
Johnson,R        W 6-7           6.0  6  3  3  2 10 102  64   25  0  0  0  0  0  4.92
Cooper,M         S 3             3.0  1  0  0  2  1  47  26   12  0  0  1  0  1  0.52
                                 9.0  7  3  3  4 11 149  90   37  0  0  1  0  1 
 
CIN: Lynn batted for Roberts in the 6th
     Leach batted for Smoltz in the 7th
     Leach moved to 3b in the 7th
     Holloway, C batted for Brecheen in the 8th
PIT: Brown,W batted for Johnson,R in the 6th
     Brown,W moved to rf in the 7th
     Carey batted for Kimbro in the 7th
     Carey moved to cf in the 8th
     Johnson,Ju batted for Francis in the 8th
     McDougald batted for Hornsby in the 8th
     Taylor,B batted for Mize in the 8th
     Johnson,Ju moved to 3b in the 9th
     McDougald moved to 2b in the 9th
     Taylor,B moved to 1b in the 9th
 
GWRBI: Hartnett
Temperature: 76, Sky: partly cloudy, Wind: in from left at 15 MPH.

--------------------------------------------------------------------------

6/15/2004, CIN05-PIT05, Forbes Field (1932-46)
 
                       1  2  3  4  5  6  7  8  9     R  H  E   LOB DP
2005 Reds              0  0  0  0  0  3  0  0  0     3  7  3     7  2
2005 Pirates           2  1  0  0  0  7  0  0  x    10 12  1     7  2
 
Score O Rnr BS  Event
----- - --- --  -----
 
**************  Top of the 1st inning, Reds batting
 0-0  0 --- 12  Speaker struck out (BCSS)
 0-0  1 --- 22  Garciaparra struck out (BFBSS)
 0-0  2 --- 10  Jackson,Jo flied out to right (BX)
 
**************  Bottom of the 1st inning, Pirates batting
 0-0  0 --- 11  Kimbro lined a single to center (FBX)
 0-0  0 1-- 01  Francis sacrifice bunted to the mound, Kimbro to second 
                  (CXb)
 0-0  1 -2- 22  Lloyd struck out (CBSBS)
 0-0  2 -2- 11  Hornsby homered deep to center, Kimbro scored (BCX)
 0-2  2 --- 10  Mize grounded a single up the middle (BX)
 0-2  2 1-- 22  Burkett,Je popped out to the catcher (SBSFFBX)
 
**************  Top of the 2nd inning, Reds batting
 0-2  0 --- 32  Foxx struck out (BBSBCS)
 0-2  1 --- 02  Wilson,Ju struck out (SCS)
 0-2  2 --- 22  Simmons struck out (SCBBC)
 
**************  Bottom of the 2nd inning, Pirates batting
 0-2  0 --- 20  Smith,C lined a single to left center (BBX)
 0-2  0 1-- 10  Hartnett flied out to left (BX)
 0-2  1 1-- 00  Smith,C to second, Johnson,R to first on an error by the 
                  first baseman Foxx (Xb)
 0-2  1 12- 00  Kimbro grounded to the mound, forcing Smith,C at third, 
                  Johnson,R to second, Kimbro to first (X)
 0-2  2 12- 11  Francis singled down the left field line, Johnson,R 
                  scored, Kimbro to third (CBX)
 0-3  2 1-3 11  Lloyd flied out to right (SBX)
 
**************  Top of the 3rd inning, Reds batting
 0-3  0 --- 22  Gehringer lined a double down the right field line 
                  (SBBSFX)
 0-3  0 -2- 32  Gibson,J grounded out to third (CBSBBX)
 0-3  1 -2- 20  Roberts grounded out to short, Gehringer to third (BBX)
 0-3  2 --3 11  Speaker grounded out to the mound (CBX)
 
**************  Bottom of the 3rd inning, Pirates batting
 0-3  0 --- 12  Hornsby grounded out to short (BSSX)
 0-3  1 --- 10  Mize popped out to third (BX)
 0-3  2 --- 32  Burkett,Je struck out (BFSBBFS)
 
**************  Top of the 4th inning, Reds batting
 0-3  0 --- 11  Garciaparra reached on an infield single to second (SBX)
 0-3  0 1-- 01  Jackson,Jo lined out to third (>F1X)
 0-3  1 1-- 01  Foxx lined a single to shallow left, Garciaparra to 
                  second (CX)
 0-3  1 12- 00  Garciaparra was caught stealing third, Foxx to second (>S)
 0-3  2 -2- 12  Wilson,Ju struck out, Hartnett to Mize (>S.CBS)
 
**************  Bottom of the 4th inning, Pirates batting
 0-3  0 --- 12  Smith,C lined out to center (BFFX)
 0-3  1 --- 10  Hartnett flied out to left (BX)
 0-3  2 --- 00  Johnson,R popped out to short (X)
 
**************  Top of the 5th inning, Reds batting
 0-3  0 --- 12  Simmons struck out (SSFBS)
 0-3  1 --- 01  Gehringer flied out to center (CX)
 0-3  2 --- 00  Gibson,J grounded out to short (X)
 
**************  Bottom of the 5th inning, Pirates batting
 0-3  0 --- 10  Kimbro grounded a single between first and second (BX)
 0-3  0 1-- 22  Francis grounded into a double play, Gehringer to 
                  Garciaparra to Foxx (BCSBX)
 0-3  2 --- 32  Lloyd walked (BCCBFBB)
 0-3  2 1-- 22  Hornsby struck out (BFSBS)
 
**************  Top of the 6th inning, Reds batting
                Lynn pinch hitting for Roberts
 0-3  0 --- 32  Lynn walked (SBCBBB)
 0-3  0 1-- 22  Speaker singled to left center, Lynn to third (BCCFBX)
 0-3  0 1-3 32  Garciaparra walked, Speaker to second (CBFBBB)
 0-3  0 123 32  Jackson,Jo struck out (CBFFFBBC)
 0-3  1 123 11  Foxx singled down the right field line, Lynn scored, 
                  Speaker scored, Garciaparra to third (BFX)
 2-3  1 1-3 22  Wilson,Ju struck out (BBFCC)
 2-3  2 1-3 10  Simmons singled down the right field line, Garciaparra 
                  scored, Foxx to third (BX)
 3-3  2 1-3 12  Gehringer struck out (CCBC)
 
**************  Bottom of the 6th inning, Pirates batting
                Aramaki now pitching
 3-3  0 --- 01  Mize to first on an error by the shortstop Garciaparra 
                  (SX)
 3-3  0 1-- 00  Burkett,Je grounded a single between third and short, 
                  Mize to second (X)
 3-3  0 12- 12  Smith,C reached on an infield single to second, Mize to 
                  third, Burkett,Je to second (FSBX)
 3-3  0 123 10  Hartnett grounded a single between first and second, Mize 
                  scored, Burkett,Je to third, Smith,C to second (BX)
                Brown,W pinch hitting for Johnson,R
 3-4  0 123 02  Burkett,Je scored, Smith,C to third, Hartnett to second, 
                  Brown,W to first on an error by the pitcher Aramaki 
                  (CSX)
 3-5  0 123 32  Kimbro grounded a single up the middle, Smith,C scored, 
                  Hartnett to third, Brown,W to second (BSBFFBX)
 3-6  0 123 32  Francis walked, Hartnett scored, Brown,W to third, Kimbro 
                  to second (SBBSBB)
 3-7  0 123 30  Lloyd walked, Brown,W scored, Kimbro to third, Francis to 
                  second (BBBB)
                Smoltz now pitching
 3-8  0 123 31  Hornsby walked, Kimbro scored, Francis to third, Lloyd to 
                  second (BBBCB)
 3-9  0 123 11  Mize lined a single to right, Francis scored, Lloyd to 
                  third, Hornsby to second (BFX)
 3-10 0 123 31  Burkett,Je popped out to third (BBBCX)
 3-10 1 123 01  Smith,C grounded into a double play, Gehringer to 
                  Garciaparra to Foxx (FX)
 
**************  Top of the 7th inning, Reds batting
                Cooper,M now pitching
                Brown,W moved to right field
 3-10 0 --- 12  Gibson,J lined a single down the left field line (FBSX)
                Leach pinch hitting for Smoltz
 3-10 0 1-- 21  Leach grounded into a double play, Hornsby to Mize (FBBX)
 3-10 2 --- 12  Speaker struck out (CBFS)
 
**************  Bottom of the 7th inning, Pirates batting
                Brecheen now pitching
                Leach moved to third base
 3-10 0 --- 12  Hartnett struck out (CBSS)
 3-10 1 --- 00  Brown,W grounded out to first (X)
                Carey pinch hitting for Kimbro
 3-10 2 --- 01  Carey lined out to left (CX)
 
**************  Top of the 8th inning, Reds batting
                Carey moved to center field
 3-10 0 --- 22  Garciaparra grounded out to third (CFBBX)
 3-10 1 --- 22  Jackson,Jo to first on an error by the second baseman 
                  Hornsby (BSSBX)
 3-10 1 1-- 20  Foxx flied out to center (BBX)
                Holloway, C pinch hitting for Brecheen
 3-10 2 1-- 31  Holloway, C walked, Jackson,Jo to second (BBFBB)
 3-10 2 12- 11  Simmons was hit by a pitch, Jackson,Jo to third, 
                  Holloway, C to second (>FBH)
 3-10 2 123 00  Gehringer grounded out to short (X)
 
**************  Bottom of the 8th inning, Pirates batting
                Fingers now pitching
                Johnson,Ju pinch hitting for Francis
 3-10 0 --- 21  Johnson,Ju popped out to short (CBBX)
 3-10 1 --- 32  Lloyd struck out (SBBBSS)
                McDougald pinch hitting for Hornsby
 3-10 2 --- 01  McDougald grounded a single between third and short (CX)
                Taylor,B pinch hitting for Mize
 3-10 2 1-- 11  Taylor,B grounded out to second (FBX)
 
**************  Top of the 9th inning, Reds batting
                Johnson,Ju moved to third base
                McDougald moved to second base
                Taylor,B moved to first base
 3-10 0 --- 12  Gibson,J flied out to center (BFFX)
 3-10 1 --- 32  Leach walked (CBBBFFFB)
 3-10 1 1-- 00  Speaker lined into a double play, Carey to Taylor,B to 
                  Carey, Leach out at first (>X)