The Manster


Pittsburgh Pirates

by "Shakey" McGuiness
Legends League correspondent


Pittsburgh Pirates Baseball



The Pirates are currently leading the divison, but you'd never know it by all the players changing uniforms around here, or by the big time stars being served big dishes of Humble Pie (see Johnson, Randy or Mize, Johnny for the most recent examples). Biz Mackey, an extrordinary reciver by all accounts, was recently shipped out of town merely becuase a player with a bit more power became available (see Harnett, Gabby). Yes, this is a tough baseball town. But one man is quietly going about his business in such a way that he just might upset the applecart of "conventional thinking".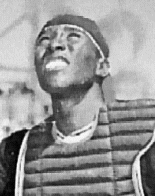 Manuel De Jesus Sanguillen Magan, AKA Saggy, Sangy, but perhaps most well known as simply Manny Sanguillen to Americano biesball fans, has made the most of his limited playing time behind the aforementioned and much celebrated ball players. Nobody is saying that Manuel is of the caliber of those two players, well, nobody but Manuel himself, that is. Not directly, of course, that would not befit his manner. No, his actions on the field make that bold statement. His handling of a good pitching staff, his defensive presence, and most of all, by the hits that keep flying off the barrell of his weapon of choice.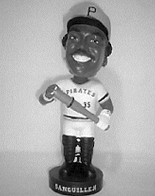 After whacking a pair of doubles and a single in three at bats in his latest start "spelling" Gabby, Manuel's average now sits at a softball like .536. Does 28 at bats make a season? No, of course not. But Sangy is going to continue to make his statements in the hope management heeds the call. His lastest means to say "Hey, Gabby! Management traded one of the best catchers in the game to get you, but don't be getting too comfortable behind the plate now. I can play a little too, you know." The fans know it too, and Sangy has become one of the most popular players on the team.

It looks like things will be quite interesting in the Steel City this summer.


Presented below is an actual interview with Manny Sanguillen by Rich Emert on April 10, 2003:

Q: How do you feel about having your own bobblehead doll?


A: I feel good about it. I think I'm the first player, other than the Hall of Famers, to have one in Pittsburgh.



Q: Why didn't you start playing baseball until later in life?


A: I was working, so I didn't start playing until I was 22. When I finally started to play I didn't know what I was doing, but one of the first times up I hit the ball out of the park. People wanted to know who this crazy guy was who got the hit. I did pretty good that first day, and that's how I got started.



Q: Were you good at the game right away?


A: No, I was real bad. They made me a catcher because they said I looked like a catcher because of my legs. But I didn't know what I was doing at first. The first fly ball behind the plate I tried to catch hit me in the eye.



Q: You had to work hard at the game?


A: I worked very hard to learn how to play. I was blessed with the ability to hit the ball, but I worked hard to get better. I would watch the NBC Game of the Week on television all the time and watch what the catchers were doing. After I started playing I was in the major leagues in 2 1/2 years.



Q: How did you get to be such a good hitter?


A: Hitting is balance, and I was blessed with good balance. You have to be able to see the ball well to hit it, and I was able to do that. But I had good balance with my body at the plate, and that's the big thing.



Q: Who was the toughest pitcher you ever faced?


A: I don't know about one guy, but the toughest pitchers for me to hit against were guys who threw a lot of junk. A guy like Bob Gibson, who would just throw hard, I did OK against. But the guys who didn't throw hard gave me problems.



Q: Pirates announcer Bob Prince nicknamed you the "Road Runner." Why?


A: It was because I had good speed for a catcher and because I never quit. I would go from first to third on a single, and I think I still hold the team record for a catcher with eight triples in one year.



Q: Who was the best pitcher you worked with?


A: Oh, there were so many good ones. I caught Jim Bunning and Vern Law and Bert Blyleven, Steve Blass and ElRoy Face and Dave Guisti. I caught crazy Dock Ellis and John Candelaria ... a lot of good guys.



Q: Were you the catcher when Dock Ellis pitched his no-hitter?


A: No, but I was with Bobby Moose when he pitched his [in 1969]. We went all fastballs for a while and then we went to all changeups. We kept switching like that, and they [New York Mets] couldn't hit him. I didn't even know he had a no-hitter going until late in the game.



Q: Why were the Pirates so successful in the 1970s?


A: We had great players like [Roberto] Clemente and Willie Stargell and we always thought we were going to win. [Manager] Danny Murtaugh would tell us that no team would beat us after the seventh inning. If we were ahead at that point or tied, we were going to win, and we came back in the late innings a lot of times.



Q: How good was Clemente?


A: He was the best with everything he could do. There were some who hit more home runs and things like that, but he could do so much. He was a great hitter, but, when he was in the field, runners would go from first to just second if the ball was hit to him. If there were runners on base, I used to hope the ball would be hit to him because I knew the runners wouldn't try to come home. If the ball was hit to right, they'd go to next base and stop.



Q: Your best memory playing for the Pirates?


A: Winning the World Series in '71 against Baltimore who had four 20-game winners that season. Beating them was a great thrill.