Truth, Lies, and Puget Sound



Seattle Pilots

by "Word" Smith
ATL Sports correspondent
Seattle Pilots Baseball



Some editions of the rags I write for carried an Opening Week story under my byline, with some outrageous rantings about Jiro Noguchi getting hurt during a game

(see below, Ed.)

. As you all know, Noguchi missed his start, but didn't play at all.

Now I have been accused in some circles of watching the game on TV, a Manhattan or two at my side, and conflating the Oscar Charleston incident with the Noguchi mystery in an alcoholic haze. Some have blamed the low-grade Alzheimers which has stalked my steps since that unfortunate incident before the House Un-American Activities Committee in the Fifties. I would invite you to read my memoirs on the subject, but noted vulture Phillip Roth put the book out under the name "The Great American Novel." Uh, Mr. Barnes? Mr. Noble? Look in that dictionary under "metaphor." My life got shelved under Fiction, so today, that worthy tome carries less weight than a Mary-Kate and Ashley Adventures "book." C'est la guerre.

A blessed few, true to Smitty to the end, believe the original story and see a double-layered Seattle-based conspiracy to cover up the Noguchi incident. In my youth . . . well, I can't remember my youth; I rather suspect I never had one.

And there are those that point out the April cover date of the publication, and suspect Smitty of a bit of exaggeration in the spirit of the season.

The truth is much simpler.

A cross-eyed editor in Keokuk, fresh from squinting at eagles all day and perhaps fortified with a bit of corn squeezin's, simply altered my manuscript. Oops, old Smitty gets to go down in journalistic history with Jayson Blair, Clifford Irving, and Geraldo Rivera, and the publisher's nephew keeps his job.

Well, fame is fleeting, the story is corrected, and in a hundred years no one will care.

See you on the field.

And stop believing everything you read.





(and now, the original scandal story)
Scandal Rumors Rock Seattle



Seattle Pilots

by "Word" Smith

ATL Sports correspondent

Seattle Pilots Baseball



Three days into the baseball season, the pungent odor of scandal hangs over this town like the morning fog over the Sound. Pilots manager Jim Bouton faced reporters this morning, denying rumors his team is somehow culpable in the freak injuries to star players on their first two opponents.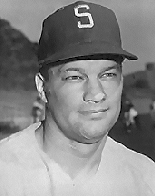 "How in the world could we have anything to do with it?" Bouton shouted, red-faced and perspiring in the cool Seattle breeze. "Nagashima, Noguriyama, [Noguchi] whatever his name is, was fielding a ball. We weren't anywhere nearby! And Charleston got hurt on the bases. People get hurt on the bases every day. Just because it's some superstar, people have to point fingers. Well, it wasn't our fault!"

In the second game of the season, Tokyo pitcher Jiro Noguchi sustained an injury that is expected to make him miss at least his next two scheduled starts. In the following game, San Francisco superstar outfielder Oscar Charleston was lost, possibly for two weeks. Both teams were playing Seattle at the time.

Conspiracy theorists are whispering that neither injured player came from the "traditional" major leagues, and note the Pilots' reputation for drunkenness, debauchery, violence, and thrown ball games.

By some reports, immediately before Charleston was injured, Bouton was heard to say, "It's gotta be illegal to have Charleston and [Joe] DiMaggio on the same team." Bouton denied these reports, saying, "I said they were

REGAL

!

Regal players!

Can't these people

hear

? Does all the caffeine in that Starbucks coffee make people

deaf

in this town?" After the press conference, several reporters attempted to remind Bouton of what happened when manager Lee Elia insulted Cub fans.

San Francisco general manager John "

Don't Call Me Poll Guy

" Mortimer has also hinted that an investigation may be launched into the Pilots' possible use of corked bats, following a series of broken bats in the game. All the bats were quickly spirited away by the Pilots' batboy,

Klaus Baudelaire

.