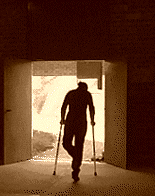 Usually I get sent to do the injury reports. Actually, I was supposed to do an injury report this time also, but there just ain't that many injuries. Sure, there's Carl Hubbell, Gaylord Perry and Jesse Barnes all from the Saint Louis Cardinals who were injured in pre-season. Then there's Roger Clemens, now of the Toronto Blue Jays, and finally, Luis Tiant Jr of the Boston Red Caps -- both also injured from the pre-season.
See? Not much to tell. Oh, there's Sam Rice of the Yankees -- he got hurt in an on-field collision, but he's only out for another day. The main story, injury-wise, are all those premier pitchers sitting in hot tubs sipping suds -- they'll all be back before I get a chance to do another article. What those injuries mean isn't quite clear yet as the opening day basepath dust hasn't even settled. But it can't be good for the Cardinals to have those three pitchers down at the same time. Luckily, none of those injuries were serious. The Cardinals put Urban Shocker, Bob Lemon, Paul Derringer & Dave McNally up on the mound and came out 2-2 against Detroit (2-1) & Cleveland (0-1). What may have been more important than the injuries was the anemic bat of Hank Aaron (.125, 1 HR, 3 RBI).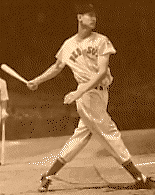 So, now that the injuries are out of the way I can talk about something else! Like how about that Saint Louis Stars player, Ted Williams, eh? He's got 5 home runs, and he has hit a home run in all four games to start the year. Can he make it five consecutive? Six? Well, he's visiting Fenway Park for three games against the Red Sox, and then travelling to Oakland and their Coliseum. Chances are good he can put another one out in Fenway . . . but can he keep his consecutive streak alive?
Not as impressive, but Hideki Matsui of Tokyo, and Don Mattingly of the Yankees, have each started the season by hitting at least one double in each game. Over in the "walk's as good as a hit" department, Barry Bonds of Houston, Carl Yastrzemski of Kansas City and Larry Walker of Mudville have each finagled a free pass in all four games. Counting scores, in the RBI department three players have knocked in a run in all four games to start the season. Ted Williams, of course, and also Kaoru Betto of Tokyo and Hank Greenberg of the Chicago White Stockings. Eleven guys have scored a run in all four games, and 37 players have started the season with 4-game hitting streaks, but I won't list all of them.
Here's a stat or three for you: 17 wild pitches have been thrown by 17 different pitchers so far. 19 batters have been hit by pitches, by 18 pitchers -- Hoyt Wilhelm of the Saint Louis Stars has hit 2 in 2 games. Dan Brouthers of the Chicago Cubs started the season off by stealing a base in the first 3 games. Not bad for a first baseman.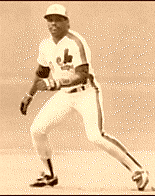 Forty-one players have Game Winning RBIs so far, but only three of them have 2 GWRBI: Charlie Keller of Washington, Rogers Hornsby of Pittsburgh and Tim Raines of Detroit. Both of Raines' GWRBIs were of the walk-off variety: a sayonara homer and a bases loaded walk to end the game.
But what's really neat is that Enos Slaughter of the Oakland A's hit for the cycle in the second game of the season. I'll leave you some more interesting stats at the bottom of the article. I gotta get outa here before they find out I'm not covering the hospital wards . . .
So that's the scoop, and this is
Scoops
signing off until next time.

Batting Average of Both Teams in Each Park   ( Season Totals )

Park                         Avg      Games  
Ruppert Stadium (1932-49)    .327      3      
Fenway Park (1934-01)        .317      3      
American League Park 1901-03 .287      4      
League Park (1891-09)        .276      3      
Riverfront Stadium (1970-01) .271      1      
Wrigley Field (1928-37)      .265      3      
Polo Grounds (1923-57)       .261      3      
Exhibition Stadium (1977-88) .245      4      
Briggs Stadium (1938-60)     .243      2      
Sportsman's Park (1920-66)   .236      4      
Forbes Field (1932-46)       .229      2      
Comiskey Park (1971-75)      .217      1      
Yankee Stadium (1937-66)     .216      3      
Braves Field (1928-41)       .209      4      
Ebbets Field (1934-47)       .209      4      
Camden Yards (1992-01)       .202      4      


Home Runs by Both Teams in Each Park   ( Season Totals )

Park                         HRs     G       HRs/G   
American League Park 1901-03 16      4       4.0     
Polo Grounds (1923-57)       14      3       4.7     
Camden Yards (1992-01)       12      4       3.0     
Fenway Park (1934-01)        11      3       3.7     
Wrigley Field (1928-37)      11      3       3.7     
Sportsman's Park (1920-66)   10      4       2.5     
Ruppert Stadium (1932-49)    9       3       3.0     
Riverfront Stadium (1970-01) 7       1       7.0     
Exhibition Stadium (1977-88) 7       4       1.8     
Briggs Stadium (1938-60)     5       2       2.5     
League Park (1891-09)        5       3       1.7     
Ebbets Field (1934-47)       4       4       1.0     
Braves Field (1928-41)       2       4       0.5     
Forbes Field (1932-46)       2       2       1.0     
Yankee Stadium (1937-66)     1       3       0.3     
Comiskey Park (1971-75)      0       1       0.0    


Shutouts by Both Teams in Each Park   ( Season Totals )

Park                         SO      Games   
Braves Field (1928-41)       2       4       
Camden Yards (1992-01)       1       4       
Ebbets Field (1934-47)       1       4       
Forbes Field (1932-46)       1       2    


Teams That Came From At Least 1 Run Behind to Win ( 19 )

Red Sox         3
Monarchs        3
Nationals       2
Cubs            2
Tigers          2
Colt .45's      1
Yankees         1
Seals           1
Red Caps        1
Spiders         1
Blue Wave       1
Stars           1
Nine            1
Giants*         1
White Stockings 1
A's             1
Cardinals       1
Pirates         1
Dodgers         1


Number of Runs Scored in Each Inning

Team             1    2    3    4    5    6    7    8    9    10   11   12   13   
-------------------------------------------------------------------------------
A's              2    3    3    8    4    2    1    3    1    0    0    0    0    
Blue Jays        2    1    0    0    1    2    5    0    0                        
Blue Wave        2    2    0    0    2    1    2    0    3                        
Cardinals        5    0    0    3    2    3    1    0    0                        
Colt .45's       1    1    2    7    3    1    3    10   1    0    0    0         
Cubs             3    0    1    4    3    3    4    1    0                        
Dodgers          2    0    0    1    4    0    2    4    0    0    0    1         
Eagles           1    0    1    1    1    13   0    1    0    1                   
Giants           3    1    5    0    0    4    2    3    2    0    0    0         
Giants*          3    0    5    3    2    4    4    2    0                        
Monarchs         1    5    3    1    2    1    3    5    4                        
Nationals        6    0    0    1    2    5    6    2    1    0                   
Nine             2    4    2    1    4    2    1    0    0    0    0    6         
Orioles          1    4    3    5    1    0    1    3    0                        
Pirates          6    0    6    2    8    1    0    1    0                        
Red Caps         1    1    2    2    1    0    0    0    0    0                   
Red Sox          0    3    0    8    1    6    7    0    2    0    0    0    2    
Reds             4    0    3    0    0    2    2    0    0                        
Seals            3    0    1    0    3    6    1    1    3    2    0    0    0    
Spiders          2    2    5    0    2    3    0    1    2    0    1              
Stars            2    0    0    2    5    4    6    2    0                        
Tigers           2    2    2    0    2    3    0    3    2    0    1              
White Stockings  0    2    2    7    0    0    2    2    4    0    0              
Yankees          2    2    4    1    0    0    0    4    3    0    0    0    1