Which Way to the Pennant?



Tokyo Giants* vs Kansas City & Orix

by "Sayonara" Shuto
Union League correspondent

Tokyo Yakyu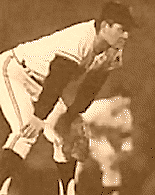 The first 8 games of 2006 found the Tokyo Team flying high and courting first place tied with new division rival Kansas City. The Opening Away Series had been concluded with a successful 4-3 mark, and the Home Opener had been won against Kansas City, 5-1. Game Number 9, however, seemed to bring the Giants* crashing back to reality in a number of ways. An ominous feeling swept through the Tokyo clubhouse when an easy grounder went through the legs of

Mr. Baseball

, Shigeo Nagashima (.909 Fldg Pct, 4 Errors), at third, and allowed the Monarchs to load the bases with no outs in the 8th inning. It should have been a double play that wiped out any threat of scoring, but it ended up, after the next three batters made outs, that the go-ahead and winning run had scored on a soft grounder to Shigeru Chiba (.224, 3 HR, 5 RBI) at second base on the out that should have been number three of the inning. Unfortunately, it was only Out Number Two, now. That was Game #9, 4-2, Kansas City.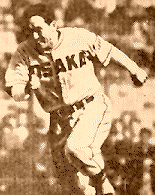 In the KC series finale at Korakuen Kyojo, Tokyo ace Masaichi Kaneda (1-2, 4.63) pulled up lame on the second batter of the second inning trying to get out of the way of a sharp single up the middle by Carl Yastrzemski. Kaneda left with two men on base, and both eventually scored. That was the harkening bell for what was to come, for even though Bozo Wakabayashi (0-0, 9.00), he of the Rainbow Coloured Pitching and 2005 Union League ERA Crown, came in set to finish the game . . . getting through that second inning was tough. Five Kansas City runners crossed home plate that inning, and 4 more through the rest of the game. Kaneda was tagged with the loss, and he will miss 10 days, or more, because of his injury. Wakabayashi ended up allowing 7 runs to score in 5 innings of pitching, 5 of the Runs were Earned, keeping his ERA at 9.00 for the season. It was not a pretty performance, but Wakabayashi is slated to replace Kaneda in the rotation for the duration nonetheless. Sub third baseman Fumio Fujimura (.417, 2 HR, 3 RBI) pinch-hit a home run in the 8th to give Tokyo their first run of the game, and their second scored on a groundout by catcher Katsuya Nomura (.167, 2 RBI) in the 9th. But that was too little, too late. Even a strong performance by Kazuhiro "

The Beast

" Sasaki (3 IP, 1 Hit, 3 K, 2 W, 0 Runs) could not lift the pall that hung over the stadium.
Fumio Fujimura did, however, put a question mark on the issue of who should play third base on this team.

Mr. Baseball

had a miserable 2005 campaign, and hasn't shown enough difference so far in 2006 to quiet his critics. His continuing episodes of perilous play have many questioning why he still has a spot in the lineup other than his immense popularity with the fans
. Who's running this team anyway, the fans or the manager?
Which way to the pennant?
That Fujimura is giving his all for the team and deserves a break.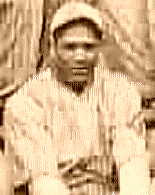 Game #11 continued the Home Stand, but now the Giants* entertained fellow Japanese franchise and division rivals, the Orix Blue Wave. Jiro Noguchi (0-2, 6.00) went up against

Lefty

Gomez (0-1, 2.51) but neither was around for the finish. In fact,

Lefty

left with an injury in the 8th inning and is not expected back for at least 10 days. Carlos Delgado (.294, 3 HR, 5 RBI) pulled one down the left-field line against Yutaka Enatsu (0-0, 2.08, 1 Sv) in the 9th to deadlock the score at 3-all. Each team used four relief pitchers to get to the 12th inng, where

Iron Man

Brown (.167, 1 HR, 1 RBI) lofted a long one over the fence in right field for his first hit of 2006. That proved to be the winner for Mark Eichorn (2-0, 1.29, 2 Sv) and the Blue Wave. The motivating force for the Giants* in this game was Fumio Fujimura who was getting a start at 3rd base while Shigeo Nagashima patrolled left field. Fumio went 3-6, and smashed a one-out double in the bottom of the 12th with the Tokyo Team down by one. But Kaoru Betto (.362, 1 HR, 11 RBI) came out of a 7-pitch battle with Chuck Finley to ground out to Cal Ripken Jr. (.982 Fldg Pct, 1 E) at short, and Sachio Kinugasa (.154, 1 HR, 2 RBI) stranded Fumio on third base, and ended the game, with a pop out to Iron Man Brown.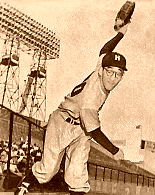 The Giants* bopped over to Green Stadium for Game # 12 to play the Blue Wave on their home turf to begin a 4-game away set before starting a 5-game rematch against the Red Caps. A sloppy performance by Tokyo starting pitcher, Shigeru Sugishita (6 IP, 7 H, 5 W, 4 ER, 2 K), was overshadowed a disastrous outing by Orix Ace, Hideo Fujimoto (2.1 IP, 8 H, 7 ER). A fine day at the plate by beleaguered Shigeo Nagashima (3-5, 4 RBI, 1 2B, 1 HR) boosted the Tokyo offense, as he contributed to Fujimoto's (1-1, 6.35) demise by tagging the fellow countryman for an RBI double and a 3-run homer. Shigeo may be showing some life, and that faint spark may be enough to keep Fumio Fujimura polishing the pine bench for a while longer. One thing is for certain, these 3 hits will keep Nagashima in the lineup for the next game at the very least. Also providing some timely hits in this game was Tetsuharu Kawakami (3-5, 2 RBI) and Kaoru Betto (3-5, 1 RBI). Both players are having a very fine April so far, and their continued strong play bodes well for the team's future. Yutaka Ono (1-0, 2.25, 1 Sv) came in for the 3-inning Save, allowing only a single baserunner, and that on a 5-pitch Walk to Cap Anson (.250, 1 HR, 3 RBI). Shigeru Sugishita came out the far end with a win, and now has a 3.38 ERA. He is currently flying high, tied with 4 other Union League pitchers, and 1 Legends League pitcher, with
a perfect 3-0 won-loss record.

4/13/2005, KCU06-TGU06, Korakuen Kyujo (1952-87)
 
                       1  2  3  4  5  6  7  8  9     R  H  E   LOB DP
2006 Monarchs          0  0  0  2  0  0  0  1  1     4  6  1     7  0
2006 Giants*           0  1  0  1  0  0  0  0  0     2  5  2     9  1
 
Monarchs             AB  R  H BI   AVG    Giants*              AB  R  H BI   AVG
Jethroe           cf  4  1  0  1  .167    Yonamine          lf  4  0  0  0  .351       
Robinson,J        3b  4  0  0  0  .306    Chiba             2b  5  0  0  0  .216       
Ott               rf  3  0  0  0  .382    Kawakami          1b  4  0  0  0  .360       
Terry,B           1b  4  1  1  0  .436    Matsui,H          cf  2  2  2  1  .353       
Yastrzemski       lf  3  0  1  0  .303    Betto             rf  3  0  1  0  .382       
 Evans,Dw         ph  0  0  0  0  .000    Nagashima         3b  4  0  1  1  .211       
 Gore             ph  1  0  0  1  .333    Kinugasa          c   3  0  1  0  .250       
 Smith,D          p   0  0  0  0  .000     Hirose           ph  0  0  0  0  .250       
Chacon            ss  4  0  0  0  .216    Yoshida           ss  3  0  0  0  .226       
Garcia,S          2b  2  1  1  2  .333     Fujimura         ph  1  0  0  0  .250       
 Hack             ph  1  1  1  0  .333    Suzuki,K          p   3  0  0  0  .000       
Ewing,Bu          c   4  0  2  0  .400     Enatsu           p   0  0  0  0  .000       
Stanley,B         p   2  0  0  0  .000     Takatsu          p   0  0  0  0  .000       
 Cepeda,O         ph  1  0  0  0  .000     Ono              p   0  0  0  0  .000       
 Lee,T            p   0  0  0  0  .000     Katori           p   0  0  0  0  .000       
 Crowder          p   0  0  0  0  .000     Yamamoto, K      ph  0  0  0  0  .000       
 Jones,Re         ph  1  0  0  0  .400                         32  2  5  2             
                     34  4  6  4                                                    
 
Monarchs                         INN  H  R ER BB  K PCH STR   ERA
Stanley,B                        6.0  5  2  2  1  0  76  53  1.80
Lee,T            W 1-1           1.2  0  0  0  1  0  14  10  6.75
Crowder          H 1             0.1  0  0  0  1  0   9   5  0.00
Smith,D          S 3             1.0  0  0  0  3  0  21   9  5.40
                                 9.0  5  2  2  6  0 120  77 
 
Giants*                          INN  H  R ER BB  K PCH STR   ERA
Suzuki,K         L 0-1           7.0  4  3  2  3  8 108  66  5.25
Enatsu                           0.1  0  0  0  0  1   7   5  0.00
Takatsu                          0.2  2  1  0  0  0  12   7  0.00
Ono                              0.1  0  0  0  0  0   2   1  4.50
Katori                           0.2  0  0  0  0  0   5   4  0.00
                                 9.0  6  4  2  3  9 134  83 
 
KCU: Cepeda,O batted for Stanley,B in the 7th
     Evans,Dw batted for Yastrzemski in the 8th
     Gore batted for Evans,Dw in the 8th
     Jethroe moved to lf in the 8th
     Gore moved to cf in the 8th
     Hack batted for Garcia,S in the 9th
     Jones,Re batted for Crowder in the 9th
     Jethroe moved to cf in the 9th
     Robinson,J moved to 2b in the 9th
     Hack moved to 3b in the 9th
     Jones,Re moved to lf in the 9th
TGU: Hirose batted for Kinugasa in the 9th
     Fujimura batted for Yoshida in the 9th
     Yamamoto, K batted for Katori in the 9th
 
E-Gore, Betto, Nagashima. 2B-Terry,B, Matsui,H, Betto. HR-Garcia,S(1), 
Matsui,H(2). SB-Jethroe(1). CS-Yamamoto, K. K-Jethroe 2, Ott, Terry,B 2, 
Garcia,S, Ewing,Bu, Stanley,B 2. BB-Robinson,J, Ott, Garcia,S, Yonamine, 
Matsui,H 2, Betto, Hirose, Yamamoto, K. SF-Jethroe. PB-Kinugasa. 
GWRBI: Gore
Temperature: 58, Sky: clear, Wind: out to left at 10 MPH.

....................................................................................................
4/13/2005, KCU06-TGU06, Korakuen Kyujo (1952-87)
 
                       1  2  3  4  5  6  7  8  9     R  H  E   LOB DP
2006 Monarchs          0  0  0  2  0  0  0  1  1     4  6  1     7  0
2006 Giants*           0  1  0  1  0  0  0  0  0     2  5  2     9  1
 
Score O Rnr BS  Event
----- - --- --  -----
 
**************  Top of the 1st inning, Monarchs batting
 0-0  0 --- 12  Jethroe struck out (CBCS)
 0-0  1 --- 00  Robinson,J grounded out to short (X)
 0-0  2 --- 32  Ott walked (SBFBBB)
 0-0  2 1-- 11  Terry,B grounded to third, forcing Ott at second (CBX)
 
**************  Bottom of the 1st inning, Giants* batting
 0-0  0 --- 00  Yonamine popped out on a bunt to the mound (Xb)
 0-0  1 --- 01  Chiba grounded out to second (CX)
 0-0  2 --- 12  Kawakami grounded out to first (BCFFFFFFX)
 
**************  Top of the 2nd inning, Monarchs batting
 0-0  0 --- 00  Yastrzemski lined a single to left (X)
 0-0  0 1-- 02  Chacon grounded out to short, Yastrzemski to second (CFX)
 0-0  1 -2- 31  Garcia,S walked (CBBBB)
 0-0  1 12- 22  Ewing,Bu struck out (CFBBS)
 0-0  2 12- 22  Stanley,B struck out (BBFFS)
 
**************  Bottom of the 2nd inning, Giants* batting
 0-0  0 --- 00  Matsui,H homered deep to left (X)
 0-1  0 --- 12  Betto grounded out to second (BFFX)
 0-1  1 --- 00  Nagashima lined a single up the middle (X)
 0-1  1 1-- 22  Kinugasa grounded a single up the middle, Nagashima to 
                  second (1C1BFBFX)
 0-1  1 12- 00  Yoshida flied out to center (>X)
 0-1  2 12- 22  Suzuki,K popped out to third (BBCCFX)
 
**************  Top of the 3rd inning, Monarchs batting
 0-1  0 --- 00  Jethroe grounded out to second (X)
 0-1  1 --- 32  Robinson,J grounded out to second (FCBBBX)
 0-1  2 --- 11  Ott grounded out to third (CBX)
 
**************  Bottom of the 3rd inning, Giants* batting
 0-1  0 --- 01  Yonamine grounded out to first (FbX)
 0-1  1 --- 32  Chiba flied out to center (CBBFBX)
 0-1  2 --- 00  Kawakami grounded out to third (X)
 
**************  Top of the 4th inning, Monarchs batting
 0-1  0 --- 10  Terry,B lined a double to right center (BX)
 0-1  0 -2- 11  Yastrzemski grounded out to third (CBX)
 0-1  1 -2- 12  Chacon grounded out to first, Terry,B to third (BFCX)
 0-1  2 --3 00  Garcia,S homered deep to right, Terry,B scored (X)
 2-1  2 --- 21  Ewing,Bu grounded out to short (BBFX)
 
**************  Bottom of the 4th inning, Giants* batting
 2-1  0 --- 32  Matsui,H walked (CBBFFBB)
 2-1  0 1-- 11  Betto lined a double to left center, Matsui,H to third 
                  (B11CX)
 2-1  0 -23 10  Nagashima grounded out to third, Matsui,H scored, Betto 
                  to third (BX)
 2-2  1 --3 00  Kinugasa grounded out to second (X)
 2-2  2 --3 12  Yoshida grounded out to third (FSBX)
 
**************  Top of the 5th inning, Monarchs batting
 2-2  0 --- 02  Stanley,B struck out (SSS)
 2-2  1 --- 11  Jethroe grounded out to third (BCX)
 2-2  2 --- 10  Robinson,J flied out to center (BX)
 
**************  Bottom of the 5th inning, Giants* batting
 2-2  0 --- 21  Suzuki,K grounded out to short (BBSX)
 2-2  1 --- 00  Yonamine grounded out to first (X)
 2-2  2 --- 11  Chiba grounded out to short (CBX)
 
**************  Top of the 6th inning, Monarchs batting
 2-2  0 --- 32  Ott struck out (BCCBBS)
 2-2  1 --- 22  Terry,B struck out (CFBFBC)
 2-2  2 --- 32  Yastrzemski flied out to right (BBFFFBFX)
 
**************  Bottom of the 6th inning, Giants* batting
 2-2  0 --- 11  Kawakami grounded out to second (BSX)
 2-2  1 --- 21  Matsui,H grounded a double down the third base line (CBBX)
 2-2  1 -2- 11  Betto grounded out to short (FBX)
 2-2  2 -2- 00  Nagashima flied out to left (X)
 
**************  Top of the 7th inning, Monarchs batting
 2-2  0 --- 11  Chacon flied out to right (BFX)
 2-2  1 --- 32  Garcia,S struck out (BBCBFS)
 2-2  2 --- 12  Ewing,Bu reached on an infield single to short (CFBX)
                Cepeda,O pinch hitting for Stanley,B
 2-2  2 1-- 01  Cepeda,O grounded to third, forcing Ewing,Bu at second 
                  (1CX)
 
**************  Bottom of the 7th inning, Giants* batting
                Lee,T now pitching
 2-2  0 --- 00  Kinugasa grounded out to third (X)
 2-2  1 --- 00  Yoshida grounded out to short (X)
 2-2  2 --- 01  Suzuki,K grounded out to third (SX)
 
**************  Top of the 8th inning, Monarchs batting
 2-2  0 --- 02  Jethroe struck out, strike three was a passed ball 
                  charged to Kinugasa, Jethroe to first (CSS)
 2-2  0 1-- 10  Jethroe stole second (Bp11>Bp)
 2-2  0 -2- 31  Robinson,J walked (Bp11>Bp.BCB)
                Enatsu now pitching
 2-2  0 12- 11  Jethroe to third, Robinson,J to second, Ott to first on 
                  an error by the third baseman Nagashima (2BCX)
 2-2  0 123 12  Terry,B struck out (CCBS)
                Evans,Dw pinch hitting for Yastrzemski
                Takatsu now pitching
                Gore pinch hitting for Evans,Dw
 2-2  1 123 20  Gore grounded out to second, Jethroe scored, Robinson,J 
                  to third, Ott to second (BBX)
 3-2  2 -23 12  Chacon flied out to center (FSBX)
 
**************  Bottom of the 8th inning, Giants* batting
                Jethroe moved to left field
                Gore moved to center field
 3-2  0 --- 01  Yonamine bunted into an out to the catcher (FbXb)
 3-2  1 --- 01  Chiba to second on an error by the center fielder Gore 
                  (CX)
 3-2  1 -2- 01  Kawakami flied out to left, Chiba to third (CX)
 3-2  2 --3 30  Matsui,H walked (BBBB)
                Crowder now pitching
 3-2  2 1-3 32  Betto walked, Matsui,H to second (CBFBFB>B)
 3-2  2 123 01  Nagashima grounded to short, forcing Betto at second (CX)
 
**************  Top of the 9th inning, Monarchs batting
                Hack pinch hitting for Garcia,S
 3-2  0 --- 00  Hack reached on an infield single to short (X)
 3-2  0 1-- 21  Ewing,Bu lined a single between third and short, Hack to 
                  second (CBBX)
                Jones,Re pinch hitting for Crowder
                Ono now pitching
 3-2  0 12- 10  Jones,Re flied out to center, Hack to third (2BX)
                Katori now pitching
 3-2  1 1-3 11  Hack scored, Ewing,Bu to second, Jethroe to first on an 
                  error by the right fielder Betto (CBX)
 4-2  1 12- 01  Robinson,J bunted into a double play, Nagashima to 
                  Yoshida to Nagashima, Ewing,Bu out at second (FbXb)
 
**************  Bottom of the 9th inning, Giants* batting
                Jethroe moved to center field
                Robinson,J moved to second base
                Smith,D now pitching
                Hack moved to third base
                Jones,Re moved to left field
                Hirose pinch hitting for Kinugasa
 4-2  0 --- 32  Hirose walked (BFCBFBB)
                Fujimura pinch hitting for Yoshida
 4-2  0 1-- 00  Fujimura popped out to short (X)
                Yamamoto, K pinch hitting for Katori
 4-2  1 1-- 32  Yamamoto, K walked, Hirose to second (CSBBBFB)
 4-2  1 12- 00  Yamamoto, K was caught stealing second, Hirose to third 
                  (>B)
 4-2  2 --3 30  Yonamine walked (>B.BBB)
 4-2  2 1-3 01  Chiba grounded out to second (CX)
------------------------------------------------------------------------------------------
------------------------------------------------------------------------------------------

4/14/2005, KCU06-TGU06, Korakuen Kyujo (1952-87)
 
                       1  2  3  4  5  6  7  8  9     R  H  E   LOB DP
2006 Monarchs          0  5  1  2  0  1  0  0  0     9 10  1     7  0
2006 Giants*           0  0  0  0  0  0  0  1  1     2  5  3     5  0
 
Monarchs             AB  R  H BI   AVG    Giants*              AB  R  H BI   AVG
Jethroe           cf  4  2  1  3  .174    Yonamine          lf  2  0  1  0  .359       
Robinson,J        3b  4  1  1  1  .300     Noguchi          ph  2  0  0  0  .286       
Ott               rf  4  0  1  2  .368    Chiba             2b  2  0  0  0  .205       
 Jones,Re         rf  1  0  0  0  .333     Kinugasa         ph  2  0  0  0  .222       
Terry,B           1b  3  1  0  0  .405    Kawakami          1b  3  1  0  0  .321       
 Cepeda,O         ph  1  0  0  0  .000    Matsui,H          cf  2  0  1  0  .361       
Yastrzemski       lf  3  0  1  0  .306     Yamamoto, K      ph  1  0  0  0  .000       
 Evans,Dw         ph  1  0  0  0  .000    Betto             rf  2  0  0  0  .361       
Chacon            ss  4  1  2  1  .244     Hirose           ph  2  0  1  0  .333       
Ewing,Bu          c   5  1  2  1  .400    Nomura,Ka         c   4  0  1  1  .100       
Garcia,S          2b  3  1  0  0  .250    Nagashima         3b  2  0  0  0  .200       
Hiramatsu         p   4  2  2  1  .250     Fujimura         ph  2  1  1  1  .333       
                     37  9 10  9          Yoshida           ss  3  0  0  0  .206       
                                          Kaneda            p   0  0  0  0  .000       
                                           Wakabayashi      p   1  0  0  0  .000       
                                           Yoneda           ph  1  0  0  0  .000       
                                           Sasaki,K         p   1  0  0  0  .000       
                                                               32  2  5  2             
 
Monarchs                         INN  H  R ER BB  K PCH STR   ERA
Hiramatsu        W 1-0           9.0  5  2  2  2  2  93  61  4.32
                                 9.0  5  2  2  2  2  93  61 
 
Giants*                          INN  H  R ER BB  K PCH STR   ERA
Kaneda           L 1-2           1.0  1  2  2  1  0  16   7  4.63
Wakabayashi                      5.0  8  7  5  2  1  88  50  9.00
Sasaki,K                         3.0  1  0  0  2  3  49  27  0.00
                                 9.0 10  9  7  5  4 153  84 
 
KCU: Jones,Re inserted at rf in the 6th
     Evans,Dw batted for Yastrzemski in the 7th
     Jones,Re moved to lf in the 7th
     Evans,Dw moved to rf in the 7th
     Cepeda,O batted for Terry,B in the 8th
     Cepeda,O moved to 1b in the 8th
TGU: Yoneda batted for Wakabayashi in the 6th
     Noguchi batted for Yonamine in the 6th
     Kinugasa batted for Chiba in the 6th
     Noguchi moved to lf in the 7th
     Kinugasa moved to 2b in the 7th
     Yamamoto, K batted for Matsui,H in the 7th
     Hirose batted for Betto in the 7th
     Yamamoto, K moved to cf in the 8th
     Hirose moved to rf in the 8th
     Fujimura batted for Nagashima in the 8th
     Fujimura moved to 3b in the 9th
 
E-Jethroe, Chiba, Nagashima, Yoshida. 2B-Jethroe, Robinson,J, Ott, Chacon. 
3B-Matsui,H. HR-Chacon(4), Hiramatsu(1), Fujimura(2). SB-Jethroe(2). 
CS-Yonamine. K-Chacon 2, Garcia,S, Hiramatsu, Kinugasa, Sasaki,K. BB-Jethroe, 
Robinson,J, Terry,B, Garcia,S, Evans,Dw, Kawakami, Yamamoto, K. SH-Chacon. 
GWRBI: Ewing,Bu
Masaichi Kaneda was injured for this game and 10 more days
Temperature: 72, Sky: clear, Wind: in from right at 8 MPH.

....................................................................................................
4/14/2005, KCU06-TGU06, Korakuen Kyujo (1952-87)
 
                       1  2  3  4  5  6  7  8  9     R  H  E   LOB DP
2006 Monarchs          0  5  1  2  0  1  0  0  0     9 10  1     7  0
2006 Giants*           0  0  0  0  0  0  0  1  1     2  5  3     5  0
 
Score O Rnr BS  Event
----- - --- --  -----
 
**************  Top of the 1st inning, Monarchs batting
 0-0  0 --- 32  Jethroe flied out to left (BFBFBX)
 0-0  1 --- 00  Robinson,J flied out to left (X)
 0-0  2 --- 21  Ott grounded out to second (BBSX)
 
**************  Bottom of the 1st inning, Giants* batting
 0-0  0 --- 00  Yonamine bunted for a single (Xb)
 0-0  0 1-- 00  Yonamine was caught stealing second (>C)
 0-0  1 --- 01  Chiba grounded out to third (>C.X)
 0-0  2 --- 11  Kawakami grounded out to first (CBX)
 
**************  Top of the 2nd inning, Monarchs batting
 0-0  0 --- 30  Terry,B walked (BBBB)
 0-0  0 1-- 00  Yastrzemski grounded a single up the middle, Terry,B to 
                  second (1X)
                Kaneda left the game with an injury
                Wakabayashi now pitching
 0-0  0 12- 00  Chacon sacrifice bunted to the mound, Terry,B to third, 
                  Yastrzemski to second (Xb)
 0-0  1 -23 10  Ewing,Bu grounded a single between third and short, 
                  Terry,B scored, Yastrzemski to third (BX)
 1-0  1 1-3 30  Garcia,S walked, Ewing,Bu to second (BBBB)
 1-0  1 123 00  Hiramatsu grounded to second, forcing Yastrzemski at 
                  home, Ewing,Bu to third, Garcia,S to second, Hiramatsu 
                  to first (X)
 1-0  2 123 21  Jethroe lined a double to right center, Ewing,Bu scored, 
                  Garcia,S scored, Hiramatsu scored, Jethroe to third on 
                  an error by the second baseman Chiba (BBSX)
 4-0  2 --3 11  Robinson,J lined a double to left center, Jethroe scored 
                  (BCX)
 5-0  2 -2- 00  Ott grounded out to second (X)
 
**************  Bottom of the 2nd inning, Giants* batting
 5-0  0 --- 11  Matsui,H popped out to short (CBX)
 5-0  1 --- 10  Betto flied out to center (BX)
 5-0  2 --- 10  Nomura,Ka grounded out to second (BX)
 
**************  Top of the 3rd inning, Monarchs batting
 5-0  0 --- 00  Terry,B grounded out to third (X)
 5-0  1 --- 22  Yastrzemski grounded out to third (BCFBX)
 5-0  2 --- 10  Chacon homered deep to left (BX)
 6-0  2 --- 32  Ewing,Bu grounded out to first (BBSBSX)
 
**************  Bottom of the 3rd inning, Giants* batting
 6-0  0 --- 32  Nagashima grounded out to short (FBBFBX)
 6-0  1 --- 01  Yoshida flied out to right (FX)
 6-0  2 --- 00  Wakabayashi to first on an error by the center fielder 
                  Jethroe (X)
 6-0  2 1-- 11  Yonamine grounded to third, forcing Wakabayashi at second 
                  (CBX)
 
**************  Top of the 4th inning, Monarchs batting
 6-0  0 --- 01  Garcia,S flied out to left (CX)
 6-0  1 --- 11  Hiramatsu lined a single to left center (CBX)
 6-0  1 1-- 10  Jethroe grounded to third, forcing Hiramatsu at second, 
                  Jethroe to first (1BX)
 6-0  2 1-- 00  Jethroe stole second (1>B)
 6-0  2 -2- 12  Jethroe to third, Robinson,J to first on an error by the 
                  third baseman Nagashima (1>B.CFFX)
 6-0  2 1-3 21  Ott doubled deep to left center, Jethroe scored, 
                  Robinson,J scored (BSBX)
 8-0  2 -2- 12  Terry,B lined out to right (FBCX)
 
**************  Bottom of the 4th inning, Giants* batting
 8-0  0 --- 00  Chiba flied out to left (X)
 8-0  1 --- 22  Kawakami flied out to left (CCBFBX)
 8-0  2 --- 00  Matsui,H lined a triple to right center (X)
 8-0  2 --3 02  Betto popped out to first (CSX)
 
**************  Top of the 5th inning, Monarchs batting
 8-0  0 --- 11  Yastrzemski grounded out to second (CBX)
 8-0  1 --- 20  Chacon doubled deep to left (BBX)
 8-0  1 -2- 21  Ewing,Bu flied out to left (B2BpCX)
 8-0  2 -2- 32  Garcia,S struck out (BBCBFS)
 
**************  Bottom of the 5th inning, Giants* batting
 8-0  0 --- 31  Nomura,Ka flied out to right (BCBBX)
 8-0  1 --- 10  Nagashima grounded out to third (BX)
 8-0  2 --- 31  Yoshida flied out to center (BBBCX)
 
**************  Top of the 6th inning, Monarchs batting
 8-0  0 --- 11  Hiramatsu homered deep down the left-field line (BSX)
 9-0  0 --- 12  Jethroe grounded out to short (CBFFX)
 9-0  1 --- 31  Robinson,J walked (BCBBB)
 9-0  1 1-- 31  Ott flied out to left (BBCBX)
 9-0  2 1-- 12  Terry,B flied out to right (BFSX)
 
**************  Bottom of the 6th inning, Giants* batting
                Jones,Re now playing right field
                Yoneda pinch hitting for Wakabayashi
 9-0  0 --- 12  Yoneda grounded out to short (CSBX)
                Noguchi pinch hitting for Yonamine
 9-0  1 --- 00  Noguchi grounded out to short (X)
                Kinugasa pinch hitting for Chiba
 9-0  2 --- 01  Kinugasa popped out to second (CX)
 
**************  Top of the 7th inning, Monarchs batting
                Noguchi moved to left field
                Kinugasa moved to second base
                Sasaki,K now pitching
                Evans,Dw pinch hitting for Yastrzemski
 9-0  0 --- 32  Evans,Dw walked (SBSBBB)
 9-0  0 1-- 02  Chacon struck out (FSS)
 9-0  1 1-- 32  Ewing,Bu grounded a single up the middle, Evans,Dw to 
                  second (BBBCFX)
 9-0  1 12- 11  Garcia,S grounded to third, forcing Ewing,Bu at second, 
                  Evans,Dw to third, Garcia,S to first (BCX)
 9-0  2 1-3 12  Hiramatsu struck out (SSBS)
 
**************  Bottom of the 7th inning, Giants* batting
                Jones,Re moved to left field
                Evans,Dw moved to right field
 9-0  0 --- 00  Kawakami grounded out to short (X)
                Yamamoto, K pinch hitting for Matsui,H
 9-0  1 --- 32  Yamamoto, K walked (BCBSBB)
                Hirose pinch hitting for Betto
 9-0  1 1-- 12  Hirose grounded to short, forcing Yamamoto, K at second, 
                  Hirose to first (CBCX)
 9-0  2 1-- 00  Nomura,Ka grounded out to the mound (X)
 
**************  Top of the 8th inning, Monarchs batting
                Yamamoto, K moved to center field
                Hirose moved to right field
 9-0  0 --- 30  Jethroe walked (BBBB)
 9-0  0 1-- 00  Robinson,J flied out to center (X)
 9-0  1 1-- 32  Jones,Re grounded to short, forcing Jethroe at second, 
                  Jones,Re to second on an error by the shortstop Yoshida 
                  (SBSFFBBX)
                Cepeda,O pinch hitting for Terry,B
 9-0  2 -2- 21  Cepeda,O grounded out to third (BBCX)
 
**************  Bottom of the 8th inning, Giants* batting
                Cepeda,O moved to first base
                Fujimura pinch hitting for Nagashima
 9-0  0 --- 00  Fujimura homered deep to center (X)
 9-1  0 --- 00  Yoshida flied out to right (X)
 9-1  1 --- 22  Sasaki,K struck out (CCBFBS)
 9-1  2 --- 12  Noguchi popped out to short (BCSX)
 
**************  Top of the 9th inning, Monarchs batting
                Fujimura moved to third base
 9-1  0 --- 00  Evans,Dw grounded out to second (X)
 9-1  1 --- 22  Chacon struck out (CSBBC)
 9-1  2 --- 21  Ewing,Bu flied out to right (BSBX)
 
**************  Bottom of the 9th inning, Giants* batting
 9-1  0 --- 02  Kinugasa struck out (SSS)
 9-1  1 --- 30  Kawakami walked (BBBB)
 9-1  1 1-- 00  Yamamoto, K popped out to the catcher (X)
 9-1  2 1-- 11  Hirose lined a single up the middle, Kawakami to second 
                  (BFX)
 9-1  2 12- 10  Nomura,Ka grounded a single up the middle, Kawakami 
                  scored, Hirose to second (BX)
 9-2  2 12- 00  Fujimura grounded to short, forcing Nomura,Ka at second 
                  (X)
------------------------------------------------------------------------------------
------------------------------------------------------------------------------------

4/15/2005, BWU06-TGU06, Korakuen Kyujo (1952-87)
 
                       1  2  3  4  5  6  7  8  9 10 11 12     R  H  E   LOB DP
2006 Blue Wave         1  0  1  0  0  0  0  0  1  0  0  1     4  9  0     6  2
2006 Giants*           0  0  1  0  2  0  0  0  0  0  0  0     3  8  0    11  0
 
Blue Wave            AB  R  H BI   AVG    Giants*              AB  R  H BI   AVG
Dreke             cf  4  0  0  0  .205    Hirose            cf  6  1  2  0  .333       
Anson             3b  4  0  1  0  .243    Chiba             2b  5  1  1  2  .205       
 Devlin           3b  0  0  0  0  .000    Fujimura          3b  6  0  3  1  .417       
Roush             lf  5  1  1  2  .120    Betto             rf  6  0  1  0  .333       
Bonds,Bo          rf  5  0  0  0  .158    Kinugasa          1b  4  0  0  0  .182       
Delgado           1b  5  1  2  1  .290    Nagashima         lf  5  0  1  0  .200       
Ripken            ss  5  0  1  0  .366    Furuta            c   2  0  0  0  .105       
Tatsunami         2b  3  0  1  0  .368     Kawakami         ph  0  0  0  0  .321       
 Toyoda           ph  1  0  0  0  .154     Nomura,Ka        c   1  0  0  0  .091       
 Pratt            2b  1  0  0  0  .333    Yoshida           ss  3  0  0  0  .189       
Crandall          c   4  0  1  0  .094    Noguchi           p   1  1  0  0  .250       
 Cuellar          p   0  0  0  0  .000     Yamamoto, K      ph  0  0  0  0  .000       
 Eichhorn         p   0  0  0  0  .000     Ono              p   0  0  0  0  .000       
 Justice          ph  1  0  0  0  .500     Enatsu           p   0  0  0  0  .000       
 Finley,C         p   0  0  0  0  .000     Yonamine         ph  0  0  0  0  .359       
Gomez             p   2  1  1  0  .250     Takatsu          p   0  0  0  0  .000       
 Bedrosian        p   0  0  0  0  .000     Matsui,H         ph  0  0  0  0  .361       
 Brown,I.M.       c   2  1  1  1  .167     Katori           p   0  0  0  0  .000       
                     42  4  9  4                               39  3  8  3             
 
Blue Wave                        INN  H  R ER BB  K PCH STR   ERA
Gomez                            7.1  6  3  3  4  3 115  65  2.51
Bedrosian                        0.2  1  0  0  1  1  13   5  2.45
Cuellar                          0.0  0  0  0  1  0   7   3  4.91
Eichhorn         W 2-0           3.0  0  0  0  3  0  42  21  0.79
Finley,C         S 1             1.0  1  0  0  0  0  19  12  0.00
                                12.0  8  3  3  9  4 196 106 
 
Giants*                          INN  H  R ER BB  K PCH STR   ERA
Noguchi                          7.0  5  2  2  2  3 103  63  6.00
Ono              H 1             1.0  0  0  0  0  1   8   7  3.60
Enatsu           BS 1            1.0  1  1  1  0  0  17  12  2.08
Takatsu                          2.0  2  0  0  0  2  25  19  0.00
Katori           L 0-1           1.0  1  1  1  0  1  13  10  3.38
                                12.0  9  4  4  2  7 166 111 
 
BWU: Toyoda batted for Tatsunami in the 9th
     Pratt inserted at 2b in the 9th
     Brown,I.M. inserted at c in the 9th
     Justice batted for Eichhorn in the 12th
     Devlin inserted at 3b in the 12th
TGU: Yamamoto, K batted for Noguchi in the 7th
     Kawakami batted for Furuta in the 9th
     Yonamine batted for Enatsu in the 9th
     Nomura,Ka inserted at c in the 10th
     Matsui,H batted for Takatsu in the 11th
 
2B-Delgado, Tatsunami, Fujimura, Nagashima. 3B-Hirose. HR-Roush(1), 
Delgado(3), Brown,I.M.(1), Chiba(3). CS-Betto. K-Dreke 2, Roush, Delgado, 
Gomez, Brown,I.M., Justice, Hirose, Chiba, Kinugasa, Nagashima. BB-Dreke 2, 
Chiba, Kinugasa 2, Furuta, Yoshida, Noguchi, Kawakami, Yonamine, Matsui,H. 
SH-Anson, Gomez, Yoshida, Yamamoto, K. WP-Gomez. 
GWRBI: Brown,I.M.
Lefty Gomez was injured for this game and 11 more days
Temperature: 69, Sky: clear, Wind: out to right at 8 MPH.

....................................................................................................
4/15/2005, BWU06-TGU06, Korakuen Kyujo (1952-87)
 
                       1  2  3  4  5  6  7  8  9 10 11 12     R  H  E   LOB DP
2006 Blue Wave         1  0  1  0  0  0  0  0  1  0  0  1     4  9  0     6  2
2006 Giants*           0  0  1  0  2  0  0  0  0  0  0  0     3  8  0    11  0
 
Score O Rnr BS  Event
----- - --- --  -----
 
**************  Top of the 1st inning, Blue Wave batting
 0-0  0 --- 21  Dreke flied out to right (BBCX)
 0-0  1 --- 32  Anson grounded out to third (CBBBSFFFFX)
 0-0  2 --- 11  Roush homered deep to right center (CBX)
 1-0  2 --- 12  Bonds,Bo grounded out to third (BSSX)
 
**************  Bottom of the 1st inning, Giants* batting
 1-0  0 --- 22  Hirose lined a single to left center, Hirose out at 
                  second (BCBCX)
 1-0  1 --- 30  Chiba walked (BBBB)
 1-0  1 1-- 32  Fujimura lined out to short (BBSFBX)
 1-0  2 1-- 32  Betto grounded out to second (BCBBF>F>X)
 
**************  Top of the 2nd inning, Blue Wave batting
 1-0  0 --- 32  Delgado struck out (BBFBFS)
 1-0  1 --- 32  Ripken grounded out to short (BCSBBX)
 1-0  2 --- 22  Tatsunami grounded a double down the third base line 
                  (FFBBX)
 1-0  2 -2- 00  Crandall popped out to first (X)
 
**************  Bottom of the 2nd inning, Giants* batting
 1-0  0 --- 32  Kinugasa struck out (BFBBCS)
 1-0  1 --- 00  Nagashima grounded a double down the third base line (X)
 1-0  1 -2- 31  Furuta walked (BBBCB)
 1-0  1 12- 00  Yoshida popped out to left (>X)
 1-0  2 12- 11  Noguchi grounded out to short (CBX)
 
**************  Top of the 3rd inning, Blue Wave batting
 1-0  0 --- 12  Gomez lined a single between third and short (CCBX)
 1-0  0 1-- 31  Dreke walked, Gomez to second (CBBBbB)
 1-0  0 12- 11  Anson sacrifice bunted to third, Gomez to third, Dreke to 
                  second (CBbXb)
 1-0  1 -23 12  Roush grounded out to second, Gomez scored, Dreke to 
                  third (BCSFX)
 2-0  2 --3 01  Bonds,Bo grounded out to second (SX)
 
**************  Bottom of the 3rd inning, Giants* batting
 2-0  0 --- 32  Hirose tripled deep to left center (BBSFFBFX)
 2-0  0 --3 02  Chiba struck out (CSS)
 2-0  1 --3 00  Fujimura lined a single to shallow left, Hirose scored (X)
 2-1  1 1-- 00  Betto grounded into a double play, Gomez to Tatsunami to 
                  Delgado (X)
 
**************  Top of the 4th inning, Blue Wave batting
 2-1  0 --- 11  Delgado grounded out to short (CBX)
 2-1  1 --- 11  Ripken grounded out to third (SBX)
 2-1  2 --- 00  Tatsunami flied out to left (X)
 
**************  Bottom of the 4th inning, Giants* batting
 2-1  0 --- 32  Kinugasa lined out to second (BCSBBFX)
 2-1  1 --- 31  Nagashima grounded out to short (BBFBX)
 2-1  2 --- 21  Furuta lined out to short (BBCX)
 
**************  Top of the 5th inning, Blue Wave batting
 2-1  0 --- 00  Crandall grounded out to second (X)
 2-1  1 --- 02  Gomez struck out (CSS)
 2-1  2 --- 31  Dreke walked (BCBBB)
 2-1  2 1-- 20  Anson grounded a single up the middle, Dreke to second 
                  (BBX)
 2-1  2 12- 31  Roush grounded to short, forcing Anson at second (B2BCBX)
 
**************  Bottom of the 5th inning, Giants* batting
 2-1  0 --- 00  Yoshida grounded out to second (X)
 2-1  1 --- 32  Noguchi walked (FBCBBFB)
 2-1  1 1-- 11  Gomez threw a wild pitch, Noguchi to second (BFB)
 2-1  1 -2- 22  Hirose struck out (BFB.FFFC)
 2-1  2 -2- 21  Chiba homered deep to left, Noguchi scored (BBCX)
 2-3  2 --- 01  Fujimura reached on an infield single to first (CX)
 2-3  2 1-- 00  Betto grounded out to second (X)
 
**************  Top of the 6th inning, Blue Wave batting
 2-3  0 --- 22  Bonds,Bo flied out to left (BFBSX)
 2-3  1 --- 20  Delgado lined out to left (BBX)
 2-3  2 --- 00  Ripken grounded out to short (X)
 
**************  Bottom of the 6th inning, Giants* batting
 2-3  0 --- 01  Kinugasa lined out to right (FX)
 2-3  1 --- 22  Nagashima flied out to center (BCSBX)
 2-3  2 --- 21  Furuta grounded out to short (CBBX)
 
**************  Top of the 7th inning, Blue Wave batting
 2-3  0 --- 00  Tatsunami grounded out to second (X)
 2-3  1 --- 12  Crandall grounded a single up the middle (FBFX)
 2-3  1 1-- 00  Gomez sacrifice bunted to the mound, Crandall to second 
                  (Xb)
 2-3  2 -2- 22  Dreke struck out (BBFSFS)
 
**************  Bottom of the 7th inning, Giants* batting
 2-3  0 --- 32  Yoshida walked (BCBFFBB)
                Yamamoto, K pinch hitting for Noguchi
 2-3  0 1-- 00  Noguchi sacrifice bunted to the catcher, Yoshida to 
                  second (Xb)
 2-3  1 -2- 00  Hirose flied out to center (X)
 2-3  2 -2- 10  Chiba lined out to short (BX)
 
**************  Top of the 8th inning, Blue Wave batting
                Ono now pitching
 2-3  0 --- 12  Anson popped out to second (CSBX)
 2-3  1 --- 02  Roush struck out (SFS)
 2-3  2 --- 00  Bonds,Bo grounded out to third (X)
 
**************  Bottom of the 8th inning, Giants* batting
 2-3  0 --- 21  Fujimura popped out to center (BCBX)
                Gomez left the game with an injury
                Bedrosian now pitching
 2-3  1 --- 10  Betto grounded a single up the middle (BX)
 2-3  1 1-- 31  Kinugasa walked, Betto to second (1BBCBB)
 2-3  1 12- 32  Nagashima struck out, Betto was caught stealing third 
                  (SBBCB>S)
 
**************  Top of the 9th inning, Blue Wave batting
                Enatsu now pitching
 2-3  0 --- 11  Delgado homered deep down the left-field line (BCX)
 3-3  0 --- 02  Ripken popped out to the catcher (CCX)
                Toyoda pinch hitting for Tatsunami
 3-3  1 --- 32  Toyoda flied out to right (CBBSBFX)
 3-3  2 --- 12  Crandall grounded out to first (CBFX)
 
**************  Bottom of the 9th inning, Giants* batting
                Pratt now playing second base
                Kawakami pinch hitting for Furuta
                Brown,I.M. now playing catcher
                Cuellar now pitching
 3-3  0 --- 32  Kawakami walked (BCBFFBB)
                Eichhorn now pitching
 3-3  0 1-- 00  Yoshida sacrifice bunted to first, Kawakami to second (Xb)
                Yonamine pinch hitting for Enatsu
 3-3  1 -2- 30  Enatsu was walked intentionally (IIII)
 3-3  1 12- 20  Hirose grounded to first, forcing Yonamine at second, 
                  Kawakami to third, Hirose to first (BBX)
 3-3  2 1-3 21  Chiba grounded out to second (BBFX)
 
**************  Top of the 10th inning, Blue Wave batting
                Nomura,Ka now playing catcher
                Takatsu now pitching
 3-3  0 --- 02  Brown,I.M. struck out (FFS)
 3-3  1 --- 02  Dreke struck out (CCS)
 3-3  2 --- 20  Anson flied out to center (BBX)
 
**************  Bottom of the 10th inning, Giants* batting
 3-3  0 --- 02  Fujimura flied out to right (CSX)
 3-3  1 --- 11  Betto flied out to left (BFX)
 3-3  2 --- 30  Kinugasa walked (BBBB)
 3-3  2 1-- 20  Nagashima grounded out to second (BBX)
 
**************  Top of the 11th inning, Blue Wave batting
 3-3  0 --- 02  Roush lined out to first (FFX)
 3-3  1 --- 02  Bonds,Bo grounded out to third (CCFX)
 3-3  2 --- 11  Delgado doubled deep down the left-field line (BCX)
 3-3  2 -2- 32  Ripken grounded a single between third and short, Delgado 
                  out at home (SBBFBX)
 
**************  Bottom of the 11th inning, Giants* batting
 3-3  0 --- 12  Nomura,Ka grounded out to short (BCSX)
 3-3  1 --- 12  Yoshida flied out to left (CFBX)
                Matsui,H pinch hitting for Takatsu
 3-3  2 --- 32  Matsui,H walked (BFBCBB)
 3-3  2 1-- 02  Hirose flied out to right (CFX)
 
**************  Top of the 12th inning, Blue Wave batting
                Katori now pitching
 3-3  0 --- 12  Pratt lined out to right (CFBX)
                Justice pinch hitting for Eichhorn
 3-3  1 --- 02  Justice struck out (CCS)
 3-3  2 --- 21  Brown,I.M. homered deep to right (BBCX)
 4-3  2 --- 01  Dreke grounded out to short (FX)
 
**************  Bottom of the 12th inning, Giants* batting
                Devlin now playing third base
                Finley,C now pitching
 4-3  0 --- 21  Chiba grounded out to first (BCBX)
 4-3  1 --- 32  Fujimura doubled deep to right center (BCBSBX)
 4-3  1 -2- 22  Betto grounded out to short (BBCFFFX)
 4-3  2 -2- 01  Kinugasa popped out to the catcher (FX)
------------------------------------------------------------------------------------------
------------------------------------------------------------------------------------------
4/16/2005, TGU06-BWU06, Green Stadium Kobe (1991-99)
 
                       1  2  3  4  5  6  7  8  9     R  H  E   LOB DP
2006 Giants*           3  0  4  0  1  0  0  1  0     9 14  0     7  2
2006 Blue Wave         3  0  1  0  0  0  0  0  0     4  7  2     6  0
 
Giants*              AB  R  H BI   AVG    Blue Wave            AB  R  H BI   AVG
Yonamine          lf  5  0  0  0  .318    Dreke             cf  5  1  1  0  .204       
Chiba             2b  5  1  2  0  .224    Anson             3b  3  0  1  0  .250       
Kawakami          1b  5  2  3  2  .364    Roush             lf  4  1  1  1  .138       
Matsui,H          cf  5  1  1  0  .341    Delgado           1b  3  2  1  0  .294       
Betto             rf  5  3  3  1  .362    Maris             rf  3  0  1  1  .125       
Nagashima         3b  5  1  3  4  .240    Ripken            ss  3  0  0  0  .341       
Kinugasa          c   4  0  0  1  .154     Cuellar          p   0  0  0  0  .000       
 Ono              p   1  0  0  0  .000     Bonds,Bo         ph  1  0  0  0  .154       
Yoshida           ss  4  1  1  0  .195     Bedrosian        p   0  0  0  0  .000       
Sugishita         p   3  0  0  0  .200    Tatsunami         2b  2  0  1  1  .375       
 Nomura,Ka        c   1  0  1  1  .167     Pratt            ph  1  0  0  0  .250       
 Furuta           c   0  0  0  0  .105    Crandall          c   3  0  1  1  .114       
                     43  9 14  9          Fujimoto          p   1  0  0  0  .500       
                                           Eichhorn         p   1  0  0  0  .000       
                                           Toyoda           ss  1  0  0  0  .143       
                                                               31  4  7  4             
 
Giants*                          INN  H  R ER BB  K PCH STR   ERA
Sugishita        W 3-0           6.0  7  4  4  5  2  97  51  3.38
Ono              S 1             3.0  0  0  0  1  1  26  16  2.25
                                 9.0  7  4  4  6  3 123  67 
 
Blue Wave                        INN  H  R ER BB  K PCH STR   ERA
Fujimoto         L 1-1           2.1  8  7  7  0  1  38  28  6.35
Eichhorn                         2.2  3  1  1  0  1  33  24  1.29
Cuellar                          3.0  3  1  0  0  2  46  32  3.48
Bedrosian                        1.0  0  0  0  0  2  15   9  1.93
                                 9.0 14  9  8  0  6 132  93 
 
TGU: Nomura,Ka inserted at c in the 7th
     Furuta inserted at c in the 9th
BWU: Toyoda inserted at ss in the 6th
     Bonds,Bo batted for Cuellar in the 8th
     Pratt batted for Tatsunami in the 8th
     Pratt moved to 2b in the 9th
 
E-Tatsunami 2. 2B-Betto, Nagashima, Yoshida, Dreke, Delgado. 3B-Betto. 
HR-Kawakami(1), Nagashima(2). SB-Kawakami(2), Roush(1). CS-Anson. K-Yonamine, 
Matsui,H, Nagashima, Kinugasa, Sugishita, Ono, Roush, Eichhorn, Pratt. 
BB-Anson, Delgado, Maris, Tatsunami, Crandall, Toyoda. 
GWRBI: Betto
Temperature: 55, Sky: clear, Wind: left to right at 3 MPH.

....................................................................................................
4/16/2005, TGU06-BWU06, Green Stadium Kobe (1991-99)
 
                       1  2  3  4  5  6  7  8  9     R  H  E   LOB DP
2006 Giants*           3  0  4  0  1  0  0  1  0     9 14  0     7  2
2006 Blue Wave         3  0  1  0  0  0  0  0  0     4  7  2     6  0
 
Score O Rnr BS  Event
----- - --- --  -----
 
**************  Top of the 1st inning, Giants* batting
 0-0  0 --- 00  Yonamine bunted into an out to the mound (Xb)
 0-0  1 --- 11  Chiba lined a single to shallow center (BFX)
 0-0  1 1-- 02  Kawakami homered deep to right center, Chiba scored 
                  (1>FFX)
 2-0  1 --- 00  Matsui,H lined out to right (X)
 2-0  2 --- 00  Betto tripled deep to left center (X)
 2-0  2 --3 01  Nagashima lined a double to left center, Betto scored (SX)
 3-0  2 -2- 22  Kinugasa lined out to second (BCBSX)
 
**************  Bottom of the 1st inning, Blue Wave batting
 3-0  0 --- 00  Dreke lined a double to left center (X)
 3-0  0 -2- 22  Anson grounded out to second, Dreke to third (CCBBX)
 3-0  1 --3 11  Roush lined a single to shallow center, Dreke scored (BFX)
 3-1  1 1-- 21  Roush stole second (1BCB1>B)
 3-1  1 -2- 31  Delgado walked (1BCB1>B.B)
 3-1  1 12- 32  Maris grounded a single between third and short, Roush 
                  scored, Delgado to second (BFCBBX)
 3-2  1 12- 12  Ripken popped out to third (BFFX)
 3-2  2 12- 00  Tatsunami lined a single to shallow left, Delgado scored, 
                  Maris to second (X)
 3-3  2 12- 31  Crandall walked, Maris to third, Tatsunami to second 
                  (BBBCB)
 3-3  2 123 00  Fujimoto grounded out to the mound (X)
 
**************  Top of the 2nd inning, Giants* batting
 3-3  0 --- 11  Yoshida grounded out to the mound (BFX)
 3-3  1 --- 02  Sugishita struck out (SCC)
 3-3  2 --- 22  Yonamine flied out to left (BBFCX)
 
**************  Bottom of the 2nd inning, Blue Wave batting
 3-3  0 --- 20  Dreke popped out to first (BBX)
 3-3  1 --- 10  Anson grounded a single between first and second (BX)
 3-3  1 1-- 00  Anson was caught stealing second (>S)
 3-3  2 --- 01  Roush grounded out to the mound (>S.X)
 
**************  Top of the 3rd inning, Giants* batting
 3-3  0 --- 00  Chiba grounded out to short (X)
 3-3  1 --- 00  Kawakami lined a single down the right field line (X)
 3-3  1 1-- 21  Kawakami stole second (BCB>B)
 3-3  1 -2- 31  Matsui,H lined a single to shallow left, Kawakami to 
                  third (BCB>B.X)
 3-3  1 1-3 11  Betto reached on an infield single to second, Kawakami 
                  scored, Matsui,H to second (CB1X)
 4-3  1 12- 00  Nagashima homered deep to left, Matsui,H scored, Betto 
                  scored (X)
                Eichhorn now pitching
 7-3  1 --- 12  Kinugasa flied out to right (BCCFX)
 7-3  2 --- 02  Yoshida to first on an error by the second baseman 
                  Tatsunami (FFFX)
 7-3  2 1-- 00  Sugishita grounded out to the mound (X)
 
**************  Bottom of the 3rd inning, Blue Wave batting
 7-3  0 --- 20  Delgado lined a double down the left field line (BBX)
 7-3  0 -2- 30  Maris walked (BBBB)
 7-3  0 12- 10  Ripken flied out to left (B>X)
 7-3  1 12- 11  Tatsunami grounded to second, forcing Maris at second, 
                  Delgado to third, Tatsunami to first (BFX)
 7-3  2 1-3 32  Crandall lined a single to shallow center, Delgado 
                  scored, Tatsunami to second (BCBFB>F>X)
 7-4  2 12- 02  Eichhorn struck out (SFC)
 
**************  Top of the 4th inning, Giants* batting
 7-4  0 --- 02  Yonamine struck out (CFS)
 7-4  1 --- 01  Chiba lined a single to shallow left (CX)
 7-4  1 1-- 01  Kawakami flied out to left (CX)
 7-4  2 1-- 10  Matsui,H grounded out to second (1BX)
 
**************  Bottom of the 4th inning, Blue Wave batting
 7-4  0 --- 00  Dreke grounded out to short (X)
 7-4  1 --- 11  Anson flied out to left (CBX)
 7-4  2 --- 02  Roush struck out (CSS)
 
**************  Top of the 5th inning, Giants* batting
 7-4  0 --- 20  Betto grounded a double down the third base line (BBX)
 7-4  0 -2- 31  Nagashima lined out to center, Betto to third (BBBCX)
 7-4  1 --3 21  Kinugasa grounded out to second, Betto scored (BBCX)
 8-4  2 --- 00  Yoshida lined a double to left center (X)
 8-4  2 -2- 00  Sugishita lined out to third (X)
 
**************  Bottom of the 5th inning, Blue Wave batting
 8-4  0 --- 21  Delgado flied out to right (BBCX)
 8-4  1 --- 21  Maris grounded out to second (FBBX)
 8-4  2 --- 01  Ripken flied out to center (CX)
 
**************  Top of the 6th inning, Giants* batting
                Toyoda now playing shortstop
                Cuellar now pitching
 8-4  0 --- 00  Yonamine flied out to left (X)
 8-4  1 --- 10  Chiba grounded out to short (BX)
 8-4  2 --- 00  Kawakami grounded out to second (X)
 
**************  Bottom of the 6th inning, Blue Wave batting
 8-4  0 --- 30  Tatsunami walked (BBBB)
 8-4  0 1-- 12  Crandall grounded into a double play, Chiba to Yoshida to 
                  Kawakami (CCBX)
 8-4  2 --- 31  Toyoda walked (BCBBB)
 8-4  2 1-- 32  Dreke lined out to left (BFCBB>F>X)
 
**************  Top of the 7th inning, Giants* batting
 8-4  0 --- 22  Matsui,H grounded out to first (FBBSFX)
 8-4  1 --- 12  Betto lined out to right (CFBX)
 8-4  2 --- 12  Nagashima reached on an infield single to first (BCCX)
 8-4  2 1-- 12  Kinugasa struck out (B1SCC)
 
**************  Bottom of the 7th inning, Blue Wave batting
                Nomura,Ka now playing catcher
                Ono now pitching
 8-4  0 --- 31  Anson walked (BCBBB)
 8-4  0 1-- 10  Roush grounded into a double play, Yoshida to Kawakami 
                  (BX)
 8-4  2 --- 10  Delgado grounded out to second (BX)
 
**************  Top of the 8th inning, Giants* batting
 8-4  0 --- 22  Yoshida to second on an error by the second baseman 
                  Tatsunami (FBBFX)
 8-4  0 -2- 22  Nomura,Ka grounded a single between first and second, 
                  Yoshida scored (BFB2CX)
 9-4  0 1-- 11  Yonamine flied out to left (CBX)
 9-4  1 1-- 00  Chiba popped out to left (X)
 9-4  2 1-- 02  Kawakami lined a single to shallow center, Nomura,Ka to 
                  second (CFFX)
 9-4  2 12- 32  Matsui,H struck out (BFBFB>S)
 
**************  Bottom of the 8th inning, Blue Wave batting
 9-4  0 --- 00  Maris grounded out to short (X)
                Bonds,Bo pinch hitting for Cuellar
 9-4  1 --- 22  Bonds,Bo grounded out to third (BBCFX)
                Pratt pinch hitting for Tatsunami
 9-4  2 --- 02  Pratt struck out (FSS)
 
**************  Top of the 9th inning, Giants* batting
                Bedrosian now pitching
                Pratt moved to second base
 9-4  0 --- 21  Betto flied out to center (CBBX)
 9-4  1 --- 22  Nagashima struck out (SBBFC)
 9-4  2 --- 22  Ono struck out (CBCBFS)
 
**************  Bottom of the 9th inning, Blue Wave batting
                Furuta now playing catcher
 9-4  0 --- 10  Crandall flied out to center (BX)
 9-4  1 --- 02  Toyoda flied out to center (CSX)
 9-4  2 --- 11  Dreke flied out to left (CBX)