Opening Day Tea Party



Tokyo Giants* vs Boston Red Caps

by "Sayonara" Shuto
Union League correspondent

Tokyo Yakyu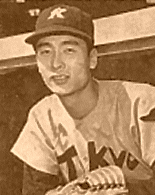 Opening Day for the 2006 season finds Tokyo visiting Boston in the newly erected Braves Field, home of the Red Caps. Lefty control artist Masaichi Kaneda (11-11, 5.30 in 2005) versus high-kicking ,flamboyant, repertoire artist Juan Marichal (15-10, 3.58) for the Opening Day Game. It was reported that Kaneda visited the shrine to Cy Young before the game, and rumour has it he told Juan Marichal through an interpreter that Manito was not Cy Young. While the translation was garbled, and Kaneda's meaning was unclear, Juan Marichal's return glare was undeniable in intent.

It was shaping up to be a good ballgame.

In a surprise move just minutes before the game's start, Tokyo Ed decided to pull Katsuya Nomura (.223, 10, 36) and name Atsuya Furuta (.207, 0, 13) the starting catcher for the season. The scoop was the move was done for team chemistry, but nobody can understand the formula except Tokyo Ed . . . and many aren't sure he can either.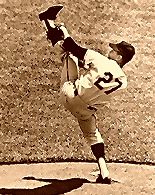 The day was clear and cold, and a bit breezy: the wind came in from center at an 18 MPH clip. That didn't bother Wally Yonamine who led off the season with an infield hit past Marichal. Shigeru Chiba bunted him over to second, and Tetsuharu Kawakami lined a single to right-center to plate Wally. The Japanese fans massed behind the visitor's dugout went wild as Yonamine crossed the plate with the first Tokyo run of 2006 and the 100th career ATL score for Wally. For the first three batters everything was going according to the new plan for Tokyo Ed. The fourth batter, Hideki Matsui, grounded sharply to Billy Herman who flipped to Nomar Garciaparra who sweetly turned the double play to end the inning. Shades of last year all over again! However, 1-0 Tokyo.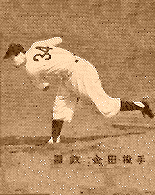 Kaneda was masterful in the first, setting down the side in order. Marichal returned the favour, and then Kaneda did it again in the second and third. Marichal couldn't stop Yoshio Yoshido from scrapping up a blooper single, but he was then cut down by Muddy Ruel as he tried to steal second. That was it for Tokyo until the fourth when Kawakami and Matsui got on for Kaoru Betto to plate them with a long single. Add insurance runs to the score: 3-0, Tokyo.

Then a fourth run was added in the sixth, but that was more than necessary as Masaichi Kaneda had his top form today! He stymied the Boston hitters all night, striking out 7 while allowing only 4 hits and 2 walks in a complete game shutout. 4-0, Tokyo. Tetsuharu Kawakami went 4-for-4 with an RBI, 2 Runs and a Stolen Base for the Giants*.

The pre-season question of whether or not Tokyo had pitching . . . may have gotten answered on Opening Day by the "God of Pitching" in Japan.
4/5/2005, TGU06-BBU06, Braves Field (1928-41)
 
                       1  2  3  4  5  6  7  8  9     R  H  E   LOB DP
2006 Giants*           1  0  0  2  0  1  0  0  0     4  9  0     4  0
2006 Red Caps          0  0  0  0  0  0  0  0  0     0  4  1     6  2
 
Giants*              AB  R  H BI   AVG    Red Caps             AB  R  H BI   AVG
Yonamine          lf  4  1  1  0  .250    Connor            1b  4  0  1  0  .250       
Chiba             2b  3  0  0  0  .000    Duffy             cf  3  0  1  0  .333       
Kawakami          1b  4  2  4  1 1.000    Garciaparra       ss  4  0  0  0  .000       
Matsui,H          cf  4  1  2  1  .500    Snider            rf  4  0  1  0  .250       
 Yamamoto, K      cf  0  0  0  0  .000    Rice,J            lf  4  0  0  0  .000       
Betto             rf  4  0  1  2  .250    Kell              3b  3  0  1  0  .333       
Nagashima         3b  4  0  0  0  .000    Herman,Bi         2b  3  0  0  0  .000       
Furuta            c   4  0  0  0  .000    Ruel              c   2  0  0  0  .000       
 Kinugasa         c   0  0  0  0  .000     York,R           ph  1  0  0  0  .000       
Yoshida           ss  4  0  1  0  .250    Marichal          p   2  0  0  0  .000       
Kaneda            p   2  0  0  0  .000     Elliott          ph  1  0  0  0  .000       
                     33  4  9  4           Russell,J        p   0  0  0  0  .000       
                                                               31  0  4  0             
 
Giants*                          INN  H  R ER BB  K PCH STR   ERA
Kaneda           W 1-0           9.0  4  0  0  2  7 107  68  0.00
                                 9.0  4  0  0  2  7 107  68 
 
Red Caps                         INN  H  R ER BB  K PCH STR   ERA
Marichal         L 0-1           8.0  9  4  4  1  3 111  69  4.50
Russell,J                        1.0  0  0  0  0  0  12   8  0.00
                                 9.0  9  4  4  1  3 123  77 
 
TGU: Yamamoto, K inserted at cf in the 9th
     Kinugasa inserted at c in the 9th
BBU: York,R batted for Ruel in the 7th
     York,R moved to c in the 8th
     Elliott batted for Marichal in the 8th
 
E-Kell. 2B-Kawakami, Matsui,H. SB-Kawakami(1). CS-Yoshida. K-Yonamine, 
Betto 2, Duffy, Garciaparra, Snider 2, Marichal 2, Elliott. BB-Kaneda, Duffy, 
Kell. SH-Chiba. 
GWRBI: Kawakami
Temperature: 39, Sky: clear, Wind: in from center at 18 MPH.

....................................................................................................
4/5/2005, TGU06-BBU06, Braves Field (1928-41)
 
                       1  2  3  4  5  6  7  8  9     R  H  E   LOB DP
2006 Giants*           1  0  0  2  0  1  0  0  0     4  9  0     4  0
2006 Red Caps          0  0  0  0  0  0  0  0  0     0  4  1     6  2
 
Score O Rnr BS  Event
----- - --- --  -----
 
**************  Top of the 1st inning, Giants* batting
 0-0  0 --- 10  Yonamine reached on an infield single to second (BX)
 0-0  0 1-- 01  Chiba sacrifice bunted to the mound, Yonamine to second 
                  (CXb)
 0-0  1 -2- 10  Kawakami lined a single to right center, Yonamine scored 
                  (BX)
 1-0  1 1-- 20  Matsui,H grounded into a double play, Herman,Bi to 
                  Garciaparra to Connor (BBX)
 
**************  Bottom of the 1st inning, Red Caps batting
 1-0  0 --- 00  Connor flied out to right (X)
 1-0  1 --- 12  Duffy struck out, Furuta to Kawakami (SBSS)
 1-0  2 --- 00  Garciaparra popped out to first (X)
 
**************  Top of the 2nd inning, Giants* batting
 1-0  0 --- 22  Betto struck out (BFSBC)
 1-0  1 --- 20  Nagashima flied out to right (BBX)
 1-0  2 --- 00  Furuta popped out to short (X)
 
**************  Bottom of the 2nd inning, Red Caps batting
 1-0  0 --- 02  Snider struck out (SFFC)
 1-0  1 --- 02  Rice,J grounded out to the mound (CSX)
 1-0  2 --- 11  Kell grounded out to short (CBX)
 
**************  Top of the 3rd inning, Giants* batting
 1-0  0 --- 00  Yoshida lined a single to shallow center (X)
 1-0  0 1-- 00  Yoshida was caught stealing second (>C)
 1-0  1 --- 02  Kaneda grounded out to short (>C.FFX)
 1-0  2 --- 32  Yonamine flied out to left (BCBFBX)
 
**************  Bottom of the 3rd inning, Red Caps batting
 1-0  0 --- 10  Herman,Bi grounded out to second (BX)
 1-0  1 --- 11  Ruel popped out to center (BCX)
 1-0  2 --- 12  Marichal struck out (FSBS)
 
**************  Top of the 4th inning, Giants* batting
 1-0  0 --- 02  Chiba flied out to left (CFX)
 1-0  1 --- 00  Kawakami grounded a single up the middle (X)
 1-0  1 1-- 22  Matsui,H grounded a double down the third base line, 
                  Kawakami to third (BFCBX)
 1-0  1 -23 01  Betto lined a single to left center, Kawakami scored, 
                  Matsui,H scored (FX)
 3-0  1 1-- 20  Nagashima grounded into a double play, Herman,Bi to 
                  Garciaparra to Connor (BBX)
 
**************  Bottom of the 4th inning, Red Caps batting
 3-0  0 --- 20  Connor grounded out to second (BBX)
 3-0  1 --- 20  Duffy reached on an infield single to third (BBX)
 3-0  1 1-- 00  Garciaparra flied out to left (X)
 3-0  2 1-- 22  Snider struck out (CCBBC)
 
**************  Top of the 5th inning, Giants* batting
 3-0  0 --- 01  Furuta popped out to short (FX)
 3-0  1 --- 31  Yoshida flied out to left (BBFBX)
 3-0  2 --- 22  Kaneda grounded out to second (CFBBX)
 
**************  Bottom of the 5th inning, Red Caps batting
 3-0  0 --- 01  Rice,J flied out to left (FX)
 3-0  1 --- 00  Kell grounded a single up the middle (X)
 3-0  1 1-- 21  Herman,Bi flied out to center (BBCX)
 3-0  2 1-- 31  Ruel flied out to left (BBSBX)
 
**************  Top of the 6th inning, Giants* batting
 3-0  0 --- 22  Yonamine struck out (BFCBC)
 3-0  1 --- 31  Chiba grounded out to first (BCBBX)
 3-0  2 --- 11  Kawakami lined a double to right center (FBX)
 3-0  2 -2- 22  Matsui,H grounded a single between third and short, 
                  Kawakami scored, Matsui,H to second (BFSFBX)
 4-0  2 -2- 00  Betto flied out to center (X)
 
**************  Bottom of the 6th inning, Red Caps batting
 4-0  0 --- 02  Marichal struck out (CFC)
 4-0  1 --- 00  Connor lined a single to left (X)
 4-0  1 1-- 31  Duffy walked, Connor to second (BCBB>B)
 4-0  1 12- 02  Garciaparra struck out (FCS)
 4-0  2 12- 22  Snider grounded to short, forcing Duffy at second (BCSBX)
 
**************  Top of the 7th inning, Giants* batting
 4-0  0 --- 21  Nagashima to second on an error by the third baseman Kell 
                  (BFBX)
 4-0  0 -2- 12  Furuta popped out to first (CCBX)
 4-0  1 -2- 10  Yoshida grounded out to short (BX)
 4-0  2 -2- 32  Kaneda walked (BBFBFB)
 4-0  2 12- 32  Yonamine grounded out to short (BCBFB>X)
 
**************  Bottom of the 7th inning, Red Caps batting
 4-0  0 --- 32  Rice,J flied out to left (BBBCCFX)
 4-0  1 --- 32  Kell walked (BBFFBB)
 4-0  1 1-- 00  Herman,Bi flied out to center (X)
                York,R pinch hitting for Ruel
 4-0  2 1-- 21  York,R grounded out to second (BCBX)
 
**************  Top of the 8th inning, Giants* batting
                York,R moved to catcher
 4-0  0 --- 00  Chiba grounded out to third (X)
 4-0  1 --- 01  Kawakami lined a single to shallow center (CX)
 4-0  1 1-- 00  Kawakami stole second (>C)
 4-0  1 -2- 22  Matsui,H grounded out to short, Kawakami to third 
                  (>C.SBBFX)
 4-0  2 --3 12  Betto struck out (CBCFS)
 
**************  Bottom of the 8th inning, Red Caps batting
                Elliott pinch hitting for Marichal
 4-0  0 --- 22  Elliott struck out (BFBSS)
 4-0  1 --- 12  Connor flied out to left (CBSFX)
 4-0  2 --- 02  Duffy popped out to first (CCX)
 
**************  Top of the 9th inning, Giants* batting
                Russell,J now pitching
 4-0  0 --- 22  Nagashima flied out to left (BSFBX)
 4-0  1 --- 11  Furuta grounded out to short (FBX)
 4-0  2 --- 12  Yoshida flied out to left (CCBX)
 
**************  Bottom of the 9th inning, Red Caps batting
 4-0  0 --- 20  Garciaparra grounded out to short (BBX)
                Yamamoto, K now playing center field
                Kinugasa now playing catcher
 4-0  1 --- 31  Snider lined a single up the middle (BBBCX)
 4-0  1 1-- 00  Rice,J lined out to third (X)
 4-0  2 1-- 00  Kell grounded out to second (X)