Interview With Wakabayashi



Tokyo Giants

by "Sayonara" Shuto
Union League correspondent

Tokyo Yakyu


Why Named "Bozo?"
Henry Tadashi Wakabayashi, affectionately known as "Bozo," is currently recuperating from a 14-day injury sustained while backing up first base on a single to right field by Mel Ott. While he was doing his daily stretching exercises today, I had the opportunity to talk to him and asked him about his nickname. This is what he told me (

ed. note: the following was adapted from an explanation written by Wakabayashi's grandson

):



The name "Bozo" is my nickname,
my given name is Henry Tadashi Wakabayashi.
I am a Hawaii born Japanese-American, and was a baseball player there in Hawaii. I was a very powerful pitcher. As a young boy I was said to be very naughty, and was more than handful to my parents. So as a way to correct my faults I was sent to a Buddhist temple in Hawaii. There I was to be straightened out. My playmates teased me, calling me "bouzu" (Buddhist priest in Japanese language). The name was then spread around in American accent as "Bozo." The word Bozo is an old American slang meaning "

a guy

." Later it came to mean a clown. I would say it must have been the most proper nickname for the very naughty boy.

Then, later in life I made an ever-longing visit to Japan. I went as a member of a selected Hawaiian baseball team which exchanged games with the Japan Selected Baseball Team. At that time in Japan there was no professional baseball but college baseball was at its peak. I performed well in the exchange games. As a result, I was scouted to Hosei University and given a "golden age" scholarship to the university for all of the four years. When I was in the last year of Hosei, professional baseball league was organized. I was scouted and signed to the Hanshin Tigers as a star player. My activity as a pitcher and also as a director extended to help originate the two-league system, just like in Major League Baseball system in America. After creating the two-league system, I volunteered to Mainichi Orion's of Pacific League, where I became the first winning pitcher, and then the Most Valuable Player by the end of the season. My pitching was so accurate that I was said to be able to throw a ball through a needle hole. My skill was famed as "

Rainbow Colored Pitching

" because I had seven different pitches. I became the first Hall of Fame figure outside of the players for the Giants.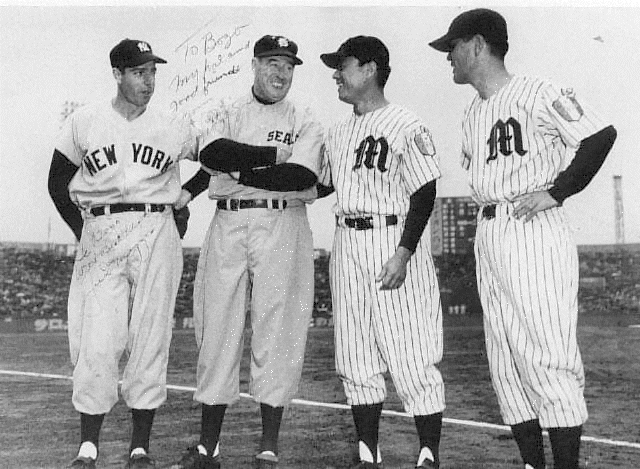 Joe DiMaggio, Lefty O'Doul, Bozo Wakabayashi & Kaiser Tanaka