The Comeback & The Revenge



Pittsburgh Pirates & Boston Red Sox
2006 Legends League Divisional Playoff Series
by "Shakey" McGuiness
Legends League correspondent

Pittsburgh Pirates Baseball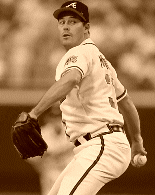 The

Bucs

and

Sox

rumbled into

Bah

ston late in the morning on the sleeper train, with the the series tied at one.

Spitballer Stan Coveleski,

a 15 game winner during the regular season and a 3 game winner during last year's

Worlds Serie

s run was taking the mound for the

Bucs

as

Larry Corcoran

took the sphere for the

Sox

, a new-comer to the rivalry but am 11 game winner during the season.

Stan

ultimately tossed the third straight complete game for the

Bucs

, and the

Pittsburghers

were a game away from their 2nd straight LCS appearance. Next up for the

Bucs

:

Randy Johnson

, and if

Boston

somehow got past him, then it would be

Smokey Joe Williams

. Can you say no way the

Sox

come back? The

Bucs

fans can.

But guess what, this is baseball and anything can happen. Of course, when you've got

Greg Maddux

and

Kevin Brown

going for you, that's not exactly chopped liver either. So as it happened

Maddux

turned in a gem, a 2 hit masterpiece.

The Unit

went down with a sore elbow (again) in the fifth with the

Buccaneers

trailing

1-0

, and the

Sox

proceeded to jump on a series of relievers to ice the game. That series of events had

Boston

quaffing their Guinness well into the next day when

Kevin Brown

, AKA

Mr. Happy

, would take the mound.

Brown

would have to go against

Smokey Joe Williams

--in

Pittsburgh

--not an easy task.

SJ

had mowed down a record

15 Bosox

batsmen in

Game Two

, so you can bet the hometown cranks were quite confident with their guy on the mound.

Well,

Brown

out pitched

Williams

easily, and

Boston

won the game going away,

11-3

. The comeback, and year-old revenge was now complete. Having been down

3-1

in last year's

LCS

and losing to this

Pittsburgh

team certainly was an unpleasant experience, but this day just might have made up for it. "

They were game, but we would NOT be denied again,

" said

Brown

afterwards. "

All credit goes to those guys over in that clubhouse

," said

Bucs

team captain

Pop Lloyd

. "They could have said 'here we go again' and folded their tents when we went up

2-1

, but they fought like the Champs they are. More power to them. Next year, wait 'till next year ..." As for the

Sox

, the

Stars

await, glittering under the

Saint Louis Arch

. Stay tuned, we are nowhere close to being over.



9/28/2005, PPL06-RSL06, Fenway Park (1934-01)
 
                       1  2  3  4  5  6  7  8  9     R  H  E   LOB DP
2006 Pirates           0  0  0  0  2  2  1  0  1     6  7  1     7  1
2006 Red Sox           0  1  0  0  1  0  0  0  0     2  6  1     3  0
 
Pirates              AB  R  H BI   AVG    Red Sox              AB  R  H BI   AVG
Kimbro            cf  4  1  1  2  .231    Morgan,J          2b  3  0  0  0  .200       
Lloyd             ss  4  1  1  1  .455    Barnes,R          ss  4  0  1  0  .364       
Hornsby           2b  4  0  1  1  .091    Jackson,Jo        rf  4  0  1  0  .083       
 McDougald        2b  0  0  0  0  .000    Foxx              1b  4  1  1  1  .091       
Mize              1b  4  0  1  0  .444    Speaker           cf  3  0  1  0  .455       
Delahanty,E       lf  4  1  1  0  .091    Gibson,J          c   3  1  1  1  .273       
Stearnes          rf  3  1  1  2  .300    Wilson,Ju         3b  3  0  1  0  .200       
Johnson,J         3b  3  1  1  0  .300    Simmons,A         lf  3  0  0  0  .125       
 Francis          3b  0  0  0  0  .000    Corcoran          p   2  0  0  0  .000       
Hartnett          c   3  0  0  0  .000     Smoltz           p   0  0  0  0  .000       
Coveleski         p   2  1  0  0  .000     Singleton        ph  1  0  0  0  .000       
                     31  6  7  6           Cooper,Wi        p   0  0  0  0  .000       
                                                               30  2  6  2             
 
Pirates                          INN  H  R ER BB  K PCH STR   ERA
Coveleski        W 1-0           9.0  6  2  2  2  6 104  66  2.00
                                 9.0  6  2  2  2  6 104  66 
 
Red Sox                          INN  H  R ER BB  K PCH STR   ERA
Corcoran         L 0-1           6.2  6  5  5  4  1 105  62  6.75
Smoltz                           1.1  0  0  0  2  2  25  14  0.00
Cooper,Wi                        1.0  1  1  1  1  2  18  10  9.00
                                 9.0  7  6  6  7  5 148  86 
 
PPL: Francis inserted at 3b in the 8th
     McDougald inserted at 2b in the 9th
RSL: Singleton batted for Smoltz in the 8th
 
E-Lloyd, Barnes,R. 2B-Hornsby. HR-Kimbro(1), Stearnes(1), Foxx(1), 
Gibson,J(1). CS-Kimbro, Johnson,J, Speaker 2, Wilson,Ju. K-Lloyd, Mize, 
Johnson,J, Hartnett, Coveleski, Barnes,R, Foxx 2, Gibson,J 2, Simmons,A. 
BB-Kimbro, Lloyd, Hornsby, Mize, Stearnes, Johnson,J, Hartnett, Morgan,J, 
Speaker. SH-Coveleski 2. 
GWRBI: Stearnes
Temperature: 69, Sky: clear, Wind: in from center at 13 MPH.

....................................................................................................
9/28/2005, PPL06-RSL06, Fenway Park (1934-01)
 
                       1  2  3  4  5  6  7  8  9     R  H  E   LOB DP
2006 Pirates           0  0  0  0  2  2  1  0  1     6  7  1     7  1
2006 Red Sox           0  1  0  0  1  0  0  0  0     2  6  1     3  0
 
Score O Rnr BS  Event
----- - --- --  -----
 
**************  Top of the 1st inning, Pirates batting
 0-0  0 --- 32  Kimbro walked (SFBBBFB)
 0-0  0 1-- 32  Lloyd struck out (1C1FBBFF1B111F1S)
 0-0  1 1-- 00  Kimbro was caught stealing second after being picked off 
                  first by Corcoran (1)
 0-0  2 --- 32  Hornsby flied out to left (1.BBFCFBX)
 
**************  Bottom of the 1st inning, Red Sox batting
 0-0  0 --- 10  Morgan,J grounded out to third (BX)
 0-0  1 --- 01  Barnes,R lined a single to right (CX)
 0-0  1 1-- 10  Jackson,Jo grounded into a double play, Hornsby to Lloyd 
                  to Mize (B11X)
 
**************  Top of the 2nd inning, Pirates batting
 0-0  0 --- 02  Mize grounded out to short (FFX)
 0-0  1 --- 10  Delahanty,E popped out to third (BX)
 0-0  2 --- 31  Stearnes popped out to short (BBCBX)
 
**************  Bottom of the 2nd inning, Red Sox batting
 0-0  0 --- 02  Foxx homered deep down the left-field line (FFX)
 0-1  0 --- 31  Speaker lined a single to right center (BCBBX)
 0-1  0 1-- 22  Gibson,J struck out (BCF1BS)
 0-1  1 1-- 00  Speaker was caught stealing second (>B)
 0-1  2 --- 10  Wilson,Ju flied out to center (>B.X)
 
**************  Top of the 3rd inning, Pirates batting
 0-1  0 --- 00  Johnson,J grounded out to second (X)
 0-1  1 --- 00  Hartnett to first on an error by the shortstop Barnes,R 
                  (X)
 0-1  1 1-- 00  Coveleski sacrifice bunted to the mound, Hartnett to 
                  second (Xb)
 0-1  2 -2- 10  Kimbro grounded out to short (BX)
 
**************  Bottom of the 3rd inning, Red Sox batting
 0-1  0 --- 12  Simmons,A struck out (BCSC)
 0-1  1 --- 01  Corcoran grounded out to short (CX)
 0-1  2 --- 20  Morgan,J flied out to right (BBX)
 
**************  Top of the 4th inning, Pirates batting
 0-1  0 --- 22  Lloyd grounded out to third (BCFBX)
 0-1  1 --- 22  Hornsby lined out to third (BBFCX)
 0-1  2 --- 10  Mize grounded a single between first and second (BX)
 0-1  2 1-- 00  Delahanty,E reached on an infield single to second, Mize 
                  to second (X)
 0-1  2 12- 10  Stearnes grounded out to second (BX)
 
**************  Bottom of the 4th inning, Red Sox batting
 0-1  0 --- 12  Barnes,R struck out (BSFS)
 0-1  1 --- 00  Jackson,Jo lined a single to shallow center (X)
 0-1  1 1-- 22  Foxx struck out (BCFBS)
 0-1  2 1-- 01  Speaker popped out to center (1C1X)
 
**************  Top of the 5th inning, Pirates batting
 0-1  0 --- 32  Johnson,J walked (FBBBSB)
 0-1  0 1-- 10  Hartnett flied out to center (BX)
 0-1  1 1-- 12  Coveleski sacrifice bunted to the mound, Johnson,J to 
                  second (FbC1BXb)
 0-1  2 -2- 11  Kimbro homered deep to left center, Johnson,J scored (BFX)
 2-1  2 --- 00  Lloyd grounded out to second (X)
 
**************  Bottom of the 5th inning, Red Sox batting
 2-1  0 --- 02  Gibson,J homered deep down the left-field line (CCX)
 2-2  0 --- 21  Wilson,Ju lined a single down the left field line (FBBX)
 2-2  0 1-- 01  Simmons,A flied out to center (S111X)
 2-2  1 1-- 00  Wilson,Ju was caught stealing second (>C)
 2-2  2 --- 01  Corcoran popped out to center (>C.X)
 
**************  Top of the 6th inning, Pirates batting
 2-2  0 --- 32  Hornsby walked (CBBBSB)
 2-2  0 1-- 11  Mize flied out to center (CBX)
 2-2  1 1-- 21  Delahanty,E grounded to third, forcing Hornsby at second, 
                  Delahanty,E to first (BFBX)
 2-2  2 1-- 01  Stearnes homered deep down the right field line, 
                  Delahanty,E scored (C1X)
 4-2  2 --- 00  Johnson,J grounded a single between first and second (X)
 4-2  2 1-- 11  Johnson,J was caught stealing second (SB>C)
 
**************  Bottom of the 6th inning, Red Sox batting
 4-2  0 --- 31  Morgan,J walked (CBBBB)
 4-2  0 1-- 01  Barnes,R grounded out to the mound, Morgan,J to second 
                  (S>X)
 4-2  1 -2- 12  Jackson,Jo flied out to left, Morgan,J to third (FFBX)
 4-2  2 --3 11  Foxx grounded out to third (BCX)
 
**************  Top of the 7th inning, Pirates batting
 4-2  0 --- 32  Hartnett walked (BFBCBFFB)
 4-2  0 1-- 22  Coveleski bunted into an out to the catcher, forcing 
                  Hartnett at second, Coveleski to first (FbFb1FBbBXb)
 4-2  1 1-- 10  Kimbro bunted into an out to the mound, Coveleski to 
                  second (BXb)
 4-2  2 -2- 00  Lloyd lined a single to shallow left, Coveleski scored, 
                  Lloyd to second (X)
                Smoltz now pitching
 5-2  2 -2- 01  Hornsby grounded out to third (CX)
 
**************  Bottom of the 7th inning, Red Sox batting
 5-2  0 --- 32  Speaker walked (FBBCBB)
 5-2  0 1-- 10  Speaker was caught stealing second (B>C)
 5-2  1 --- 12  Gibson,J struck out (B>C.SS)
 5-2  2 --- 10  Wilson,Ju to first on an error by the shortstop Lloyd (BX)
 5-2  2 1-- 20  Simmons,A flied out to left (BBX)
 
**************  Top of the 8th inning, Pirates batting
 5-2  0 --- 31  Mize walked (FBBBB)
 5-2  0 1-- 02  Delahanty,E flied out to left (SFX)
 5-2  1 1-- 32  Stearnes walked, Mize to second (BSBSBB)
 5-2  1 12- 32  Johnson,J struck out (CBCBBS)
 5-2  2 12- 02  Hartnett struck out (CFS)
 
**************  Bottom of the 8th inning, Red Sox batting
                Francis now playing third base
                Singleton pinch hitting for Smoltz
 5-2  0 --- 31  Singleton grounded out to third (BBBCX)
 5-2  1 --- 00  Morgan,J flied out to center (X)
 5-2  2 --- 32  Barnes,R popped out to center (FBBFBFFX)
 
**************  Top of the 9th inning, Pirates batting
                Cooper,Wi now pitching
 5-2  0 --- 12  Coveleski struck out (CBFC)
 5-2  1 --- 10  Kimbro bunted into an out to the mound (BXb)
 5-2  2 --- 30  Lloyd walked (BBBB)
 5-2  2 1-- 02  Hornsby lined a double to left center, Lloyd scored (FFX)
 6-2  2 -2- 22  Mize struck out (FBCBS)
 
**************  Bottom of the 9th inning, Red Sox batting
                McDougald now playing second base
 6-2  0 --- 00  Jackson,Jo grounded out to first (X)
 6-2  1 --- 22  Foxx struck out (SBCBFS)
 6-2  2 --- 00  Speaker flied out to left (X)

-------------------------------------------------------------------------------------------------

9/29/2005, PPL06-RSL06, Fenway Park (1934-01)
 
                       1  2  3  4  5  6  7  8  9     R  H  E   LOB DP
2006 Pirates           0  0  0  0  0  0  0  0  0     0  2  0     3  1
2006 Red Sox           1  0  0  0  2  3  0  0  x     6 11  1    11  0
 
Pirates              AB  R  H BI   AVG    Red Sox              AB  R  H BI   AVG
Kimbro            cf  4  0  1  0  .235    Morgan,J          2b  3  1  2  1  .308       
Lloyd             ss  4  0  0  0  .333     Schoendienst     2b  0  0  0  0  .000       
Hornsby           2b  4  0  1  0  .133    Barnes,R          ss  4  2  3  0  .467       
Mize              1b  3  0  0  0  .333     Bustamente       ss  0  0  0  0  .000       
Delahanty,E       lf  3  0  0  0  .071    Jackson,Jo        rf  5  0  2  3  .176       
Stearnes          rf  3  0  0  0  .231    Foxx              1b  3  0  0  0  .071       
Johnson,J         3b  2  0  0  0  .250    Speaker           cf  4  0  0  0  .333       
 Franco,Jo        p   0  0  0  0  .000    Gibson,J          c   2  1  0  0  .231       
 Feller           p   0  0  0  0  .000     Mackey           c   0  0  0  0  .000       
 Giles,B          ph  1  0  0  0  .000    Wilson,Ju         3b  4  1  2  1  .286       
 Pierce           p   0  0  0  0  .000     Marcelle         3b  0  0  0  0  .000       
Hartnett          c   3  0  0  0  .000    Simmons,A         lf  4  1  1  1  .167       
Johnson,R         p   1  0  0  0  .000    Maddux            p   3  0  1  0  .200       
 Francis          3b  2  0  0  0  .000                         32  6 11  6             
                     30  0  2  0                                                    
 
Pirates                          INN  H  R ER BB  K PCH STR   ERA
Johnson,R        L 0-2           4.1  4  3  3  4  6  83  47  4.05
Franco,Jo                        1.0  5  3  3  1  2  37  22 27.00
Feller                           1.2  1  0  0  1  3  28  16  0.00
Pierce                           1.0  1  0  0  2  0  23  11  0.00
                                 8.0 11  6  6  8 11 171  96 
 
Red Sox                          INN  H  R ER BB  K PCH STR   ERA
Maddux           W 2-0           9.0  2  0  0  0  7  98  69  1.00
                                 9.0  2  0  0  0  7  98  69 
 
PPL: Francis inserted at 3b in the 5th
     Giles,B batted for Feller in the 8th
RSL: Mackey inserted at c in the 8th
     Marcelle inserted at 3b in the 8th
     Schoendienst inserted at 2b in the 9th
     Bustamente inserted at ss in the 9th
 
E-Wilson,Ju. 2B-Hornsby, Simmons,A. 3B-Jackson,Jo, Wilson,Ju. SB-Barnes,R(1). 
CS-Jackson,Jo. K-Hornsby, Mize, Delahanty,E, Johnson,J, Hartnett, Johnson,R, 
Giles,B, Morgan,J, Barnes,R, Jackson,Jo, Foxx 3, Speaker 2, Gibson,J, 
Wilson,Ju, Maddux. BB-Morgan,J 2, Barnes,R, Foxx 2, Speaker, Gibson,J 2. 
SH-Maddux. PB-Hartnett, Gibson,J. 
GWRBI: Jackson,Jo
Randy Johnson was injured for this game and 11 more days
Temperature: 59, Sky: clear, Wind: out to left at 14 MPH.

....................................................................................................
9/29/2005, PPL06-RSL06, Fenway Park (1934-01)
 
                       1  2  3  4  5  6  7  8  9     R  H  E   LOB DP
2006 Pirates           0  0  0  0  0  0  0  0  0     0  2  0     3  1
2006 Red Sox           1  0  0  0  2  3  0  0  x     6 11  1    11  0
 
Score O Rnr BS  Event
----- - --- --  -----
 
**************  Top of the 1st inning, Pirates batting
 0-0  0 --- 01  Kimbro grounded out to short (SX)
 0-0  1 --- 20  Lloyd grounded out to first (BBX)
 0-0  2 --- 10  Hornsby doubled deep to right center (BX)
 0-0  2 -2- 00  Mize grounded out to short (X)
 
**************  Bottom of the 1st inning, Red Sox batting
 0-0  0 --- 02  Morgan,J struck out (CCC)
 0-0  1 --- 32  Barnes,R walked (BSFFBBB)
 0-0  1 1-- 01  Barnes,R stole second (C>C)
 0-0  1 -2- 12  Jackson,Jo lined a single to right center, Barnes,R 
                  scored (C>C.BX)
 0-1  1 1-- 10  Jackson,Jo was caught stealing second (Bp>B)
 0-1  2 --- 32  Foxx walked (Bp>B.BCCB)
 0-1  2 1-- 31  Speaker walked, Foxx to second (BBCBB)
 0-1  2 12- 21  Gibson,J grounded to short, forcing Speaker at second 
                  (BCBX)
 
**************  Top of the 2nd inning, Pirates batting
 0-1  0 --- 11  Delahanty,E flied out to center (BCX)
 0-1  1 --- 21  Stearnes grounded out to second (BBCX)
 0-1  2 --- 12  Johnson,J struck out (BFFC)
 
**************  Bottom of the 2nd inning, Red Sox batting
 0-1  0 --- 00  Wilson,Ju grounded out to second (X)
 0-1  1 --- 21  Simmons,A popped out to left (BSBX)
 0-1  2 --- 02  Maddux lined a single between first and second (CCX)
 0-1  2 1-- 22  Morgan,J grounded a single between first and second, 
                  Maddux to second (CBBF11X)
 0-1  2 12- 11  Hartnett allowed a passed ball, Maddux to third, Morgan,J 
                  to second (CBB)
 0-1  2 -23 22  Barnes,R struck out (CBB.CS)
 
**************  Top of the 3rd inning, Pirates batting
 0-1  0 --- 12  Hartnett struck out (CFBS)
 0-1  1 --- 22  Johnson,R struck out (BCBFS)
 0-1  2 --- 00  Kimbro popped out to first (X)
 
**************  Bottom of the 3rd inning, Red Sox batting
 0-1  0 --- 22  Jackson,Jo popped out to first (BCBCX)
 0-1  1 --- 22  Foxx struck out (CBBSC)
 0-1  2 --- 21  Speaker grounded out to short (CBBX)
 
**************  Top of the 4th inning, Pirates batting
 0-1  0 --- 10  Lloyd grounded out to first (BX)
 0-1  1 --- 02  Hornsby struck out (CCS)
 0-1  2 --- 12  Mize struck out (CBFC)
 
**************  Bottom of the 4th inning, Red Sox batting
 0-1  0 --- 22  Gibson,J struck out (CCBBS)
 0-1  1 --- 12  Wilson,Ju struck out (BSCS)
 0-1  2 --- 12  Simmons,A popped out to first (BSCX)
 
**************  Top of the 5th inning, Pirates batting
 0-1  0 --- 01  Delahanty,E grounded out to the mound (FX)
 0-1  1 --- 12  Stearnes grounded out to first (CCBFX)
 0-1  2 --- 12  Johnson,J grounded out to short (BFCX)
 
**************  Bottom of the 5th inning, Red Sox batting
 0-1  0 --- 12  Maddux struck out (CCBC)
 0-1  1 --- 30  Morgan,J walked (BBBB)
 0-1  1 1-- 00  Barnes,R lined a single to shallow center, Morgan,J to 
                  second (>X)
                Johnson,R left the game with an injury
                Francis now playing third base
                Franco,Jo now pitching
 0-1  1 12- 32  Jackson,Jo tripled deep to center, Morgan,J scored, 
                  Barnes,R scored (BBCFB2FX)
 0-3  1 --3 22  Foxx struck out (BSBCS)
 0-3  2 --3 12  Speaker struck out (CFBFS)
 
**************  Top of the 6th inning, Pirates batting
 0-3  0 --- 02  Hartnett grounded out to short (CSX)
 0-3  1 --- 21  Francis grounded out to second (BFBX)
 0-3  2 --- 01  Kimbro reached on an infield single to short (SX)
 0-3  2 1-- 12  Kimbro to second, Lloyd to first on an error by the third 
                  baseman Wilson,Ju (BCFX)
 0-3  2 12- 00  Gibson,J allowed a passed ball, Kimbro to third, Lloyd to 
                  second (B)
 0-3  2 -23 11  Hornsby lined out to short (B.FX)
 
**************  Bottom of the 6th inning, Red Sox batting
 0-3  0 --- 32  Gibson,J walked (BBCCBB)
 0-3  0 1-- 12  Wilson,Ju lined a triple down the right field line, 
                  Gibson,J scored (CBFX)
 0-4  0 --3 21  Simmons,A doubled deep to left center, Wilson,Ju scored 
                  (SBBX)
 0-5  0 -2- 00  Maddux sacrifice bunted to first, Simmons,A to third (Xb)
 0-5  1 --3 00  Morgan,J grounded a single up the middle, Simmons,A 
                  scored (X)
 0-6  1 1-- 21  Barnes,R lined a single to left, Morgan,J to second (CBBX)
                Feller now pitching
 0-6  1 12- 22  Jackson,Jo struck out (SFBBS)
 0-6  2 12- 32  Foxx struck out (BCFBB>S)
 
**************  Top of the 7th inning, Pirates batting
 0-6  0 --- 12  Mize flied out to left (CFBX)
 0-6  1 --- 22  Delahanty,E struck out (BCCBFS)
 0-6  2 --- 00  Stearnes flied out to right (X)
 
**************  Bottom of the 7th inning, Red Sox batting
 0-6  0 --- 12  Speaker struck out (BSFS)
 0-6  1 --- 31  Gibson,J walked (BCBBB)
 0-6  1 1-- 11  Wilson,Ju reached on an infield single to second, 
                  Gibson,J to second (BCX)
 0-6  1 12- 01  Simmons,A popped out to first (CX)
 0-6  2 12- 11  Maddux flied out to left (SBX)
 
**************  Top of the 8th inning, Pirates batting
                Mackey now playing catcher
                Marcelle now playing third base
                Giles,B pinch hitting for Feller
 0-6  0 --- 12  Giles,B struck out (FCBS)
 0-6  1 --- 32  Hartnett grounded out to short (BCBBSX)
 0-6  2 --- 12  Francis grounded out to second (CBFX)
 
**************  Bottom of the 8th inning, Red Sox batting
                Pierce now pitching
 0-6  0 --- 31  Morgan,J walked (BBFBB)
 0-6  0 1-- 32  Barnes,R grounded a single between first and second, 
                  Morgan,J to second (BBCSFFFBX)
 0-6  0 12- 10  Jackson,Jo flied out to right (BX)
 0-6  1 12- 32  Foxx walked, Morgan,J to third, Barnes,R to second 
                  (BBBCCB)
 0-6  1 123 00  Speaker grounded into a double play, Lloyd to Hornsby to 
                  Mize (X)
 
**************  Top of the 9th inning, Pirates batting
                Schoendienst now playing second base
                Bustamente now playing shortstop
 0-6  0 --- 01  Kimbro grounded out to second (CX)
 0-6  1 --- 11  Lloyd bunted into an out to the mound (CBXb)
 0-6  2 --- 20  Hornsby popped out to short (BBX)

-----------------------------------------------------------------------------------------------
10/1/2005, RSL06-PPL06, Forbes Field (1932-46)
 
                       1  2  3  4  5  6  7  8  9     R  H  E   LOB DP
2006 Red Sox           2  0  3  0  1  0  1  1  3    11 15  0    12  0
2006 Pirates           0  0  0  2  0  0  1  0  0     3 12  0    10  1
 
Red Sox              AB  R  H BI   AVG    Pirates              AB  R  H BI   AVG
Morgan,J          2b  2  3  1  0  .333    Kimbro            cf  5  0  1  0  .227       
 Schoendienst     2b  0  0  0  0  .000    Lloyd             ss  5  0  2  0  .350       
Barnes,R          ss  4  1  2  1  .474    Hornsby           2b  5  1  2  0  .200       
 Bustamente       ss  0  0  0  0  .000    Mize              1b  5  0  2  1  .353       
Jackson,Jo        rf  5  1  3  3  .273    Delahanty,E       lf  4  1  1  0  .111       
Foxx              1b  6  3  3  2  .200    Stearnes          rf  3  1  1  0  .250       
Speaker           cf  5  0  3  2  .400    Johnson,J         3b  4  0  0  0  .188       
 Corcoran         ph  1  0  0  0  .000    Hartnett          c   4  0  2  1  .125       
Gibson,J          c   3  1  0  0  .188    Williams,SJ       p   0  0  0  0  .500       
 Mackey           c   0  0  0  0  .000     Franco,Jo        p   2  0  1  1  .500       
Wilson,Ju         3b  5  0  1  1  .263     Feller           p   0  0  0  0  .000       
 Marcelle         3b  0  0  0  0  .000     Williams,K       ph  1  0  0  0  .000       
Simmons,A         lf  3  1  1  1  .200     Jackson,M        p   0  0  0  0  .000       
Brown,K           p   4  0  0  1  .000     Smith,Reg        ph  1  0  0  0  .000       
 Brecheen         p   1  1  1  0 1.000     Pierce           p   0  0  0  0  .000       
                     39 11 15 11                               39  3 12  3             
 
Red Sox                          INN  H  R ER BB  K PCH STR   ERA
Brown,K          W 1-1           7.2 11  3  3  1  6 130  81  2.30
Brecheen                         1.1  1  0  0  0  0  15  10  0.00
                                 9.0 12  3  3  1  6 145  91 
 
Pirates                          INN  H  R ER BB  K PCH STR   ERA
Williams,SJ      L 1-1           2.1  5  5  5  3  2  48  26  3.97
Franco,Jo                        2.0  1  1  1  3  1  34  19 12.00
Feller                           1.2  2  0  0  2  1  39  23  0.00
Jackson,M                        2.0  3  2  2  2  0  41  24  9.00
Pierce                           1.0  4  3  3  0  2  19  15 13.50
                                 9.0 15 11 11 10  6 181 107 
 
RSL: Mackey inserted at c in the 8th
     Marcelle inserted at 3b in the 8th
     Corcoran batted for Speaker in the 9th
     Schoendienst inserted at 2b in the 9th
     Bustamente inserted at ss in the 9th
     Corcoran moved to cf in the 9th
PPL: Williams,K batted for Feller in the 6th
     Smith,Reg batted for Jackson,M in the 8th
 
2B-Barnes,R, Jackson,Jo 2, Speaker, Lloyd, Mize. 3B-Foxx, Hartnett. 
HR-Simmons,A(1). SB-Morgan,J(1), Speaker(2). K-Morgan,J, Barnes,R, Foxx, 
Gibson,J, Wilson,Ju, Simmons,A, Mize, Delahanty,E 2, Stearnes, Franco,Jo, 
Williams,K. BB-Morgan,J 4, Barnes,R, Jackson,Jo, Gibson,J 2, Simmons,A 2, 
Stearnes. SH-Barnes,R. 
GWRBI: Foxx
Temperature: 55, Sky: clear, Wind: out to right at 10 MPH.

....................................................................................................
10/1/2005, RSL06-PPL06, Forbes Field (1932-46)
 
                       1  2  3  4  5  6  7  8  9     R  H  E   LOB DP
2006 Red Sox           2  0  3  0  1  0  1  1  3    11 15  0    12  0
2006 Pirates           0  0  0  2  0  0  1  0  0     3 12  0    10  1
 
Score O Rnr BS  Event
----- - --- --  -----
 
**************  Top of the 1st inning, Red Sox batting
 0-0  0 --- 31  Morgan,J walked (BCBBB)
 0-0  0 1-- 10  Barnes,R sacrifice bunted to the catcher, Morgan,J to 
                  second (Bb11Xb)
 0-0  1 -2- 00  Jackson,Jo grounded out to short (X)
 0-0  2 -2- 01  Foxx tripled deep to right center, Morgan,J scored (SX)
 1-0  2 --3 10  Speaker lined a single to shallow left, Foxx scored (BX)
 2-0  2 1-- 12  Gibson,J struck out (CFFBpS)
 
**************  Bottom of the 1st inning, Pirates batting
 2-0  0 --- 11  Kimbro flied out to center (BCX)
 2-0  1 --- 21  Lloyd popped out to right (CBbBX)
 2-0  2 --- 12  Hornsby flied out to center (BFSX)
 
**************  Top of the 2nd inning, Red Sox batting
 2-0  0 --- 02  Wilson,Ju struck out (CSC)
 2-0  1 --- 00  Simmons,A grounded out to first (X)
 2-0  2 --- 12  Brown,K grounded out to second (BSFX)
 
**************  Bottom of the 2nd inning, Pirates batting
 2-0  0 --- 31  Mize lined a single to shallow center (BBBCX)
 2-0  0 1-- 32  Delahanty,E struck out (BFFFBBS)
 2-0  1 1-- 10  Stearnes lined a single to shallow right, Mize to second 
                  (BX)
 2-0  1 12- 12  Johnson,J grounded out to second, Mize to third, Stearnes 
                  to second (F>FBX)
 2-0  2 -23 20  Hartnett grounded out to the catcher (BBX)
 
**************  Top of the 3rd inning, Red Sox batting
 2-0  0 --- 30  Morgan,J walked (BBBB)
 2-0  0 1-- 11  Barnes,R flied out to right (CB>X)
 2-0  1 1-- 01  Morgan,J stole second (C1>B)
 2-0  1 -2- 22  Jackson,Jo grounded a single between first and second, 
                  Morgan,J scored, Jackson,Jo to second (C1>B.B2CX)
 3-0  1 -2- 32  Foxx lined a single up the middle, Jackson,Jo scored 
                  (BSBFBX)
 4-0  1 1-- 00  Speaker grounded a single up the middle, Foxx to third 
                  (>X)
 4-0  1 1-3 10  Speaker stole second (B>B)
 4-0  1 -23 30  Gibson,J walked (B>B.BB)
                Franco,Jo now pitching
 4-0  1 123 12  Wilson,Ju grounded out to short, Foxx scored, Speaker to 
                  third, Gibson,J to second (CBCFX)
 5-0  2 -23 30  Simmons,A was walked intentionally (IIII)
 5-0  2 123 00  Brown,K grounded out to second (X)
 
**************  Bottom of the 3rd inning, Pirates batting
 5-0  0 --- 12  Franco,Jo struck out (SFBC)
 5-0  1 --- 21  Kimbro grounded out to short (BBFbX)
 5-0  2 --- 22  Lloyd lined a single to right (BCBSX)
 5-0  2 1-- 00  Hornsby lined a single to left, Lloyd to second (X)
 5-0  2 12- 12  Mize struck out (BSFS)
 
**************  Top of the 4th inning, Red Sox batting
 5-0  0 --- 02  Morgan,J struck out (CSFS)
 5-0  1 --- 12  Barnes,R lined a single down the left field line (FBCX)
 5-0  1 1-- 32  Jackson,Jo walked, Barnes,R to second (CSFBBBB)
 5-0  1 12- 01  Foxx grounded into a double play, Lloyd to Hornsby to 
                  Mize (SX)
 
**************  Bottom of the 4th inning, Pirates batting
 5-0  0 --- 20  Delahanty,E grounded a single between third and short 
                  (BBX)
 5-0  0 1-- 32  Stearnes walked, Delahanty,E to second (BBCFBFB)
 5-0  0 12- 20  Johnson,J grounded out to short, Delahanty,E to third, 
                  Stearnes to second (BBX)
 5-0  1 -23 10  Hartnett grounded out to first, Delahanty,E scored, 
                  Stearnes to third (BX)
 5-1  2 --3 00  Franco,Jo grounded a single to right, Stearnes scored (X)
 5-2  2 1-- 10  Kimbro lined a single up the middle, Franco,Jo to second 
                  (BX)
 5-2  2 12- 01  Lloyd grounded to short, forcing Kimbro at second (SX)
 
**************  Top of the 5th inning, Red Sox batting
 5-2  0 --- 10  Speaker grounded out to first (BX)
 5-2  1 --- 31  Gibson,J walked (BBFBB)
                Feller now pitching
 5-2  1 1-- 12  Wilson,Ju lined a single to right, Gibson,J to second 
                  (CBCFX)
 5-2  1 12- 31  Simmons,A walked, Gibson,J to third, Wilson,Ju to second 
                  (BCBBB)
 5-2  1 123 32  Brown,K grounded out to short, Gibson,J scored, Wilson,Ju 
                  to third, Simmons,A to second (BSBBSX)
 6-2  2 -23 31  Morgan,J walked (BCBBB)
 6-2  2 123 02  Barnes,R struck out (CCS)
 
**************  Bottom of the 5th inning, Pirates batting
 6-2  0 --- 22  Hornsby grounded out to the mound (BBFFX)
 6-2  1 --- 00  Mize grounded out to second (X)
 6-2  2 --- 12  Delahanty,E grounded out to second (CBCX)
 
**************  Top of the 6th inning, Red Sox batting
 6-2  0 --- 01  Jackson,Jo lined a double to left center (CX)
 6-2  0 -2- 22  Foxx grounded out to short (BBFCX)
 6-2  1 -2- 12  Speaker lined out to first (FBSFX)
 6-2  2 -2- 11  Gibson,J grounded out to first (CBX)
 
**************  Bottom of the 6th inning, Pirates batting
 6-2  0 --- 12  Stearnes lined out to second (CCFBFFFFFX)
 6-2  1 --- 20  Johnson,J grounded out to short (BBX)
 6-2  2 --- 11  Hartnett lined a triple down the right field line (BCX)
                Williams,K pinch hitting for Feller
 6-2  2 --3 22  Williams,K struck out (SBCBC)
 
**************  Top of the 7th inning, Red Sox batting
                Jackson,M now pitching
 6-2  0 --- 22  Wilson,Ju flied out to center (BBFFX)
 6-2  1 --- 10  Simmons,A homered deep down the left-field line (BX)
 7-2  1 --- 00  Brown,K lined out to second (X)
 7-2  2 --- 31  Morgan,J walked (BBBCB)
 7-2  2 1-- 32  Barnes,R walked, Morgan,J to second (CCBFFB1B>B)
 7-2  2 12- 22  Jackson,Jo grounded out to second (C2BCBFFX)
 
**************  Bottom of the 7th inning, Pirates batting
 7-2  0 --- 11  Kimbro grounded out to short (BFX)
 7-2  1 --- 21  Lloyd grounded out to first (BBCX)
 7-2  2 --- 11  Hornsby lined a single to shallow left (BCX)
 7-2  2 1-- 01  Mize doubled deep to left center, Hornsby scored (CX)
 7-3  2 -2- 02  Delahanty,E struck out (FCS)
 
**************  Top of the 8th inning, Red Sox batting
 7-3  0 --- 22  Foxx grounded a single up the middle (SBBCX)
 7-3  0 1-- 00  Speaker grounded a double down the first base line, Foxx 
                  scored, Speaker out at third (X)
 8-3  1 --- 12  Gibson,J flied out to center (BCSX)
 8-3  2 --- 11  Wilson,Ju grounded out to short (BFX)
 
**************  Bottom of the 8th inning, Pirates batting
                Mackey now playing catcher
                Marcelle now playing third base
 8-3  0 --- 22  Stearnes struck out (CBSBS)
 8-3  1 --- 21  Johnson,J flied out to right (BCBX)
 8-3  2 --- 22  Hartnett lined a single to shallow center (FBBSX)
                Smith,Reg pinch hitting for Jackson,M
                Brecheen now pitching
 8-3  2 1-- 11  Smith,Reg grounded to short, forcing Hartnett at second 
                  (CBX)
 
**************  Top of the 9th inning, Red Sox batting
                Pierce now pitching
 8-3  0 --- 12  Simmons,A struck out (BFFS)
 8-3  1 --- 00  Brecheen lined a single to shallow center (X)
 8-3  1 1-- 11  Morgan,J reached on an infield single to second, Brecheen 
                  to second (BSX)
 8-3  1 12- 10  Barnes,R doubled deep to right, Brecheen scored, Morgan,J 
                  to third (BX)
 9-3  1 -23 00  Jackson,Jo lined a double to right center, Morgan,J 
                  scored, Barnes,R scored (X)
11-3  1 -2- 02  Foxx struck out (CSS)
                Corcoran pinch hitting for Speaker
11-3  2 -2- 12  Corcoran flied out to right (CSFBX)
 
**************  Bottom of the 9th inning, Pirates batting
                Schoendienst now playing second base
                Bustamente now playing shortstop
                Corcoran moved to center field
11-3  0 --- 32  Kimbro flied out to left (CBSBBX)
11-3  1 --- 01  Lloyd lined a double to right center (SX)
11-3  1 -2- 01  Hornsby popped out to first (FX)
11-3  2 -2- 10  Mize grounded out to second (BX)