The Comeback Kids



Pittsburgh Pirates

by "Shakey" McGuiness
Legends League correspondent

Pittsburgh Pirates Baseball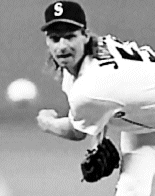 Pittsburgh - OK, it was pseudo-ace Randy Johnson's game, but you always hope this will be the game he turns the corner - and just maybe it was. The Unit's line does not look all that impressive: 3 runs allowed in 7 innings, but he pitched out of a bases loaded, none out jam in the second that in the past had usually led to a big inning, allowing just a single run. Other than that, the only scoring was done on an Alex Rodriguez

bomb

deep to left in the sixth. He can hardly be taken to task for that. Randy allowed just four base hits and a walk in seven innings, and there were the eleven punch outs as well. So there were signs of life in his left arm, finally. Pirates fans are crossing their fingers. But not more so than they were in the bottom of the ninth.

The score was 3-2, Royales, in the bottom the ninth. Doug Jones, master of the slow and even slower changeup, was on the mound for the Montreal Nine. The Pirates had been running on Mike Piazza whenever possible, so he had a new battery mate in Masaaki Mori, the defensive specialist who possess a gun for a right arm. Well, Johnny Mize and Chino Smith worked the counts against Jones, but were ultimately disposed without too much trouble from the changeup artist. Then to the dish strode Gabby Hartnett, the Bucs receiver. Gabby has not been sensational at said dish for the Pittsburghers, although behind it he's been deadly for opposing baserunners. But don't doubt it, Gabby can indeed swing the lumber a bit, too. It wasn't exactly "

The Homer In The Gloamin'

", but Mr. Hartnett connected on a 2-0 changeup - what else - and deposited it way back in the cheap seats, tying the game at three. The Pirates, who have made a habit of coming back late in games, had done it again. Billy Francis, known to take a pitch in the sleeve with the best of them, did just that after Gabby's blast, but the rally ended there when pinch hitter Max Carey grounded out.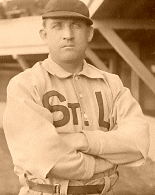 Troy Percival, exposed a little of late, if you can call getting scored upon being exposed, came on for the Bucs and set aside the Royales on 10 pitches in the top of the tenth. Nap Rucker came on for the Royales in the bottom of the frame and got Henry Kimbro easily enough before Pop Lloyd came up. John Henry grounded was seemed to all in the park like out number two toward slick second sacker Joe Gordon. Unfortunately for the Canadian club, Joe booted the ball away and J.H. Lloyd was aboard bag number one. This brought up Superman,

uh

,

excuse me

, Jesse Burkett. He only seems like Superman because of his

.440

average with the Pirates club (

.377 overall

). Jesse didn't disappoint either, launching a game winning triple to the deepest part of center field as Pop scored the game winner and the Pittsburgh fans celebrated an unlikely comeback win - again.


7/5/2004, MNR05-PIT05, Forbes Field (1932-46)

 
                       1  2  3  4  5  6  7  8  9 10     R  H  E   LOB DP
2005 Royales           0  1  0  0  0  2  0  0  0  0     3  5  2     4  0
2005 Pirates           0  0  0  2  0  0  0  0  1  1     4  8  0     7  0
 
Royales              AB  R  H BI  D  T HR BB  K SB CS IW HP SH SF   AVG   PO  A  E PB
Winfield          lf  5  1  1  0  0  0  0  0  0  0  0  0  0  0  0  .286    3  0  0  0
Rodriguez,A       ss  4  1  2  2  0  0  1  0  1  0  0  0  0  0  0  .246    0  4  0  0
Jackson,R         rf  4  0  0  0  0  0  0  0  3  0  0  0  0  0  0  .269    0  0  0  0
Schmidt           3b  3  1  0  0  0  0  0  1  1  0  0  0  0  0  0  .228    0  2  1  0
Piazza            c   4  0  1  0  0  0  0  0  1  0  0  0  0  0  0  .273    6  2  0  0
 Mori             c   0  0  0  0  0  0  0  0  0  0  0  0  0  0  0  .300    1  0  0  0
Gordon,J          2b  3  0  0  0  0  0  0  0  2  0  0  0  1  0  0  .201    5  3  1  0
Lee,Leon          1b  4  0  0  1  0  0  0  0  1  0  0  0  0  0  0  .217    9  1  0  0
DiMaggio,D        cf  3  0  1  0  0  0  0  0  1  0  0  0  0  0  0  .194    3  1  0  0
 Vaughn,M         ph  1  0  0  0  0  0  0  0  0  0  0  0  0  0  0  .274    0  0  0  0
 Rucker           p   0  0  0  0  0  0  0  0  0  0  0  0  0  0  0  .000    1  0  0  0
Siebert           p   3  0  0  0  0  0  0  0  3  0  0  0  0  0  0  .000    0  3  0  0
 Jones,D          p   0  0  0  0  0  0  0  0  0  0  0  0  0  0  0  .000    0  0  0  0
 Edmonds          ph  1  0  0  0  0  0  0  0  1  0  0  0  0  0  0  .239    0  0  0  0
                     35  3  5  3  0  0  1  1 14  0  0  0  1  0  0         28 16  2  0
 
Pirates              AB  R  H BI  D  T HR BB  K SB CS IW HP SH SF   AVG   PO  A  E PB
Kimbro            cf  5  0  0  0  0  0  0  0  0  0  0  0  0  0  0  .314    1  0  0  0
Lloyd             ss  5  1  0  0  0  0  0  0  1  0  0  0  0  0  0  .317    1  3  0  0
Burkett,Je        lf  4  0  2  1  1  1  0  1  0  1  0  0  0  0  0  .377    2  0  0  0
Hornsby           2b  4  1  3  0  0  1  0  0  0  0  0  0  0  0  0  .274    1  4  0  0
Mize              1b  4  1  1  1  1  0  0  0  1  0  0  0  0  0  0  .267    7  1  0  0
Smith,C           rf  4  0  1  1  0  0  0  0  1  1  1  0  0  0  0  .340    0  0  0  0
Hartnett          c   3  1  1  1  0  0  1  1  0  0  0  0  0  0  0  .259   15  0  0  0
Francis           3b  2  0  0  0  0  0  0  0  1  0  0  0  2  0  0  .268    1  0  0  0
Johnson,R         p   1  0  0  0  0  0  0  0  1  0  0  0  0  1  0  .056    2  0  0  0
 Matsui,H         ph  1  0  0  0  0  0  0  0  0  0  0  0  0  0  0  .218    0  0  0  0
 Ward             p   0  0  0  0  0  0  0  0  0  0  0  0  0  0  0  .000    0  0  0  0
 Carey            ph  1  0  0  0  0  0  0  0  0  0  0  0  0  0  0  .316    0  0  0  0
 Percival         p   0  0  0  0  0  0  0  0  0  0  0  0  0  0  0  .000    0  0  0  0
                     34  4  8  4  2  2  1  2  5  2  1  0  2  1  0         30  8  0  0
 
Royales                          INN  H  R ER BB  K PCH STR   BF HR IW HP WP DP   ERA
Siebert                          7.2  5  2  2  2  4 118  71   30  0  0  1  0  0  3.16
Jones,D          BS 1            1.1  2  1  1  0  1  26  14    6  1  0  1  0  0  2.86
Rucker           L 2-3           0.1  1  1  0  0  0  12   7    3  0  0  0  0  0  6.52
                                 9.1  8  4  3  2  5 156  92   39  1  0  2  0  0 
 
Pirates                          INN  H  R ER BB  K PCH STR   BF HR IW HP WP DP   ERA
Johnson,R                        7.0  4  3  3  1 11 115  74   27  1  0  1  0  0  5.72
Ward                             2.0  1  0  0  0  2  30  17    7  0  0  0  0  0  4.66
Percival         W 2-1           1.0  0  0  0  0  1  14   9    3  0  0  0  0  0  2.65
                                10.0  5  3  3  1 14 159 100   37  1  0  1  0  0 
 
MNR: Mori inserted at c in the 9th
     Vaughn,M batted for DiMaggio,D in the 10th
     Edmonds batted for Jones,D in the 10th
     Edmonds moved to cf in the 10th
PIT: Matsui,H batted for Johnson,R in the 7th
     Carey batted for Ward in the 9th
 
GWRBI: Burkett,Je
Temperature: 77, Sky: threatening, Wind: in from center at 4 MPH.
7/5/2004, MNR05-PIT05, Forbes Field (1932-46)
 
                       1  2  3  4  5  6  7  8  9 10     R  H  E   LOB DP
2005 Royales           0  1  0  0  0  2  0  0  0  0     3  5  2     4  0
2005 Pirates           0  0  0  2  0  0  0  0  1  1     4  8  0     7  0
 
 

Score O Rnr BS  Event
----- - --- --  -----
 
**************  Top of the 1st inning, Royales batting
 0-0  0 --- 22  Winfield popped out to the catcher (BCBSX)
 0-0  1 --- 10  Rodriguez,A popped out to third (BX)
 0-0  2 --- 32  Jackson,R struck out (BBCSBS)
 
**************  Bottom of the 1st inning, Pirates batting
 0-0  0 --- 10  Kimbro grounded out to short (BX)
 0-0  1 --- 12  Lloyd struck out (CBSS)
 0-0  2 --- 32  Burkett,Je to first on an error by the third baseman 
                  Schmidt (BBCFBFX)
 0-0  2 1-- 00  Burkett,Je stole second (>C)
 0-0  2 -2- 32  Hornsby lined out to center (>C.BBFBX)
 
**************  Top of the 2nd inning, Royales batting
 0-0  0 --- 30  Schmidt walked (BBBB)
 0-0  0 1-- 32  Piazza lined a single to shallow left, Schmidt to second 
                  (BBCCBFX)
 0-0  0 12- 00  Gordon,J was hit by a pitch, Schmidt to third, Piazza to 
                  second (H)
 0-0  0 123 01  Lee,Leon grounded out to first, Schmidt scored, Piazza to 
                  third, Gordon,J to second (CX)
 1-0  1 -23 12  DiMaggio,D struck out (BFSC)
 1-0  2 -23 22  Siebert struck out (FBSBS)
 
**************  Bottom of the 2nd inning, Pirates batting
 1-0  0 --- 31  Mize grounded out to second (BBBCX)
 1-0  1 --- 22  Smith,C flied out to left (FFFBBX)
 1-0  2 --- 32  Hartnett walked (CBBBSB)
 1-0  2 1-- 11  Hartnett out at second attempting to advance (BCB)
 
**************  Top of the 3rd inning, Royales batting
 1-0  0 --- 11  Winfield grounded out to second (CBX)
 1-0  1 --- 32  Rodriguez,A struck out (SBBBSC)
 1-0  2 --- 12  Jackson,R grounded out to second (CSFBX)
 
**************  Bottom of the 3rd inning, Pirates batting
 1-0  0 --- 21  Francis was hit by a pitch (BBCH)
 1-0  0 1-- 12  Johnson,R sacrifice bunted to third, Francis to second 
                  (BpCFbXb)
 1-0  1 -2- 32  Kimbro grounded out to second, Francis to third (CFBBBX)
 1-0  2 --3 01  Lloyd grounded out to short (CX)
 
**************  Top of the 4th inning, Royales batting
 1-0  0 --- 22  Schmidt struck out (BCSBFS)
 1-0  1 --- 32  Piazza grounded out to second (BBCBCFX)
 1-0  2 --- 02  Gordon,J struck out (CCC)
 
**************  Bottom of the 4th inning, Pirates batting
 1-0  0 --- 12  Burkett,Je flied out to center (CBFX)
 1-0  1 --- 12  Hornsby lined a triple down the first base line (CBSX)
 1-0  1 --3 01  Mize grounded a double down the third base line, Hornsby 
                  scored (CX)
 1-1  1 -2- 02  Smith,C lined a single down the right field line, Mize 
                  scored (CFX)
 1-2  1 1-- 00  Smith,C stole second (1>B)
 1-2  1 -2- 21  Hartnett popped out to the catcher (1>B.CBX)
 1-2  2 -2- 10  Francis grounded out to the mound (BX)
 
**************  Top of the 5th inning, Royales batting
 1-2  0 --- 12  Lee,Leon struck out (CCBFC)
 1-2  1 --- 22  DiMaggio,D grounded out to first (CBCBX)
 1-2  2 --- 02  Siebert struck out (CCS)
 
**************  Bottom of the 5th inning, Pirates batting
 1-2  0 --- 02  Johnson,R struck out (CCFS)
 1-2  1 --- 00  Kimbro grounded out to second (X)
 1-2  2 --- 10  Lloyd grounded out to the mound (BX)
 
**************  Top of the 6th inning, Royales batting
 1-2  0 --- 22  Winfield lined a single to right center (FCBBFX)
 1-2  0 1-- 00  Rodriguez,A homered deep to left, Winfield scored (X)
 3-2  0 --- 12  Jackson,R struck out (BCSS)
 3-2  1 --- 32  Schmidt grounded out to short (CBBBFX)
 3-2  2 --- 21  Piazza grounded out to second (BBFX)
 
**************  Bottom of the 6th inning, Pirates batting
 3-2  0 --- 31  Burkett,Je walked (BBBCB)
 3-2  0 1-- 11  Hornsby lined a single to shallow left, Burkett,Je to 
                  second (C1BX)
 3-2  0 12- 12  Mize struck out (SSBS)
 3-2  1 12- 22  Smith,C grounded to short, forcing Hornsby at second, 
                  Burkett,Je to third, Smith,C to first (BBCFX)
 3-2  2 1-3 00  Smith,C was caught stealing second (>B)
 
**************  Top of the 7th inning, Royales batting
 3-2  0 --- 12  Gordon,J struck out (BCSC)
 3-2  1 --- 12  Lee,Leon popped out to second (SBFFX)
 3-2  2 --- 11  DiMaggio,D grounded a single up the middle (BCX)
 3-2  2 1-- 02  Siebert struck out (CCS)
 
**************  Bottom of the 7th inning, Pirates batting
 3-2  0 --- 02  Hartnett grounded out to third (CCX)
 3-2  1 --- 22  Francis struck out (CBSBS)
                Matsui,H pinch hitting for Johnson,R
 3-2  2 --- 00  Matsui,H grounded out to the mound (X)
 
**************  Top of the 8th inning, Royales batting
                Ward now pitching
 3-2  0 --- 12  Winfield flied out to left (CFBX)
 3-2  1 --- 20  Rodriguez,A lined a single to center (BBX)
 3-2  1 1-- 32  Jackson,R struck out (SSFBBFBC)
 3-2  2 1-- 31  Schmidt flied out to left (CBBBX)
 
**************  Bottom of the 8th inning, Pirates batting
 3-2  0 --- 11  Kimbro flied out to left (BSX)
 3-2  1 --- 22  Lloyd lined out to center (CFBBX)
 3-2  2 --- 10  Burkett,Je lined a double to left center (BX)
                Jones,D now pitching
 3-2  2 -2- 21  Hornsby lined a single to shallow center, Burkett,Je out 
                  at home (BBSX)
 
**************  Top of the 9th inning, Royales batting
 3-2  0 --- 12  Piazza struck out (BCSS)
 3-2  1 --- 10  Gordon,J grounded out to short (BX)
 3-2  2 --- 21  Lee,Leon flied out to center (BBSX)
 
**************  Bottom of the 9th inning, Pirates batting
                Mori now playing catcher
 3-2  0 --- 32  Mize flied out to left (FBFBBX)
 3-2  1 --- 22  Smith,C struck out (CBSBS)
 3-2  2 --- 20  Hartnett homered deep to left (BBX)
 3-3  2 --- 02  Francis was hit by a pitch (FCH)
                Carey pinch hitting for Ward
 3-3  2 1-- 22  Carey grounded to short, forcing Francis at second (BCCBX)
 
**************  Top of the 10th inning, Royales batting
                Percival now pitching
                Vaughn,M pinch hitting for DiMaggio,D
 3-3  0 --- 21  Vaughn,M lined out to short (BBSX)
                Edmonds pinch hitting for Jones,D
 3-3  1 --- 02  Edmonds struck out (SSFS)
 3-3  2 --- 32  Winfield grounded out to short (BCBBSX)
 
**************  Bottom of the 10th inning, Pirates batting
                Rucker now pitching
                Edmonds moved to center field
 3-3  0 --- 11  Kimbro grounded out to first (BSX)
 3-3  1 --- 32  Lloyd to first on an error by the second baseman Gordon,J 
                  (BBFBCX)
 3-3  1 1-- 11  Burkett,Je tripled , Lloyd scored (BFX)