Opening Day North of the Border



Pittsburgh Pirates

by "Shakey" McGuiness
Legends League correspondent


Pittsburgh Pirates Baseball


Opening Day for the Pittsburgh and Montreal base ball clubs comes in cozy Parc Jarry. The temp is a decidedly un-baseball weather like 42, but things were sure to heat up when Pittsburgh's Big Unit takes the mound for the first time. Popular and productive right fielder Marvelous Melvin Ott was traded away for the big guy, so expectations were even bigger than Johnson's imposing 6-10" frame.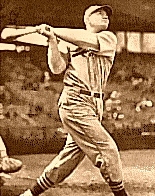 True to those expectations, after the Bucs go down quietly in the top of the first to Fergie Jenkins' mix of fastballs and curves, things get mighty interesting. Big Dave Winfield, all 6-6' of him, strides to the plate to lead off the inning and wastes no time in welcoming the Unit to the ATL. One swing, one run. Hello, Randy! See ya, baseball!

Johnson settled down after that and the game became a pitching duel between the two aces. The Bucs were down 3-2 in the top of the ninth when The Big Cat, Johnny Mize goes deep off Fergie to knot it at three, taking Randy off the hook in the process. The game eventually goes 14 innings, with the gritty Royales starter remaining on the hill for 10 of them. But A-Rod, the slugging Royales shortstop, ends things quite nicely for the hometowners when he goes deeeep off Dave Stieb to lead off the bottom of the 14th. Quite an opening for baseball north of the border!




4/5/2004, PIT05-MNR05, Parc Jarry (1970-75)





1 2 3 4 5 6 7 8 9 10 11 12

13 14 R H E LOB DP




2005 Pirates 0 0 0 0 0 0 2 0 1 0 1 0

0 0 4 9 3 8 1




2005 Royales 1 0 0 0 0 1 1 0 0 0 1 0

0 1 5 12 2 12 1





Pirates AB R H BI D T HR BB K SB CS IW HP SH SF AVG PO A E PB




Francis 3b 6 0 0 0 0 0 0 0 3 0 0 0 0 0 0 .000 0 3 1 0




Lloyd ss 5 0 1 0 0 0 0 1 0 1 0 0 0 0 0 .200 2 4 0 0




Hornsby 2b 5 1 2 0 1 0 0 1 1 0 0 0 0 0 0 .400 3 3 2 0




Mize 1b 5 1 1 1 0 0 1 1 0 0 0 0 0 0 0 .200 10 0 0 0




Smith,C lf 6 0 2 0 1 0 0 0 1 0 0 0 0 0 0 .333 3 0 0 0




Brown,W rf 6 1 1 1 0 1 0 0 0 0 0 0 0 0 0 .167 3 0 0 0




Kimbro cf 6 1 2 2 0 0 1 0 1 0 1 0 0 0 0 .333 3 0 0 0




Mackey c 5 0 0 0 0 0 0 1 1 0 0 0 0 0 0 .000 15 1 0 0




Johnson,R p 2 0 0 0 0 0 0 0 1 0 0 0 0 0 0 .000 0 0 0 0




Taylor,B ph 1 0 0 0 0 0 0 0 0 0 0 0 0 0 0 .000 0 0 0 0




Nelson p 0 0 0 0 0 0 0 0 0 0 0 0 0 0 0 .000 0 0 0 0




Oliver ph 1 0 0 0 0 0 0 0 0 0 0 0 0 0 0 .000 0 0 0 0




Ward p 0 0 0 0 0 0 0 0 0 0 0 0 0 0 0 .000 0 0 0 0




Percival p 0 0 0 0 0 0 0 0 0 0 0 0 0 0 0 .000 0 0 0 0




Clarke ph 1 0 0 0 0 0 0 0 0 0 0 0 0 0 0 .000 0 0 0 0




Stieb p 1 0 0 0 0 0 0 0 0 0 0 0 0 0 0 .000 0 1 0 0




50 4 9 4 2 1 2 4 8 1 1 0 0 0 0 39 12 3 0





Royales AB R H BI D T HR BB K SB CS IW HP SH SF AVG PO A E PB




Winfield lf 7 1 2 1 0 0 1 0 3 0 1 0 0 0 0 .286 3 0 0 0




Rodriguez,A ss 7 1 2 1 0 0 1 0 2 0 0 0 0 0 0 .286 3 5 1 0




Jackson,R rf 5 1 2 2 0 0 1 1 2 0 0 0 0 0 0 .400 4 1 0 0




Schmidt 3b 5 0 0 0 0 0 0 1 2 0 0 0 0 0 0 .000 0 4 0 0




McGwire 1b 5 0 0 0 0 0 0 1 2 0 0 0 0 0 0 .000 18 2 0 0




Piazza c 4 0 0 0 0 0 0 0 2 0 0 0 0 0 0 .000 6 0 0 0




Wilson,W cf 2 0 0 0 0 0 0 0 1 0 0 0 0 0 0 .000 0 0 0 0




Gordon,J 2b 6 1 4 1 1 0 1 0 0 0 0 0 0 0 0 .667 3 5 1 0




DiMaggio cf 2 1 1 0 0 0 0 1 0 0 0 0 0 0 0 .500 0 0 0 0




Clark,Wi ph 1 0 0 0 0 0 0 0 0 0 0 0 0 0 0 .000 0 0 0 0




Mori c 2 0 0 0 0 0 0 0 0 0 0 0 0 0 0 .000 4 1 0 0




Jenkins p 4 0 1 0 0 0 0 0 1 0 0 0 0 0 0 .250 1 2 0 0




Jones,D p 0 0 0 0 0 0 0 0 0 0 0 0 0 0 0 .000 0 0 0 0




Wells,D p 0 0 0 0 0 0 0 0 0 0 0 0 0 0 0 .000 0 0 0 0




Malarcher ph 1 0 0 0 0 0 0 0 0 0 0 0 0 0 0 .000 0 0 0 0




Burke p 0 0 0 0 0 0 0 0 0 0 0 0 0 0 0 .000 0 1 0 0




Thomas,R ph 1 0 0 0 0 0 0 0 0 0 0 0 0 0 0 .000 0 0 0 0




Quisenberry p 0 0 0 0 0 0 0 0 0 0 0 0 0 0 0 .000 0 1 0 0




52 5 12 5 1 0 4 4 15 0 1 0 0 0 0 42 22 2 0





Pirates INN H R ER BB K PCH STR BF HR IW HP WP DP ERA




Johnson,R 7.0 8 3 3 3 9 114 71 32 2 0 0 0 1 3.86




Nelson 2.0 1 0 0 0 3 26 17 7 0 0 0 0 0 0.00




Ward 1.0 0 0 0 0 2 13 8 3 0 0 0 0 0 0.00




Percival BS 1 1.0 1 1 1 0 1 24 15 4 1 0 0 0 0 9.00




Stieb L 0-1 2.0 2 1 1 1 0 26 15 10 1 0 0 0 0 4.50




13.0 12 5 5 4 15 203 126 56 4 0 0 0 1





Royales INN H R ER BB K PCH STR BF HR IW HP WP DP ERA




Jenkins 10.0 7 4 4 1 7 120 87 38 2 0 0 0 0 3.60




Jones,D 0.0 0 0 0 1 0 7 3 1 0 0 0 0 0 0.00




Wells,D 1.0 0 0 0 1 0 13 7 4 0 0 0 0 0 0.00




Burke 2.0 1 0 0 1 1 38 20 8 0 0 0 0 0 0.00




Quisenberry W 1-0 1.0 1 0 0 0 0 5 4 3 0 0 0 0 0 0.00




14.0 9 4 4 4 8 183 121 54 2 0 0 0 0





PIT: Taylor,B batted for Johnson,R in the 8th




Oliver batted for Nelson in the 10th




Clarke batted for Percival in the 12th




MNR: Clark,Wi batted for DiMaggio in the 8th




Wilson,W inserted at cf in the 9th




Mori inserted at c in the 9th




Malarcher batted for Wells,D in the 11th




Thomas,R batted for Burke in the 13th





GWRBI: Rodriguez,A




Temperature: 46, Sky: clear, Wind: in from left at 18 MPH.




4/5/2004, PIT05-MNR05, Parc Jarry (1970-75)