Coming Home



Kansas City Monarchs Base Ball

by "King" Cole
Union League correspondent
Monarchs Base Ball

Game 9 @ Tokyo

- Bob Stanley and Keishi Suzuki squared off in this pitchers dule. The first run crossed the plate when the Giants came to bat in the bottom of the 2nd. Hideki Matsui hit the first pitch he saw into the left-field stands. The Monarchs would answer in the top of the 4th with a double by Terry and a two-out 2-run homerun by Silvio Garcia, putting Kansas City up 2-1. Hideki Matsui would lead off the bottom of the 4th with a walk and would score on an RBI groundout to tie up the game. The hardfought game would stay at 2-2 until the top of the 8th when Kansas City was able to load the bases with no outs. Toyko, trying to prevent the big inning, played the infield back, leading to an RBI groundout by pinch hitter George Gore. Kansas City would add another run in the top of the 9th by way of an error from Giants rightfielder Betto. Dave Smith would walk himself into some trouble in the 9th, but Buck Ewing threw out a basestealer helping Smith to get out of trouble. Kansas City wins 4-2, with 2 of their runs being unearned.



Game 10 @ Tokyo

- Masaichi Kaneda was hurt on a comebacker hit by, and had to come out. Bozo Wakabayashi came in and got shelled. Masaji Hiramatsu would throw a 93 pitch complete game, and Kansas City won 9-2.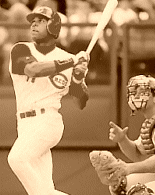 Game 11 @ SF

- Kansas City put up a run in the first after Jethroe walked and then stole his way to third, allowing himself to be brought in on a ground out. SF would score two in the bottom of the first, one coming from a leadoff HR by Barry Larkin. SF added runs in the 3rd, 4th, and 5th inning to make the score 5-1. Ott hit his 5th homerun of the season in the 6th to make the score 5-2. Kansas City added 3 more in the 8th, but with the bases loaded and 1 out, Buck Ewing grounded into a double play to keep the game tied. In typical KC fashion, they would go on to lose the game in the bottom of the 9th by giving up a walkoff HR - this one was to Barry Larkin, his second of the game and third of the year.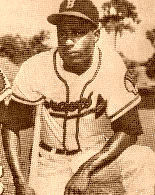 Game 12 vs. SF

- After starting off the season with a tough 11 game road trip, the Monarchs finally got to play a game at home. Jethroe doubled, stole third, and scored on a passed ball to put the first run on the board. The next hitter, Yaz, would follow it up with his first homerun of the year. KC added runs in the 3rd and 5th innings, which would be all Kansas City needed. Mordecai Brown went the distance, allowing only two runs on four hits, and KC won 4-2.





 
4/13/2005, KCU06-TGU06, Korakuen Kyujo (1952-87)
 
                       1  2  3  4  5  6  7  8  9     R  H  E   LOB DP
2006 Monarchs          0  0  0  2  0  0  0  1  1     4  6  1     7  0
2006 Giants*           0  1  0  1  0  0  0  0  0     2  5  2     9  1
 
Monarchs             AB  R  H BI   AVG    Giants*              AB  R  H BI   AVG
Jethroe           cf  4  1  0  1  .167    Yonamine          lf  4  0  0  0  .351       
Robinson,J        3b  4  0  0  0  .306    Chiba             2b  5  0  0  0  .216       
Ott               rf  3  0  0  0  .382    Kawakami          1b  4  0  0  0  .360       
Terry,B           1b  4  1  1  0  .436    Matsui,H          cf  2  2  2  1  .353       
Yastrzemski       lf  3  0  1  0  .303    Betto             rf  3  0  1  0  .382       
 Evans,Dw         ph  0  0  0  0  .000    Nagashima         3b  4  0  1  1  .211       
 Gore             ph  1  0  0  1  .333    Kinugasa          c   3  0  1  0  .250       
 Smith,D          p   0  0  0  0  .000     Hirose           ph  0  0  0  0  .250       
Chacon            ss  4  0  0  0  .216    Yoshida           ss  3  0  0  0  .226       
Garcia,S          2b  2  1  1  2  .333     Fujimura         ph  1  0  0  0  .250       
 Hack             ph  1  1  1  0  .333    Suzuki,K          p   3  0  0  0  .000       
Ewing,Bu          c   4  0  2  0  .400     Enatsu           p   0  0  0  0  .000       
Stanley,B         p   2  0  0  0  .000     Takatsu          p   0  0  0  0  .000       
 Cepeda,O         ph  1  0  0  0  .000     Ono              p   0  0  0  0  .000       
 Lee,T            p   0  0  0  0  .000     Katori           p   0  0  0  0  .000       
 Crowder          p   0  0  0  0  .000     Yamamoto, K      ph  0  0  0  0  .000       
 Jones,Re         ph  1  0  0  0  .400                         32  2  5  2             
                     34  4  6  4                                                    
 
Monarchs                         INN  H  R ER BB  K PCH STR   ERA
Stanley,B                        6.0  5  2  2  1  0  76  53  1.80
Lee,T            W 1-1           1.2  0  0  0  1  0  14  10  6.75
Crowder          H 1             0.1  0  0  0  1  0   9   5  0.00
Smith,D          S 3             1.0  0  0  0  3  0  21   9  5.40
                                 9.0  5  2  2  6  0 120  77 
 
Giants*                          INN  H  R ER BB  K PCH STR   ERA
Suzuki,K         L 0-1           7.0  4  3  2  3  8 108  66  5.25
Enatsu                           0.1  0  0  0  0  1   7   5  0.00
Takatsu                          0.2  2  1  0  0  0  12   7  0.00
Ono                              0.1  0  0  0  0  0   2   1  4.50
Katori                           0.2  0  0  0  0  0   5   4  0.00
                                 9.0  6  4  2  3  9 134  83 
 
KCU: Cepeda,O batted for Stanley,B in the 7th
     Evans,Dw batted for Yastrzemski in the 8th
     Gore batted for Evans,Dw in the 8th
     Jethroe moved to lf in the 8th
     Gore moved to cf in the 8th
     Hack batted for Garcia,S in the 9th
     Jones,Re batted for Crowder in the 9th
     Jethroe moved to cf in the 9th
     Robinson,J moved to 2b in the 9th
     Hack moved to 3b in the 9th
     Jones,Re moved to lf in the 9th
TGU: Hirose batted for Kinugasa in the 9th
     Fujimura batted for Yoshida in the 9th
     Yamamoto, K batted for Katori in the 9th
 
E-Gore, Betto, Nagashima. 2B-Terry,B, Matsui,H, Betto. HR-Garcia,S(1), 
Matsui,H(2). SB-Jethroe(1). CS-Yamamoto, K. K-Jethroe 2, Ott, Terry,B 2, 
Garcia,S, Ewing,Bu, Stanley,B 2. BB-Robinson,J, Ott, Garcia,S, Yonamine, 
Matsui,H 2, Betto, Hirose, Yamamoto, K. SF-Jethroe. PB-Kinugasa. 
GWRBI: Gore
Temperature: 58, Sky: clear, Wind: out to left at 10 MPH.

....................................................................................................
4/13/2005, KCU06-TGU06, Korakuen Kyujo (1952-87)
 
                       1  2  3  4  5  6  7  8  9     R  H  E   LOB DP
2006 Monarchs          0  0  0  2  0  0  0  1  1     4  6  1     7  0
2006 Giants*           0  1  0  1  0  0  0  0  0     2  5  2     9  1
 
Score O Rnr BS  Event
----- - --- --  -----
 
**************  Top of the 1st inning, Monarchs batting
 0-0  0 --- 12  Jethroe struck out (CBCS)
 0-0  1 --- 00  Robinson,J grounded out to short (X)
 0-0  2 --- 32  Ott walked (SBFBBB)
 0-0  2 1-- 11  Terry,B grounded to third, forcing Ott at second (CBX)
 
**************  Bottom of the 1st inning, Giants* batting
 0-0  0 --- 00  Yonamine popped out on a bunt to the mound (Xb)
 0-0  1 --- 01  Chiba grounded out to second (CX)
 0-0  2 --- 12  Kawakami grounded out to first (BCFFFFFFX)
 
**************  Top of the 2nd inning, Monarchs batting
 0-0  0 --- 00  Yastrzemski lined a single to left (X)
 0-0  0 1-- 02  Chacon grounded out to short, Yastrzemski to second (CFX)
 0-0  1 -2- 31  Garcia,S walked (CBBBB)
 0-0  1 12- 22  Ewing,Bu struck out (CFBBS)
 0-0  2 12- 22  Stanley,B struck out (BBFFS)
 
**************  Bottom of the 2nd inning, Giants* batting
 0-0  0 --- 00  Matsui,H homered deep to left (X)
 0-1  0 --- 12  Betto grounded out to second (BFFX)
 0-1  1 --- 00  Nagashima lined a single up the middle (X)
 0-1  1 1-- 22  Kinugasa grounded a single up the middle, Nagashima to 
                  second (1C1BFBFX)
 0-1  1 12- 00  Yoshida flied out to center (>X)
 0-1  2 12- 22  Suzuki,K popped out to third (BBCCFX)
 
**************  Top of the 3rd inning, Monarchs batting
 0-1  0 --- 00  Jethroe grounded out to second (X)
 0-1  1 --- 32  Robinson,J grounded out to second (FCBBBX)
 0-1  2 --- 11  Ott grounded out to third (CBX)
 
**************  Bottom of the 3rd inning, Giants* batting
 0-1  0 --- 01  Yonamine grounded out to first (FbX)
 0-1  1 --- 32  Chiba flied out to center (CBBFBX)
 0-1  2 --- 00  Kawakami grounded out to third (X)
 
**************  Top of the 4th inning, Monarchs batting
 0-1  0 --- 10  Terry,B lined a double to right center (BX)
 0-1  0 -2- 11  Yastrzemski grounded out to third (CBX)
 0-1  1 -2- 12  Chacon grounded out to first, Terry,B to third (BFCX)
 0-1  2 --3 00  Garcia,S homered deep to right, Terry,B scored (X)
 2-1  2 --- 21  Ewing,Bu grounded out to short (BBFX)
 
**************  Bottom of the 4th inning, Giants* batting
 2-1  0 --- 32  Matsui,H walked (CBBFFBB)
 2-1  0 1-- 11  Betto lined a double to left center, Matsui,H to third 
                  (B11CX)
 2-1  0 -23 10  Nagashima grounded out to third, Matsui,H scored, Betto 
                  to third (BX)
 2-2  1 --3 00  Kinugasa grounded out to second (X)
 2-2  2 --3 12  Yoshida grounded out to third (FSBX)
 
**************  Top of the 5th inning, Monarchs batting
 2-2  0 --- 02  Stanley,B struck out (SSS)
 2-2  1 --- 11  Jethroe grounded out to third (BCX)
 2-2  2 --- 10  Robinson,J flied out to center (BX)
 
**************  Bottom of the 5th inning, Giants* batting
 2-2  0 --- 21  Suzuki,K grounded out to short (BBSX)
 2-2  1 --- 00  Yonamine grounded out to first (X)
 2-2  2 --- 11  Chiba grounded out to short (CBX)
 
**************  Top of the 6th inning, Monarchs batting
 2-2  0 --- 32  Ott struck out (BCCBBS)
 2-2  1 --- 22  Terry,B struck out (CFBFBC)
 2-2  2 --- 32  Yastrzemski flied out to right (BBFFFBFX)
 
**************  Bottom of the 6th inning, Giants* batting
 2-2  0 --- 11  Kawakami grounded out to second (BSX)
 2-2  1 --- 21  Matsui,H grounded a double down the third base line (CBBX)
 2-2  1 -2- 11  Betto grounded out to short (FBX)
 2-2  2 -2- 00  Nagashima flied out to left (X)
 
**************  Top of the 7th inning, Monarchs batting
 2-2  0 --- 11  Chacon flied out to right (BFX)
 2-2  1 --- 32  Garcia,S struck out (BBCBFS)
 2-2  2 --- 12  Ewing,Bu reached on an infield single to short (CFBX)
                Cepeda,O pinch hitting for Stanley,B
 2-2  2 1-- 01  Cepeda,O grounded to third, forcing Ewing,Bu at second 
                  (1CX)
 
**************  Bottom of the 7th inning, Giants* batting
                Lee,T now pitching
 2-2  0 --- 00  Kinugasa grounded out to third (X)
 2-2  1 --- 00  Yoshida grounded out to short (X)
 2-2  2 --- 01  Suzuki,K grounded out to third (SX)
 
**************  Top of the 8th inning, Monarchs batting
 2-2  0 --- 02  Jethroe struck out, strike three was a passed ball 
                  charged to Kinugasa, Jethroe to first (CSS)
 2-2  0 1-- 10  Jethroe stole second (Bp11>Bp)
 2-2  0 -2- 31  Robinson,J walked (Bp11>Bp.BCB)
                Enatsu now pitching
 2-2  0 12- 11  Jethroe to third, Robinson,J to second, Ott to first on 
                  an error by the third baseman Nagashima (2BCX)
 2-2  0 123 12  Terry,B struck out (CCBS)
                Evans,Dw pinch hitting for Yastrzemski
                Takatsu now pitching
                Gore pinch hitting for Evans,Dw
 2-2  1 123 20  Gore grounded out to second, Jethroe scored, Robinson,J 
                  to third, Ott to second (BBX)
 3-2  2 -23 12  Chacon flied out to center (FSBX)
 
**************  Bottom of the 8th inning, Giants* batting
                Jethroe moved to left field
                Gore moved to center field
 3-2  0 --- 01  Yonamine bunted into an out to the catcher (FbXb)
 3-2  1 --- 01  Chiba to second on an error by the center fielder Gore 
                  (CX)
 3-2  1 -2- 01  Kawakami flied out to left, Chiba to third (CX)
 3-2  2 --3 30  Matsui,H walked (BBBB)
                Crowder now pitching
 3-2  2 1-3 32  Betto walked, Matsui,H to second (CBFBFB>B)
 3-2  2 123 01  Nagashima grounded to short, forcing Betto at second (CX)
 
**************  Top of the 9th inning, Monarchs batting
                Hack pinch hitting for Garcia,S
 3-2  0 --- 00  Hack reached on an infield single to short (X)
 3-2  0 1-- 21  Ewing,Bu lined a single between third and short, Hack to 
                  second (CBBX)
                Jones,Re pinch hitting for Crowder
                Ono now pitching
 3-2  0 12- 10  Jones,Re flied out to center, Hack to third (2BX)
                Katori now pitching
 3-2  1 1-3 11  Hack scored, Ewing,Bu to second, Jethroe to first on an 
                  error by the right fielder Betto (CBX)
 4-2  1 12- 01  Robinson,J bunted into a double play, Nagashima to 
                  Yoshida to Nagashima, Ewing,Bu out at second (FbXb)
 
**************  Bottom of the 9th inning, Giants* batting
                Jethroe moved to center field
                Robinson,J moved to second base
                Smith,D now pitching
                Hack moved to third base
                Jones,Re moved to left field
                Hirose pinch hitting for Kinugasa
 4-2  0 --- 32  Hirose walked (BFCBFBB)
                Fujimura pinch hitting for Yoshida
 4-2  0 1-- 00  Fujimura popped out to short (X)
                Yamamoto, K pinch hitting for Katori
 4-2  1 1-- 32  Yamamoto, K walked, Hirose to second (CSBBBFB)
 4-2  1 12- 00  Yamamoto, K was caught stealing second, Hirose to third 
                  (>B)
 4-2  2 --3 30  Yonamine walked (>B.BBB)
 4-2  2 1-3 01  Chiba grounded out to second (CX)
---------------------------------------------------------------------------------
---------------------------------------------------------------------------------

4/14/2005, KCU06-TGU06, Korakuen Kyujo (1952-87)
 
                       1  2  3  4  5  6  7  8  9     R  H  E   LOB DP
2006 Monarchs          0  5  1  2  0  1  0  0  0     9 10  1     7  0
2006 Giants*           0  0  0  0  0  0  0  1  1     2  5  3     5  0
 
Monarchs             AB  R  H BI   AVG    Giants*              AB  R  H BI   AVG
Jethroe           cf  4  2  1  3  .174    Yonamine          lf  2  0  1  0  .359       
Robinson,J        3b  4  1  1  1  .300     Noguchi          ph  2  0  0  0  .286       
Ott               rf  4  0  1  2  .368    Chiba             2b  2  0  0  0  .205       
 Jones,Re         rf  1  0  0  0  .333     Kinugasa         ph  2  0  0  0  .222       
Terry,B           1b  3  1  0  0  .405    Kawakami          1b  3  1  0  0  .321       
 Cepeda,O         ph  1  0  0  0  .000    Matsui,H          cf  2  0  1  0  .361       
Yastrzemski       lf  3  0  1  0  .306     Yamamoto, K      ph  1  0  0  0  .000       
 Evans,Dw         ph  1  0  0  0  .000    Betto             rf  2  0  0  0  .361       
Chacon            ss  4  1  2  1  .244     Hirose           ph  2  0  1  0  .333       
Ewing,Bu          c   5  1  2  1  .400    Nomura,Ka         c   4  0  1  1  .100       
Garcia,S          2b  3  1  0  0  .250    Nagashima         3b  2  0  0  0  .200       
Hiramatsu         p   4  2  2  1  .250     Fujimura         ph  2  1  1  1  .333       
                     37  9 10  9          Yoshida           ss  3  0  0  0  .206       
                                          Kaneda            p   0  0  0  0  .000       
                                           Wakabayashi      p   1  0  0  0  .000       
                                           Yoneda           ph  1  0  0  0  .000       
                                           Sasaki,K         p   1  0  0  0  .000       
                                                               32  2  5  2             
 
Monarchs                         INN  H  R ER BB  K PCH STR   ERA
Hiramatsu        W 1-0           9.0  5  2  2  2  2  93  61  4.32
                                 9.0  5  2  2  2  2  93  61 
 
Giants*                          INN  H  R ER BB  K PCH STR   ERA
Kaneda           L 1-2           1.0  1  2  2  1  0  16   7  4.63
Wakabayashi                      5.0  8  7  5  2  1  88  50  9.00
Sasaki,K                         3.0  1  0  0  2  3  49  27  0.00
                                 9.0 10  9  7  5  4 153  84 
 
KCU: Jones,Re inserted at rf in the 6th
     Evans,Dw batted for Yastrzemski in the 7th
     Jones,Re moved to lf in the 7th
     Evans,Dw moved to rf in the 7th
     Cepeda,O batted for Terry,B in the 8th
     Cepeda,O moved to 1b in the 8th
TGU: Yoneda batted for Wakabayashi in the 6th
     Noguchi batted for Yonamine in the 6th
     Kinugasa batted for Chiba in the 6th
     Noguchi moved to lf in the 7th
     Kinugasa moved to 2b in the 7th
     Yamamoto, K batted for Matsui,H in the 7th
     Hirose batted for Betto in the 7th
     Yamamoto, K moved to cf in the 8th
     Hirose moved to rf in the 8th
     Fujimura batted for Nagashima in the 8th
     Fujimura moved to 3b in the 9th
 
E-Jethroe, Chiba, Nagashima, Yoshida. 2B-Jethroe, Robinson,J, Ott, Chacon. 
3B-Matsui,H. HR-Chacon(4), Hiramatsu(1), Fujimura(2). SB-Jethroe(2). 
CS-Yonamine. K-Chacon 2, Garcia,S, Hiramatsu, Kinugasa, Sasaki,K. BB-Jethroe, 
Robinson,J, Terry,B, Garcia,S, Evans,Dw, Kawakami, Yamamoto, K. SH-Chacon. 
GWRBI: Ewing,Bu
Masaichi Kaneda was injured for this game and 10 more days
Temperature: 72, Sky: clear, Wind: in from right at 8 MPH.

....................................................................................................
4/14/2005, KCU06-TGU06, Korakuen Kyujo (1952-87)
 
                       1  2  3  4  5  6  7  8  9     R  H  E   LOB DP
2006 Monarchs          0  5  1  2  0  1  0  0  0     9 10  1     7  0
2006 Giants*           0  0  0  0  0  0  0  1  1     2  5  3     5  0
 
Score O Rnr BS  Event
----- - --- --  -----
 
**************  Top of the 1st inning, Monarchs batting
 0-0  0 --- 32  Jethroe flied out to left (BFBFBX)
 0-0  1 --- 00  Robinson,J flied out to left (X)
 0-0  2 --- 21  Ott grounded out to second (BBSX)
 
**************  Bottom of the 1st inning, Giants* batting
 0-0  0 --- 00  Yonamine bunted for a single (Xb)
 0-0  0 1-- 00  Yonamine was caught stealing second (>C)
 0-0  1 --- 01  Chiba grounded out to third (>C.X)
 0-0  2 --- 11  Kawakami grounded out to first (CBX)
 
**************  Top of the 2nd inning, Monarchs batting
 0-0  0 --- 30  Terry,B walked (BBBB)
 0-0  0 1-- 00  Yastrzemski grounded a single up the middle, Terry,B to 
                  second (1X)
                Kaneda left the game with an injury
                Wakabayashi now pitching
 0-0  0 12- 00  Chacon sacrifice bunted to the mound, Terry,B to third, 
                  Yastrzemski to second (Xb)
 0-0  1 -23 10  Ewing,Bu grounded a single between third and short, 
                  Terry,B scored, Yastrzemski to third (BX)
 1-0  1 1-3 30  Garcia,S walked, Ewing,Bu to second (BBBB)
 1-0  1 123 00  Hiramatsu grounded to second, forcing Yastrzemski at 
                  home, Ewing,Bu to third, Garcia,S to second, Hiramatsu 
                  to first (X)
 1-0  2 123 21  Jethroe lined a double to right center, Ewing,Bu scored, 
                  Garcia,S scored, Hiramatsu scored, Jethroe to third on 
                  an error by the second baseman Chiba (BBSX)
 4-0  2 --3 11  Robinson,J lined a double to left center, Jethroe scored 
                  (BCX)
 5-0  2 -2- 00  Ott grounded out to second (X)
 
**************  Bottom of the 2nd inning, Giants* batting
 5-0  0 --- 11  Matsui,H popped out to short (CBX)
 5-0  1 --- 10  Betto flied out to center (BX)
 5-0  2 --- 10  Nomura,Ka grounded out to second (BX)
 
**************  Top of the 3rd inning, Monarchs batting
 5-0  0 --- 00  Terry,B grounded out to third (X)
 5-0  1 --- 22  Yastrzemski grounded out to third (BCFBX)
 5-0  2 --- 10  Chacon homered deep to left (BX)
 6-0  2 --- 32  Ewing,Bu grounded out to first (BBSBSX)
 
**************  Bottom of the 3rd inning, Giants* batting
 6-0  0 --- 32  Nagashima grounded out to short (FBBFBX)
 6-0  1 --- 01  Yoshida flied out to right (FX)
 6-0  2 --- 00  Wakabayashi to first on an error by the center fielder 
                  Jethroe (X)
 6-0  2 1-- 11  Yonamine grounded to third, forcing Wakabayashi at second 
                  (CBX)
 
**************  Top of the 4th inning, Monarchs batting
 6-0  0 --- 01  Garcia,S flied out to left (CX)
 6-0  1 --- 11  Hiramatsu lined a single to left center (CBX)
 6-0  1 1-- 10  Jethroe grounded to third, forcing Hiramatsu at second, 
                  Jethroe to first (1BX)
 6-0  2 1-- 00  Jethroe stole second (1>B)
 6-0  2 -2- 12  Jethroe to third, Robinson,J to first on an error by the 
                  third baseman Nagashima (1>B.CFFX)
 6-0  2 1-3 21  Ott doubled deep to left center, Jethroe scored, 
                  Robinson,J scored (BSBX)
 8-0  2 -2- 12  Terry,B lined out to right (FBCX)
 
**************  Bottom of the 4th inning, Giants* batting
 8-0  0 --- 00  Chiba flied out to left (X)
 8-0  1 --- 22  Kawakami flied out to left (CCBFBX)
 8-0  2 --- 00  Matsui,H lined a triple to right center (X)
 8-0  2 --3 02  Betto popped out to first (CSX)
 
**************  Top of the 5th inning, Monarchs batting
 8-0  0 --- 11  Yastrzemski grounded out to second (CBX)
 8-0  1 --- 20  Chacon doubled deep to left (BBX)
 8-0  1 -2- 21  Ewing,Bu flied out to left (B2BpCX)
 8-0  2 -2- 32  Garcia,S struck out (BBCBFS)
 
**************  Bottom of the 5th inning, Giants* batting
 8-0  0 --- 31  Nomura,Ka flied out to right (BCBBX)
 8-0  1 --- 10  Nagashima grounded out to third (BX)
 8-0  2 --- 31  Yoshida flied out to center (BBBCX)
 
**************  Top of the 6th inning, Monarchs batting
 8-0  0 --- 11  Hiramatsu homered deep down the left-field line (BSX)
 9-0  0 --- 12  Jethroe grounded out to short (CBFFX)
 9-0  1 --- 31  Robinson,J walked (BCBBB)
 9-0  1 1-- 31  Ott flied out to left (BBCBX)
 9-0  2 1-- 12  Terry,B flied out to right (BFSX)
 
**************  Bottom of the 6th inning, Giants* batting
                Jones,Re now playing right field
                Yoneda pinch hitting for Wakabayashi
 9-0  0 --- 12  Yoneda grounded out to short (CSBX)
                Noguchi pinch hitting for Yonamine
 9-0  1 --- 00  Noguchi grounded out to short (X)
                Kinugasa pinch hitting for Chiba
 9-0  2 --- 01  Kinugasa popped out to second (CX)
 
**************  Top of the 7th inning, Monarchs batting
                Noguchi moved to left field
                Kinugasa moved to second base
                Sasaki,K now pitching
                Evans,Dw pinch hitting for Yastrzemski
 9-0  0 --- 32  Evans,Dw walked (SBSBBB)
 9-0  0 1-- 02  Chacon struck out (FSS)
 9-0  1 1-- 32  Ewing,Bu grounded a single up the middle, Evans,Dw to 
                  second (BBBCFX)
 9-0  1 12- 11  Garcia,S grounded to third, forcing Ewing,Bu at second, 
                  Evans,Dw to third, Garcia,S to first (BCX)
 9-0  2 1-3 12  Hiramatsu struck out (SSBS)
 
**************  Bottom of the 7th inning, Giants* batting
                Jones,Re moved to left field
                Evans,Dw moved to right field
 9-0  0 --- 00  Kawakami grounded out to short (X)
                Yamamoto, K pinch hitting for Matsui,H
 9-0  1 --- 32  Yamamoto, K walked (BCBSBB)
                Hirose pinch hitting for Betto
 9-0  1 1-- 12  Hirose grounded to short, forcing Yamamoto, K at second, 
                  Hirose to first (CBCX)
 9-0  2 1-- 00  Nomura,Ka grounded out to the mound (X)
 
**************  Top of the 8th inning, Monarchs batting
                Yamamoto, K moved to center field
                Hirose moved to right field
 9-0  0 --- 30  Jethroe walked (BBBB)
 9-0  0 1-- 00  Robinson,J flied out to center (X)
 9-0  1 1-- 32  Jones,Re grounded to short, forcing Jethroe at second, 
                  Jones,Re to second on an error by the shortstop Yoshida 
                  (SBSFFBBX)
                Cepeda,O pinch hitting for Terry,B
 9-0  2 -2- 21  Cepeda,O grounded out to third (BBCX)
 
**************  Bottom of the 8th inning, Giants* batting
                Cepeda,O moved to first base
                Fujimura pinch hitting for Nagashima
 9-0  0 --- 00  Fujimura homered deep to center (X)
 9-1  0 --- 00  Yoshida flied out to right (X)
 9-1  1 --- 22  Sasaki,K struck out (CCBFBS)
 9-1  2 --- 12  Noguchi popped out to short (BCSX)
 
**************  Top of the 9th inning, Monarchs batting
                Fujimura moved to third base
 9-1  0 --- 00  Evans,Dw grounded out to second (X)
 9-1  1 --- 22  Chacon struck out (CSBBC)
 9-1  2 --- 21  Ewing,Bu flied out to right (BSBX)
 
**************  Bottom of the 9th inning, Giants* batting
 9-1  0 --- 02  Kinugasa struck out (SSS)
 9-1  1 --- 30  Kawakami walked (BBBB)
 9-1  1 1-- 00  Yamamoto, K popped out to the catcher (X)
 9-1  2 1-- 11  Hirose lined a single up the middle, Kawakami to second 
                  (BFX)
 9-1  2 12- 10  Nomura,Ka grounded a single up the middle, Kawakami 
                  scored, Hirose to second (BX)
 9-2  2 12- 00  Fujimura grounded to short, forcing Nomura,Ka at second 
                  (X)
------------------------------------------------------------------------------------
------------------------------------------------------------------------------------

4/15/2005, KCU06-SFU06, Seals Stadium (1950-57)
 
                       1  2  3  4  5  6  7  8  9     R  H  E   LOB DP
2006 Monarchs          1  0  0  0  0  1  0  3  0     5  7  1     6  0
2006 Seals             2  0  1  1  1  0  0  0  1     6 10  1     7  2
 
Monarchs             AB  R  H BI   AVG    Seals                AB  R  H BI   AVG
Jethroe           cf  4  2  2  0  .200    Larkin            ss  5  2  2  2  .211       
Yastrzemski       lf  4  1  0  1  .275    Frisch            2b  3  1  1  0  .319       
Ott               rf  4  1  2  1  .381    DiMaggio,J        cf  3  2  3  1  .326       
Terry,B           1b  4  0  1  2  .391    Torre             c   4  0  3  0  .333       
Robinson,J        2b  3  0  1  0  .302    Sisler            1b  2  0  0  2  .276       
White,Dea         c   3  0  0  0  .324    Oms               rf  4  1  1  0  .207       
 Ewing,Bu         ph  1  0  0  0  .375    Benjamin          lf  3  0  0  0  .200       
Chacon            ss  2  0  1  0  .256     Medwick          ph  1  0  0  0  .059       
 Lee,T            p   0  0  0  0  .000    Malarcher         3b  3  0  0  0  .240       
 Crowder          p   0  0  0  0  .000    Murayama          p   3  0  0  0  .000       
 Evans,Dw         ph  0  0  0  0  .000     Kudo             p   1  0  0  0  .000       
 Smith,D          p   0  0  0  0  .000                         32  6 10  5             
Hack              3b  3  1  0  0  .300                                              
Martinez,P        p   2  0  0  0  .111                                              
 Garcia,S         ss  2  0  0  0  .214                                              
                     32  5  7  4                                                    
 
Monarchs                         INN  H  R ER BB  K PCH STR   ERA
Martinez,P                       6.2  9  5  4  3  4 116  66  4.58
Lee,T                            0.1  0  0  0  1  0   7   3  6.00
Crowder                          1.0  0  0  0  0  1  10   7  0.00
Smith,D          L 0-2           0.0  1  1  1  0  0   1   1  8.10
                                 8.0 10  6  5  4  5 134  77 
 
Seals                            INN  H  R ER BB  K PCH STR   ERA
Murayama                         7.1  5  5  4  3  5 114  70  6.35
Kudo             BS 3, W 3-0     1.2  2  0  0  2  1  34  18  4.50
                                 9.0  7  5  4  5  6 148  88 
 
KCU: Garcia,S inserted at ss in the 7th
     Ewing,Bu batted for White,Dea in the 8th
     Ewing,Bu moved to c in the 8th
     Evans,Dw batted for Crowder in the 9th
SFU: Medwick batted for Benjamin in the 8th
     Medwick moved to lf in the 9th
 
E-White,Dea, Malarcher. 2B-Ott, Terry,B, Frisch. HR-Ott(5), Larkin 2(3). 
SB-Jethroe 2(4), Frisch(2), Oms(1), Malarcher(2). CS-Chacon. K-Yastrzemski 2, 
Terry,B, White,Dea, Martinez,P 2, Larkin 2, Malarcher, Murayama, Medwick. 
BB-Jethroe, Yastrzemski, Robinson,J, Hack, Evans,Dw, Frisch, DiMaggio,J, 
Sisler, Malarcher. SF-Sisler. HBP-Chacon. HB-Murayama. WP-Martinez,P. 
GWRBI: Larkin
Temperature: 49, Sky: clear, Wind: out to left at 13 MPH.

....................................................................................................
4/15/2005, KCU06-SFU06, Seals Stadium (1950-57)
 
                       1  2  3  4  5  6  7  8  9     R  H  E   LOB DP
2006 Monarchs          1  0  0  0  0  1  0  3  0     5  7  1     6  0
2006 Seals             2  0  1  1  1  0  0  0  1     6 10  1     7  2
 
Score O Rnr BS  Event
----- - --- --  -----
 
**************  Top of the 1st inning, Monarchs batting
 0-0  0 --- 32  Jethroe walked (BCSBFBB)
 0-0  0 1-- 00  Jethroe stole second (>Bp)
 0-0  0 -2- 11  Jethroe stole third (>Bp.S>C)
 0-0  0 --3 12  Yastrzemski grounded out to second, Jethroe scored 
                  (>Bp.S>C.X)
 1-0  1 --- 00  Ott lined a double to left center (X)
 1-0  1 -2- 22  Terry,B struck out (CBCBFS)
 1-0  2 -2- 11  Robinson,J grounded out to third (CBX)
 
**************  Bottom of the 1st inning, Seals batting
 1-0  0 --- 31  Larkin homered deep to left (BCBBX)
 1-1  0 --- 30  Frisch walked (BBBB)
 1-1  0 1-- 00  Frisch stole second (11>B)
 1-1  0 -2- 11  Frisch was picked off second by Martinez,P (11>B.C2)
 1-1  1 --- 11  DiMaggio,J lined a single up the middle (11>B.C2.X)
 1-1  1 1-- 10  Torre grounded a single up the middle, DiMaggio,J to 
                  second (BX)
 1-1  1 12- 00  Martinez,P threw a wild pitch, DiMaggio,J to third, Torre 
                  to second (B)
 1-1  1 -23 10  Sisler grounded out to second, DiMaggio,J scored, Torre 
                  to third (B.X)
 1-2  2 --3 12  Oms flied out to left (SSFBFX)
 
**************  Top of the 2nd inning, Monarchs batting
 1-2  0 --- 22  White,Dea grounded out to short (FFBBX)
 1-2  1 --- 00  Chacon lined a single to shallow center (X)
 1-2  1 1-- 20  Hack flied out to left (BBX)
 1-2  2 1-- 22  Martinez,P struck out (1CBp111BSS)
 
**************  Bottom of the 2nd inning, Seals batting
 1-2  0 --- 22  Benjamin grounded out to third (BSCBX)
 1-2  1 --- 20  Malarcher grounded out to short (BBX)
 1-2  2 --- 10  Murayama grounded out to short (BX)
 
**************  Top of the 3rd inning, Monarchs batting
 1-2  0 --- 01  Jethroe grounded out to third (CX)
 1-2  1 --- 00  Yastrzemski grounded out to third (X)
 1-2  2 --- 12  Ott lined out to short (BCSX)
 
**************  Bottom of the 3rd inning, Seals batting
 1-2  0 --- 22  Larkin struck out (BCCBS)
 1-2  1 --- 22  Frisch lined a double to right center (CBFBFX)
 1-2  1 -2- 00  DiMaggio,J lined a single to right, Frisch scored, 
                  DiMaggio,J to second (X)
 1-3  1 -2- 21  Torre grounded out to short (SBBX)
 1-3  2 -2- 00  Sisler grounded out to first (X)
 
**************  Top of the 4th inning, Monarchs batting
 1-3  0 --- 11  Terry,B grounded out to first (CBX)
 1-3  1 --- 00  Robinson,J reached on an infield single to second (X)
 1-3  1 1-- 01  White,Dea grounded into a double play, Larkin to Frisch 
                  to Sisler (CX)
 
**************  Bottom of the 4th inning, Seals batting
 1-3  0 --- 10  Oms lined a single to shallow right (BX)
 1-3  0 1-- 00  Oms stole second (>B)
 1-3  0 -2- 22  Benjamin grounded out to third, Oms to third (>B.BCFFX)
 1-3  1 --3 31  Malarcher walked (BFBBB)
 1-3  1 1-3 10  Murayama flied out to center (BX)
 1-3  2 1-3 21  Malarcher stole second, Oms scored on an error by the 
                  catcher White,Dea, Malarcher to third (BFB11>C)
 1-4  2 --3 22  Larkin grounded out to second (BFB11>C.X)
 
**************  Top of the 5th inning, Monarchs batting
 1-4  0 --- 22  Chacon grounded out to short (BSBSFX)
 1-4  1 --- 12  Hack grounded out to third (BFCX)
 1-4  2 --- 22  Martinez,P struck out (CBBSC)
 
**************  Bottom of the 5th inning, Seals batting
 1-4  0 --- 32  Frisch flied out to center (FBBFBX)
 1-4  1 --- 01  DiMaggio,J lined a single to shallow left (CX)
 1-4  1 1-- 01  Torre grounded a single up the middle, DiMaggio,J to 
                  third (CX)
 1-4  1 1-3 00  Sisler hit a sacrifice fly to right, DiMaggio,J scored 
                  (>X)
 1-5  2 1-- 22  Oms flied out to center (CBBFX)
 
**************  Top of the 6th inning, Monarchs batting
 1-5  0 --- 12  Jethroe grounded out to first (CBFX)
 1-5  1 --- 32  Yastrzemski struck out (BSBBFFFS)
 1-5  2 --- 20  Ott homered deep to center (BBX)
 2-5  2 --- 11  Terry,B flied out to center (CBX)
 
**************  Bottom of the 6th inning, Seals batting
 2-5  0 --- 02  Benjamin flied out to center (CSX)
 2-5  1 --- 32  Malarcher struck out (BSbSBFBS)
 2-5  2 --- 12  Murayama struck out (BSSS)
 
**************  Top of the 7th inning, Monarchs batting
 2-5  0 --- 21  Robinson,J grounded out to second (CBBX)
 2-5  1 --- 22  White,Dea struck out (CBFBS)
 2-5  2 --- 02  Chacon was hit by a pitch (FFH)
 2-5  2 1-- 00  Chacon was caught stealing second after being picked off 
                  first by Murayama (1)
 
**************  Bottom of the 7th inning, Seals batting
 2-5  0 --- 22  Larkin struck out (BSFBS)
 2-5  1 --- 11  Frisch grounded out to second (CBX)
 2-5  2 --- 32  DiMaggio,J walked (BBBCCB)
 2-5  2 1-- 20  Torre lined a single to shallow left, DiMaggio,J to 
                  second (BBX)
                Garcia,S now playing shortstop
                Lee,T now pitching
 2-5  2 12- 31  Sisler walked, DiMaggio,J to third, Torre to second 
                  (BSBBB)
 2-5  2 123 01  Oms lined out to first (CX)
 
**************  Top of the 8th inning, Monarchs batting
 2-5  0 --- 32  Hack walked (BBBCSB)
 2-5  0 1-- 01  Garcia,S flied out to center (CX)
 2-5  1 1-- 22  Jethroe lined a single to left, Hack to second (CFBBFX)
 2-5  1 12- 30  Yastrzemski walked, Hack to third, Jethroe to second 
                  (BBBB)
 2-5  1 123 11  Hack scored, Jethroe to third, Yastrzemski to second, Ott 
                  to first on an error by the third baseman Malarcher 
                  (FBX)
                Kudo now pitching
 3-5  1 123 00  Terry,B lined a double down the first base line, Jethroe 
                  scored, Yastrzemski scored, Ott to third (X)
 5-5  1 -23 32  Robinson,J walked (BFCBBB)
                Ewing,Bu pinch hitting for White,Dea
 5-5  1 123 20  Ewing,Bu grounded into a double play, Larkin to Torre to 
                  Sisler (BBX)
 
**************  Bottom of the 8th inning, Seals batting
                Ewing,Bu moved to catcher
                Medwick pinch hitting for Benjamin
                Crowder now pitching
 5-5  0 --- 12  Medwick struck out (FBFS)
 5-5  1 --- 20  Malarcher grounded out to third (BBX)
 5-5  2 --- 02  Kudo lined out to second (CFX)
 
**************  Top of the 9th inning, Monarchs batting
                Medwick moved to left field
                Evans,Dw pinch hitting for Crowder
 5-5  0 --- 32  Evans,Dw walked (BFFBBB)
 5-5  0 1-- 21  Hack flied out to left (FbBBX)
 5-5  1 1-- 10  Garcia,S flied out to left (BX)
 5-5  2 1-- 22  Jethroe grounded a single up the middle, Evans,Dw to 
                  second (1BBF1FX)
 5-5  2 12- 12  Yastrzemski struck out (CFFFFBS)
 
**************  Bottom of the 9th inning, Seals batting
                Smith,D now pitching
 5-5  0 --- 00  Larkin homered (X)
-----------------------------------------------------------------------------------------
-----------------------------------------------------------------------------------------

4/16/2005, SFU06-KCU06, Municipal Stadium (1966-72)
 
                       1  2  3  4  5  6  7  8  9     R  H  E   LOB DP
2006 Seals             0  0  0  0  0  0  0  0  2     2  4  1     2  1
2006 Monarchs          2  0  1  0  1  0  0  0  x     4  7  0     3  0
 
Seals                AB  R  H BI   AVG    Monarchs             AB  R  H BI   AVG
Larkin            ss  4  1  1  0  .214    Jethroe           cf  4  2  3  0  .241       
Frisch            2b  4  1  1  1  .314    Yastrzemski       lf  4  1  1  2  .273       
DiMaggio,J        cf  4  0  0  1  .298    Ott               rf  4  0  0  0  .348       
Torre             c   4  0  0  0  .302    Terry,B           1b  3  0  0  0  .367       
Sisler            1b  3  0  0  0  .250    Robinson,J        2b  3  0  0  0  .283       
Oms               rf  3  0  1  0  .219    White,Dea         c   2  0  1  0  .333       
Benjamin          lf  3  0  0  0  .184     Ewing,Bu         ph  1  0  0  0  .353       
Malarcher         3b  3  0  1  0  .250    Chacon            ss  3  1  1  0  .261       
Williams,SJ       p   1  0  0  0  .143    Hack              3b  2  0  1  0  .313       
 Adcock           ph  1  0  0  0  .176    Brown,M           p   3  0  0  1  .333       
 Garcia,C         p   0  0  0  0  .000                         29  4  7  3             
 Oliva            ph  1  0  0  0  .125                                              
                     31  2  4  2                                                    
 
Seals                            INN  H  R ER BB  K PCH STR   ERA
Williams,SJ      L 0-2           5.0  6  4  4  2  3  80  48  5.03
Garcia,C                         3.0  1  0  0  0  2  36  23  1.80
                                 8.0  7  4  4  2  5 116  71 
 
Monarchs                         INN  H  R ER BB  K PCH STR   ERA
Brown,M          W 2-0           9.0  4  2  2  0  3 105  68  3.47
                                 9.0  4  2  2  0  3 105  68 
 
SFU: Adcock batted for Williams,SJ in the 6th
     Oliva batted for Garcia,C in the 9th
KCU: Ewing,Bu batted for White,Dea in the 6th
     Ewing,Bu moved to c in the 7th
 
E-Sisler. 2B-Jethroe. 3B-Frisch, Jethroe, Chacon. HR-Yastrzemski(1). 
SB-Jethroe 2(6). CS-Terry,B, White,Dea. K-Torre 2, Williams,SJ, Yastrzemski, 
Ott, Robinson,J, Brown,M, Ewing,Bu. BB-Terry,B, Hack. PB-Torre. 
Temperature: 62, Sky: partly cloudy, Wind: in from center at 12 MPH.

....................................................................................................
4/16/2005, SFU06-KCU06, Municipal Stadium (1966-72)
 
                       1  2  3  4  5  6  7  8  9     R  H  E   LOB DP
2006 Seals             0  0  0  0  0  0  0  0  2     2  4  1     2  1
2006 Monarchs          2  0  1  0  1  0  0  0  x     4  7  0     3  0
 
Score O Rnr BS  Event
----- - --- --  -----
 
**************  Top of the 1st inning, Seals batting
 0-0  0 --- 01  Larkin flied out to right (CX)
 0-0  1 --- 10  Frisch grounded out to third (BX)
 0-0  2 --- 10  DiMaggio,J flied out to right (BX)
 
**************  Bottom of the 1st inning, Monarchs batting
 0-0  0 --- 10  Jethroe lined a double to left center (BX)
 0-0  0 -2- 00  Jethroe stole third (>B)
 0-0  0 --3 10  Torre allowed a passed ball, Jethroe scored (>B.B)
 0-1  0 --- 21  Yastrzemski homered deep to right center (>B.B.CX)
 0-2  0 --- 30  Ott grounded out to second (BBBX)
 0-2  1 --- 01  Terry,B to first on an error by the first baseman Sisler 
                  (CX)
 0-2  1 1-- 22  Robinson,J grounded into a double play, Malarcher to 
                  Frisch to Sisler (CBCBX)
 
**************  Top of the 2nd inning, Seals batting
 0-2  0 --- 10  Torre grounded out to short (BX)
 0-2  1 --- 12  Sisler grounded out to short (CFBX)
 0-2  2 --- 11  Oms popped out to third (CBX)
 
**************  Bottom of the 2nd inning, Monarchs batting
 0-2  0 --- 02  White,Dea flied out to left (CFX)
 0-2  1 --- 02  Chacon grounded out to second (CCX)
 0-2  2 --- 21  Hack flied out to right (BBCX)
 
**************  Top of the 3rd inning, Seals batting
 0-2  0 --- 32  Benjamin flied out to left (BBSCFBX)
 0-2  1 --- 22  Malarcher flied out to left (CBFBX)
 0-2  2 --- 02  Williams,SJ struck out (CCS)
 
**************  Bottom of the 3rd inning, Monarchs batting
 0-2  0 --- 02  Brown,M struck out (SCS)
 0-2  1 --- 10  Jethroe tripled deep to center (BX)
 0-2  1 --3 11  Yastrzemski grounded out to short, Jethroe scored (BCX)
 0-3  2 --- 22  Ott flied out to center (CCBBX)
 
**************  Top of the 4th inning, Seals batting
 0-3  0 --- 00  Larkin lined out to center (X)
 0-3  1 --- 01  Frisch flied out to left (CX)
 0-3  2 --- 12  DiMaggio,J grounded out to short (CSFBX)
 
**************  Bottom of the 4th inning, Monarchs batting
 0-3  0 --- 31  Terry,B walked (BBCBB)
 0-3  0 1-- 12  Robinson,J struck out (FbCBFS)
 0-3  1 1-- 00  Terry,B was caught stealing second (>Bp)
 0-3  2 --- 10  White,Dea lined a single between first and second (>Bp.X)
 0-3  2 1-- 10  White,Dea was caught stealing second (B1>C)
 
**************  Top of the 5th inning, Seals batting
 0-3  0 --- 12  Torre struck out (BCFC)
 0-3  1 --- 00  Sisler grounded out to first (X)
 0-3  2 --- 20  Oms lined out to short (BBX)
 
**************  Bottom of the 5th inning, Monarchs batting
 0-3  0 --- 22  Chacon tripled deep to center (CBSBX)
 0-3  0 --3 32  Hack walked (CBBBFB)
 0-3  0 1-3 12  Brown,M grounded to second, forcing Hack at second, 
                  Chacon scored, Hack out at second, Brown,M to first 
                  (CBFX)
 0-4  1 1-- 10  Jethroe lined a single down the right field line, Brown,M 
                  to third (BX)
 0-4  1 1-3 21  Jethroe stole second (SB1B1>C)
 0-4  1 -23 32  Yastrzemski struck out (SB1B1>C.BS)
 0-4  2 -23 02  Ott grounded out to third (CFX)
 
**************  Top of the 6th inning, Seals batting
 0-4  0 --- 01  Benjamin grounded out to the mound (CX)
 0-4  1 --- 12  Malarcher grounded a single up the middle (BFbFX)
                Adcock pinch hitting for Williams,SJ
 0-4  1 1-- 10  Adcock flied out to left (BX)
 0-4  2 1-- 11  Larkin popped out to first (BCX)
 
**************  Bottom of the 6th inning, Monarchs batting
                Garcia,C now pitching
 0-4  0 --- 11  Terry,B grounded out to short (BCX)
 0-4  1 --- 21  Robinson,J lined out to right (SBBX)
                Ewing,Bu pinch hitting for White,Dea
 0-4  2 --- 22  Ewing,Bu struck out (CBBFC)
 
**************  Top of the 7th inning, Seals batting
                Ewing,Bu moved to catcher
 0-4  0 --- 10  Frisch popped out to short (BX)
 0-4  1 --- 31  DiMaggio,J flied out to left (BFBBX)
 0-4  2 --- 31  Torre lined out to third (BBBCX)
 
**************  Bottom of the 7th inning, Monarchs batting
 0-4  0 --- 22  Chacon grounded out to second (CSBBFX)
 0-4  1 --- 02  Hack reached on an infield single to third (CCX)
 0-4  1 1-- 10  Brown,M popped out on a bunt to the mound (BbXb)
 0-4  2 1-- 10  Jethroe grounded to second, forcing Hack at second (BX)
 
**************  Top of the 8th inning, Seals batting
 0-4  0 --- 11  Sisler grounded out to first (CBX)
 0-4  1 --- 12  Oms lined a single up the middle (CBFFX)
 0-4  1 1-- 20  Benjamin grounded out to second, Oms to second (BB>X)
 0-4  2 -2- 11  Malarcher flied out to center (BCX)
 
**************  Bottom of the 8th inning, Monarchs batting
 0-4  0 --- 21  Yastrzemski grounded out to first (SBBX)
 0-4  1 --- 12  Ott struck out (CBFS)
 0-4  2 --- 11  Terry,B flied out to left (FBX)
 
**************  Top of the 9th inning, Seals batting
                Oliva pinch hitting for Garcia,C
 0-4  0 --- 11  Oliva flied out to center (SBX)
 0-4  1 --- 11  Larkin lined a single to right center (CBX)
 0-4  1 1-- 02  Frisch lined a triple to right center, Larkin scored 
                  (CCFX)
 1-4  1 --3 31  DiMaggio,J grounded out to second, Frisch scored (CBBBX)
 2-4  2 --- 32  Torre struck out (BCSBBFS)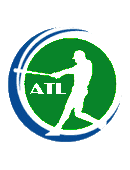 ---