Opening Day, San Fran vs New York



Holy Cow! What a Game!
by "Jack London"
Union League correspondent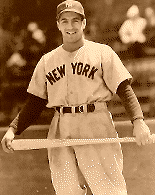 NEW YORK (ATL) April 8 -- Phil Rizzuto laced a singled into left field with one out in the bottom of the 13th inning to send the New York Yankees to a 5-4 victory over the San Francisco Seals.

"Phil came up with a clutch hit," Seals manager Jon Brown said. "I thought Gene (Garber) was going to pitch out of it, but you have to be careful pitching to Scooter."

Rizzuto, who came in to pinch-run for Sam Rice in the ninth inning, completed the roughup of Seals' right-handed reliever Gene Garber, who gave up two walks and the fateful single in 1 1/3 innings. Earlier in the week, Garber was given free reign as the Seals' closer when San Francisco traded Jose Mesa to the St. Louis Cardinals.

Garber was the Seals' fifth pitcher and the ninth hurler overall to see mound action in a game that was delayed twice by rain for 106 minutes.

"That rain made for an especially long game, eh?" Brown asked or said, or something.

The rain delay put strain on both pitching staffs. Billy Pierce was called in to relieve Seals starter Tedd Higuera shortly after the first rain stoppage. But Pierce threw only three pitches before the skies opened again.

Dolf Luque and Cocaina Garcia combined to shut down the Yankees for eight innings, allowing the Seals to stage yet another late-inning comeback.

Joe Torre came off the bench to knock in a run in San Francisco's first rally. The Seals tied the game with two runs in the top
of the ninth inning off shaky Dave Righetti.

"We had a lot of fight in us, but Higuera's rocky start put us in a hole we shouldn't have been in," Brown said. "Our offense needs to start earlier, too."

As has been the alarming trend this season, the left-handed Higuera was touched early. He gave up four runs in 2 2/3 innings as Don Mattingly drilled a two-run double in the third inning. New York plated a run in the first on a base hit by Amos Otis.

"Teddy's hanging on to a rotation spot by the skin of his teeth," Brown said. "A few more outings like that and there could be changes."




4/8/2005, SFU06-NYU06, Yankee Stadium (1937-66)
 
                       1  2  3  4  5  6  7  8  9 10 11 12
2006 Seals             0  0  0  0  0  2  0  0  2  0  0  0
2006 Yankees           1  0  3  0  0  0  0  0  0  0  0  0
 
                      13     R  H  E   LOB DP
2006 Seals             0     4  7  1     7  2
2006 Yankees           1     5 11  0    10  2
 
Seals                AB  R  H BI   AVG    Yankees              AB  R  H BI   AVG
Benjamin          rf  4  0  1  0  .250    Stovey,H          lf  6  1  1  0  .167       
 Oliva            ph  2  0  0  1  .000    Crawford          rf  5  1  1  0  .200       
Jennings          ss  5  0  0  0  .000    Otis              cf  6  0  2  1  .333       
Frisch            2b  5  1  1  0  .200    Nettles           3b  4  2  1  0  .250       
DiMaggio,J        cf  6  1  2  1  .333    Randolph          2b  4  1  2  1  .500       
Medwick           lf  4  1  0  0  .000    Mattingly         1b  6  0  1  2  .167       
Adcock            1b  2  0  0  0  .000    Fisk              c   2  0  1  0  .500       
 Torre            ph  2  1  2  1 1.000     Rice,S           ph  0  0  0  0  .000       
Groh              3b  4  0  0  0  .000     Rizzuto          pr  2  0  1  1  .500       
Petway            c   2  0  1  0  .500    Guidry            p   1  0  0  0  .000       
 Sisler           1b  3  0  0  1  .000     Plank            p   2  0  0  0  .000       
Higuera           p   1  0  0  0  .000     Righetti         p   0  0  0  0  .000       
 Pierce           p   0  0  0  0  .000     Pinson           ph  1  0  0  0  .000       
 Luque            p   1  0  0  0  .000     Partlow          p   1  0  0  0  .000       
 Larkin           ph  1  0  0  0  .000    Stephens,CJ       ss  4  0  1  0  .250       
 Garcia,C         p   0  0  0  0  .000     Berra            c   1  0  0  0  .000       
 Oms              ph  1  0  0  0  .000                         45  5 11  5             
 Garber           p   0  0  0  0  .000                                              
                     43  4  7  4                                                    
 
Seals                            INN  H  R ER BB  K PCH STR   ERA
Higuera                          2.2  6  4  3  3  3  61  37 10.13
Pierce                           0.1  0  0  0  0  0   3   2  0.00
Luque                            3.0  2  0  0  0  0  25  15  0.00
Garcia,C                         5.0  2  0  0  1  5  76  47  0.00
Garber           L 0-1           1.1  1  1  1  2  1  30  15  6.75
                                12.1 11  5  4  6  9 195 116 
 
Yankees                          INN  H  R ER BB  K PCH STR   ERA
Guidry                           3.1  0  0  0  1  2  47  28  0.00
Plank                            4.2  5  2  2  1  1  70  45  3.86
Righetti         BS 1            1.0  0  2  2  3  1  23  10 18.00
Partlow          W 1-0           4.0  2  0  0  0  1  46  30  0.00
                                13.0  7  4  4  5  5 186 113 
 
SFU: Torre batted for Adcock in the 6th
     Torre moved to c in the 6th
     Sisler inserted at 1b in the 6th
     Larkin batted for Luque in the 7th
     Oliva batted for Benjamin in the 9th
     Oliva moved to rf in the 9th
     Oms batted for Garcia,C in the 12th
NYU: Rice,S batted for Fisk in the 9th
     Rizzuto ran for Rice,S in the 9th
     Pinson batted for Righetti in the 9th
     Rizzuto moved to ss in the 10th
     Berra inserted at c in the 10th
 
E-Benjamin. 2B-Crawford, Mattingly. SB-Benjamin(1). K-Jennings, DiMaggio,J, 
Adcock, Groh, Oms, Stovey,H, Crawford, Otis 2, Mattingly 2, Stephens,CJ 2, 
Pinson. BB-Frisch, Medwick 2, Torre, Garcia,C, Crawford, Nettles 2, 
Randolph 2, Fisk. SH-Groh. HBP-Jennings, Rice,S. HB-Garcia,C, Guidry. 
GWRBI: Rizzuto
Billy Pierce was removed after a rain delay
Ron Guidry was removed after a rain delay
Sam Rice was injured for this game only
Temperature: 54, Field: wet, Sky: threatening, Wind: out to left at 10 MPH, 
Rain Delays: 34 and 72 minutes.

....................................................................................................
4/8/2005, SFU06-NYU06, Yankee Stadium (1937-66)
 
                       1  2  3  4  5  6  7  8  9 10 11 12
2006 Seals             0  0  0  0  0  2  0  0  2  0  0  0
2006 Yankees           1  0  3  0  0  0  0  0  0  0  0  0
 
                      13     R  H  E   LOB DP
2006 Seals             0     4  7  1     7  2
2006 Yankees           1     5 11  0    10  2
 
 ....................................................................................................
4/8/2005, SFU06-NYU06, Yankee Stadium (1937-66)
 
                       1  2  3  4  5  6  7  8  9 10 11 12
2006 Seals             0  0  0  0  0  2  0  0  2  0  0  0
2006 Yankees           1  0  3  0  0  0  0  0  0  0  0  0
 
                      13     R  H  E   LOB DP
2006 Seals             0     4  7  1     7  2
2006 Yankees           1     5 11  0    10  2
 
Score O Rnr BS  Event
----- - --- --  -----
 
**************  Top of the 1st inning, Seals batting
 0-0  0 --- 32  Benjamin grounded out to the mound (BBCSBX)
 0-0  1 --- 10  Jennings was hit by a pitch (BH)
 0-0  1 1-- 31  Frisch walked, Jennings to second (BBBCB)
 0-0  1 12- 12  DiMaggio,J struck out (SBFFFS)
 0-0  2 12- 12  Medwick popped out to first (CBCX)
 
**************  Bottom of the 1st inning, Yankees batting
 0-0  0 --- 02  Stovey,H lined a single to left (CCX)
 0-0  0 1-- 31  Crawford walked, Stovey,H to second (1BpBBCB)
 0-0  0 12- 21  Otis grounded a single up the middle, Stovey,H scored, 
                  Crawford out at third (BCBX)
 0-1  1 1-- 12  Nettles grounded into a double play, Jennings to Frisch 
                  to Adcock (BFFFX)
 
**************  Top of the 2nd inning, Seals batting
 0-1  0 --- 12  Adcock struck out (SSBS)
 0-1  1 --- 00  Groh flied out to center (X)
 0-1  2 --- 11  Petway grounded out to second (SBX)
 
**************  Bottom of the 2nd inning, Yankees batting
 0-1  0 --- 11  Randolph lined a single to shallow right (BCX)
 0-1  0 1-- 22  Mattingly struck out (1BSBSC)
 0-1  1 1-- 32  Fisk walked, Randolph to second (BBBCFB)
 0-1  1 12- 11  Guidry grounded to second, forcing Fisk at second, 
                  Randolph to third, Guidry to first (>FBX)
 0-1  2 1-3 12  Stephens,CJ struck out (BCFFS)
 
**************  Top of the 3rd inning, Seals batting
 0-1  0 --- 11  Higuera flied out to left (CBX)
 0-1  1 --- 22  Benjamin grounded out to short (CFBBX)
 0-1  2 --- 32  Jennings lined out to center (BBFBSX)
 
**************  Bottom of the 3rd inning, Yankees batting
 0-1  0 --- 12  Stovey,H grounded out to third (BFCX)
                Game delayed by rain for 34 minutes
 0-1  1 --- 00  Crawford lined a double to left center (X)
                Started raining
 0-1  1 -2- 02  Otis struck out (CFFS)
 0-1  2 -2- 30  Nettles walked (BBBB)
 0-1  2 12- 12  Randolph lined a single to shallow right, Crawford 
                  scored, Nettles to third on an error by the right 
                  fielder Benjamin, Randolph to second (CCBX)
 0-2  2 -23 22  Mattingly lined a double to left center, Nettles scored, 
                  Randolph scored (BCBFX)
                Pierce now pitching
 0-4  2 -2- 11  Fisk flied out to left (CBX)
 
**************  Top of the 4th inning, Seals batting
 0-4  0 --- 01  Frisch grounded out to the mound (CX)
                Game delayed by rain for 72 minutes
                Pierce left the game after a rain delay
                Guidry left the game after a rain delay
                Plank now pitching
 0-4  1 --- 21  DiMaggio,J popped out to first (BCBX)
 0-4  2 --- 22  Medwick grounded out to second (BCCBX)
 
**************  Bottom of the 4th inning, Yankees batting
                Luque now pitching
 0-4  0 --- 00  Plank grounded out to first (X)
 0-4  1 --- 31  Stephens,CJ grounded out to second (BCBBX)
 0-4  2 --- 31  Stovey,H grounded out to first (BBBCX)
 
**************  Top of the 5th inning, Seals batting
 0-4  0 --- 01  Adcock lined out to left (CX)
 0-4  1 --- 22  Groh struck out (BBCFFS)
 0-4  2 --- 12  Petway lined a single to shallow center (BCCX)
 0-4  2 1-- 10  Luque flied out to center (B>X)
 
**************  Bottom of the 5th inning, Yankees batting
 0-4  0 --- 01  Crawford flied out to left (FX)
 0-4  1 --- 10  Otis grounded out to second (BX)
 0-4  2 --- 00  Nettles lined a single to left center (X)
                Started raining
 0-4  2 1-- 00  Randolph grounded to short, forcing Nettles at second (X)
 
**************  Top of the 6th inning, Seals batting
 0-4  0 --- 32  Benjamin lined a single to shallow center (BCBBFFX)
 0-4  0 1-- 00  Jennings popped out to second (>X)
 0-4  1 1-- 00  Benjamin stole second (>C)
 0-4  1 -2- 21  Frisch lined a single to shallow left, Benjamin out at 
                  home, Frisch to second (>C.BBX)
 0-4  2 -2- 11  DiMaggio,J grounded a single up the middle, Frisch scored 
                  (CBX)
 1-4  2 1-- 32  Medwick walked, DiMaggio,J to second (BFFBB>F>F>B)
                Torre pinch hitting for Adcock
 1-4  2 12- 10  Torre lined a single between first and second, DiMaggio,J 
                  scored, Medwick to second (BX)
 2-4  2 12- 01  Groh flied out to center (CX)
 
**************  Bottom of the 6th inning, Yankees batting
                Torre moved to catcher
                Sisler now playing first base
 2-4  0 --- 10  Mattingly grounded out to second (BX)
 2-4  1 --- 01  Fisk lined a single to shallow left (FX)
 2-4  1 1-- 21  Plank grounded into a double play, Jennings to Sisler 
                  (BBFX)
 
**************  Top of the 7th inning, Seals batting
 2-4  0 --- 11  Sisler flied out to left (CBX)
                Larkin pinch hitting for Luque
 2-4  1 --- 11  Larkin grounded out to first (BCX)
 2-4  2 --- 22  Benjamin popped out to first (BCSFFBX)
 
**************  Bottom of the 7th inning, Yankees batting
                Garcia,C now pitching
 2-4  0 --- 02  Stephens,CJ struck out (FbFC)
 2-4  1 --- 22  Stovey,H struck out (CBBSC)
 2-4  2 --- 20  Crawford grounded out to third (BBX)
 
**************  Top of the 8th inning, Seals batting
 2-4  0 --- 01  Jennings grounded out to second (CX)
 2-4  1 --- 11  Frisch flied out to center (FBX)
 2-4  2 --- 10  DiMaggio,J grounded out to second (BX)
 
**************  Bottom of the 8th inning, Yankees batting
 2-4  0 --- 22  Otis popped out to the catcher (CCBFBX)
 2-4  1 --- 00  Nettles grounded out to second (X)
 2-4  2 --- 21  Randolph grounded out to third (BBCX)
 
**************  Top of the 9th inning, Seals batting
                Righetti now pitching
 2-4  0 --- 31  Medwick walked (BBSBB)
 2-4  0 1-- 31  Torre walked, Medwick to second (CBBBB)
 2-4  0 12- 00  Groh sacrifice bunted to first, Medwick to third, Torre 
                  to second (Xb)
 2-4  1 -23 00  Sisler reached on a fielder's choice to second, Medwick 
                  scored, Torre to third, Sisler to first (X)
 3-4  1 1-3 30  Garcia,C was walked intentionally, Sisler to second (IIII)
                Oliva pinch hitting for Benjamin
 3-4  1 123 12  Oliva grounded out to second, Torre scored, Sisler to 
                  third, Garcia,C to second (CBFX)
 4-4  2 -23 02  Jennings struck out (CFS)
 
**************  Bottom of the 9th inning, Yankees batting
                Oliva moved to right field
 4-4  0 --- 22  Mattingly struck out (CBBCS)
                Rice,S pinch hitting for Fisk
 4-4  1 --- 02  Rice,S was hit by a pitch (FSFH)
                Rice,S left the game with an injury
                Rizzuto pinch running for Rice,S
                Pinson pinch hitting for Righetti
 4-4  1 1-- 22  Pinson struck out (SBBSS)
 4-4  2 1-- 20  Stephens,CJ lined a single to shallow right, Rizzuto to 
                  third (BBX)
 4-4  2 1-3 22  Stovey,H grounded to short, forcing Stephens,CJ at second 
                  (CBBFX)
 
**************  Top of the 10th inning, Seals batting
                Rizzuto moved to shortstop
                Partlow now pitching
                Berra now playing catcher
 4-4  0 --- 02  Frisch flied out to center (SFX)
 4-4  1 --- 22  DiMaggio,J flied out to left (BBSCX)
 4-4  2 --- 21  Medwick flied out to left (BFBX)
 
**************  Bottom of the 10th inning, Yankees batting
 4-4  0 --- 32  Crawford struck out (BFFBBS)
 4-4  1 --- 02  Otis lined a single to shallow right (FCX)
 4-4  1 1-- 10  Nettles flied out to left (11BX)
 4-4  2 1-- 32  Randolph walked, Otis to second (BCBBC>B)
 4-4  2 12- 22  Mattingly grounded to short, forcing Randolph at second 
                  (CSBBX)
 
**************  Top of the 11th inning, Seals batting
 4-4  0 --- 31  Torre lined a single to shallow center (BFBBX)
 4-4  0 1-- 02  Groh grounded into a double play, Randolph to Rizzuto to 
                  Mattingly (>FCX)
 4-4  2 --- 11  Sisler lined out to right (FBX)
 
**************  Bottom of the 11th inning, Yankees batting
 4-4  0 --- 11  Rizzuto grounded out to second (BSX)
 4-4  1 --- 02  Partlow flied out to left (CCX)
 4-4  2 --- 12  Berra grounded out to first (BCCX)
 
**************  Top of the 12th inning, Seals batting
                Oms pinch hitting for Garcia,C
 4-4  0 --- 32  Oms struck out (BBBCSFFS)
 4-4  1 --- 10  Oliva grounded out to first (BX)
 4-4  2 --- 00  Jennings flied out to center (X)
 
**************  Bottom of the 12th inning, Yankees batting
                Garber now pitching
 4-4  0 --- 10  Stovey,H flied out to left (BX)
 4-4  1 --- 22  Crawford grounded out to second (FBBSFFFX)
 4-4  2 --- 12  Otis struck out (FCBC)
 
**************  Top of the 13th inning, Seals batting
 4-4  0 --- 10  Frisch popped out to the catcher (BX)
 4-4  1 --- 22  DiMaggio,J lined a single to shallow left (CSFBBX)
 4-4  1 1-- 12  Medwick grounded into a double play, Nettles to Randolph 
                  to Mattingly (CCBX)
 
**************  Bottom of the 13th inning, Yankees batting
 4-4  0 --- 31  Nettles walked (SBBBB)
 4-4  0 1-- 30  Randolph walked, Nettles to second (BBBB)
 4-4  0 12- 00  Mattingly grounded out to short, Nettles to third, 
                  Randolph to second (>X)
 4-4  1 -23 32  Rizzuto lined a single between third and short, Nettles 
                  scored, Randolph to third (CBFBBX)