Meanwhile, Back At The Homestead . . .



Homestead Grays

by "Ace" Carter
Legends League correspondent

Homestead Baseball


New Faces
(ATLP) - The home town Homestead Grays have been nothing short of disappointing this season. Expected to compete for a title in the fledgling Legends League, they have stumbled out of the gate to a spectacularly bad 4-15 start.Their so-called "Murderer's Row" of Bonds, Gehrig and Griffey has managed only limited success, and have left more men stranded than an airline strike.

The top of the lineup has been well represented, as Cool Papa Bell has been on base, and is all over the place when he gets on, pushing quickly towards 20 steals already. SS Willie Wells has also been productive. The problem for this team is timely hitting, and their incredibly struggling pitching staff.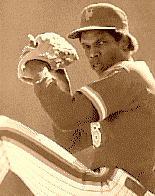 That all changed this week however, as the team decided to ship the enigmatic Bonds out west to the Rainy city, along with Seattle "native" Jamie Moyer in exchange for Charlie Hustle and young right hander Dwight "Doc" Gooden. Rose will probably fill in some at 3rd base and left field for the Grays, allowing Chuck Klein to takes some ABs, while John Beckwith
takes a seat against some righties, who's he's been struggling with. Gooden should fit in right at the top of the Grays rotation, and has already getting acquainted with the locals, being seen out with mayor Marion Barry late into his first night in DC. If these moves pan out, GM Jim Bowden might get executive of the year. If they don't Bonds will hit 70 HRs in Seattle, and manager Lou Piniella may well join Bowden in the unemployment line. This is Ace Carter reporting.