Tiempo Caliente en La Habana!



Havana Leones

by "Che"
Legends League correspondent

El Habanero


Team Batting Average = .
333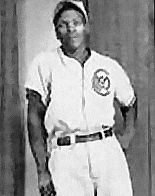 Yankee Imperialism can't touch this!

La Gran Fiesta de la

Béisbo

l!

El Habaneros are smacking that horsehide pelota to all parts of the diamond, and out of the park as well. After 12 intensely fought contests the Boys from Havana lead both leagues in team batting average, as their .333 mark is fully 32 points higher than their closest competitor (Newark), and

51 points

higher than any other club in the same league (NY Mets). The batting average for the entire Legends League is .258 -- a mark that every Havana starter has topped, including the pitchers whose congregate batting average stands at .276!

Alejandro Oms and Cristobal Torriente lead the charge down San Juan Hill. Oms leads the league with a .472 average, 25 Hits, 16 RBI and 42 Total Bases. Torriente is 5th in the league in average (.400), second in Hits (22), RBI (15) and total Bases (37). Before the northern pundits attempt to decry or otherwise downplay these revolutionary accomplishments, let us make note that also in this league are such great batting personages as Babe Ruth, Ted Williams, Sadaharu Oh and Hank Aaron.

But Oms and Torriente are not alone. Third on the team in Batting Average, Hits, RBI and Total Bases is

El Inmortal

, Martin Dihigo (.380, 22, 10, 31). He is followed by his double-play partner, Perucho Cepeda, at .357, making them the hottest combo around the keystone korner. Speaking of hot, there's Tony Perez at third base hitting .340, Roberto Clemente in right field at .313, and José Fernandez catching at .303. The lone starter under .300 is first baseman Rod Carew, and we all know he won't remain there for long.

Before we turn to pitching it should be noted that a trade to bring Tony Oliva to Havana was successful, and this great Cuban player will now showcase his incredible talents for his hometown fanaticos.

The pitching, you say, what of the pitching? Can any team led by The Maximum Leader be devoid of pitching? No!

As a team, Havana is 5th in the league in ERA at 4.14. The league average stands at 4.59. While the pen cannot brag as much as the dugout does, and The Maximum Leader readily admits there is room for improvement -- there are also bright spots in the pitching stats. José Mesa has appeared in 4 games as the team's closer, saving 3 and putting up a perfect 0.00 ERA. Complete Games have been tossed by Luis Tiant the Younger (1-0, 2.70) and José Muñoz (0-2, 4.05), while Venezuelan great Wilson Alvarez leads the club with a 2-0, 2.31 mark. All this with

El Professor

, Ramon Braga

ñ

a, out since the pre-season.

The team has to work on its fielding a bit more, coming in 8th in the League with a .977 mark, when the league average is .980. However, Tony Perez leads all third basemen (tied), and Roberto Clemente all right fielders

(tied)

-- both with a perfect 1.000 mark. Torriente leads in Outfield Assists

(tied with Montreal's Reggie Jackson at 3)

.

Where it counts, the team is at 7-5 and in second place behind the streaking Cincinnati Reds. We will revisit Havana in another dozen games and see if we can overtake the great Reds team.


                                   Havana Leones  Batting                                      
                         Regular season -- as of 4/16/2004                                      
                                                                                                
Name         P    AVG   OBP   SPC    G   AB    H  2B  3B  HR    R  RBI   BB    K HBP  IW  SB  CS
Bustamente   ss  .500  .500  .500    1    2    1   0   0   0    0    1    0    0   0   0   0   0
Oms*         rf  .472  .509  .792   12   53   25   5   0   4   16   16    3    6   1   0   1   0
Torriente*   of  .400  .411  .673   12   55   22   1   1   4    8   15    1    7   0   0   2   1
Dihigo       2b  .380  .448  .620   12   50   19   2   2   2    8   10    7    9   0   0   3   0
Cepeda,P     ss  .357  .404  .571   11   42   15   2   2   1    6    8    2   13   2   0   0   0
Perez,T      1b  .340  .404  .532   12   47   16   6   0   1    4    7    5   11   0   0   0   0
Clemente     rf  .313  .353  .333   12   48   15   1   0   0    6    4    3   10   0   0   1   0
Fernandez, J c   .303  .333  .394   10   33   10   3   0   0    7    4    2    3   0   1   0   0
Vargas       cf  .273  .273  .273    9   11    3   0   0   0    2    0    0    2   0   0   0   0
Carew*       1b  .264  .350  .377   12   53   14   3   0   1   11    5    7    3   0   0   2   0
Coimbre      of  .200  .200  .200    4    5    1   0   0   0    0    0    0    1   0   0   0   0
Salazar*     of  .143  .250  .143    7    7    1   0   0   0    1    0    1    4   0   0   0   0
Pena,T       c   .125  .125  .125    5    8    1   0   0   0    0    0    0    1   0   0   0   0
Lopez,J      c   .000  .000  .000    2    1    0   0   0   0    0    0    0    0   0   0   0   0
Oliva*       rf  .000  .000  .000    2    5    0   0   0   0    0    0    0    1   0   0   0   0
Garcia,S     ss  .000  .000  .000    2    5    0   0   0   0    0    0    0    0   0   0   0   0
Pitchers         .276  .276  .379   12   29    8   3   0   0    6    3    0   11   0   0   1   0
Total            .333  .377  .498   12  454  151  26   5  13   75   73   31   82   3   1  10   1

                            Havana Leones Pitching                                     
                  Regular season -- as of 4/16/2004                                       
                                                                                          
Name        ERA   W   L   S   G  GS  CG SHO     INN    H    R   ER   BB    K  HR GDP    BF
Mesa       0.00   0   0   3   4   0   0   0     4.2    1    0    0    2    4   0   0    18
Pizarro*   1.50   0   0   0   5   0   0   0     6.0    3    1    1    4    4   0   0    24
Arano      1.50   0   0   0   3   0   0   0     6.0    5    1    1    1    3   0   0    23
Alvarez*   2.31   2   0   0   6   0   0   0    11.2   11    3    3    8    8   0   0    55
Tiant      2.70   1   0   0   2   2   1   0    16.2   16    9    5    5    7   1   2    68
Pena,A     3.18   1   0   0   5   0   0   0     5.2    3    2    2    5    2   1   2    23
Mendez     3.18   1   0   0   2   2   0   0    17.0   14    6    6    1   13   3   1    62
Muñoz      4.05   0   2   0   2   2   1   0    13.1   13    6    6    3    8   1   0    54
Salazar*   4.82   1   1   0   3   0   0   0     9.1    9    6    5    4    7   1   0    43
Luque      4.91   1   0   0   2   2   0   0    11.0   13   10    6    7    3   2   1    54
Pascual   10.38   0   0   0   2   2   0   0     4.1    5    5    5    5    4   1   0    24
Soto      18.56   0   2   0   2   2   0   0     5.1   13   13   11    3    5   3   0    31
Total      4.14   7   5   3  12  12   2   0   111.0  106   62   51   48   68  13   6   479

                               Havana Leones  Fielding                                
                      Regular season -- as of 4/16/2004                              
                                                                                     
Name                 G  GS    INN   PO    A   E  DP   TC    PCT  PB  SB  CS   SB%  PK
Luis Tiant           2   2   16.7    0    4   1   1    5   .800       1   1  .500   0
Wilson Alvarez       6   0   11.7    1    3   0   0    4  1.000       1   1  .500   0
José Mendez          2   2   17.0    1    3   0   0    4  1.000       1   3  .250   0
José Muñoz           2   2   13.3    1    2   0   0    3  1.000       2   0 1.000   1
Lazaro Salazar       3   0    9.3    1    2   0   0    3  1.000       0   0  .000   0
Camilo Pascual       2   2    4.3    0    1   0   0    1  1.000       1   0 1.000   0
Alejandro Pena       5   0    5.7    0    1   0   0    1  1.000       0   0  .000   0
Mario Soto           2   2    5.3    0    1   0   0    1  1.000       0   0  .000   0
Dolf Luque           2   2   11.0    0    0   0   0    0   .000       3   1  .750   0
Jose Mesa            4   0    4.7    0    0   0   0    0   .000       0   0  .000   0
Juan Pizarro         5   0    6.0    0    0   0   0    0   .000       0   1  .000   0
Ramon Arano          3   0    6.0    0    0   0   0    0   .000       0   0  .000   0
Total               38  12  111.0    4   17   1   1   22   .955       9   7  .563   1
                                                                                     
José Fernandez      10   9   80.0   60    7   1   0   68   .985   0   5   5  .500   0
Tony Pena            5   3   28.0   15    3   0   0   18  1.000   0   4   2  .667   0
Javy Lopez           2   0    3.0    1    0   0   0    1  1.000   0   0   0  .000   0
Total               17  12  111.0   76   10   1   0   87   .989   0   9   7  .563   0
                                                                                     
Rod Carew           12  12  111.0  108    6   2   8  116   .983                      
Total               12  12  111.0  108    6   2   8  116   .983                      
                                                                                     
Martin Dihigo       12  12  107.0   26   39   2   6   67   .970                      
Luis Bustamente      1   0    3.0    0    1   1   1    2   .500                      
Tetelo Vargas        1   0    1.0    1    0   0   0    1  1.000                      
Total               14  12  111.0   27   40   3   7   70   .957                      
                                                                                     
Tony Perez          12  12  110.0   13   26   0   2   39  1.000                      
Tetelo Vargas        1   0    1.0    0    0   0   0    0   .000                      
Total               13  12  111.0   13   26   0   2   39  1.000                      
                                                                                     
Perucho Cepeda      11  11   96.0   16   24   3   1   43   .930                      
Silvio Garcia        1   1   11.0    1    3   0   1    4  1.000                      
Tetelo Vargas        1   0    4.0    0    1   0   0    1  1.000                      
Total               13  12  111.0   17   28   3   2   48   .938                      
                                                                                     
Cristobal Torriente 12  12  109.0   20    3   1   1   24   .958                      
Lazaro Salazar       1   0    2.0    1    0   0   0    1  1.000                      
Total               13  12  111.0   21    3   1   1   25   .960                      
                                                                                     
Ajejandro Oms       12  12  107.0   35    1   0   0   36  1.000                      
Tetelo Vargas        1   0    2.0    2    0   0   0    2  1.000                      
Pancho Coimbre       1   0    2.0    0    0   0   0    0   .000                      
Total               14  12  111.0   37    1   0   0   38  1.000                      
                                                                                     
Roberto Clemente    12  11  102.0   28    0   0   0   28  1.000                      
Tony Oliva           1   1    7.0    2    0   0   0    2  1.000                      
Tetelo Vargas        1   0    2.0    0    0   0   0    0   .000                      
Total               14  12  111.0   30    0   0   0   30  1.000                      
                                                                                     
Total               12  12  111.0  333  131  11   8  475   .977   0