The Legends League has a dilemna! Two teams finished tied for the Wild Card Spot. Not only did they have the same 83-71 record, not only did they both play in the same East Division, but they also both call New York home! In the historical sense there is yet another connection -- they are forever connected by fate as one owes its existance to the fact that the other one left town. In one sense they are as close to being the same team as makes no nevermind. But only one of the two can go on to the Post-Season, and they must fight it out between them in a single match, loser go home.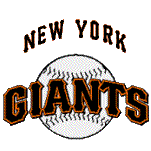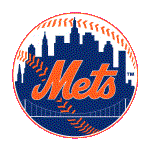 They already played 4 games to get here. 4 games at Shea Stadium where the Mets hosted the Giants. They started the series with a 9-9 season record against each other. The Mets were 4 game up in the Wild Card Race, and it looked a sure thing. But Hoyt Wilhelm, Hal Newhouser, Amos Rusie, Red Ruffing, Harry Heilmann and George Scales held off Fred Pfeffer, José Mendez, José Munoz, Bud Black and Spot Poles and the Giants pulled off a most incredible comeback.
The trolleycars the players and fans use to get from Shea Stadium to The Polo Grounds are been getting spruced up over these 4 last-of-the-season games, all decked out with logos of the teams, newspaper headlines, fan graffitti and pictures of the players in action. They are ready to bring the players to the most important game of their season so far. Debate leaps up at every street corner and the radio waves crackle with sports talk programs 24 hours a day as the Big Apple turns the Wild Card Playoff into the World Series in microscosm! Proclaimed in neon and newsprint, the Playoff game is the rage in a city that claims 4 ATL teams -- these 2 and Legends League and East Division Brooklyn (65-89), as well as the Union League's Atlantic Division Yankees (69-85). The other two are forgotten as all focus is on
The Big Game
!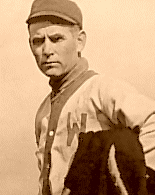 The Mets announced that right-hander Clark Griffith (5-4, 3.79) would start for them, while the Giants followed with their announcement of Hal Newhouser (13-4, 3.84) as Clark Calvin Griffith's opponent. Griffith, known as
The
Old Fox
, was an imaginative player, manager and owner.
The Old Fox
earned his nickname by utilizing a 6-pitch arsenal, including the screwball, which he claims to have invented, a silencing quick-pitch delivery, and the ruse of hiding the ball in the plane of his body before delivering. Griffith scuffed, scratched, cut, and spit upon nearly every pitch without hesitation, yet when the call came to make these tactics illegal in 1920, Griffith was prominent riding on that bandwagon. A young Griffith once claimed it was bad luck to pitch a shutout, and he actually avoided doing so until his 7th big league season. As a pitcher, he topped the 20-victory mark six years in a row for the White Stockings, amassing 237 career victories. In 1901, as a player-manager, he led Chicago to the first American League pennant. Over his 20-year managing career he went 1491-1367 for a .522 record. An innovative and resourceful owner, Griffith worked within a limited budget, breaking the Latino Barrier by being the first to sign Cuban players, reworking the waiver rules, courting publicity, and keeping the Senators franchise afloat from his arrival in Washington in 1912 to his death in 1955 at the age of 86. As a manager and owner he was more of a father figure to his players than a boss. He was so well thought of by everyone associated with the team that they named their ballpark after him.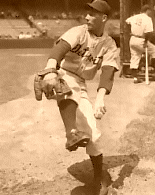 On the other hand, "
Prince Hal
" Newhouser will be on the mound for the Giants. Newhouser is the only hurler ever to win back-to-back Most Valuable Player awards, 1944-1945, narrowly missing a third straight MVP to Ted Williams in 1946. His blazing fastball and pinpoint control of his overhand curve enabled him to become a strikeout king. Over 17 campaigns, 15 with Detroit, he won 207 games. From 1944 to 1946, he recorded win totals of 29, 25 and 26, with annual ERAs of 2.22, 1.81 and 1.94, respectively. In 1945 his 25 wins, 1.81 ERA and 212 strikeouts led the American League. Newhouser hurled the pennant clincher for the Tigers in 1945 and followed with 2 World Series victories over the Chicago Cubs. For his career, he won 2 ERA titles, led the league in wins 4 times, strikeouts twice, complete games twice, and shutouts once But all was not always so rosy for Newhouser, his early career was marred by losing seasons and his lack of self control on and off the playing field. On the field in 1943 he lead the league in walks, 111, and he did not endear himself to his teammates because of the death stare that he gave players when a ball would get by them. Off the field he snapped at so many reporters that there were only two left that would even talk to him after games. Tired of being a good pitcher with a bad record, he went to the manager Steve O'Neill and asked him why couldn't he win games, knowing he was a good pitcher. O'Neill told him it was time to put away all the temper tantrums, grow up and focus on his pitching. Hal did just that with a lot of help from newly acquired catcher, Paul Richards, and found that not only did he enjoy the game alot more when a cooler head prevailed, but so did his teammates, fans and reporters.
These two will meet to decide the fate of their respective teams. Newhouser pitched 8 innings of a 5-4 win against these Mets in his last game, 3 days before, throwing 122 pitches and striking out 7. Griffith pitched a complete game 5 days ago, beating Havana 4-3 on 103 pitches, 73 for strikes.
The Old Fox
won the game before that also, a complete game 5-4 decision against Brooklyn . . . while
Prince Hal
pitched 6 days before his last win, getting rocked by the Pirates, giving up 7 hits, 4 walks and 5 earned runs in 4.2 innings of a game eventually won by the Giants and Hoyt Wilhelm in the 11th inning. Both pitchers need to be at the top of their form at this crucial moment.
Prince Hal
has had a very good season from the beginning, losing his first game but then winning his next 8. While
The Old Fox
came late to the party, being signed as a free agent on June 12, midway into the year.
Besides the tale of the two pitchers, writ large on back pages all across The City are also the stories of the individual players and their seasons. Will the power hitters of the Giants -- Willie Stargell (44 HR), Harmon Killebrew (35 HR), Stan Musial (31 HR), George Scales (23 HR) and Bill Dickey (21 HR) -- out-muscle the one man who stands alone in baseball history,
The Sultan of Swat
!
George Herman Ruth. That is the other story in this game.
The Babe
has not started a game since August 20th. injured twice in August, on the 4th in a collison at home plate with Toronto's Ivan Rodriguez, and on the 20th hit by a pitched ball from Curt Simmons of that same Toronto squad. He may have a date with Toronto in the playoffs if all works out the right way -- but first Ruth has to lead his team to victory in this first-ever ATL playoff game.
The Bambino
rejoined the team September 18th, but only saw pinch-hitting duties on 3 of the last 5 games of the season, against these Giants, going 0 for 3. Evidently he was being saved for the playoffs, and the manager wanted him completely healthy for those post-season games. But now the post-season is in doubt, and there is an all-important 1-game playoff to decide the fate of the Mets. All bets are off, the entire season comes down to a single game. Nothing else matters except this one game. Can Ruth lead his team to victory? He was supposed to lead his team to the Division Pennant, but injuries prevented that. But here he is, healthy and hale . . . or so the Mets fans are hoping. Can he answer the burning questions on everyone's lips: were the last 4 losses to the Giants an overall meltdown, and has the long season taken its toll on the players? Or did the Mets simply run afoul of overconfidence, knowing they only had to win 1 game to win a playoff spot? And lastly, can the Mets put it all back together again quick enough to salvage their season?
If we pro-rate
The Bambino's
season stats to a full 154 games instead of the 106 he did play, we come up with the following numbers (actual in parentheses): 526 AB (362), 44 HR (30), 110 RBI (76), 138 Runs (95), 144 Walks (99), 113 Strikeouts (78). Those pro-rated numbers are good enough to lead the Legends League in Homers (tied with Willie Stargell of the giants), Runs and Walks. Without
The Babe
in the starting lineup the Mets have been 24-27, with him: 59-44. 'Nuff said, as Ruth himself might even say.
So without further ado let's go down to the field where the managers are handing in their lineup cards, and the game is ready to start.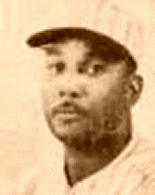 George Scales set the tone of the game, the second batter up, after Ozzie Smith flied out to center field, Scales dribbled the first pitch into an infield single. He promptly stole second, and scampered to third when second baseman Martin Dihigo muffed a Stan Musial grounder. Killebrew then ran Griffith to 7 pitches before grounding a slow roller to Dihigo that scored Scales and forced Musial at second. Killebrew was stranded when Willie Stargell popped out to Dandridge at third.
The Mets tried to come right back with a Spot Poles 7-pitch walk followed by a sharp single between short and third by Ray Dandridge 6 pitches after that. But fate came in to rescue
Prince Hal
when Bill Dickey cut down Spot Poles trying to steal third base, and then Ruth amid thunderous boos and catcalls lined out to Harry Heilmann in right. Dihigo then ended the threat by grounding out to Ozzie at short.
The 2nd inning the pitchers regained command and set down both sides 1-2-3. The 3rd saw almost the same situation, but Newhouser seemed to play with Griffith at the plate, and walked him on 4 straight pitches.
The 4th saw a little action, with Musial getting an infield single on a roller to Ed Konetchy at first base. But
Stan the Man
was wiped out by a Killebrew around-the-horn doubleplay grounder. For the Mets,
The Babe
was given a free pass on 6 pitches to lead off the inning, but then
Prince Hal
struck out Dihigo & Konetchy, and induced Happy Felsch to ground out to Smith at shortstop.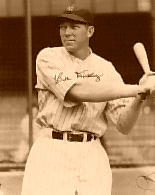 The fifth inning gave the Giants fans something more to cheer about, after Harry Heilmann walked on 4 pitches, Bill Dickey worked Griffith for 5 pitches before taking him deep to right-center and into the bleachers on the 6th pitch for his 22nd home run of the season. Griffith recovered and set the next 3 down in order, but the damage was done, the Giants up 3-0. In the bottom of the inning, needing to respond, the Mets sent Silvio Garcia, Terry Steinbach and Clark Griffith up to the plate, and Hal Newhouser sent all three back to the dugout.
The 6th inning was uneventful for the Giants from an offensive standpoint, but when the Mets came up some changes in the lineup card were made. Stan Hack went out in a surprise move to third base to replace Killebrew, and Rube Waddell came in to replace Newhouser. Newhouser's arm must have tired, after all he had just pitched a long game 3 days earlier. Nobody knows why Killebrew came out. Waddell appeared unsteady on his feet, and there was some speculation he was drunk. He got Spot Poles to ground out after 9 pitches, then couldn't find the plate with Dandridge up and walked him on 4 straight. That set the scene for Ruth to come up. Dandridge stole second when Waddell ignored him, but
Rube
had his mind set on
The Bambino
, who he struck out with blazing fastballs. Dihigo followed by working Waddell for 7 pitches before flustering him with a sharp single over the mound and through the middle into centerfield scoring Dandridge. Score 3-1. That was all for
Rube
, as the manager came out and called Kid Nichols out of the bullpen to face Konetchy -- who grounded out to Hack to end the inning.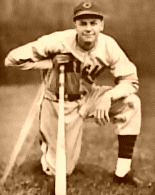 The 7th inning saw the Giants break it open. After Heilmann grounded out to Garcia at shortstop, Bill Dickey added a double to right-center to go along with his homer from his previous at bat. Wild Bill Wright then lined a single to shallow center, moving Dickey to third. Stan Hack then started the scoring with a single down the right field line that brought Dickey home and moved Wright to third. Ramon Arano relieved Griffith, but could not stem the tide. Ozzie Smith brought Wright in with a sharp single between first and second, followed by a double by George Scales to left-center that scored Hack, but Ozzie got cut down at the plate by a perfect throw by centerfielder Happy Felsch. Musial was then walked intentionally, and then Kid Nichols worked a walk on 5 pitches to load the bases. But Griffith got Stargell to ground out to Garcia to end the inning. Score, Giants 6-1.
Desperately needing some runs, the Mets sent 2 batters up and Nichols sent them straight back to the bench on quick groundouts. Then Steinbach chased Nichols by doubling down the first base line. Sparky Lyle came in to face Ben Taylor, and got him to fly out to Wright in center.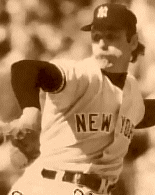 The 8th inning saw the Giants go down in order, and then Buckner replace Stargell defensively at first base. The Mets had their best chance of the game at this point: after 8 pitches Poles lined a single off Lyle to left field, Dandridge followed with an infield single to Scales at second, then came
The Babe
. Ruth walked seeing only a single strike, and that one he didn't swing at. Bases loaded, no outs, Dihigo up, Lyle still on the mound. After fouling the first pitch off, Dihigo rapped a sharp grounder to Hack at third. Hack went home with the ball, forcing Poles at the plate, and then Dickey was able to get the throw to first to beat Dihigo racing up the line. Double play! With runners still on second and third, the Mets sent Edd Roush to pinch hit for Arano. But Roush couldn't come through, and flied out to Musial in left.
You could see the depression settling in the Mets dugout.
For the 9th inning Rick Reuschel came out to the mound to pitch for the Mets. Stan Hack singled up the middle for his second hit of the game, but was wiped by a groundball doubleplay off the bat of Ozzie Smith, Dihigo to Garcia to Taylor.
Last chance for the Mets, and it can be said that they did indeed try. Ghost Marcelle went out to relieve Hack at third base for the Giants, but Sparky Lyle remained on the mound. Sparky struck out Happy Felsch on three pitches, but Silvio Garcia worked him for 9 pitches before lashing a double to deep left field. Lyle then rebounded by striking out Terry Steinbach, but Ben Taylor lined a single to short center putting runners on the corner. Lyle then uncorked a wild pitch that allowed Garcia to score and Taylor to move up to second. But the score would remain 6-2 when Spot Poles sent an easy groundball to Marcelle at third, who fired to Buckner at first to retire the side and end the game.
The Giants win the Wild Card by winning the last 6 games of the season, and sweeping the Mets in the last 5 of those games! Amazing, but true. Note that all games of the Giants-Mets series were played by Autoplay.

9/23/2004, NYG05-NYM05, Shea Stadium (1964-1981)
 
                       1  2  3  4  5  6  7  8  9     R  H  E   LOB DP
2005 Giants            1  0  0  0  2  0  3  0  0     6 10  0     5  1
2005 Mets              0  0  0  0  0  1  0  0  1     2  7  1     8  2
 
Giants               AB  R  H BI  D  T HR BB  K SB CS IW HP SH SF   AVG   PO  A  E PB
Smith,O           ss  5  0  1  1  0  0  0  0  1  0  0  0  0  0  0  .252    1  3  0  0
Scales            2b  5  1  3  1  1  0  0  0  0  1  0  0  0  0  0  .276    2  3  0  0
Musial            lf  3  0  1  0  0  0  0  1  0  0  0  1  0  0  0  .283    2  0  0  0
Killebrew         3b  3  0  0  1  0  0  0  0  0  0  0  0  0  0  0  .227    1  0  0  0
 Waddell          p   0  0  0  0  0  0  0  0  0  0  0  0  0  0  0  .082    0  0  0  0
 Nichols          p   0  0  0  0  0  0  0  1  0  0  0  0  0  0  0  .111    1  0  0  0
 Lyle             p   0  0  0  0  0  0  0  0  0  0  0  0  0  0  0  .000    0  0  0  0
Stargell          1b  4  0  0  0  0  0  0  0  1  0  0  0  0  0  0  .234    6  1  0  0
 Buckner          1b  0  0  0  0  0  0  0  0  0  0  0  0  0  0  0  .250    2  0  0  0
Heilmann          rf  3  1  0  0  0  0  0  1  1  0  0  0  0  0  0  .282    1  0  0  0
Dickey            c   4  2  2  2  1  0  1  0  0  0  0  0  0  0  0  .288    7  2  0  0
Wright,WB         cf  4  1  1  0  0  0  0  0  1  0  0  0  0  0  0  .272    4  0  0  0
Newhouser         p   2  0  0  0  0  0  0  0  0  0  0  0  0  0  0  .150    0  0  0  0
 Hack             3b  2  1  2  1  0  0  0  0  0  0  0  0  0  0  0  .421    0  2  0  0
 Marcelle         3b  0  0  0  0  0  0  0  0  0  0  0  0  0  0  0  .255    0  1  0  0
                     35  6 10  6  2  0  1  3  4  1  0  1  0  0  0         27 12  0  0
 
Mets                 AB  R  H BI  D  T HR BB  K SB CS IW HP SH SF   AVG   PO  A  E PB
Poles             rf  4  0  1  0  0  0  0  1  0  0  1  0  0  0  0  .331    0  0  0  0
Dandridge         3b  3  1  2  0  0  0  0  1  0  1  0  0  0  0  0  .259    1  4  0  0
Ruth              lf  2  0  0  0  0  0  0  2  1  0  0  0  0  0  0  .294    1  0  0  0
Dihigo            2b  4  0  1  1  0  0  0  0  1  0  0  0  0  0  0  .306    2  5  1  0
Konetchy          1b  3  0  0  0  0  0  0  0  1  0  0  0  0  0  0  .250    8  2  0  0
 Arano            p   0  0  0  0  0  0  0  0  0  0  0  0  0  0  0  .182    0  0  0  0
 Roush            ph  1  0  0  0  0  0  0  0  0  0  0  0  0  0  0  .286    0  0  0  0
 Reuschel         p   0  0  0  0  0  0  0  0  0  0  0  0  0  0  0  .267    0  0  0  0
Felsch            cf  4  0  0  0  0  0  0  0  2  0  0  0  0  0  0  .232    2  1  0  0
Garcia,S          ss  4  1  1  0  1  0  0  0  0  0  0  0  0  0  0  .241    3  6  0  0
Steinbach         c   4  0  1  0  1  0  0  0  1  0  0  0  0  0  0  .252    5  0  0  0
Griffith          p   1  0  0  0  0  0  0  1  0  0  0  0  0  0  0  .051    2  1  0  0
 Taylor,B         1b  2  0  1  0  0  0  0  0  0  0  0  0  0  0  0  .317    3  0  0  0
                     32  2  7  1  2  0  0  5  6  1  1  0  0  0  0         27 19  1  0
 
Giants                           INN  H  R ER BB  K PCH STR   BF HR IW HP WP DP   ERA
Newhouser        W 14-4          5.0  1  0  0  3  3  80  47   18  0  0  0  0  0  3.75
Waddell          H 2             0.2  1  1  1  1  1  23  12    4  0  0  0  0  0  5.86
Nichols          H 12            1.0  1  0  0  0  0  15  11    4  0  0  0  0  0  4.69
Lyle                             2.1  4  1  1  1  2  53  33   11  0  0  0  1  1  3.42
                                 9.0  7  2  2  5  6 171 103   37  0  0  0  1  1 
 
Mets                             INN  H  R ER BB  K PCH STR   BF HR IW HP WP DP   ERA
Griffith         L 5-5           6.1  7  6  5  1  3  88  56   27  1  0  0  0  1  3.97
Arano                            1.2  2  0  0  2  1  26  12    8  0  1  0  0  0  2.78
Reuschel                         1.0  1  0  0  0  0  15  11    3  0  0  0  0  1  5.35
                                 9.0 10  6  5  3  4 129  79   38  1  1  0  0  2 
 
NYG: Hack inserted at 3b in the 6th
     Buckner inserted at 1b in the 8th
     Marcelle inserted at 3b in the 9th
NYM: Taylor,B inserted at 1b in the 7th
     Roush batted for Arano in the 8th
 
GWRBI: Killebrew
Temperature: 60, Sky: clear, Wind: in from left at 10 MPH.

....................................................................................................
9/23/2004, NYG05-NYM05, Shea Stadium (1964-1981)
 
                       1  2  3  4  5  6  7  8  9     R  H  E   LOB DP
2005 Giants            1  0  0  0  2  0  3  0  0     6 10  0     5  1
2005 Mets              0  0  0  0  0  1  0  0  1     2  7  1     8  2
 
Score O Rnr BS  Event
----- - --- --  -----
 
**************  Top of the 1st inning, Giants batting
 0-0  0 --- 10  Smith,O flied out to center (BX)
 0-0  1 --- 00  Scales reached on an infield single to third (X)
 0-0  1 1-- 01  Scales stole second (C1>S)
 0-0  1 -2- 12  Scales to third, Musial to first on an error by the 
                  second baseman Dihigo (C1>S.BX)
 0-0  1 1-3 32  Killebrew grounded to second, forcing Musial at second, 
                  Scales scored, Musial out at second, Killebrew to first 
                  (1BFCBBX)
 1-0  2 1-- 01  Stargell popped out to third (CX)
 
**************  Bottom of the 1st inning, Mets batting
 1-0  0 --- 32  Poles walked (CBSBBFB)
 1-0  0 1-- 21  Dandridge lined a single between third and short, Poles 
                  to second (BB1FbX)
 1-0  0 12- 11  Poles was caught stealing third, Dandridge to second 
                  (BC>S)
 1-0  1 -2- 12  Ruth lined out to right (BC>S.X)
 1-0  2 -2- 12  Dihigo grounded out to short (CC2BX)
 
**************  Top of the 2nd inning, Giants batting
 1-0  0 --- 12  Heilmann struck out (BSFS)
 1-0  1 --- 00  Dickey grounded out to the mound (X)
 1-0  2 --- 00  Wright,WB grounded out to third (X)
 
**************  Bottom of the 2nd inning, Mets batting
 1-0  0 --- 22  Konetchy flied out to center (BCSBX)
 1-0  1 --- 12  Felsch struck out (BCFS)
 1-0  2 --- 01  Garcia,S grounded out to second (FX)
 
**************  Top of the 3rd inning, Giants batting
 1-0  0 --- 31  Newhouser grounded out to short (BFBBX)
 1-0  1 --- 01  Smith,O grounded out to first (CX)
 1-0  2 --- 20  Scales grounded out to first (BBX)
 
**************  Bottom of the 3rd inning, Mets batting
 1-0  0 --- 22  Steinbach flied out to center (CBBFX)
 1-0  1 --- 30  Griffith walked (BBBB)
 1-0  1 1-- 00  Poles flied out to center (X)
 1-0  2 1-- 31  Dandridge grounded out to second (BFBBX)
 
**************  Top of the 4th inning, Giants batting
 1-0  0 --- 12  Musial reached on an infield single to first (BFFX)
 1-0  0 1-- 11  Killebrew grounded into a double play, Dandridge to 
                  Dihigo to Konetchy (BCX)
 1-0  2 --- 32  Stargell grounded out to second (CFBBFBX)
 
**************  Bottom of the 4th inning, Mets batting
 1-0  0 --- 32  Ruth walked (BCBSBB)
 1-0  0 1-- 12  Dihigo struck out (FSFFBS)
 1-0  1 1-- 22  Konetchy struck out (FF1BBS)
 1-0  2 1-- 11  Felsch grounded to short, forcing Ruth at second (BC1X)
 
**************  Top of the 5th inning, Giants batting
 1-0  0 --- 30  Heilmann walked (BBBB)
 1-0  0 1-- 12  Dickey homered deep to right center, Heilmann scored 
                  (FbFFBX)
 3-0  0 --- 12  Wright,WB grounded out to second (FbSBX)
 3-0  1 --- 21  Newhouser grounded out to third (CBBX)
 3-0  2 --- 12  Smith,O struck out (FBFS)
 
**************  Bottom of the 5th inning, Mets batting
 3-0  0 --- 32  Garcia,S lined out to second (BBCFFBFX)
 3-0  1 --- 01  Steinbach popped out to short (CX)
 3-0  2 --- 22  Griffith flied out to left (CBBCX)
 
**************  Top of the 6th inning, Giants batting
 3-0  0 --- 01  Scales lined a single to shallow left (CX)
 3-0  0 1-- 20  Musial flied out to left (1BBX)
 3-0  1 1-- 10  Killebrew flied out to center (BX)
 3-0  2 1-- 22  Stargell struck out (CBBSS)
 
**************  Bottom of the 6th inning, Mets batting
                Hack now playing third base
                Waddell now pitching
 3-0  0 --- 22  Poles grounded out to second (FbFBFBFFX)
 3-0  1 --- 30  Dandridge walked (BBBB)
 3-0  1 1-- 00  Dandridge stole second (>Bp)
 3-0  1 -2- 22  Ruth struck out (>Bp.BFSC)
 3-0  2 -2- 32  Dihigo grounded a single up the middle, Dandridge scored 
                  (FBB2BFX)
                Nichols now pitching
 3-1  2 1-- 12  Konetchy grounded out to third (1BC1FX)
 
**************  Top of the 7th inning, Giants batting
 3-1  0 --- 00  Heilmann grounded out to short (X)
 3-1  1 --- 11  Dickey lined a double to right center (BCX)
 3-1  1 -2- 12  Wright,WB lined a single to shallow center, Dickey to 
                  third (BCFX)
 3-1  1 1-3 01  Hack lined a single down the right field line, Dickey 
                  scored, Wright,WB to third (CX)
                Taylor,B now playing first base
                Arano now pitching
 4-1  1 1-3 00  Smith,O grounded a single between first and second, 
                  Wright,WB scored, Hack to third (X)
 5-1  1 1-3 11  Scales lined a double to left center, Hack scored, 
                  Smith,O out at home (FBX)
 6-1  2 -2- 30  Musial was walked intentionally (IIII)
 6-1  2 12- 31  Nichols walked, Scales to third, Musial to second (BFBBB)
 6-1  2 123 10  Stargell grounded to short, forcing Nichols at second (BX)
 
**************  Bottom of the 7th inning, Mets batting
 6-1  0 --- 12  Felsch grounded out to short (SFBX)
 6-1  1 --- 11  Garcia,S grounded out to first (FBX)
 6-1  2 --- 12  Steinbach grounded a double down the first base line 
                  (BSCX)
                Lyle now pitching
 6-1  2 -2- 02  Taylor,B flied out to center (CCX)
 
**************  Top of the 8th inning, Giants batting
 6-1  0 --- 21  Heilmann grounded out to short (BCBX)
 6-1  1 --- 11  Dickey lined out to short (BCX)
 6-1  2 --- 12  Wright,WB struck out (CBCS)
 
**************  Bottom of the 8th inning, Mets batting
                Buckner now playing first base
 6-1  0 --- 22  Poles lined a single to left (BSSFFBFX)
 6-1  0 1-- 21  Dandridge reached on an infield single to second, Poles 
                  to second (BBCX)
 6-1  0 12- 31  Ruth walked, Poles to third, Dandridge to second (BCBBB)
 6-1  0 123 01  Dihigo grounded into a double play, Hack to Dickey to 
                  Buckner, Dandridge to third, Ruth to second (FX)
                Roush pinch hitting for Arano
 6-1  2 -23 11  Roush flied out to left (BCX)
 
**************  Top of the 9th inning, Giants batting
                Reuschel now pitching
 6-1  0 --- 22  Hack grounded a single up the middle (CSFBBX)
 6-1  0 1-- 12  Smith,O grounded into a double play, Dihigo to Garcia,S 
                  to Taylor,B (BCCX)
 6-1  2 --- 12  Scales grounded out to third (BCCFX)
 
**************  Bottom of the 9th inning, Mets batting
                Marcelle now playing third base
 6-1  0 --- 02  Felsch struck out (CSS)
 6-1  1 --- 32  Garcia,S doubled deep to left (BFFBFFFBX)
 6-1  1 -2- 22  Steinbach struck out (BCBSFS)
 6-1  2 -2- 31  Taylor,B lined a single to center, Garcia,S to third 
                  (BBBCX)
 6-1  2 1-3 10  Lyle threw a wild pitch, Garcia,S scored, Taylor,B to 
                  second (BB)
 6-2  2 -2- 31  Poles grounded out to third (BB.BCX)