Chicago White Sox

by "Bleacher Bum"
All Time League correspondent

All Time League Press


History Is Made!
Chicago

(ATLP) - The pomp and spectacle of yesterday's Opening Day ceremonies had faded from memory by the time the players took the field today. The hometown Chisox had dropped a heartbreaker of a game to the visiting Athletics that day. Carl Yastrzemski, or Yaz, as the Philly faithful have labeled him, had doubled down the third base line in the 8th, scoring two teammates and ruining a sparkling performance by Tom Seaver. Pedro Martinez took the W that day with a gem of his own.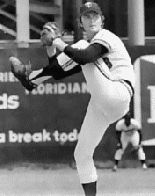 So now it's back to baseball. Today would again pit two extraordinary pitchers against each other with the wind blowing out to center field with a vengeance. Bob "Hoot" Gibson for the Philadelphia club and Bert Blyleven for the Chicago nine. And Hoot was certainly on his game this day. The menacing hurler allowed but seven hits and struck out 10 Pale Hose swingers, the first ATL pitcher to reach that plateau. However, the day did not belong to Gibby. No, this day will forever be known as the day Rik Aalbert "Bert" Blyleven, the pride of Zeist, Holland, made his mark on the ATL. Bert Blyleven, that master of the curve, that trickster of the pitcher's box, was not to be beaten this day. Leading off the second inning of a scoreless game, Philly's Marvelous Melvin Ott strode to the plate, and then strolled to first after accepting a 5 pitch free pass from the Chicago twirler. That was it for the game, faithful readers. Not another Athletic was destined to touch a base safely this day. Yes, discerning reader, you have that right.

Bert Blyleven

had become the

first

pitcher to throw a

no-hitter

in the DMBATL.

Bert eased through the lineup with what seemed like relative ease, and even yesterday's hero, the man they call Yaz, could not save this day for the Athletics. Yaz did his level best, though. He pinch hit for Hoot in the final frame and lined a shot down the third base line. But on this day, Dick 'Crash' Allen, the Chisox' sullen slugger, was there to spear the smash and throw a bb to big Hank Greenburg at first, leaving Yaz with nothing but a oh-fer one for today's resume. And leaving the Philly gang one out away from becoming the first team to be no hit. Then Craig Biggio strode to the dish, and on a 3-2 count the feisty second sacker grounded one to his counterpart on the Sox, whereupon Nellie Fox calmly tossed him out. Bert had the win, the shutout, the no-hitter, and a piece of history!