Hey guys! I know you're all on the edge of your seats with anticipation about how Baltimore's team is doing, so here goes ...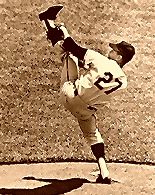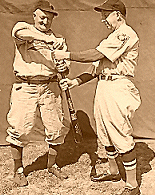 The O's were 3-1 during the last four games, including a shutout by Marichal and three complete games. The number five pitcher continues to be the only weak link in the starting rotation.

I'm glad I decided not to sit Collins for these last four games. He hit .471 with six runs scored and 3 RBIs. And that includes an 0-4 performance in the last game; he was 8-13 in the first three games.

Here's how my new guys did during the four games:


Goose Goslin: .313/.313/ .688/2 HR/4 RBI
Ben Taylor: .417/.563/1.000/1 HR/4 RBI
Mike Schmidt: .400/.500/1.067/3 HR/5 RBI

Not too bad, I guess!

Robinson and Carter each hit 2 HR and had a combined 11 RBI. Wagner did okay - .267/.389/.333/2 RBI. The only one who really struggled was Wild Bill Wright, who only hit .143 with 1 RBI. If he pulls out of his slump and the others keep going the way they are, I should be able to make up some ground in my division.


                             DMB team batting -- 2006 Baltimore Orioles                             
                                  Regular season -- as of 6/3/2005                                  

S Name               P    AVG   OBP   SPC    G   AB    H  2B  3B  HR    R  RBI   BB    K HBP  IW  SB  CS 
  Schmidt            3b  .400  .500 1.067    4   15    6   1   0   3    7    5    2    2   1   0   0   0 
  Taylor,B*          1b  .333  .429  .611   10   36   12   3   2   1    5    5    6    4   0   0   2   1 
  Doerr              2b  .333  .500  .333    5    3    1   0   0   0    1    0    1    1   0   0   0   0 
  Wagner,H           ss  .305  .375  .460   58  226   69  12   4   5   29   33   27   40   0   0   4   4 
  Collins,E*         2b  .289  .372  .401   58  232   67   5   6   3   32   18   32   40   0   1   1  10 
  Robinson,F         rf  .265  .351  .575   58  219   58  10   2  18   37   38   22   46   8   0   3   4 
  Carter,G           c   .262  .333  .529   50  172   45   5   1  13   25   26   15   29   4   5   0   0 
  Goslin*            lf  .260  .275  .460   13   50   13   1   0   3    8    6    1    6   0   0   0   0 
  Carr#              1b  .242  .286  .242   42   33    8   0   0   0    4    2    2   13   0   0   3   1 
  Moore,M(B)         of  .226  .273  .290   28   31    7   2   0   0    3    1    1    6   1   0   1   0 
  Wright,WB#         cf  .203  .270  .348   58  227   46   7   4   6   33   30   21   52   1   0  10   7 
  Wilson,H           cf  .190  .282  .357   42  126   24   4   1   5   13   14   15   28   1   0   1   0 
  Romano             c   .128  .255  .179   17   39    5   2   0   0    2    4    7   17   0   0   0   0 
  Bradley            sp  .071  .125  .071   13   14    1   0   0   0    1    3    1    3   0   0   0   0 
f Belanger           ss  .000  .000  .000    2    1    0   0   0   0    0    0    0    1   0   0   0   0 
  Pitchers               .120  .173  .144   58  125   15   0   0   1   10    6    7   38   1   0   0   0 
  Other                  .203  .301  .350  161  414   84  12   5  13   39   49   57   85   3   1   3   0 
  Total                  .235  .315  .401   58 1963  461  64  25  71  249  240  217  411  20   7  28  27 



S Name               P   GS   PA  SH  SF GDP  GW CI   OPS      RC RC27   ISO  TAVG   SEC EBH   TB CH LH 
  Schmidt            3b   4   18   0   0   2   0  0 1.567     6.5 16.0  .667 1.727  .800   4   16  4  4 
  Taylor,B*          1b  10   42   0   0   0   0  0 1.040    10.0 10.8  .278 1.200  .472   6   22  6  6 
  Doerr              2b   0    4   0   0   0   0  0  .833     0.6  8.5  .000 1.000  .333   0    1  0  1 
  Wagner,H           ss  58  257   1   3   5   1  0  .835    39.0  6.2  .155  .813  .274  21  104  2 10 
  Collins,E*         2b  58  269   3   2   4   2  0  .773    32.9  4.8  .112  .704  .211  14   93  0 16 
  Robinson,F         rf  58  251   0   2   6   5  0  .926    42.4  6.6  .311  .930  .406  30  126  0  7 
  Carter,G           c   46  193   1   1   5   2  0  .862    29.2  5.9  .267  .833  .355  19   91  0  4 
  Goslin*            lf  13   52   1   0   2   1  0  .735     5.5  3.7  .200  .615  .220   4   23  1  3 
  Carr#              1b   0   36   1   0   0   0  0  .528     2.7  2.7  .000  .500  .121   0    8  1  2 
  Moore,M(B)         of   4   33   0   0   2   0  0  .563     2.1  2.2  .065  .462  .129   2    9  0  3 
  Wright,WB#         cf  58  256   4   3   3   3  0  .618    21.2  2.9  .145  .581  .251  17   79  0  7 
  Wilson,H           cf  33  142   0   0   3   3  0  .639    12.9  3.3  .167  .590  .294  10   45  0  6 
  Romano             c   12   47   0   1   2   0  0  .435     2.0  1.5  .051  .389  .231   2    7  0  2 
  Bradley            sp   2   16   0   1   0   0  0  .196     0.2  0.4  .000  .154  .071   0    1  0  1 
f Belanger           ss   0    1   0   0   0   0  0  .000     0.0  0.0  .000  .000  .000   0    0  0  0 
  Pitchers               51  143  10   0   0   0  0  .317     4.1  0.9  .024  .236  .080   1   18       
  Other                 115  479   1   4  16   3  0  .651    44.0  3.4  .147  .601  .292  30  145       
  Total                  58 2239  22  17  50  20  0  .716   244.8  4.1  .167  .667  .278 160  788       



S Name               P  PA/G AB/G  BIP IPAVG  TBW TBW/PA TBWH TBWH/PA K/BB 
  Schmidt            3b 4.50 3.75   10  .300   18  1.000   19   1.056  1.0 
  Taylor,B*          1b 4.20 3.60   31  .355   28   .667   28    .667  0.7 
  Doerr              2b 0.80 0.60    2  .500    2   .500    2    .500  1.0 
  Wagner,H           ss 4.43 3.90  185  .346  131   .510  131    .510  1.5 
  Collins,E*         2b 4.64 4.00  194  .330  125   .465  125    .465  1.3 
  Robinson,F         rf 4.33 3.78  157  .255  148   .590  156    .622  2.1 
  Carter,G           c  3.86 3.44  132  .242  106   .549  110    .570  1.9 
  Goslin*            lf 4.00 3.85   42  .238   24   .462   24    .462  6.0 
  Carr#              1b 0.86 0.79   21  .381   10   .278   10    .278  6.5 
  Moore,M(B)         of 1.18 1.11   25  .280   10   .303   11    .333  6.0 
  Wright,WB#         cf 4.41 3.91  176  .227  100   .391  101    .395  2.5 
  Wilson,H           cf 3.38 3.00   93  .204   60   .423   61    .430  1.9 
  Romano             c  2.76 2.29   23  .217   14   .298   14    .298  2.4 
  Bradley            sp 1.23 1.08   12  .083    2   .125    2    .125  3.0 
f Belanger           ss 0.50 0.50    0  .000    0   .000    0    .000 99.0 
  Pitchers              2.47 2.16   96  .146   25   .175   26    .182  5.4 
  Other                 2.98 2.57  321  .221  202   .422  205    .428  1.5 
  Total                 38.6 33.8 1520  .257 1005   .449 1025    .458  1.9 
                             DMB team batting -- 2006 Baltimore Orioles                             
                                  Regular season -- as of 6/3/2005                                  

                        --------------------Versus Left-handed Pitchers-------------------- 
S Name               P    AVG   OBP   SPC   OPS    AB     H   2B   3B   HR   RBI   BB     K 
  Schmidt            3b  .500  .571 1.167 1.738     6     3    1    0    1     1    1     2 
  Taylor,B*          1b  .200  .429  .200  .629     5     1    0    0    0     0    2     1 
  Doerr              2b  .000  .333  .000  .333     2     0    0    0    0     0    1     1 
  Wagner,H           ss  .286  .395  .514  .910    35    10    0    1    2     7    7     6 
  Collins,E*         2b  .263  .396  .421  .817    38    10    1    1    1     5    9    11 
  Robinson,F         rf  .263  .333  .526  .860    38    10    2    1    2     4    4     5 
  Carter,G           c   .276  .364  .690 1.053    29     8    0    0    4     8    4     7 
  Goslin*            lf  .167  .167  .417  .583    12     2    0    0    1     2    0     2 
  Carr#              1b  .667  .714  .667 1.381     6     4    0    0    0     0    1     1 
  Moore,M(B)         of  .000  .000  .000  .000     5     0    0    0    0     0    0     2 
  Wright,WB#         cf  .128  .239  .256  .496    39     5    0    1    1     6    6     9 
  Wilson,H           cf  .227  .292  .409  .701    22     5    1    0    1     4    2     5 
  Romano             c   .250  .625  .250  .875     4     1    0    0    0     0    4     1 
  Bradley            sp  .000  .250  .000  .250     3     0    0    0    0     1    1     1 
f Belanger           ss  .000  .000  .000  .000     1     0    0    0    0     0    0     1 
  Pitchers               .120  .120  .120  .240    25     3    0    0    0     1    0     9 
  Other                  .193  .319  .316  .635    57    11    2    1    1     5   11     8 
  Total                  .223  .328  .404  .732   327    73    7    5   14    44   53    72 



                        --------------------Versus Right-handed Pitchers------------------- 
S Name               P    AVG   OBP   SPC   OPS    AB     H   2B   3B   HR   RBI   BB     K 
  Schmidt            3b  .333  .455 1.000 1.455     9     3    0    0    2     4    1     0 
  Taylor,B*          1b  .355  .429  .677 1.106    31    11    3    2    1     5    4     3 
  Doerr              2b 1.000 1.000 1.000 2.000     1     1    0    0    0     0    0     0 
  Wagner,H           ss  .309  .371  .450  .821   191    59   12    3    3    26   20    34 
  Collins,E*         2b  .294  .367  .397  .764   194    57    4    5    2    13   23    29 
  Robinson,F         rf  .265  .354  .586  .940   181    48    8    1   16    34   18    41 
  Carter,G           c   .259  .327  .497  .824   143    37    5    1    9    18   11    22 
  Goslin*            lf  .289  .308  .474  .781    38    11    1    0    2     4    1     4 
  Carr#              1b  .148  .179  .148  .327    27     4    0    0    0     2    1    12 
  Moore,M(B)         of  .269  .321  .346  .668    26     7    2    0    0     1    1     4 
  Wright,WB#         cf  .218  .277  .367  .644   188    41    7    3    5    24   15    43 
  Wilson,H           cf  .183  .280  .346  .626   104    19    3    1    4    10   13    23 
  Romano             c   .114  .179  .171  .351    35     4    2    0    0     4    3    16 
  Bradley            sp  .091  .083  .091  .174    11     1    0    0    0     2    0     2 
f Belanger           ss  .000  .000  .000  .000     0     0    0    0    0     0    0     0 
  Pitchers               .120  .185  .150  .335   100    12    0    0    1     5    7    29 
  Other                  .204  .298  .356  .654   357    73   10    4   12    44   46    77 
  Total                  .237  .312  .401  .713  1636   388   57   20   57   196  164   339 


                            DMB team pitching -- 2006 Baltimore Orioles                             
                                  Regular season -- as of 6/3/2005                                  

S Name               P     ERA   W   L   S   G  GS  CG SHO     INN    H    R   ER   BB    K  HR GDP    BF 
  Hands              sp   2.91   3   2   0  16   7   3   1    65.0   51   21   21   22   27   5   3   265 
  Leever             sp   3.46   0   1   0   7   1   0   0    13.0   13    5    5    3    7   4   2    52 
  Alexander          sp   3.80   4   4   0  12  12   4   0    90.0   66   38   38   31   67  14   8   356 
  Phillippe          sp   3.92   1   3   0   5   3   0   0    20.2   21   14    9    5    9   1   5    86 
  Glavine*           sp   4.01   3   3   0   9   8   3   0    58.1   58   28   26   14   30   7   1   246 
f Martinez,D         sp   5.19   0   1   0   4   4   0   0    26.0   27   17   15   12    8   3   2   116 
  Marichal           sp   5.49   2   3   0   6   6   1   1    41.0   43   25   25   13   24   5   4   176 
f Rogers,S           sp   6.00   0   1   0   1   1   0   0     6.0    5    4    4    3    3   1   0    26 
  Benitez            cl   6.27   1   1   4  18   0   0   0    18.2   19   14   13   10   22   2   2    84 
  Bradley            sp   6.43   1   3   0   8   2   0   0    28.0   29   21   20    8    7   5   1   120 
  Palmer             sp   6.75   2   7   1  10   9   1   1    56.0   62   44   42   30   43   7   0   260 
  Orosco*            mr   8.38   1   2   0  23   0   0   0    19.1   25   20   18   20   13   4   1   102 
  McMichael          mr   9.00   0   1   0   4   0   0   0     5.0    5    5    5    3    4   1   0    23 
f Mizell*            sp  10.03   0   0   0  11   0   0   0    11.2   18   15   13   10    7   2   1    63 
  Other                   6.03   3   5   1  36   5   0   0    68.2   85   51   46   36   58  14   3   324 
  Total                   5.12  21  37   6  58  58  12   3   527.1  527  322  300  220  329  75  33  2299 



S Name               P   SB  CS  IW HBP  WP  BK  SH  SF CI   H/9  BB/9   R/9   K/9  HR/9 K/BB  PCH/G  STR% 
  Hands              sp   5   3   0   0   0   0   1   1  0   7.1   3.0  10.1   3.7   0.7  1.2   58.9  .621 
  Leever             sp   0   1   0   0   0   0   0   0  0   9.0   2.1  11.1   4.8   2.8  2.3   26.4  .611 
  Alexander          sp   4   2   2   1   0   0   4   2  0   6.6   3.1   9.8   6.7   1.4  2.2  108.4  .628 
  Phillippe          sp   1   0   0   1   1   0   1   2  0   9.1   2.2  11.8   3.9   0.4  1.8   61.6  .610 
  Glavine*           sp   2   1   0   0   2   0   0   3  0   8.9   2.2  11.1   4.6   1.1  2.1   94.6  .622 
f Martinez,D         sp   3   1   1   1   0   0   4   2  0   9.3   4.2  13.8   2.8   1.0  0.7  102.3  .616 
  Marichal           sp   0   3   0   0   0   0   3   1  0   9.4   2.9  12.3   5.3   1.1  1.8  103.3  .639 
f Rogers,S           sp   2   0   1   0   0   0   0   0  0   7.5   4.5  12.0   4.5   1.5  1.0  106.0  .566 
  Benitez            cl   2   0   0   0   1   0   1   0  0   9.2   4.8  14.0  10.6   1.0  2.2   18.8  .592 
  Bradley            sp   3   0   0   0   3   0   1   0  0   9.3   2.6  11.9   2.3   1.6  0.9   47.8  .620 
  Palmer             sp   8   3   1   2   3   1   1   1  0  10.0   4.8  15.1   6.9   1.1  1.4   99.8  .578 
  Orosco*            mr   1   1   2   0   4   0   4   1  0  11.6   9.3  20.9   6.1   1.9  0.6   16.9  .492 
  McMichael          mr   1   0   1   0   0   0   0   0  0   9.0   5.4  14.4   7.2   1.8  1.3   19.8  .570 
f Mizell*            sp   1   0   1   0   1   0   1   0  0  13.9   7.7  21.6   5.4   1.5  0.7   19.9  .525 
  Other                   4   5   3   1   1   0   1   0  0  11.1   4.7  16.0   7.6   1.8  1.6         .588 
  Total                  37  20  12   6  16   1  22  13  0   9.0   3.8  12.9   5.6   1.3  1.5         .602 



S Name               P    OPS  WHIP  BIP IPAVG  TBW TBW/BF TBWH TBWH/BF    RC RC27  RCERA   CERA 
  Hands              sp  .617  1.12  211  .218  104   .392  104    .392  23.1  3.1   2.88   2.55 
  Leever             sp  .859  1.23   38  .237   30   .577   30    .577   6.9  4.8   4.33   4.97 
  Alexander          sp  .662  1.08  243  .214  153   .430  154    .433  33.4  3.4   3.00   2.87 
  Phillippe          sp  .759  1.26   70  .286   39   .453   40    .465   9.6  4.1   3.77   3.44 
  Glavine*           sp  .694  1.23  195  .262  106   .431  106    .431  28.0  4.3   3.88   3.49 
f Martinez,D         sp  .821  1.50   92  .261   57   .491   58    .500  16.8  5.8   5.25   4.72 
  Marichal           sp  .764  1.37  134  .284   83   .472   83    .472  21.0  4.5   4.15   4.16 
f Rogers,S           sp  .742  1.33   19  .211   13   .500   13    .500   3.6  5.3   4.80   3.66 
  Benitez            cl  .733  1.55   50  .340   38   .452   38    .452  10.3  4.9   4.49   4.72 
  Bradley            sp  .725  1.32  100  .240   54   .450   54    .450  15.0  4.8   4.35   4.30 
  Palmer             sp  .814  1.64  178  .309  132   .508  134    .515  40.3  6.4   5.84   5.47 
  Orosco*            mr 1.005  2.33   65  .323   62   .608   62    .608  21.0  9.6   8.80   9.25 
  McMichael          mr  .748  1.60   15  .267   11   .478   11    .478   3.1  5.7   5.09   5.17 
f Mizell*            sp  .971  2.40   44  .364   37   .587   37    .587  13.0  9.8   9.04   9.74 
  Other                  .892  1.76  215  .330  183   .565  184    .568  55.7  7.2   6.58   6.75 
  Total                  .763  1.42 1669  .271 1102   .479 1108    .482 296.9  5.0   4.56   4.42 
                            DMB team pitching -- 2006 Baltimore Orioles                             
                                  Regular season -- as of 6/3/2005                                  

S Name               P   GS  CG   CG% SHO  QS   QS%    RS  RS/G   RL  RLS   RL% 
  Hands              sp   7   3  .429   1   4  .571    36   5.1   10    0  .000 
  Leever             sp   1   0  .000   0   0  .000     3   3.0    3    0  .000 
  Alexander          sp  12   4  .333   0   7  .583    41   3.4    0    0  .000 
  Phillippe          sp   3   0  .000   0   1  .333    18   6.0    6    4  .667 
  Glavine*           sp   8   3  .375   0   3  .375    27   3.4    7    1  .143 
f Martinez,D         sp   4   0  .000   0   2  .500    16   4.0    3    0  .000 
  Marichal           sp   6   1  .167   1   3  .500    28   4.7    2    2 1.000 
f Rogers,S           sp   1   0  .000   0   0  .000     3   3.0    0    0  .000 
  Benitez            cl   0   0  .000   0   0  .000     0   0.0    5    4  .800 
  Bradley            sp   2   0  .000   0   0  .000     8   4.0    2    2 1.000 
  Palmer             sp   9   1  .111   1   2  .222    44   4.9    9    7  .778 
  Orosco*            mr   0   0  .000   0   0  .000     0   0.0   11    1  .091 
  McMichael          mr   0   0  .000   0   0  .000     0   0.0    1    1 1.000 
f Mizell*            sp   0   0  .000   0   0  .000     0   0.0    5    2  .400 
  Other                   5   0  .000   0   3  .600    25   5.0    9    3  .333 
  Total                  58  12  .207   3  25  .431   249   4.3   73   27  .370 



S Name               P  SVO   S   SV%  BS   BS% HLD  IR IRS   IR%   G  GR  GF 
  Hands              sp   0   0  .000   0  .000   0   7   4  .571  16   9   4 
  Leever             sp   0   0  .000   0  .000   0   5   1  .200   7   6   2 
  Alexander          sp   0   0  .000   0  .000   0   0   0  .000  12   0   0 
  Phillippe          sp   0   0  .000   0  .000   0   1   0  .000   5   2   1 
  Glavine*           sp   0   0  .000   0  .000   0   3   1  .333   9   1   0 
f Martinez,D         sp   0   0  .000   0  .000   0   0   0  .000   4   0   0 
  Marichal           sp   0   0  .000   0  .000   0   0   0  .000   6   0   0 
f Rogers,S           sp   0   0  .000   0  .000   0   0   0  .000   1   0   0 
  Benitez            cl   5   4  .800   1  .200   0  12   2  .167  18  18  10 
  Bradley            sp   0   0  .000   0  .000   0   3   2  .667   8   6   2 
  Palmer             sp   1   1 1.000   0  .000   0   0   0  .000  10   1   1 
  Orosco*            mr   1   0  .000   0  .000   2  15   3  .200  23  23  12 
  McMichael          mr   0   0  .000   0  .000   0   4   4 1.000   4   4   3 
f Mizell*            sp   0   0  .000   0  .000   0   5   1  .200  11  11   2 
  Other                   1   1 1.000   0  .000   0  18   9  .500  36  31   9 
  Total                   8   6  .750   1  .125   2  73  27  .370  58 112  46 


                            DMB team fielding -- 2006 Baltimore Orioles                             
                                  Regular season -- as of 6/3/2005                                  

Pos  S Name                     G  GS    INN   PO    A   E  DP   TC    PCT  PB  SB  CS   SB%  PK 
p      Pete Alexander          12  12   90.0    5   15   0   0   20  1.000       4   2  .667   1 
       Juan Marichal            6   6   41.0    3    8   1   0   12   .917       0   3  .000   1 
       Grin Bradley             8   2   28.0    5    7   0   0   12  1.000       3   0 1.000   0 
     f Dennis Martinez          4   4   26.0    5    6   0   0   11  1.000       3   1  .750   0 
       Tom Glavine              9   8   58.3    3    7   0   0   10  1.000       2   1  .667   0 
       Bill Hands              16   7   65.0    1    7   0   0    8  1.000       5   3  .625   0 
       Jim Palmer              10   9   56.0    1    5   0   0    6  1.000       8   3  .727   1 
     f Vinegar Bend Mizell     11   0   11.7    2    3   0   0    5  1.000       1   0 1.000   1 
       Jesse Orosco            23   0   19.3    1    3   0   0    4  1.000       1   1  .500   0 
       Sam Leever               7   1   13.0    1    2   0   0    3  1.000       0   1  .000   0 
       Deacon Phillippe         5   3   20.7    2    1   0   0    3  1.000       1   0 1.000   0 
       Armando Benitez         18   0   18.7    1    1   0   1    2  1.000       2   0 1.000   0 
       Greg McMichael           4   0    5.0    0    1   0   0    1  1.000       1   0 1.000   0 
     f Steve Rogers             1   1    6.0    0    1   0   0    1  1.000       2   0 1.000   0 
       Other                   36   5   68.7    5    6   1   0   12   .917       4   5  .444   2 
       Total                  170  58  527.3   35   73   2   1  110   .982      37  20  .649   6 
                                                                                                 
c      Gary Carter             50  46  426.0  284   19   1   0  304   .997   2  30  15  .667   0 
       Johnny Romano           15  12  101.3   57    7   1   0   65   .985   1   7   5  .583   0 
       Total                   65  58  527.3  341   26   2   0  369   .995   3  37  20  .649   0 
                                                                                                 
1b     Ben Taylor              10  10   87.0  101    7   2   4  110   .982                       
       Tank Carr               15   0   35.7   42    6   1   3   49   .980                       
       Mike Moore               1   0    1.0    1    0   0   0    1  1.000                       
       Other                   49  48  403.7  439   29   3  29  471   .994                       
       Total                   75  58  527.3  583   42   6  36  631   .990                       
                                                                                                 
2b     Eddie Collins           58  58  525.3  107  198   5  31  310   .984                       
       Bobby Doerr              2   0    2.0    0    0   0   0    0   .000                       
       Total                   60  58  527.3  107  198   5  31  310   .984                       
                                                                                                 
3b     Mike Schmidt             4   4   35.0    1   10   0   0   11  1.000                       
       Tank Carr                3   0    5.0    0    0   0   0    0   .000                       
       Other                   59  54  487.3   28  121   7   6  156   .955                       
       Total                   66  58  527.3   29  131   7   6  167   .958                       
                                                                                                 
ss     Honus Wagner            58  58  523.0   78  190  12  27  280   .957                       
       Tank Carr                2   0    3.0    0    1   1   1    2   .500                       
     f Mark Belanger            1   0    0.3    0    0   0   0    0   .000                       
       Grin Bradley             1   0    1.0    0    0   0   0    0   .000                       
       Total                   62  58  527.3   78  191  13  28  282   .954                       
                                                                                                 
lf     Frank Robinson          45  45  411.3   92    3   1   1   96   .990                       
       Goose Goslin            13  13  108.0   28    1   2   1   31   .935                       
       Hack Wilson              2   0    2.0    1    0   0   0    1  1.000                       
       Mike Moore               1   0    2.0    0    0   0   0    0   .000                       
       Grin Bradley             1   0    1.0    0    0   0   0    0   .000                       
       Other                    2   0    3.0    0    0   0   0    0   .000                       
       Total                   64  58  527.3  121    4   3   2  128   .977                       
                                                                                                 
cf     Wild Bill Wright        58  58  520.3  171    4   5   1  180   .972                       
       Mike Moore               5   0    7.0    1    0   0   0    1  1.000                       
       Total                   63  58  527.3  172    4   5   1  181   .972                       
                                                                                                 
rf     Hack Wilson             34  33  287.3   56    1   3   0   60   .950                       
       Frank Robinson          13  13  111.0   23    1   1   0   25   .960                       
       Mike Moore              15   4   58.0   21    1   0   0   22  1.000                       
       Grin Bradley             2   0    3.0    0    0   0   0    0   .000                       
       Other                    8   8   68.0   16    0   2   0   18   .889                       
       Total                   72  58  527.3  116    3   6   0  125   .952                       
                                                                                                 
       Total                   58  58  527.3 1582  672  49  38 2303   .979   3