Hey Everyone, check out the May 22 ATL game between the Dodgers and the Red Sox. It was pretty amazing.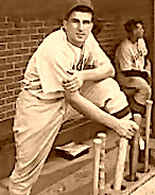 The Red Sox were up 11-3 going into the bottom of the eighth inning. Robin Roberts (3-5, 4.99) had pitched seven quality innings, giving up seven hits and only two earned runs. The Red Sox had just scored 8 runs in the top of the eighth to seemingly put the game away. But the Dodgers came back and scored 10 runs in the bottom of the eighth and ended up winning the game 13-11.

Even more amazing than that was Johnny Pesky's (.280) performance in that one inning. In the 8th inning he was 2-2 with a grand slam HR and a bases clearing double, for a total of 7 RBI's. He basically had the game of his life in one inning. He was 3-for-3 in the game, as he added a leadoff single in his frst at bat after coming in on defense in a double-switch in the 7th.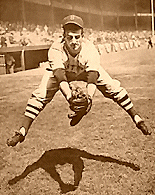 Some other notes about the game: There were three Red Sox pitchers who pitched in the 8th who failed to get even one out: John Smoltz (1-0, 4.50), Wilbur Cooper (1-0, 3.58), and Dennis
Eckersley (3-4, 3.18, 10 Sv). They gave up a combined nine hits, two walks, and nine runs without recording one out. Eckersley was charged with the loss and a blown save. His overall ERA went from 1.61 to 3.18 because of those 21 pitches. Smoltz gave up three hits, a walk, and four earned runs on a total of 13 pitches.

There were a total of 18 runs and 16 hits in the eighth inning overall, including three homers and four doubles. The Dodgers scored 13 runs and still had 9 LOB. All in all, it was a pretty amazing game.


5/22/2005, RSL06-BDL06, Ebbets Field (1934-47)
 
                       1  2  3  4  5  6  7  8  9     R  H  E   LOB DP
2006 Red Sox           0  0  0  0  0  0  3  8  0    11 11  1     2  1
2006 Dodgers           1  0  0  1  0  1  0 10  x    13 17  0     9  2
 
Red Sox              AB  R  H BI   AVG    Dodgers              AB  R  H BI   AVG
Morgan,J          2b  2  2  0  1  .260    Carew             2b  5  1  1  1  .338       
Barnes,R          ss  4  2  2  1  .339    Reiser            cf  5  1  3  1  .276       
Jackson,Jo        rf  5  1  1  3  .337    Bagwell           1b  3  0  0  0  .256       
Foxx              1b  4  0  0  1  .266    Thome             3b  5  2  3  0  .232       
Speaker           cf  4  2  2  1  .280    Waner,P           rf  3  1  0  0  .286       
Gibson,J          c   4  1  1  2  .287     Messersmith      p   0  0  0  0  .000       
 Marcelle         3b  0  0  0  0  .250     Guerrero,P       ph  1  1  1  0  .308       
Wilson,Ju         3b  4  1  3  0  .328     Lyle             p   0  0  0  0  .000       
 Smoltz           p   0  0  0  0  .000    Wheat             lf  5  2  3  1  .279       
 Cooper,Wi        p   0  0  0  0  .000    Burgess           c   4  2  3  2  .226       
 Shaw             p   0  0  0  0  .000    Reese             ss  3  0  0  0  .231       
 Eckersley        p   0  0  0  0  .000     Hooton           p   0  0  0  0  .000       
 Brecheen         p   0  0  0  0  .000     Perranoski       p   0  0  0  0  .000       
Simmons,A         lf  4  1  1  0  .275     Hershiser        p   0  0  0  0  .000       
Roberts           p   2  0  0  0  .045     Van Slyke        rf  0  2  0  0  .294       
 Dixon            ph  0  1  0  0  .500    Hendrix           p   2  0  0  0  .273       
 Mackey           c   1  0  1  0  .208     Pesky            ss  3  1  3  7  .280       
                     34 11 11  9                               39 13 17 12             
 
Red Sox                          INN  H  R ER BB  K PCH STR   ERA
Roberts                          7.0  7  3  2  4  4 121  69  4.99
Smoltz                           0.0  3  4  4  1  0  13   7  4.50
Cooper,Wi                        0.0  2  1  1  0  0   8   5  3.58
Shaw             H 1             0.2  1  1  1  0  0   3   2  4.30
Eckersley        BS 2, L 3-4     0.0  4  4  4  1  0  21  14  3.18
Brecheen                         0.1  0  0  0  0  1   7   4  7.84
                                 8.0 17 13 12  6  5 173 101 
 
Dodgers                          INN  H  R ER BB  K PCH STR   ERA
Hendrix                          6.2  3  3  3  2  4  75  47  5.83
Hooton                           0.1  0  0  0  0  0   4   2  2.42
Perranoski                       0.0  2  3  3  1  0  10   4  6.75
Hershiser                        0.1  2  4  4  2  0  19   7  5.65
Messersmith      W 1-0           0.2  2  1  1  0  0   6   4  1.95
Lyle             S 4             1.0  2  0  0  0  2  19  11  8.41
                                 9.0 11 11 11  5  6 133  75 
 
RSL: Dixon batted for Roberts in the 8th
     Mackey inserted at c in the 8th
     Marcelle inserted at 3b in the 8th
BDL: Pesky inserted at ss in the 7th
     Van Slyke inserted at rf in the 8th
     Guerrero,P batted for Messersmith in the 8th
 
E-Jackson,Jo. 2B-Barnes,R, Jackson,Jo, Speaker, Thome, Wheat, Burgess 2, 
Pesky. HR-Speaker(4), Gibson,J(16), Carew(1), Reiser(3), Pesky(1). 
SB-Morgan,J(24), Wilson,Ju(3). CS-Morgan,J, Carew. K-Barnes,R, Jackson,Jo, 
Foxx, Gibson,J, Simmons,A, Roberts, Carew, Reiser, Bagwell, Thome, Reese. 
BB-Morgan,J 3, Barnes,R, Dixon, Carew, Bagwell 2, Burgess, Van Slyke 2. 
SH-Waner,P. SF-Foxx. PB-Gibson,J, Burgess. WP-Smoltz, Hershiser. 
BALK-Hendrix. 
GWRBI: Pesky
Temperature: 60, Sky: cloudy, Wind: out to left at 20 MPH.

....................................................................................................
5/22/2005, RSL06-BDL06, Ebbets Field (1934-47)
 
                       1  2  3  4  5  6  7  8  9     R  H  E   LOB DP
2006 Red Sox           0  0  0  0  0  0  3  8  0    11 11  1     2  1
2006 Dodgers           1  0  0  1  0  1  0 10  x    13 17  0     9  2
 
Score O Rnr BS  Event
----- - --- --  -----
 
**************  Top of the 1st inning, Red Sox batting
 0-0  0 --- 11  Morgan,J grounded out to first (CBX)
 0-0  1 --- 00  Barnes,R flied out to center (X)
 0-0  2 --- 10  Jackson,Jo popped out to first (BX)
 
**************  Bottom of the 1st inning, Dodgers batting
 0-0  0 --- 31  Carew walked (BBBCB)
 0-0  0 1-- 11  Carew was caught stealing second (1BS>C)
 0-0  1 --- 32  Reiser homered deep to left (1BS>C.FBBFX)
 0-1  1 --- 02  Bagwell flied out to center (CFX)
 0-1  2 --- 11  Thome grounded a single up the middle (CBX)
 0-1  2 1-- 21  Waner,P grounded out to short (CBBX)
 
**************  Top of the 2nd inning, Red Sox batting
 0-1  0 --- 00  Foxx grounded out to the catcher (X)
 0-1  1 --- 12  Speaker lined out to left (BCFFX)
 0-1  2 --- 00  Gibson,J grounded out to third (X)
 
**************  Bottom of the 2nd inning, Dodgers batting
 0-1  0 --- 02  Wheat flied out to left (FFX)
 0-1  1 --- 32  Burgess walked (BBCFBFB)
 0-1  1 1-- 00  Reese flied out to right (X)
 0-1  2 1-- 10  Hendrix grounded out to second (BX)
 
**************  Top of the 3rd inning, Red Sox batting
 0-1  0 --- 12  Wilson,Ju popped out to second (BFCX)
 0-1  1 --- 12  Simmons,A struck out, Burgess to Bagwell (BFFS)
 0-1  2 --- 10  Roberts grounded out to first (BX)
 
**************  Bottom of the 3rd inning, Dodgers batting
 0-1  0 --- 10  Carew grounded out to second (BX)
 0-1  1 --- 22  Reiser struck out (BSSBS)
 0-1  2 --- 31  Bagwell walked (CBBBB)
 0-1  2 1-- 12  Thome struck out (BCSS)
 
**************  Top of the 4th inning, Red Sox batting
 0-1  0 --- 30  Morgan,J walked (BBBB)
 0-1  0 1-- 11  Morgan,J was caught stealing second (B11C11>S)
 0-1  1 --- 12  Barnes,R struck out (B11C11>S.S)
 0-1  2 --- 10  Jackson,Jo grounded out to the mound (BX)
 
**************  Bottom of the 4th inning, Dodgers batting
 0-1  0 --- 31  Waner,P to second on an error by the right fielder 
                  Jackson,Jo (CBBBX)
 0-1  0 -2- 32  Wheat doubled deep to left, Waner,P scored (CFBBBFX)
 0-2  0 -2- 22  Burgess grounded out to first, Wheat to third (SFBBX)
 0-2  1 --3 21  Reese lined out to third (CBBX)
 0-2  2 --3 10  Hendrix grounded out to second (BX)
 
**************  Top of the 5th inning, Red Sox batting
 0-2  0 --- 01  Foxx lined out to left (CX)
 0-2  1 --- 32  Speaker grounded out to second (CFBBFBX)
 0-2  2 --- 22  Gibson,J struck out (CBSBFC)
 
**************  Bottom of the 5th inning, Dodgers batting
 0-2  0 --- 21  Carew popped out to short (BBFX)
 0-2  1 --- 01  Reiser grounded out to first (CX)
 0-2  2 --- 12  Bagwell struck out (CBCC)
 
**************  Top of the 6th inning, Red Sox batting
 0-2  0 --- 01  Wilson,Ju grounded a single between first and second (SX)
 0-2  0 1-- 10  Simmons,A grounded into a double play, Carew to Bagwell 
                  (B11X)
 0-2  2 --- 12  Roberts struck out (CBSFS)
 
**************  Bottom of the 6th inning, Dodgers batting
 0-2  0 --- 20  Thome lined a double to right center (BBX)
 0-2  0 -2- 00  Waner,P sacrifice bunted to the mound, Thome to third (Xb)
 0-2  1 --3 11  Gibson,J allowed a passed ball, Thome scored (FBB)
 0-3  1 --- 22  Wheat flied out to left (FBB.CX)
 0-3  2 --- 10  Burgess doubled deep to left center (BX)
 0-3  2 -2- 12  Reese struck out (BFCFS)
 
**************  Top of the 7th inning, Red Sox batting
 0-3  0 --- 31  Morgan,J walked (BCBBB)
 0-3  0 1-- 01  Morgan,J stole second (C>C)
 0-3  0 -2- 12  Barnes,R doubled deep to center, Morgan,J scored (C>C.BX)
 1-3  0 -2- 10  Jackson,Jo grounded out to third (BX)
 1-3  1 -2- 00  Hendrix balked, Barnes,R to third (B)
 1-3  1 --3 11  Foxx lined out to left, Barnes,R scored (B.CX)
 2-3  2 --- 21  Speaker homered deep down the right field line (CBBX)
                Pesky now playing shortstop
                Hooton now pitching
 3-3  2 --- 21  Gibson,J grounded out to short (BBCX)
 
**************  Bottom of the 7th inning, Dodgers batting
 3-3  0 --- 31  Pesky lined a single to shallow left (BSBBX)
 3-3  0 1-- 11  Carew grounded to first, forcing Pesky at second, Carew 
                  to first (B1F1X)
 3-3  1 1-- 12  Reiser lined a single to right, Carew to third (CFBX)
 3-3  1 1-3 32  Bagwell walked, Reiser to second (1BFBCBB)
 3-3  1 123 00  Thome grounded to short, forcing Carew at home, Reiser to 
                  third, Bagwell to second, Thome to first (X)
 3-3  2 123 00  Waner,P grounded out to second (X)
 
**************  Top of the 8th inning, Red Sox batting
                Perranoski now pitching
 3-3  0 --- 11  Wilson,Ju lined a single to left (BSX)
 3-3  0 1-- 01  Wilson,Ju stole second (C1>B)
 3-3  0 -2- 11  Simmons,A grounded a single between first and second, 
                  Wilson,Ju to third (C1>B.X)
                Dixon pinch hitting for Roberts
 3-3  0 1-3 30  Dixon walked, Simmons,A to second (1BpB1BB)
                Hershiser now pitching
 3-3  0 123 30  Morgan,J walked, Wilson,Ju scored, Simmons,A to third, 
                  Dixon to second (BBBB)
 4-3  0 123 21  Hershiser threw a wild pitch, Simmons,A scored, Dixon to 
                  third, Morgan,J to second (BFBB)
 5-3  0 -23 32  Barnes,R walked (BFBB.SB)
 5-3  0 123 01  Jackson,Jo doubled deep to left center, Dixon scored, 
                  Morgan,J scored, Barnes,R scored (FX)
 8-3  0 -2- 10  Foxx flied out to right, Jackson,Jo to third (BX)
 8-3  1 --3 11  Burgess allowed a passed ball, Jackson,Jo scored (BFB)
 9-3  1 --- 31  Speaker lined a double to left center (BFB.BX)
                Van Slyke now playing right field
                Messersmith now pitching
 9-3  1 -2- 10  Gibson,J homered deep down the left-field line, Speaker 
                  scored (BX)
11-3  1 --- 11  Wilson,Ju lined a single to shallow right (CBX)
11-3  1 1-- 00  Simmons,A grounded into a double play, Pesky to Carew to 
                  Bagwell (X)
 
**************  Bottom of the 8th inning, Dodgers batting
                Mackey now playing catcher
                Marcelle now playing third base
                Smoltz now pitching
11-3  0 --- 21  Wheat lined a single to left (BFBX)
11-3  0 1-- 02  Burgess lined a single to shallow center, Wheat to second 
                  (SCX)
11-3  0 12- 21  Smoltz threw a wild pitch, Wheat to third, Burgess to 
                  second (BBCB)
11-3  0 -23 31  Van Slyke walked (BBCB.B)
11-3  0 123 00  Pesky homered deep to left center, Wheat scored, Burgess 
                  scored, Van Slyke scored (X)
                Cooper,Wi now pitching
11-7  0 --- 12  Carew homered deep to right (BCFX)
11-8  0 --- 21  Reiser grounded a single between first and second (BSBX)
                Shaw now pitching
11-8  0 1-- 00  Bagwell grounded into a double play, Marcelle to Morgan,J 
                  to Foxx (X)
11-8  2 --- 10  Thome grounded a single up the middle (BX)
                Guerrero,P pinch hitting for Messersmith
                Eckersley now pitching
11-8  2 1-- 00  Messersmith grounded a single between first and second, 
                  Thome to second (X)
11-8  2 12- 12  Wheat reached on an infield single to second, Thome to 
                  third, Guerrero,P to second (FFBFFX)
11-8  2 123 20  Burgess doubled deep to left, Thome scored, Guerrero,P 
                  scored, Wheat to third (BBX)
11-10 2 -23 32  Van Slyke walked (FBFFBBB)
11-10 2 123 02  Pesky lined a double to right center, Wheat scored, 
                  Burgess scored, Van Slyke scored (SSFX)
                Brecheen now pitching
11-13 2 -2- 32  Carew struck out (SBCBBFS)
 
**************  Top of the 9th inning, Red Sox batting
                Lyle now pitching
11-13 0 --- 21  Mackey lined a single to shallow left (BBFX)
11-13 0 1-- 11  Morgan,J flied out to left (BCX)
11-13 1 1-- 20  Barnes,R lined a single down the left field line, Mackey 
                  to third (BBX)
11-13 1 1-3 02  Jackson,Jo struck out (1>FFS)
11-13 2 1-3 32  Foxx struck out (1CCBBB>S)