ATL Records, Awards and Achievements
---
2005 Pitcher and Player of the Month Awards
including the World Series MVP Award
---
Pitcher of the Month
Name PTS(1st)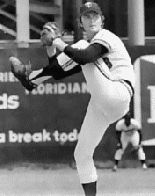 Bert Blyleven 24(4)
Mike Mussina 20(4)
Kevin Brown 7
Cy Young 6(1)
Robb Nen 5
Ellis Kinder 3
Steve Carlton* 3
Juan Marichal 3
Greg Maddux 3
Frank Viola* 3
Troy Percival 2
Pete Alexander 2
ERA W L S G GS CG SHO INN H R ER BB K HR GDP
Bert Blyleven

2.67 5 2 0 7 7 3 2 54.0 31 16 16 9 38 6 5
plus the ATL's first No-Hitter
Player of the Month
Name PTS(1st)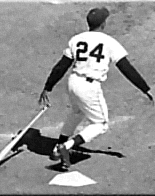 Willie Mays 23(2)
Babe Ruth* 14(2)
Cristobal Torriente* 8(1)
Ajejandro Oms* 7
Nap Lajoie 6(1)
Dick Allen 5(1)
John Olerud* 5(1)
Cool Papa Bell# 3
Mel Ott* 3
Del Crandall 3
Joe DiMaggio 2
Joe Morgan* 2

AVG OBP SPC AB H 2B 3B HR R RBI HBP BB K SB CS


Willie Mays

.360 .441 .740 100 36 5 0 11 27 33 2 14 18 5 4


---
Pitcher of the Month
Name PTS(1st)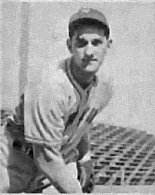 Larry Jansen 19(3)

Joe Wood 15(3)
Hal Newhouser* 15(1)
Mark Eichhorn 5(1)

Bob Feller 5
Andy Messersmith 4
John Smoltz 3
Osamu Higashio 3
Fergie Jenkins 1
Dan Quisenberry 1
Mordecai Brown 1



ERA W L S G GS CG SHO INN H R ER BB K HR GDP


Larry Jansen

1.70 5 1 0 6 6 2 1 47.2 26 16 9 16 26 3 4



Player of the Month
Name PTS(1st)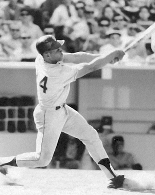 Willie Mays 24(4)
Sammy Sosa 17(1)
Home Run Johnson 8(1)
Cal Ripken 5(1)
Edd Roush* 5(1)
Lou Gehrig* 3
Harvey Kuenn 3
Joe DiMaggio 2
Mark McGwire 1
Buck Leonard* 1
Dick Allen 1
Johnny Mize* 1
Joe Cronin 1


AVG OBP SPC AB H 2B 3B HR R RBI HBP BB K SB CS


Willie Mays

.342 .422 .684 117 40 1 6 9 26 31 0 17 21 3 1



---
Pitcher of the Month
Name PTS(1st)
Hoyt Wilhelm 16(3)
Greg Maddux 10(1)
Phil Niekro 6(1)
Goose Gossage 6
Mutsuo Minagawa 5(1)
Takehiko Bessho 3
Al Leiter* 3
Robin Roberts 3
Dolf Luque 1
Fergie Jenkins 1





ERA W L S G GS CG SHO INN H R ER BB K HR GDP


Hoyt Wilhelm

1.27 1 0 13 18 0 0 0 28.1 13 5 4 4 19 2 1




Player of the Month
Name PTS(1st)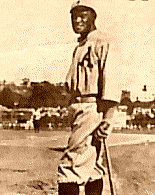 Pop Lloyd* 16(2)
Duke Snider* 13(2)
Mickey Mantle# 9
Tris Speaker* 7(1)
Jesse Burkett* 5(1)
Carl Yastrzemski* 4




AVG OBP SPC AB H 2B 3B HR R RBI HBP BB K SB CS


Pop Lloyd

* .403 .464 .637 124 50 12 7 1 25 34 0 15 13 6 3


---
Pitcher of the Month
Name PTS(1st)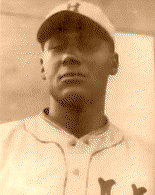 William Bell 15(3)
Dolf Luque 8(1)
Masaaki Koyama 5(1)
Bozo Wakabayashi 5(1)
Phil Niekro 4
Mutsuo Minagawa 3
David Wells* 3
Pedro Martinez 3
Roger Clemens 3
Rod Beck 1
Bob Gibson 1
Stu Miller 1
Dizzy Dean 1
Troy Percival 1



ERA W L S G GS CG SHO INN H R ER BB K HR GDP


William Bell

0.69 3 0 0 3 3 2 1 26.0 14 2 2 4 11 1 2




Player of the Month
Name PTS(1st)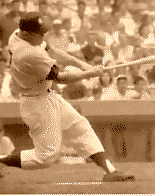 Mickey Mantle# 30(6)
Tris Speaker* 10
Babe Ruth* 7
Pop Lloyd* 3
George Scales 1
Dick Allen 1
Jimmie Foxx 1
Willie Wells 1
AVG OBP SPC AB H 2B 3B HR R RBI HBP BB K SB CS
Mickey Mantle

# .433 .538 .883 60 26 2 2 7 18 17 0 16 8 5 0
---

Pitcher of the Month
Name PTS(1st)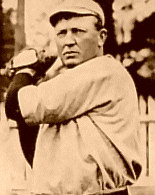 Cy Young 30(6)
Mark Eichhorn 12(2)
Stan Coveleski 11(1)
José Mendez 8(1)
Randy Johnson* 6(1)
Ramon Arano 6
Curt Schilling 6
Robin Roberts 3
Goose Gossage 3
Camilo Pascual 3
Walter Johnson 3
Red Lucas 3
Ed Walsh 2
Dennis Eckersley 1
Kent Tekulve 1
Warren Spahn* 1

ERA W L S G GS CG SHO INN H R ER BB K HR GDP
Cy Young

1.56 4 0 0 5 5 2 0 40.1 26 8 7 5 22 3 0

Player of the Month
Name PTS(1st)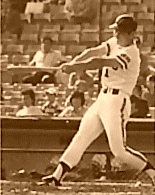 Sadaharu Oh* 48(9)
Jimmie Foxx 23(1)
Ty Cobb* 8(1)
Jackie Robinson 6
Wade Boggs* 5
Bill Terry* 4
Sammy Sosa 2
Oscar Charleston* 1
Cool Papa Bell# 1
Duke Snider* 1




AVG OBP SPC AB H 2B 3B HR R RBI HBP BB K SB CS

Sadaharu Oh*

.391 .470 .843 115 45 9 2 13 33 38 0 18 14 0 0
---

Pitcher of the Month
Name PTS(1st)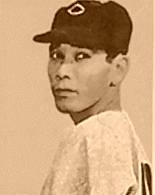 Ryohei Hasegawa 20(4)
Fergie Jenkins 7
Don Sutton 5(1)
Walter Johnson 5
Hoyt Wilhelm 3
Jack McDowell 3
Rube Waddell* 1
Randy Myers* 1



ERA W L S G GS CG SHO INN H R ER BB K HR GDP
Ryohei Hasegawa

1.57 4 0 0 6 6 1 1 46.0 28 9 8 11 33 3 3


Player of the Month
Name PTS(1st)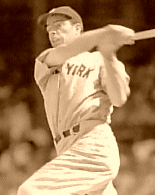 Joe DiMaggio 13(2)
Fred Clarke* 10(2)
Mel Ott* 7
Cristobal Torriente* 6
Willie Mays 5(1)
Rod Carew* 1
Ben Taylor* 1
Buck Leonard* 1
John McGraw* 1





AVG OBP SPC AB H 2B 3B HR R RBI HBP BB K SB CS

Joe DiMaggio

.322 .376 .744 90 29 5 3 9 20 34 1 8 11 0 0


---

Pitcher of the Month
Name PTS(1st)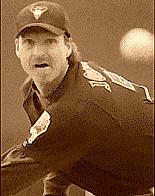 Randy Johnson* 16(3)
Ed Walsh 12(1)
Stan Coveleski 9(1)
Troy Percival 4
Billy Pierce* 3
Harry Brecheen* 1











ERA W L S G GS CG SHO INN H R ER BB K HR GDP
Randy Johnson* 2.37 3 1 1 6 5 0 0 30.1 28 14 8 10 33 3 1



Player of the Month
Name PTS(1st)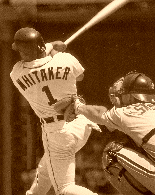 Henry Kimbro* 13(2)
Lou Whitaker* 13(2)
Pop Lloyd* 9
Willie Mays 3
Rogers Hornsby 4
Jimmie Foxx 3







AVG OBP SPC AB H 2B 3B HR R RBI HBP BB K SB CS

Henry Kimbro*

.364 .410 .597 77 28 4 4 2 21 8 0 6 10 3 2


Lou Whitaker*

.369 .431 .677 65 24 5 0 5 18 11 0 7 7 1 1



---
2005 ATL World Series MVP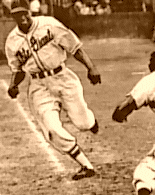 The 2005 ATL WS MVP is

Henry "Jumbo" Kimbro

of the World Champion Pittsburgh Pirates. Henry hit a cool .400 with an OBA of .438, and even more impressive, his SLA was a hefty .733. He also scored 7 runs and knocked in 4. In addition, he swiped 3 bags and ranged centerfield far and wide, flagging down potential hits and turning them into outs. But the numbers don't tell the whole story. Jumbo, Motoneta, Scooter, or just plain Henry--whatever name he's going by today--was a sparkplug for the Bucs offense all series long. Kimbro showed off all his skills during the series, doing whatever was needed, when it was needed. He and runner-up Pop Lloyd were the rally starters time and time again. Fittingly, both Kimbro and Lloyd were on base when Big Jawn Mize belted the final lead changing four bagger in the deciding game.


                                 ATL World Series MVP Voting                          
                                                    

  Name        AVG   OBP   SPC    G   AB    H  2B  3B  HR    R  RBI   BB    K HBP  IW  SB  CS PTS
  Kimbro*    .400  .438  .733    7   30   12   3   2   1    7    4    2    3   0   0   3   1 11(2)
  Lloyd*     .286  .364  .536    7   28    8   0   2   1    8    5    4    3   0   0   1   1  9(1)
  Whitaker*  .214  .290  .536    7   28    6   0   0   3    5    4    3    5   0   0   1   1  3

  Name        ERA   W   L   S    G   GS  CG SHO    INN    H    R   ER   BB    K  HR GDP  BF  PTS
  Percival   0.00   0   0   3    5    0   0   0    4.1    3    0    0    1    3   0   1  17   3

  Name        AVG   OBP   SPC    G   AB    H  2B  3B  HR    R  RBI   BB    K HBP  IW  SB  CS PTS
  Hartnett   .364  .444  .545    7   22    8   4   0   0    4    5    2    1   2   1   0   0  1
  


---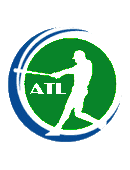 ---

---
Copyright 2005 DMBATL © All Rights Reserved
Copyright 2005 John Mortimer © All Rights Reserved
Copyright 2005 Edward Mortimer © All Rights Reserved