Dizzy Dean! Walter Johnson!
Mood:
incredulous
Topic: Trades
Whoa, Nellie! What's happening in Saint Louis?!? First the city gets a new franchise, the Stars, to start the 2006 season, and then the city gets another franchise in the Cardinals -- and they only had to have one stadium! What a sweet deal that is! Now the Stars are vaccuuming up all the pitchers in the league -- Dizzy Dean from the Cardinals, Walter "Big Train" Johnson from the Nationals (how could they get rid of the icon of Washington baseball?), and Kent Tekulve as well!
I'm tellin' ya . . . pitching is precious. Seems the owner of the Stars heard me talkin'.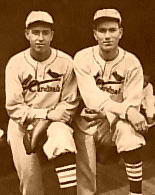 Posted by dmbatl at 4:29 PM EST
Updated: Saturday, 31 December 2005 5:11 PM EST